Summary
Features -

7/10

Speed & Reliability -

5/10

Security & Privacy -

6/10

Usability & Compatibility -

7/10

Support & Documentation -

7/10

Value for Money -

7/10
Summary
Windscribe VPN is a good VPN service with a lot of potential and it's going in the right direction. The speed needs to be improved, mobile applications are needed and the customer support response time needs work. That being said, we are happy to see they are addressing these issues and we hope to see them flourish in the future.
You might not have heard much about Windscribe, and that's because they only officially launched around April 2016. Even though they are new to the VPN scene, the product they provide is a sturdy and well designed one.
They offer a free service which includes access to 9 server locations: US East, US west, UK, Canada, Hong Kong, France, Germany, Luxembourg and Netherlands. This package also comes with a traffic restriction of 2GB or 10GB for registered users. The premium package offers access to an additional 20 locations and unlimited usage. Here is a quick breakdown of what you get if you choose to go premium: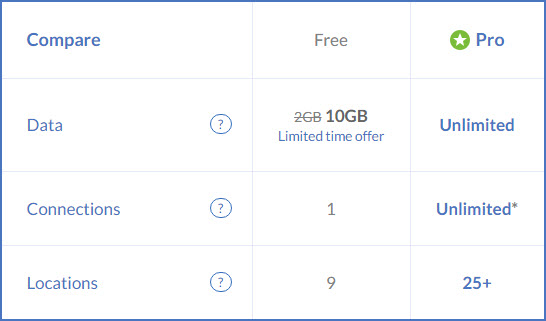 The service is provided across all major platforms, but some, such as Android, is only available through a third party software and only to premium users.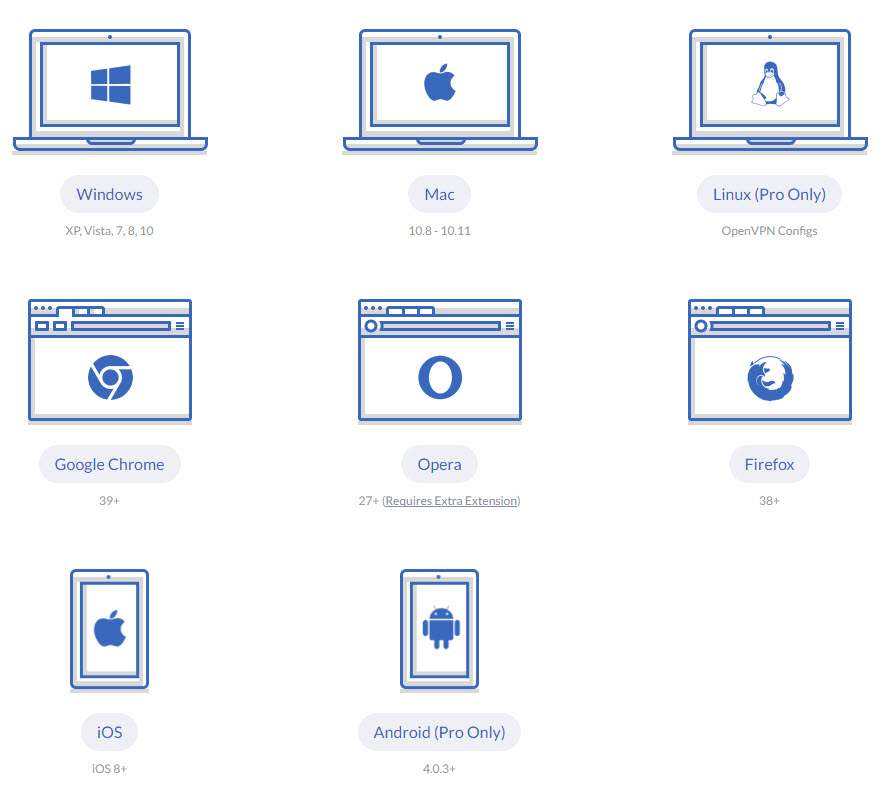 We were very interested about some particularities that Windscribe has to offer, and we are here to share the experience of using the product, so let's get right to it.
Privacy and Logging Policy
Windscribe has a well structured and transparent privacy policy that explains exactly what information is held and for how long. In the case of premium accounts, the information is held for 30 days for charge-back and fraud disputes, and the free accounts needn't provide any personal information, so there is no discussion there.
There is also a mention in the policy about the legal aspect and other important information, so we suggest that you read more about their privacy policy here.
Software
The first thing that we would like to discuss about the software is the fact that it's well built and gives a lot of options to customize your experience. We want to emphasize this because generally when it comes to free or even paid VPN services, there is a lot of compromise made in the design and where they fail to provide with functionality, they attempt to make up with visual effects. This is not the case with Windscribe. It's a functional, easy to use software and we were very pleased with its performance.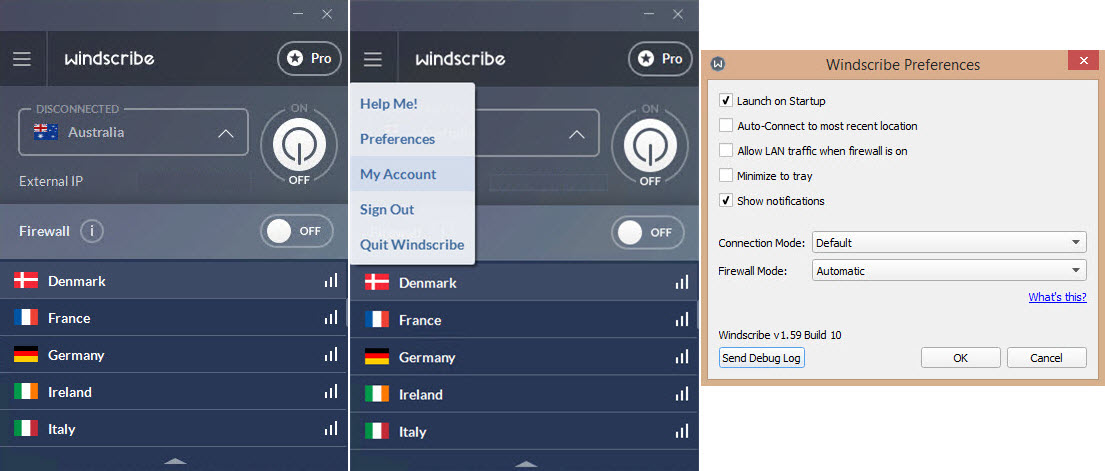 You have the possibility to modify parameters such as connection type and firewall settings right off the settings interface, and we cannot stress enough the fact that the software offers a great experience. There aren't any flashy tricks or menus, it's simply made to work.
Windscribe also offers a chrome extension that left us with a good overall impression. Had we not known that they offer a VPN service and a chrome extension as an addition, we would easily mistake it for a stand-alone VPN service. The extension is complete, easy to use and has feature such as ad-blocker and "split personality" (a feature that randomly rotates your user agent) that actually work.

The chrome extension has some very good reviews in Chrome Webstore, there don't seem to be many complaints about the functionality. However, we noticed some problems with it. Just like pretty much every other Chrome proxy/"VPN extension", it will leak the real IP via WebRTC. For privacy, it's a must to use a 3rd party Chrome addon to block WebRTC leaks. Here is how to fix WebRTC leaks.
Some other interesting and negative aspect that we noticed is that it is by-passing the proxy when testing the speed on speedtest.net, including beta.speedtest.net which isn't Flash but HTML5. This means that the speed tests with Windscribe Chrome extension, at least on speedtest.net, can't be taken into consideration since they will measure the direct connection between user and speedtest servers. We made some speed test with other test sites while making sure that the traffic isn't leaking and the speed test results were quite good, actually, ranging between 50 and 200 Mbps depending on locations.
Features
We tested Netflix and Hulu and unfortunately they were unavailable, as we expected. We don't consider this to be a negative aspect since these media streaming services are cracking down hard on VPN providers, but we do want to mention it in case this is one of the reasons why you are looking for a viable VPN solution.
Killswitch (firewall feature on the main app screen) works well, there were no IP leaks, and they provide IPv6 and DNS leak protection directly in the client. The firewall killswitch runs as a service called WindscribeService.exe and doesn't seem to integrate the firewall bundled in Windows.
Windscribe uses AES-256 with SHA512 and a 4096-bit RSA key. Users can also manually change the connection type, which defaults to OpenVPN UDP (the fastest and most secure). The other options are: OpenVPN UDP – port 443, OpenVPN TCP – port 1194, and "Stealth" which uses OpenVPN via Stunnel over port 8443. This so called "stealth" connection type which is a TLS tunnel inside another TLS tunnel comes handy if you are looking to by-pass ISP blocking in countries where normal VPN connections are blocked, like China.
Speed
Let's talk about speed, because after all, this is definitely a deal breaker in most cases. We ran several speed tests including browser and torrent, and we would like to discuss them individually:
Browsing speed
The browsing experience was very good, we had no issues, disconnects or any other unpleasant events. Here are the speed test results: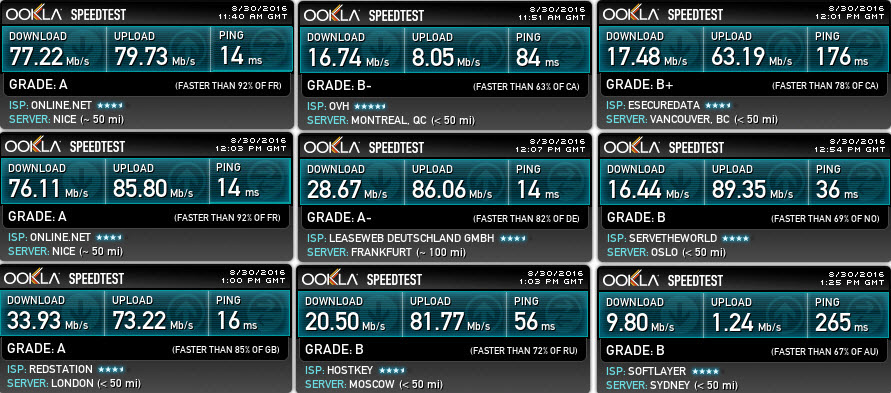 Unlike their Chrome addon, the tests on speedtest.net weren't by-passing the connection, so the results are accurate.
Windscribe managed to surprise us, not necessarily through outstanding speeds, but rather through the consistency of the connections and the fact that even locations such as Norway or Russia (which usually work very slowly or not at all) provided a good and stable connection.
Torrent speed
Even though results vary, we found that the download speed was more than satisfying regardless of the location used. Here are the torrent download speed test results for Canada, France, Germany and Norway respectively: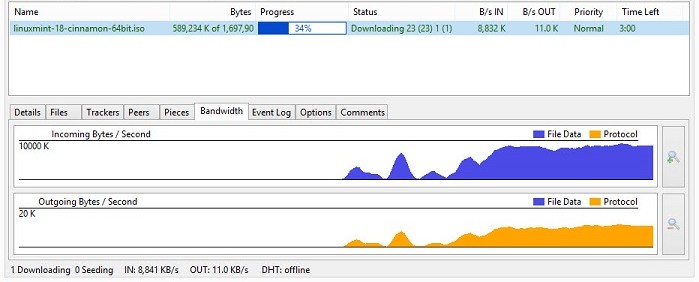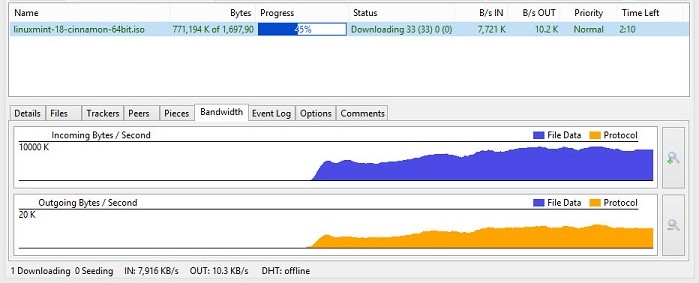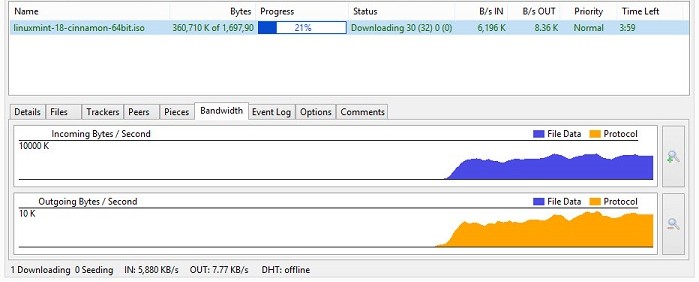 Please keep in mind that there are a lot of factors to take into consideration such as number of seeders, file and server hosting location and services, so your results might vary depending on the type of content you attempt to download.
Mobile Performance
Windscribe has a native VPN Client app for iOS which is working using IPsec IKEv2 connection protocol.
On Android, they do not provide yet their own VPN client app and they rely on StrongSwan, which is a third party application for Android, using IKEv2 IPsec connection: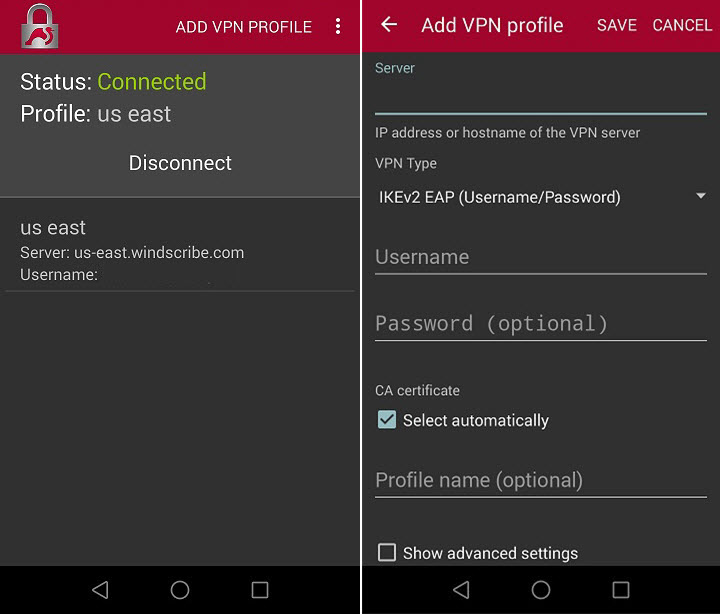 We tested out the Android application and came up with this speed test result:

We only tested out US East since the configuration part was a bit tricky and we feel the need to emphasize this. It's not exactly quantum physics, but for those of you who are not willing to go the extra mile, or simply don't enjoy configuring these parameters into a VPN application, we figured we should mention it.
The experience was very good, the connections were constant speed-wise and uninterrupted. Adds actually get blocked and even though the speed is not the best on paper, streaming media gave us no issues on mobile, both Android and iOS.
Pricing
We spoke a lot about Windscribe, what it does, how well it does it, but we haven't mentioned prices yet, so here is a quick break-down of the pricing options that they have available:
It's a legitimate price range, with a bit of a discount for an annual subscription, and we really enjoyed the variety of payment methods accepted. Windscribe doesn't require any personal information at sign-up so having payment methods such as bitcoin available, drastically increases your online privacy.
We weren't able to find out anything about a refund policy, so we addressed the question the support team. They have not answered our question to this day.
Support
The technical support experience was a poor one, with longer than average response times as far as e-mails go, but the answers were straight-forward and helpful. The representatives were knowledgeable and responded in a professional manner and they used proper English in the process. It seems like a must, but we've encountered quite a few cases where the customer support team spoke English horribly and the issues could not be resolved due to the language barrier, which makes us feel the need to mention the language skill in our reviews since not all the VPN providers are based in English-speaking countries.
Conclusions
Here is a quick break-down of what we liked and what we didn't:
Pros:
Intuitive and sturdy software, very clean website.
Transparent company with an understandable privacy policy.
Decent price for such a quality service.
No personal information required for sign-up.
A good variety of payment methods to keep your identity protected, including prepaid cards and bitcoin.
Service available for free (monthly data cap).
Cons:
No stand-alone application for Android (yet).
Configuration for the third-party mobile app on Android is a bit of a pain and each location requires separate setup.
No connection logs available in the software. We had to dig through %UserProfile%\AppData folder to find it.
speedtest.net by-passes the proxy connection with their Chrome extension. This is most likely intentional to save bandwidth but also to show unrealistic results.
VPN speed is ok-ish, not great.
Terrible Customer Support response times.
Overall, we found Windscribe to be a good service with a lot of potential, seeing how young they are on the VPN scene. They provide some nice features and a sturdy product, and we would definitely like to hear more about them in the future. We give Windscribe a rating of 6.5/10.