Summary
Features -

6/10

Speed & Reliability -

4/10

Security & Privacy -

4/10

Usability & Compatibility -

6/10

Support & Documentation -

5/10

Value for Money -

8/10
Summary
Browsec VPN is a decent VPN service especially considering it's a free service. We didn't like that it lacks transparency and the sensational claims of total anonymity, 100% secure connections and so on are clearly disproportionate.
Browsec VPN is a secure (encrypted) proxy add-on for browsers, which also offers a VPN app for mobiles. The add-on is very popular, with around 2 million users and the service is operated by the company Browsec LLC.
There wasn't too much information to be found about Browsec LLC, owner of the browser proxy add-on and mobile VPN, Browsec. They do not have an about page or any type of description that would lead to their company. The only thing we found out is that they are likely based in Russia, also functioning under the name Browsec OOO according to the Apple Store (which would be a Russian Limited Liability Company). If they are indeed based in Russia, you should be aware that they recently proposed some anti-terrorism laws that force communication and software companies to allow the government to spy on users compromising encryption. These laws are likely to be implemented in the nearby future.
Browsec offers compatibility with Chrome, Firefox, Opera and they have an iOS app available (Android app is under development).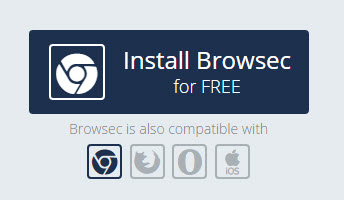 They have a good rating of 4.5/5 stars on the Google Webstore from over 11000 reviews. The extension is very easy to install and the learning curve is very small as the interface is intuitive.
In order to sign up or to add the browser add-on, there is no information required whatsoever. They generate a temporary account for everyone who connects, and give you the option to attach the e-mail address to this account, should you choose to do so. There is nothing mentioned about encryption type, or any other technical information regarding the connection type for that matter.
Privacy And Logging Policy
Browsec does not specify exactly how and when the information collected by them is stored. They only mention that it will be stored for research and improvement purposes. The statements in their Privacy Policy are vague and it's not clear whether they collect user activity logs, such as visited websites.
You can find more information on their privacy policy here.
Software
The browser add-on behaved very well during our tests, there were no glitches or major hick-ups, and the interface is intuitive, simple and well-designed.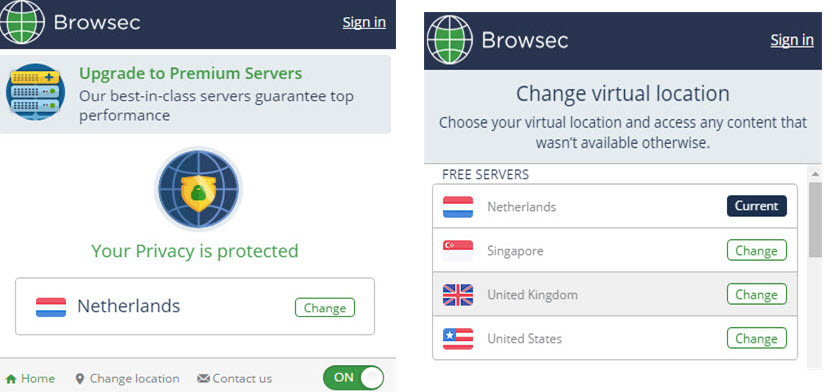 There aren't too many features available, apart from changing your connection location and contacting support, but we appreciate that they are transparent about the changes that will occur once upgrading to premium. Some other services that offer a free alternative to their product are not clear in describing exactly what changes or what improves at the point of upgrading to their paid version.
They offer four free server choices: Netherlands, Singapore, UK and US. Once you upgrade to premium, there are 12 others from various locations around the globe: Australia, Canada, France, Germany, India, Japan, Netherlands, Singapore, Switzerland, UK and USA.
Features
Netflix and Hulu don't work even though on the Chrome Webstore they advertise that "Netflix, Hulu, Spotify, Pandora, SoundCloud and so on — music and video services restricted to a few countries are now accessible to you too." This means that they have yet to update their claims to reflect the recent Netflix crack-down on VPN and proxy services.
Another thing that we discovered is that they promote anonymous browsing, which is not 100% accurate, yet it is advertised as being one of the features that you will receive by using the product.

There are a lot of ways in which users can leak their real IP address when using a browser add-on, as it does not come with built-in protection. You should block your Flash Player and WebRTC in order to prevent IP leaks. You can use some of the tools listed here for IP leaks when you are connected through VPN or browser proxy add-on like Browsec.
At the time of this review, it seems like most of their servers are hosted through Digital Ocean, a cloud hosting company. Keep in mind that cloud hosting is not the most secure hosting option, but rather dedicated and co-located servers.
Apart from the mentioned features, there isn't much more available, but this is somewhat the case of all browser add-ons, as the quality usually comes from its simplicity and the add-on's resource requirement and size.
Speed
The speed tests that we conducted gave us respectable results, and the browsing experience was good. You can find the results to our browser speed tests below: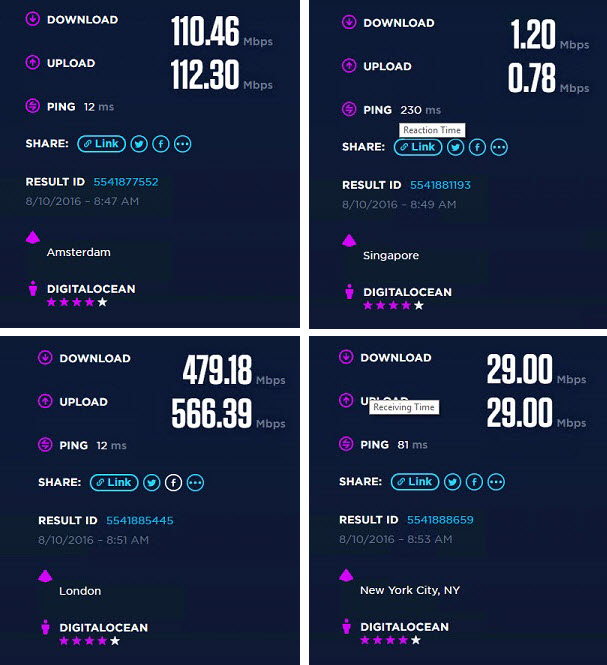 Apart from the Singapore server, which seems to connect much slower and returns a poor speed test result, we were satisfied with the speed that remained constant regardless of the fact that we were simply browsing or streaming media.
Mobile Performance
The Android application is under development according to the website, so there were no tests ran under that platform.
The application responded very well, it looks and feels professional and we did not encounter any hick-ups or bugs. The interface is easy to use and all the instructions are straight-forward. The connectivity was better than what the browser offered.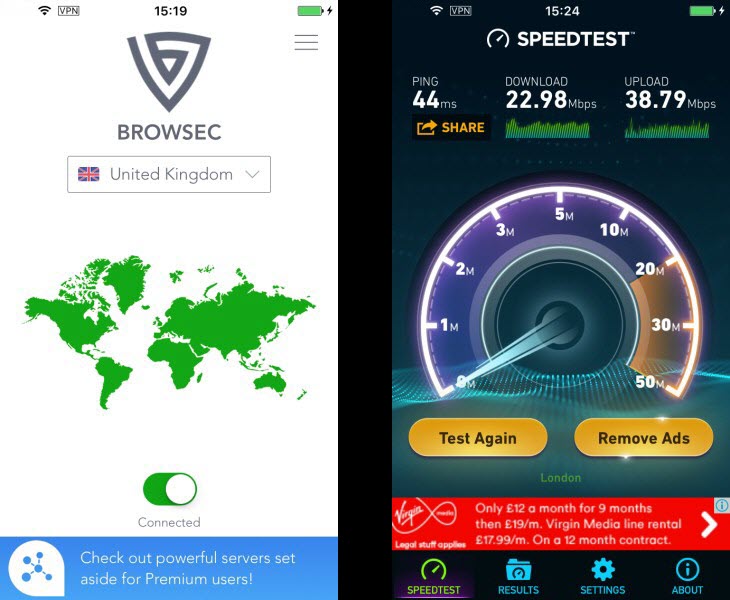 The iOS application uses IPsec to establish the VPN connection, and all traffic done on the device, will be routed through the VPN tunnel, unlike the browser add-on, where only the browser traffic is routed.
The privacy policy for the mobile application, which is a bit different than the one on the website, was ambiguous and did not specify exactly what data is collected and under what circumstances. Connection logs are not mentioned clearly, and the vague mention of the activity monitoring is not enough to put our worries to rest.
Prices
Browsec offers a decent price range for their paid product. They only offer a handful of payment options, even though they promote a third option that provides over 80 payment options, there is only TrustPay or Pay.com depending on your location: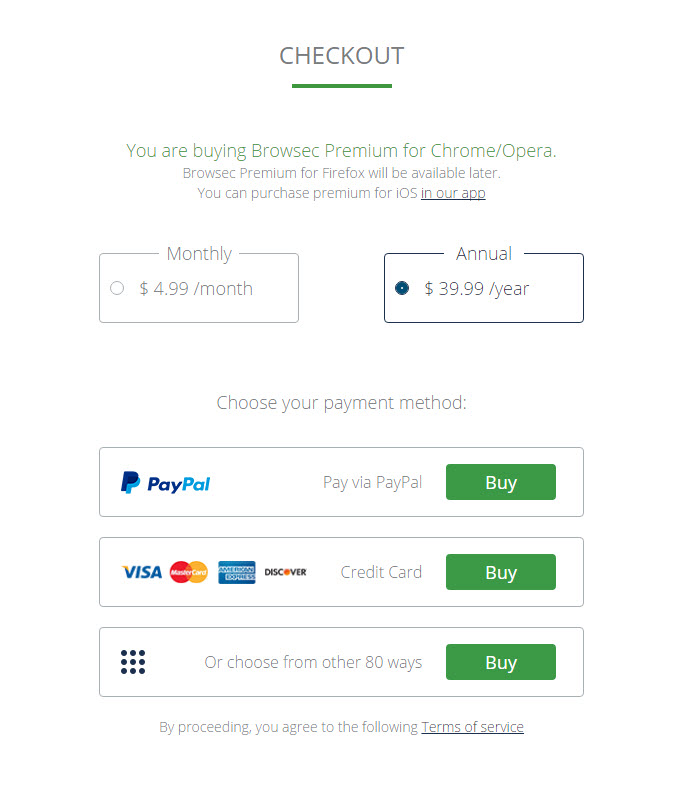 There is also no mention of accepting bitcoin as a payment option, and we were unable to get an option to use this method of payment regardless of the location we used to access the premium upgrade page.
Support
We had a general question regarding payments that we addressed to the support department. The response time was of a few hours and the issue was responded to accordingly, so there are no complaints there. They were professional and willing to assist us from the first contact.
Live chat, support forums/knowledge base or phone assistance are not available, but this is not something that a service of this type offers since most of the time the issues can be resolved via e-mail.
They can be contacted through a simple contact form or by email.
Conclusion
Browsec offers a user-friendly product with most of the feature that you would expect to see from a browser (encrypted) proxy add-on solution. The connection speed was good in most of the locations and we had no disconnects or major issues while using this service. Here is a breakdown of what we liked and didn't like about the product:
Pros:
The interface is very easy to use and offers a good experience to the user.
A good number of features for a free product. (four connection locations, iOS VPN, no limit on data usage, no injected ads etc.)
Speed is good in most cases in both browsing and streaming media.
Sign-up process is simple, even though we would like to see more payment options such as bitcoin.
A sturdy, fully featured iOS application that generally gave us a faster browsing experience than the browser add-on.
Cons:
Ambiguous privacy and logging policies.
Likely based in Russia, may become subject to upcoming anti-crypto laws.
No information about the company available.
Advertising anonymous browsing and availability for Netflix and other media streaming sites that actually do not work.
Promising "anonymous browsing", yet not making the users aware of how likely they are to leak their real IPs using such add-on.
Browsec offers a decent service, especially for a free product, but we don't consider it a viable option for those who are really privacy-conscious. We rate this service 5.5/10.