Summary
Features -

5/10

Speed & Reliability -

4/10

Security & Privacy -

6/10

Usability & Compatibility -

6/10

Support & Documentation -

6/10

Value for Money -

6/10
Summary
Trust.Zone VPN needs some improvement, especially in the infrastructure department. The speed test results were well below average and we feel that it's a very important part of the VPN service that cannot and should not be neglected.
Based in Seychelles and registered as Extra Solutions Ltd., Trust.Zone is a new player in the VPN industry, but don't let that fool you, they provide a good and mature VPN solution that measures up to big names in the business. Like any new company, there is a lot of room for improvement of course, but all in all we found a lot of features that we enjoyed while testing out Trust.Zone's VPN service.
Apart from their location, there wasn't too much information available regarding their composition, history or goals. It would be nice to have a bit more information available about Trust.Zone, especially since it's a new company, and it would give it a more familiar and transparent touch. On their support page they mention that support is available Mon to Fri during 6AM to 4PM, hence we suspect that they are physically located in Eastern Europe or Russia.
At the time of this review, Trust.Zone offers 65 servers in 45 zones (as advertised by them). Keep in mind that zones does not mean countries, as there can be multiple servers based in one country. You can find a more detailed list of the server locations here.
We tested out the desktop application and the mobile solution available through OpenVPN. We would have appreciated if there was a stand-alone application available for mobile devices, but we also understand why it might not have been a priority in the development phase due to the age of the company.
Privacy And Logging Policy
The privacy policy is very rigid and poorly phrased, not only technically speaking, but also written in a below-average English.
They do specify that there are no connection logs and that they are not able to provide any information about the user's identity even if legally compelled to:

There are several other pieces of information that you might find useful, so we recommend checking out Trust.Zone's privacy policy here for more information.
It is worth noting that they also have a Warrant Canary.
Software
The software is intuitive and very easy to use, letting you connect to your desired server location in just a matter of seconds. The server locations are very logically arranged by continents, so finding your desired location should not be an issue.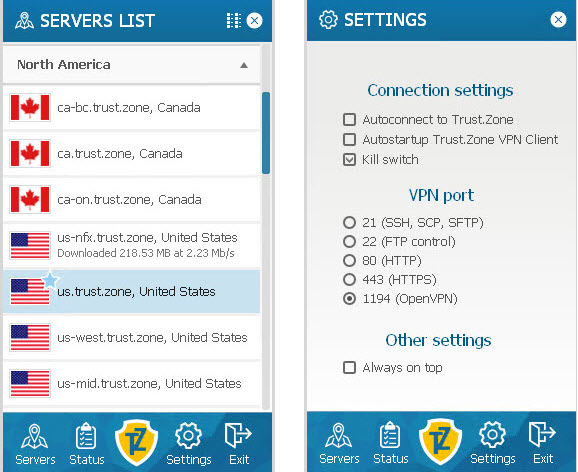 The software offers some classic settings such as kill-switch, auto-connect and allows connection to 5 different ports. They are mainly meant to be used in firewall bypassing.
A very interesting feature offered by Trust.Zone's software is that it allows you to track traffic usage for each server you connect to, including the average speed obtained with it. This feature makes it easier to save a history with the fastest connections.
The software is only available for Windows. Other platforms are only supported with OS built-in VPN configuration systems or through third party open source VPN software for mobile devices.
The software offers OpenVPN support. L2TP/IPsec connections are supported, but only by setting up the connection manually. We would have liked to see it integrated in the software as well.
Features
Trust.Zone offers the kill-switch feature right in the main software interface. This allows the user to have extra protection against IP leaks, and we like the fact that you don't have to go digging through settings to make sure that this feature is enabled.
Three simultaneous connections are allowed regardless of the kind of equipment you are using.
They also offer the possibility to acquire a static IP address at a separate cost, and this is especially efficient for clients who don't want to share the same exit IP with others, as in some cases might result into blacklisting on various websites, game servers and so on.
Their OpenVPN security parameters are the following: AES-128-CBC cipher for data encryption, SHA1 HMAC and a 2048 bit RSA certificate.
This is lower in terms of connection security compared to many other VPN services we tested and we would prefer to see AES-256 available with SHA256 and RSA-4096. They also support L2TP over IPsec with pre-shared keys, a connection type that's available by default on most operating systems and can be configured without installing any additional software. However, keep in mind that it is less secure than OpenVPN.
Speed
The browsing speed was not extraordinary, although we have to say that even though the speed test results were a bit on the low side, the experience itself was not affected:

We had no disconnects or other issues of the sort, but we have to say that in some cases the connection time was long and there were some errors while attempting to connect to some server locations.
The torrent download speed was sub-par in some locations and even on server locations where it performed decently, there were connectivity issues or slow speeds. Here is how the speed test results looked like for California and Paris:


Mobile Performance
Trust. zone offers support for Android via OpenVPN for Android, which is an open source third party application. This is commonly used for VPN services, and it allows users to connect directly through their providers by using their designated credentials. We don't personally appreciate the fact that there is no dedicated mobile application, but we ran some browsing speed tests to see how the service performs. Here are the results for Canada and Netherlands respectively:

The speed test results are not astonishing, but the browsing was fluid and there were not disconnects or difficulties during the connection.
Setting up the server is a whole different story though, and it might not be something that everyone wants to go though especially when it means setting up each location individually. If you want to get a better idea of what the Android setup steps are for each individual server, you can find the instructions here.
Pricing
Trust.Zone offers a monthly and a yearly pricing plan. There is also an option to test out the product for free, which we really appreciated since there were no restrictions or functionality differences between the trial account and the full account.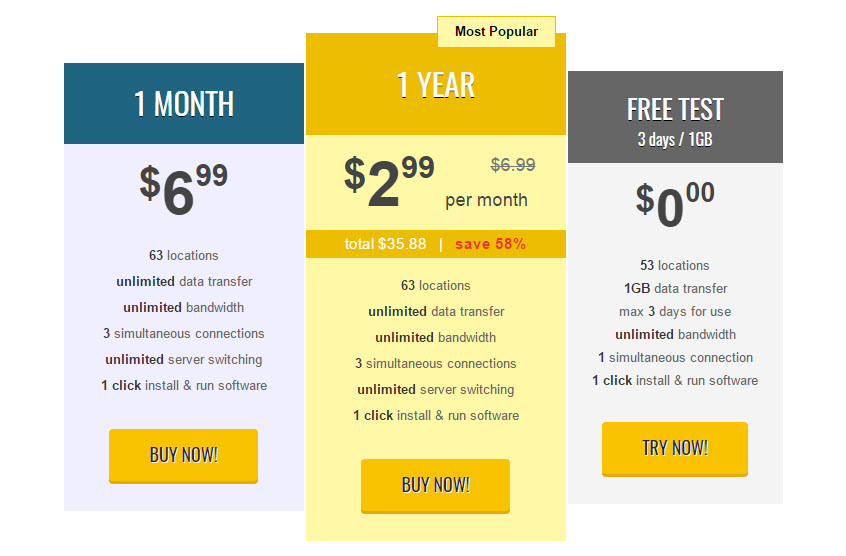 The prices are fair and the over 50% discount for a yearly subscription is something to take into consideration when signing up. Not many other services provide such a good value for a year's subscription.
Support
The support team offered a good response within a reasonable time frame. We had a request sent in to them and received an answer in roughly 5 hours. The English was not exactly perfect, but it was far from what the website offered, so we were satisfied. We understand that not all business are based in English-speaking countries, but a certain level of understanding should be kept, especially when dealing with support requests that require the agent to be clear and concise.
Conclusions
In conclusion we feel that the Trust.Zone VPN service is not really raising up to the standards, with some below average browsing and torrent download speeds and lack of coverage for different operating systems with their proprietary software. There are some good aspects of course, so here is a quick break down of what we liked and what we didn't:
Pros:
Intuitive software.
Competitive prices.
Fluid and uninterrupted connections (once connection is actually established).
Easy to navigate website and straight-forward content.
A good number of available payment methods available, including bitcoin, personal information not required to sign-up.
Cons:
Advertising "truly anonymous VPN" which in the VPN world is just a marketing buzz-word… this coming from a service that uses Google Analytics on their web site.
Connection speed on both desktop and mobile devices is below average and even though it's stable, it's not close to being satisfying.
Proprietary client software only available for Windows.
Taking into consideration all the factors mentioned in our review above, we give the service a 5.5/10 with the hope that they will improve certain aspects in the future.