Summary
Features -

5/10

Speed & Reliability -

8/10

Security & Privacy -

6/10

Usability & Compatibility -

5/10

Support & Documentation -

5/10

Value for Money -

7/10
Summary
VPN.ht has a limited service with only a few locations and no software available. However, the infrastructure is well put together and the results were very good when testing the performance. Due to these aspects and the low prices, we consider them to be a solid player in the VPN community.
VPN.HT is a new VPN service that's popular nowadays with the Popcorn Time, being actively promoted in their Movies & TV Shows application since December, 2014. Apparently, the company behind VPN.HT is Wasabi Technologie, from Canada, and they seem to have a company incorporated in British Virgin Islands (VPN.HT Ltd.) for the purpose of running the VPN service.
Features
In terms of VPN protocols, vpn.ht provides support for OpenVPN, L2TP/IPsec and PPTP. OpenVPN encryption parameters are: AES 128-bit and 256-bit for data, RSA-2048 for keys and SHA1 (160-bit) for HMAC. VPN servers are currently available in France, Netherlands, Germany and Canada. There is no traffic limit so the users can transfer as much as they can.
Encryption details from the connection log:

vpn.ht doesn't provide a stand-alone VPN client software at this time, but they integrate nicely with Popcorn Time. To use the service separately, without Popcorn Time, a 3rd party VPN software should be used and they provide setup instructions for most platforms. The instructions are easy to follow and they also include solutions for some common connection problems that the users may experience. Needless to say, P2P/torrent traffic is allowed.
Authentication to the VPN gateways is made using user & password. Both the VPN user and password can be changed by the customer from their web interface.
Software
As mentioned earlier, at this time they do not have a stand-alone software. Integration with Popcorn Time is quite handy and simple by adding the VPN credentials through a login form.
Pricing
They have two simple pricing plans:
Monthly, at $5 / month ($1 for the first month currently).
Yearly, $40 / year which translates in $3.33 / month if paid in advance for 12 months.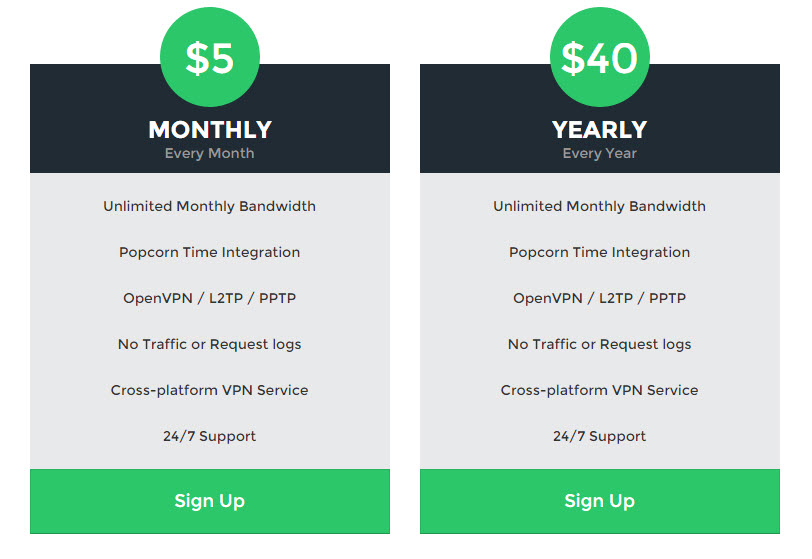 3 payment methods are available: PayPal, Credit Cards and Bitcoin.
As for the refund policy, a full refund is possible within the first 30 days of the initial purchase.
Logging and Privacy
According to their privacy policy, they do not log user activity or traffic data of users, but collect information related to the connections such as connection time stamps and amount of data transferred.
Speed and Reliability
We had no problems connecting and using the service for a few days. Speed was good, torrent downloads were never blocked and Popcorn Time downloading/streaming was smooth in HD quality. We used OpenVPN in our testing. Around 90 Mbps was the best we could reach using torrent downloads. DNS leaks were all over the place as this is a common issue with OpenVPN GUI. Speaking of DNS leaks, we couldn't find any how-to within their documentation on how to fix them, but we hope they will add it at some point.
Speedtest results: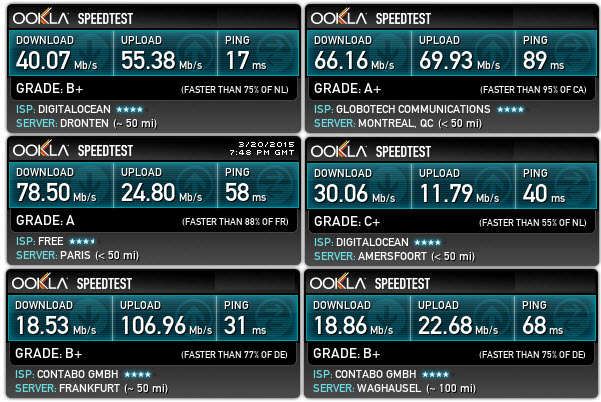 Support
VPN.HT provides support using their self-hosted ticketing system. We were pleased to receive replies quickly, in less than 4 hours, which was better than our support requests with many other VPN services.
Conclusions
The good
P2P/torrent allowed (if this wasn't obvious enough).
No personal information required to sign-up.
Very attractive pricing.
Good speed.
Popcorn Time integration.
Bitcoin payments accepted.
30 days refund policy.
The bad
Only a few VPN locations.
No proprietary VPN software.
Netherlands location relies on Digital Ocean cloud service. We stand against using cloud services for VPN gateways.
Final Notes
As a conclusion of this review, vpn.ht is a good service to protect the Popcorn Time users. Even if they lack some key features that are a must-have in the industry, as a new player in the industry, their simplicity and low prices make the service quite attractive. Time will tell if it will become a major service, competing with the 'big boys" in terms of key features. We recommend vpn.ht to anyone who's not really looking for a "full-feature" VPN service, especially to use it with Popcorn Time. From our perspective, the rating score vpn.ht deserves at this point is 6.5/10.