Summary
Features -

7/10

Speed & Reliability -

5/10

Security & Privacy -

6/10

Usability & Compatibility -

8/10

Support & Documentation -

7/10

Value for Money -

9/10
Summary
TunnelBear VPN is perfect for those looking for a quick simple way to access the internet through a VPN service. Their very generous free plan allows users to fully experience the service. There are some shortcoming such as the speed being a bit lower and the restriction in P2P but taking into account that it's a free service, we're quite impressed.
Canada, the country of the maple leaf, polar and grizzly bears is the location where the headquarters TunnelBear, a VPN service that has one of the funniest and cleverest marketing strategy in the industry.
Founded as a company in 2011, TunnelBear is a team consisting of around 13 startup veterans and tech savvies from companies like Microsoft, RIM, Goldman Sachs and Fixmo. At this point, they have servers in 12 countries: US, UK, Canada, Germany, Japan, France, Italy, Netherlands, Sweden, Switzerland, Ireland and Spain.
Features
TunnelBear is currently available on 4 platforms: Windows, Mac, Android and iOS. They provide two VPN protocols: OpenVPN and IPsec (on iOS only).
On the technical side, for data encryption they use the Blowfish cipher with 128-bit keys, in CBC mode. For authentication, TunnelBear makes use of RSA-2048 keys and SHA1 (160-bit) for HMAC. The VPN tunnel is established over UDP or TCP port 443 only. AES-256 encryption will be available soon with OpenVPN, currently being available with the beta version of their software.
Encryption details from connection log:

Software
In the dedicated page, the download will start automatically. It is not necessary to create an account before downloading the software, it will be created locally on the device after installation.
When the account is created, user has to provide some information such as the first name, email & password. Then, after confirming the email address, the user will be redirected to a landing page where a short tutorial on how to use the software is presented. Installing and connecting for the first time takes less than a minute and it is a straightforward process.
The software is extremely easy to use. Just sign-in, select a location and click on the On/Off switch to connect. Ads and tracking blocking is a feature available with their software, which is a neat feature. Some other useful features of their software are a kill switch called Vigilant and IntelliBear which allows the user to enable the VPN tunnel only for specific websites or exclude webssites from being accessed over the VPN.
On mobile it includes some nice animations during the connection process, where a bear travels through tunnels from a country location to another.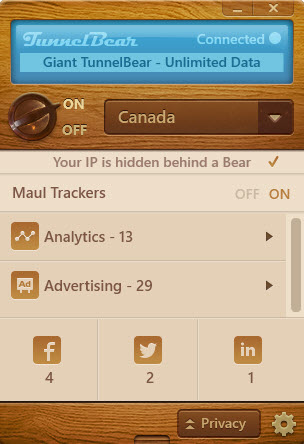 Pricing
Pricing structure is simple. There are 3 types of accounts:
Little, which is free, offers 500MBs of free data each and every month. The package can be extended with 1 additional GB, just by requesting it on Twitter.
Giant costs $4,99 / month and provides unlimited use on any 3 computer or mobile devices.
Grizzly has the same options a Giant, but will provide a 17% discount if you chose to use it for an entire year. So, the price will be $49,99.

As for payment methods, users can choose between credit cards, PayPal and Bitcoin, but the later is only available for the 1-year pricing plan.
Logging and Privacy
According to the Privacy Policy published on the website, TunnelBear "does NOT log any information about the applications, services or websites our users use while connected to our service."
However, they store 4 types of information:
Personal Information (First Name, Email address, Twitter id, Email confirmed, Paid User & Paid user expiry date)
Operational Data (OS Version, TunnelBear App Version, Overall Lifetime Connections with no timestamps, Active this month & Total Data used this month)
Additional Operational User Data (Anonymized to Top Level Domain & Times Blocked)
Personal and Financial Data (Cardholder last name, Date of card use, Last four Numbers of Credit Card).
According to TunnelBear, all the data above is not stored outside the canadian physical borders, even if they have servers all around the globe.
Speed and Reliability
Speed was not that good in our testing, compared to some other competitors. Most of our tests have printed results in the 10 to 20 Mbps, the best being close to 30 Mbps. Though, given the fact that P2P traffic is not allowed, 10 to 30 Mbps should be enough for most browsing activities, including HD video streaming.
Speaking of reliability, we had a few problems trying to connect to the Japan location and we couldn't establish a connection for over an hour. Another issue occurred when connected to Italy, internet not being reachable even though the VPN connection was active. The software provides DNS leak protection by setting Google's public DNS on all network interfaces, but it was hit and miss: sometimes we experienced DNS leaks as the local network interface was still in DHCP-mode instead of having the DNS server assigned by TunnelBear's client software.
Speedtest results: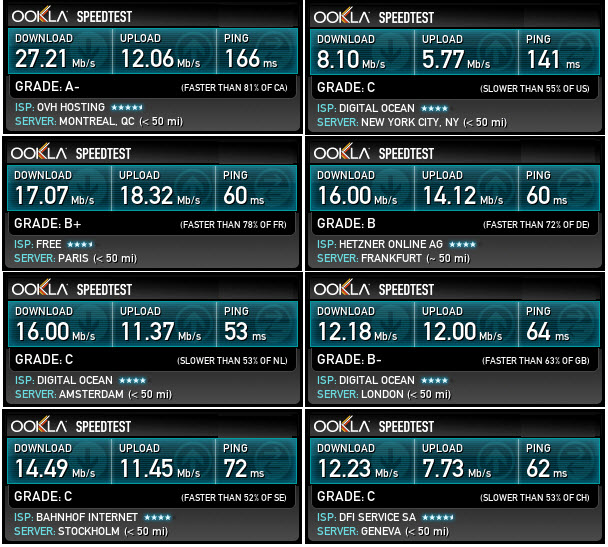 Support
TunnelBear has a detailed help page with answers and solutions to many common questions and problems. The user can get in touch with the support staff using a contact form. At the moment, they do not have a live-help option, but we noticed they are very active on social media channels (Twitter & Facebook).
Conclusions
The Good
Simplicity: easy-to-use software with useful features.
Ads and tracking blocking as an extra-feature of their software.
Great mobile app.
Funny and friendly approach on the website, in the messages, details and software.
A large team, that suggest a pretty popular service.
Servers in different parts of the world.
Generous free account.
The Bad
High number of personal details stored including credit card details
P2P not allowed
Speed is quite low
They use only 2 protocols and OpenVPN can't be customized to connect using other ports or use UDP instead of TCP. We found UDP to be faster than TCP with many other providers.
Bitcoin accepeted only for yearly payments.
Final Notes
TunnelBear VPN is nothing but perfect for users who are looking for a simple and easy to use VPN, that not possess advanced technical knowledge and do not have high security needs. It is also useful for those who have a low monthly use of such services (in this way, they could opt for the 1.5 GB package offered monthly for free). Even if speed is worse than what we experienced with other providers, it's not a big problem since they do not allow P2P traffic, so for browsing only it is reasonable. The lack of customization (protocols, ports, encryption options) makes the service less appealing for power users who care about such options. We rate TunnelBear at 7/10 and highly recommend it to users looking for simplicity and a solid software for desktop and mobile devices.