Summary
Features -

7/10

Speed & Reliability -

6/10

Security & Privacy -

8/10

Usability & Compatibility -

7/10

Support & Documentation -

8/10

Value for Money -

9/10
Summary
ibVPN provides a decent VPN service at a very good price. The speed or performance is not out of the ordinary, but we've had no issues with browsing, streaming media or torrent downloads. We feel that the service is definitely a go-to when looking for an affordable and secure VPN service. We are looking forward to some improvements in the infrastructure.
ibVPN is another provider receiving a place in our VPN Reviews section. This ibVPN review should help you decide whether ibVPN is a good VPN provider or not.
ibVPN (Invisible Browsing VPN) is a paid VPN provider operated by a company in Romania (Amplusnet S.R.L. according to their contact page and domain whois data).
Features
ibVPN provides VPN access using the following protocols: OpenVPN (TCP and UDP), L2TP/IPsec, PPTP and SSTP on selected servers. They operate 38 VPN servers (as of April 1st, 2013) located in the following countries: USA, UK, Sweden, Germany, Netherlands, France, Canada, Italy, Ireland, Romania, Russia, Sweden, Panama, Luxembourg, Hong Kong, Switzerland, India and Spain.
According to their VPN status page, they have 24 servers connected to 100 Mbit/s and 14 servers connected to 1000 Mbit/s. They allow P2P traffic on some locations (Netherlands, Canada and Luxembourg) and they also run an interesting DNS service, allowing their customers to unblock streaming sites without using a VPN (check our previous post related to such DNS unblocking services and how it works). They also provide proxy access in some countries. In order to use the DNS unblocking service, you need to add your IP address in the customer area and change your DNS server.
ibVPN's Servers status page is very nice and informative. It is updated once every 15 minutes and provides a map with their VPN servers, bandwidth and user count statistics. So it's a great tool to use before deciding what VPN server to connect to.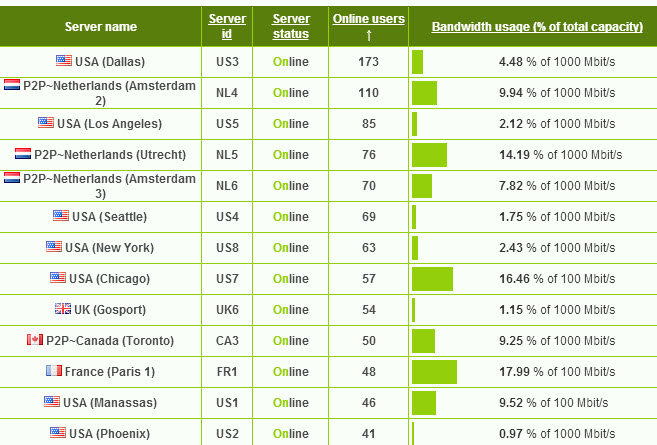 ibVPN provides their own VPN software that you can use to connect on all protocols. It installs its own instance of OpenVPN and adds two VPN connection profiles to Windows (PPTP and L2TP, which are dynamically updated and launched to connect to ibVPN's servers). The software doesn't allow you to choose OpenVPN's port, but only the protocol (TCP or UDP). Digging through the software's files, we noticed that it is using OpenVPN on ports 53, 80, 443 and 1194. They use the TAP virtual network device (Layer 2) for OpenVPN connections, instead of TUN (Layer 3, most widely used). We prefer Tun, but oh well… they probably have some good reasons for using TAP.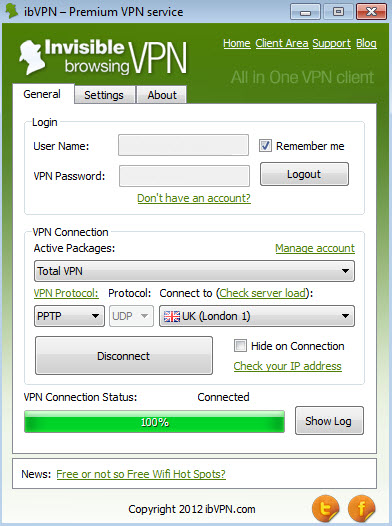 The settings tab allows you to set the application to start automatically on System boot and to auto reconnect when the connection is dropped unexpectedly. The software also shows you the latest news from ibVPN and provides shortcuts to their VPN servers status and an IP check page. We had a few problems with the software: it reported that the VPN connection was successful, while in fact it wasn't, and we were still browsing using the real IP. Here is where the "Check your IP address" shortcut comes in handy and should be used each time you connect to a new server.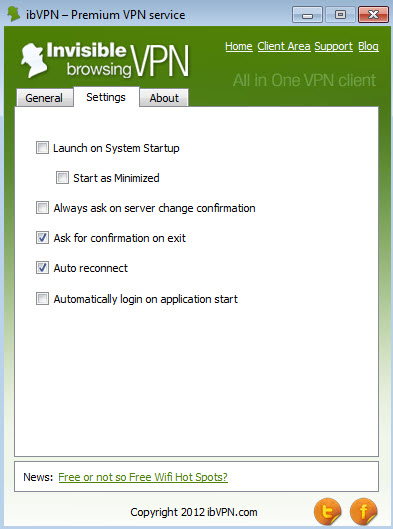 Overall, the software looks good and is an useful tool.
Pricing
Pricing is very attractive and beats some of the major VPN providers in the industry. The cheapest plans start at $4.95 / month (torrent or location specific only), the middle plan (Total VPN) at $7.95 while the higher comes at $10.95 (Ultimate VPN). There are some other, more expensive plans, allowing more than 2 simultaneous VPN connections, starting at $19.95/month for 3 connections, up to $99.95/month for 20 connections. The discounts for payments made in advance are good, though. For instance, you can pay the Ultimate VPN plan in advance for one year and the monthly cost would be $6.9, instead of $10.95.
Speed
Speed was decent in most of our tests. Their VPN servers in Netherlands are a bit slow, though. That's not surprising at all – considering that people use those servers for P2P. Bit Torrent is a bandwidth hog.
We also checked some of their bandwidth/hosting partners, and we like the fact that most of their hosting providers, like LeaseWeb, Ubiquity Servers, Softlayer, Private Layer are top in class for reliability and speed.
Here are some of our speed test results:
Germany gigabit server using UDP VPN protocols: L2TP and OpenVPN (server usage was 3.16% when tested)
Download from Germany: between 500 and 1000KB/sec
Download from France: 100-200KB/sec
Download from US: 300-500KB/sec
We didn't really like the speeds from Germany and we tried again later, when we managed to reach top speeds of 6MB/sec on OpenVPN. So there seemed to be a problem on our 1st attempts with our routing to their servers in Germany or something.
UK gigabit server using UDP VPN protocols (server usage was 1.41 % when tested)
Download from UK: 2MB/sec
Download from France: 700KB/sec
Download from US: 2-3MB/sec
UK gigabit server using TCP VPN protocols (PPTP and OpenVPN TCP)
Download from UK: 3.4MB/sec
Download from France: 4.4MB/sec
Download from US: 2-2.5MB/sec
US gigabit server using UDP VPN protocols (usage was 2.4% when tested)
Download from US: 2-4MB/sec on first tests, 7.5MB/sec on 2nd tests (2nd bandwidth test site), 700-1MB/sec on 3rd test (3rd bandwidth test site)
Download from UK: 1.5-2MB/sec
Download from Germany: 200-300 KB/sec
Streaming tests
Using a VPN server from US, while connected on PPTP VPN, we watched videos in both standard and HD quality from US streaming sites, such as ABC and Hulu. Transfer was really good and we didn't notice any bandwidth hiccups. BBC iPlayer worked flawlessly while we've been connected to one of ibVPN's servers in UK.
Logging policy
ibVPN states in their privacy policy that they do not log customers' activity, but log only the connection time and data transfer info, keeping those logs for 7 days. It's perfectly understandable to do so and we rather trust those providers who claim to log connection data and time/traffic spent online, than those who claim to log nothing at all. After all, that kind of data is very useful when you contact the support team to report connection problems. They can easily look through the recent logs and see what went wrong.
Support
They provide clear & easy to follow connection tutorials on their site. Fortunately, we didn't need to contact support for any issues so we are not aware of how responsive their support team is.
Conclusions
Overall speed of VPN servers is somewhere between average and good, depending on location and VPN server load. They can definitely add some more servers in the most busy locations to offload the traffic. Out of 38 VPN servers, less than half are used by more than 30 users simultaneous, while some of the less-used servers are pretty much idling (having 1 to 10 users connected). 2 to 4 VPN servers are used by over 100 users on a regular basis and we can only imagine there's a major load on them. Even if the status page reports something like 4% usage of 1000 mbit/sec, bare in mind that 1000 mbit/sec is the network port speed, and a server would rarely achieve that speed in real-world usage. There are bandwidth limits caused by routing and peering between providers, so it's safe to assume that a reported usage of 15-20% is actually quite a lot, possibly causing bottlenecks. Pricing is very good, and that's one of the main reasons we would recommend ibVPN to anyone looking for a decent VPN service at a very good price. We give ibVPN a rating of 7.5/10 among paid VPN providers
If you are/have been a customer of ibVPN, share your thoughts!