Summary
Features -

7/10

Speed & Reliability -

7/10

Security & Privacy -

5/10

Usability & Compatibility -

8/10

Support & Documentation -

6/10

Value for Money -

6/10
Summary
PureVPN is one of the top VPN providers, no question about that. They have lots of servers and IPs, speed is good but support could be better and their marketing is way too aggressive. Apart from that, there isn't much to complain about, we would like to see a better price for the service as we feel it's a bit much, and a more transparent privacy policy would be nice.
In this review of PureVPN, we will attempt to answer a simple question: does PureVPN deserve a place among the top VPN providers?
PureVPN is a VPN service that doesn't really need an introduction. It's been in the business for quite some time now (around 7 years), and it's hard not to stumble upon opinions about it if you're searching for a VPN provider on the Internet. PureVPN is operated by Hong Kong-based GZ Systems Ltd. The founder of PureVPN is an antreprenor, Uzair Gadit.
Features
Feature wise, they have over 300 VPN servers in 22 countries, with over 22,000 IP addresses. That's quite impressive.

VPN protocols: PPTP, L2TP/IPSec, SSTP, IKEv2 (for Blackberry) and OpenVPN. The later is still in beta stage. Two simultaneous connections are allowed. Encryption strength is 128-bit or 256-bit AES. Their OpenVPN features 256-bit AES-CBC encryption cipher for data transfer, LZO compression, and 1024-bit RSA CA. OpenVPN is available using UDP on port 53 only, no alternative ports or TCP protocol at this time – but it's in beta stage so we expect them to add more options later.
Their website is very informative. Maybe too informative: their overwhelming SEO efforts resulted in many redundant pages like "USA VPN Service", "Germany VPN Service" and the list continues with a dedicated page for all their locations. Information is targeted to non-technical users and there's nothing wrong with that, just that many technical details are lacking.
Pricing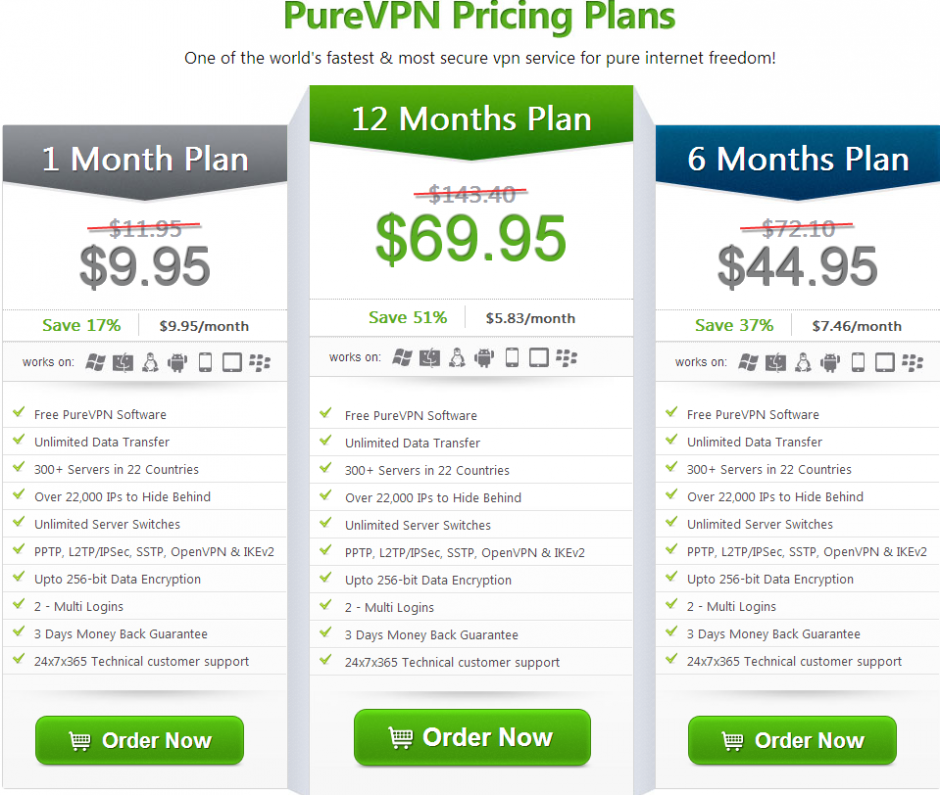 They have 3 pricing options, as follow:
$9.95 / 1 month
$44.95 / 6 months
$69.95 / 12 months
So the cheapest plan is equivalent to $5.83 / month.
They have a 3 days money back guarantee for new orders and 7 days for renewals. Their refund policy states that refund requests are valid as long as the user doesn't use more than 500MB of data transfer, or 2GB for renewals. We think that this policy is a bit too strict given today speeds. A user can easily download over 1 GB by testing his new VPN on speedtest.net and similar bandwidth testing services.
They also provide a VPN trial account for $2.5, valid for 3 days. The trial account is not subject to the money-back guarantee.
Payment methods: Paypal, Credit Cards, Alertpay, Plimus, WebMoney and Bitcoin.
Software
PureVPN has custom VPN software for Windows, Mac OS X, iOS and Android. We tried all of them for our review, but we focused on the Windows client.
Their VPN software is more complex than some of their competitors, but it has a lot of features. Overall it is well-made and quite fancy, perhaps a bit too fancy for our liking. It's very easy to use and it doesn't require any technical skills. You can select the VPN locations from a drop-down list or from a map. It also has a Support section where you can easily open support tickets, without leaving the VPN client software, visiting their site and so on.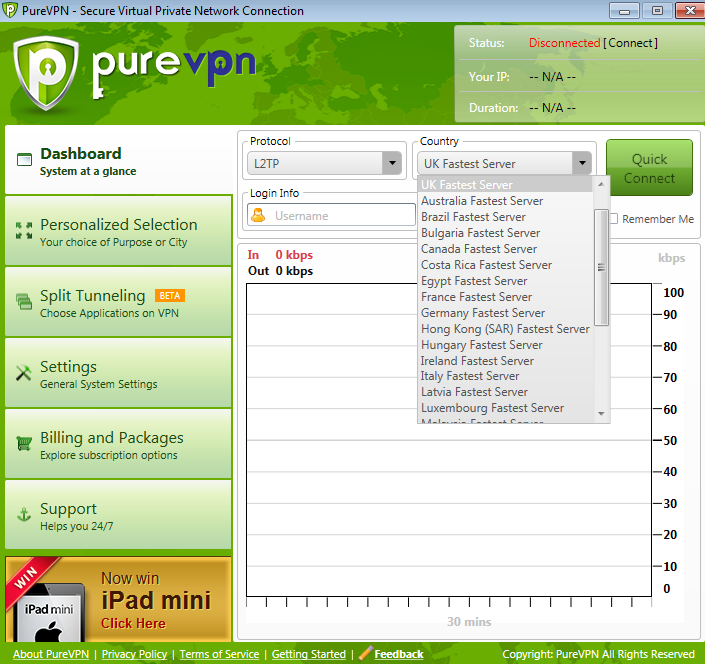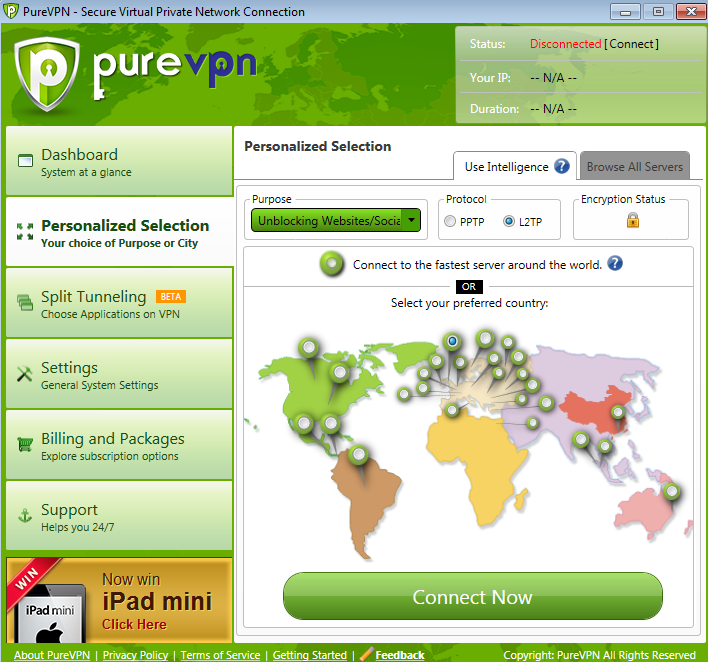 For the OpenVPN beta, they provide a tweaked version of OpenVPN GUI. We wish they had the server configuration files separately, for those like us who already have OpenVPN GUI installed. But then again, the service is targeted to non-technical users, so the easiest way to provide them access is to give them a software to install and connect.
Logging and privacy
PureVPN collects users personal identifiable information like name, phone number, address. They state that they don't log users online activity but only the access to their service (connection IP address, VPN session duration, amount of data transferred). However they don't say for how long they keep this data. It appears that in the past they were claiming to keep these logs for 5 days, but the duration was remove from their Terms and Conditions page. We wonder why.
Speed and reliability
Speed was good, average on servers far away but usually good on closer locations. L2TP was the fastest protocol in our tests, PPTP coming 2nd. SSTP was slower, but its advantage is that can easily bypass firewalls and country-wide restrictions like those in China.
Here are some speedtest results: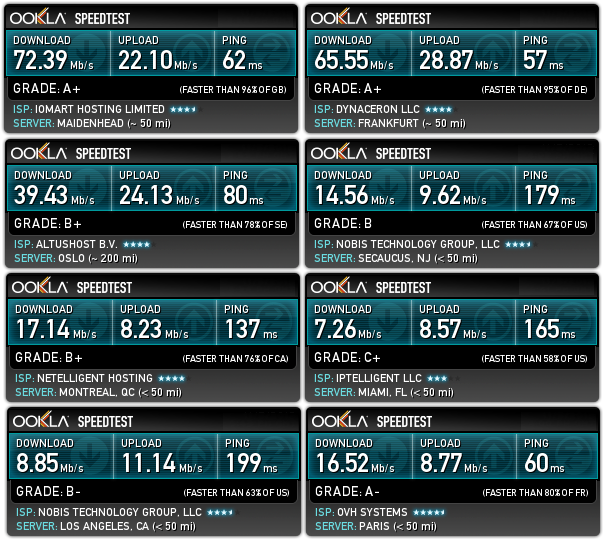 Torrent speed was also good, usually averaging between 3MBps and 5 MBps, but we reached up to 10MBps in a test.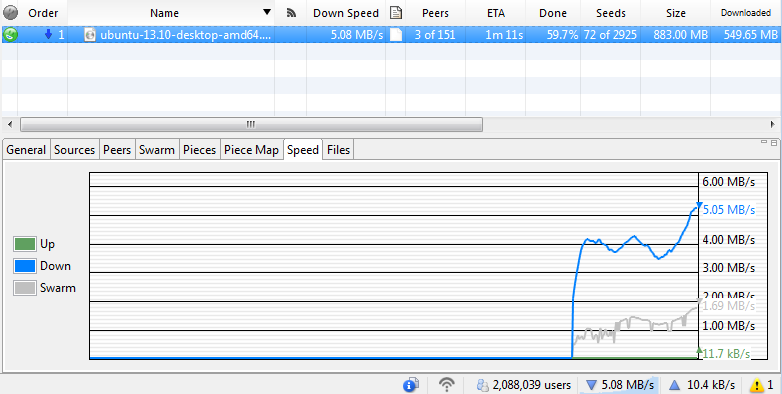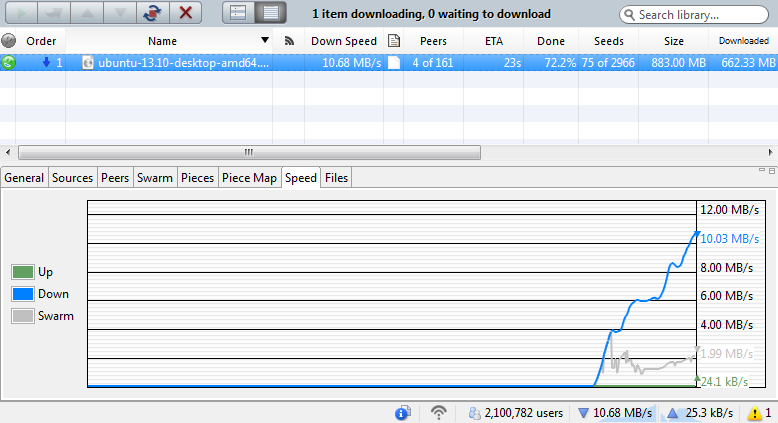 We almost maxed-out our raw/non-VPN broadband speed in some tests, so we can't complain.
VPN connections were reliable and video streaming was smooth in HD quality.
Support
PureVPN provides 24/7 support via ticketing and online chat. We tried the online chat and the support operator was helpful, addressing our issues in a timely manner. They also have a Forum.
Conclusions
The good:
many servers, many locations, huge number of IPs.
newbie-friendly VPN software.
well-documented tutorials.
P2P allowed in many locations.
BitCoin accepted.
Good speed, reliable connections.
Quick and helpful support.
The bad:
Too much SEO on their web-site (it's bloated).
Pricing could be better. Their trial is for only 3 days and it costs half than some competitors charge for an entire month.
Only 3 days money back guarantee, within low bandwidth usage.
Privacy Policy lacks details about log keeping duration.
OpenVPN is in beta, they provide tutorials for Windows only and no separate config files.
Final notes:
PureVPN is a very solid provider, and to ask the question from the beginning of this review: yes, it deserves a place among the best VPN providers. Maybe not one in top 5, but top 10 for sure. While there are some things we don't like much about PureVPN, we think that they're improving their service as we speak. For now we are giving PureVPN a rating of 7.5/10 and highly recommend it.
Do you have any experience with PureVPN? share it with us by commenting below.
Do you find the review useful? Subscribe to our e-mail newsletter (in sidebar) for more.