Review Scores
Features -

8/10

Speed & Reliability -

9/10

Security & Privacy -

8/10

Usability & Compatibility -

7/10

Support & Documentation -

8/10

Value for Money -

8/10
Review Conclusions
This provider was a pleasant surprise for us and it beats most major players in every possible way, from speed to know-how.
VPN.ac is VPN service based in Romania, operated by a security company, Netsec Interactive Solutions. Let's see how they compare with the competition.
Review Update (September 19, 2014): A couple of weeks ago, VPN.ac introduced support for Elliptic Curve Cryptography with OpenVPN. Another important addition is obfuscation support to better by-pass DPI in China and other countries where most VPN protocols are blocked.
Review Update (June 14, 2015): We included VPN.AC SecureProxy in our Alternatives to Hola article.
Review Update (August 19, 2016): new speed tests and geo-blocking testing.

Features
VPN.ac has over 70 servers in 20 countries: Australia, Canada, Switzerland, Germany, Spain, Finland, France, Hong Kong, Italy, Japan, South Korea, Lithuania, Luxembourg, Mexico, Netherlands, Poland, Romania, Sweden, Singapore, UK and USA.
There are multiple servers in some countries, for example in Netherlands they have 13 servers and in USA they have around 20.
They offer a single VPN plan that allows up to 6 simultaneous connections using OpenVPN, L2TP/IPsec and PPTP as well as their SecureProxy addon for browsers. Their VPN servers provide 128-bit and 256-bit encryption with OpenVPN and 256-bit with L2TP/IPsec. P2P is allowed in all locations, but they have some "optimized" locations for P2P: Netherlands, Canada, Sweden, Finland, Romania, Luxembourg and France.
In January 2014 vpn.ac upgraded their OpenVPN encryption to 4096-bit RSA keys for authentication and AES-256-bit cipher for data transfer. OpenVPN also features hourly PFS (Perfect Forward Secrecy). 9 months later they introduced support for Elliptic Curve Cryptography, an upgrade to RSA – quite an unique feature in the market.
Another feature they introduced in early 2014 is their Private DNS Resolvers: instead of using 3rd party DNS servers like Google or hosting providers, who transmit DNS queries in clear-text, vpn.ac deployed their own DNS resolvers and all DNS queries are encrypted between the customers and the resolvers using AES 128-bit. On the resolver servers, they run a service that is generating millions of DNS queries which are mixed with the queries received from VPN users, this way making the resolvers pretty much immune in case of DNS query sniffing.
Their SecureProxy extension for Chrome, Firefox and Opera allows the users to tunnel the browsing traffic without connecting to VPN in a classic way (OpenVPN, L2TP/IPsec etc.) using strong encryption. The extension is using pure TLS traffic so it's very good in bypassing firewalls and ISP censoring in China.
Currently, their SecureProxy addon has multiple gateways in USA (8 servers on West Coast, 4 on East Coast, 1 in Central US), Japan (6 servers), Hong Kong (2 servers), South Korea, Singapore (2 servers), India, Australia, Canada (Vancouver and Montreal), UK (3 servers), Ireland, Germany (2 servers), Austria, France, Hungary, Netherlands (2 servers), Finland, Norway, Czech Republic, Russia, Switzerland, Sweden, Italy, Bulgaria, Ukraine, Lithuania, Poland, Mexico, Denmark, Spain, Portugal and Romania.
Software
They had a L2TP/IPSEC dialer at the time we wrote the first review. On January 2014 they released a proprietary VPN software for Windows and Mac. The software is light, clean and doesn't require installation on PC, it is compatible with all their VPN protocols, has a list of locations and connection ports to choose from, displays their latest news, connection status including IP address. The software is available for Linux too, in beta.

Downloading, running the software and connecting to a server took us less than a minute. A VPN software for Mac is also available and it is a precise "clone" of their Windows version.
Software version 3.5 has built-in support for Kill Switch, DNS leak protection, IPv6 leak protection, auto-start and auto-connect.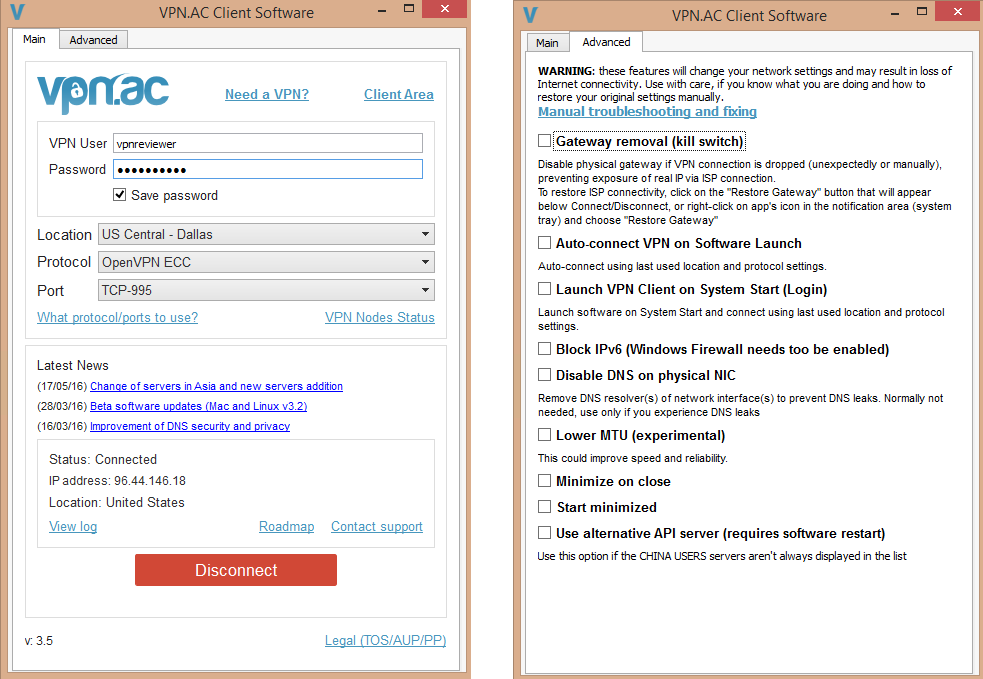 A proprietary software is also available for Android, using OpenVPN with Elliptic Curve Cryptography and AES-128 for data channel. What's really nice about their Android VPN app is that allows the user to exclude apps from using the VPN. This feature comes handy for those who don't want all their traffic to go through the VPN, but only some apps.
Pricing
Their monthly VPN plan is $9 and discounts are available for their 3, 6 and 12-month plans: $24/3 months, $36/6 months and $58/year. They provide a $2 trial account for one week. You can cancel your subscription in the first 7 days to get a full refund. Payment methods include Paypal, Bitcoin, Credit Cards, AliPay, Perfect Money, gift cards and many more. At the end of this review you will find an exclusive 30% OFF recurring discount code.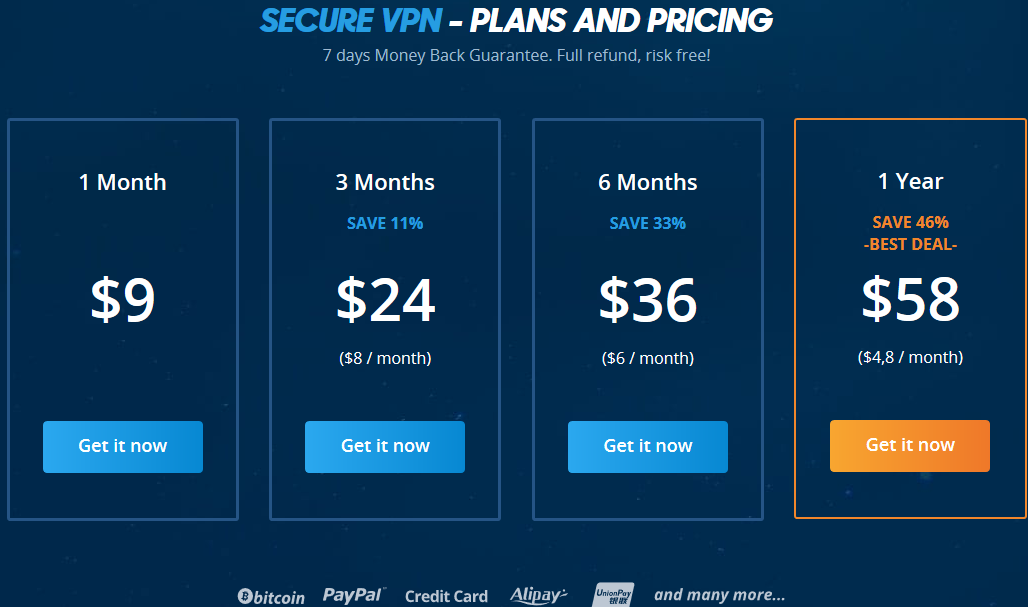 Logging and Privacy
According to their Privacy Policy and ToS, they only keep connection logs for 1 day. No activity logs (e.g. browsing history) are kept.
From Privacy Policy:
Do you log my activity?
We DO NOT log/monitor user activity such as web-sites you visit, emails, instant messages etc. We need to keep some connection (to our VPN service) logs for support and debugging purposes. Connection logs are kept on a separate, encrypted server (located in a non-disclosed location) and are automatically erased on a daily basis.
Speed and Reliability
We were impressed with their speed, reaching over 100 Mbps, even 300+ Mbps connecting to the VPN. That's better than our testing results with other VPN services.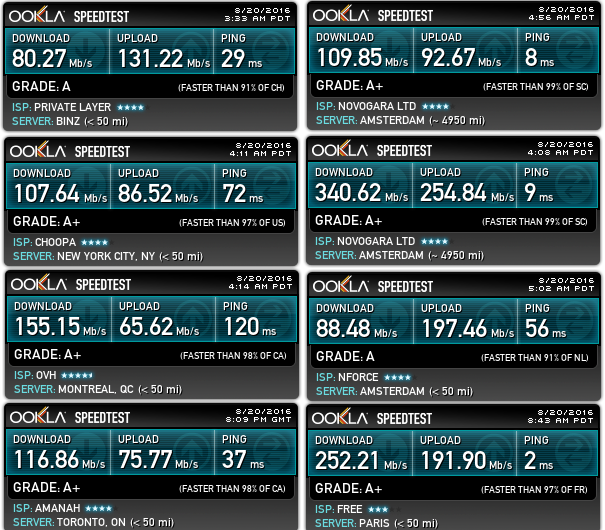 Torrent speed test via Canada: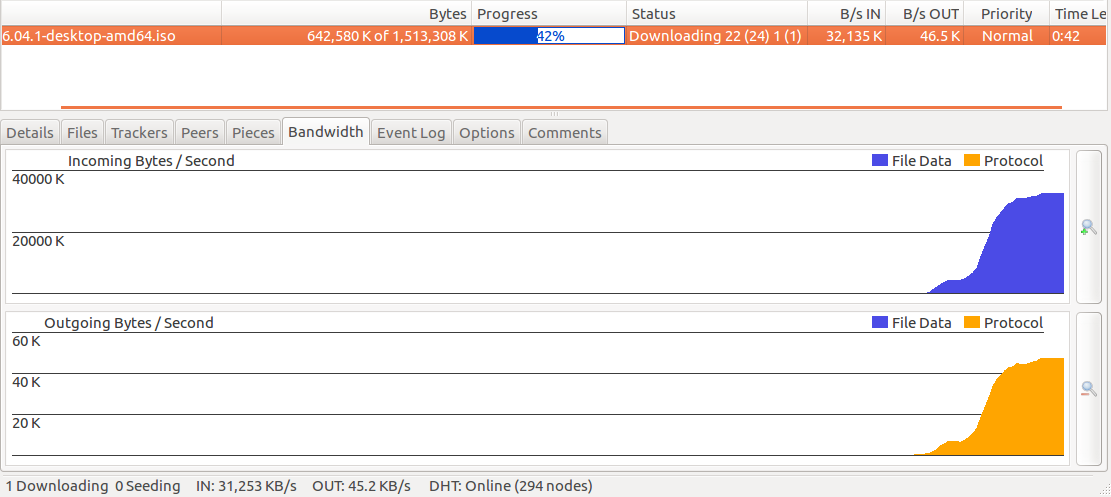 Torrent speed test via Netherlands: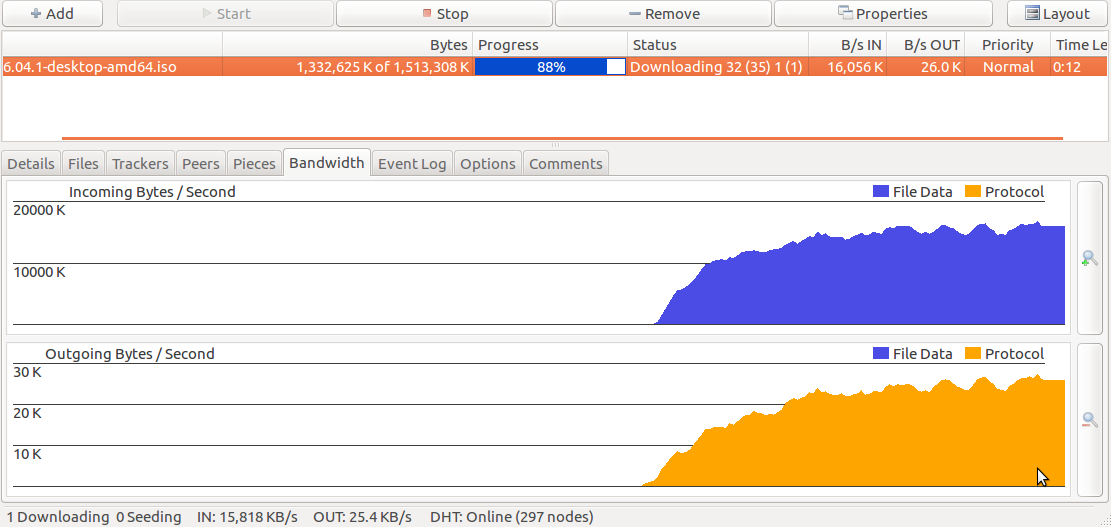 Torrent speed test via Switzerland: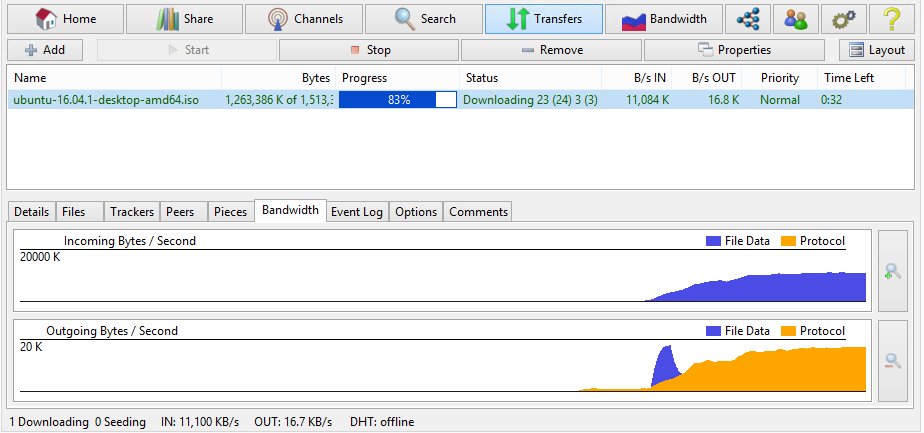 The speed results above were reached connecting with OpenVPN and IPsec.
In terms of reliability, we had OpenVPN connections running for up to 3 days without disconnecting, so we cannot complain. The IPSec connection wasn't as stable as we would have liked, and it disconnected us twice in a full day of testing.
We also tested the speed with their SecureProxy browser addon and it beats other browser VPNs by a mile!
Speed test results with VPN.AC SecureProxy browser addon: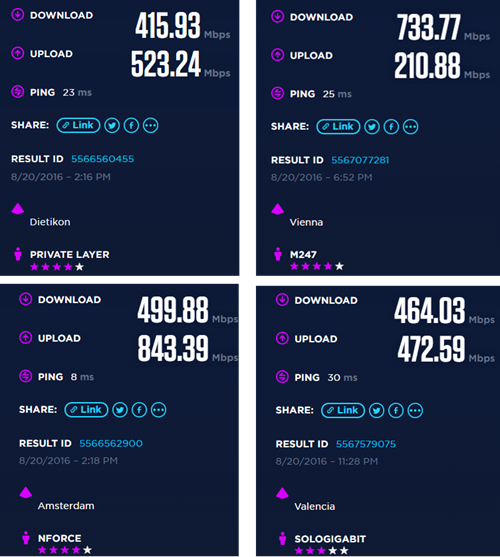 In our tests we also noticed that Netflix, BBC iPlayer, Hulu and some other streaming services aren't blocked. They are working with all their locations.
Support
During our time with VPN.ac, we opened two tickets and both were answered in a helpful manner before we went away from the ticketing page – literally. They also run a live chat and we used it to ask for a few technical details about their service. According to their FAQ page, support is provided by themselves and not by a 3rd party.
Conclusions
Good:
Excellent speeds. Could this be because their servers are not overused yet? Only time will tell.
Fast and insightful support assistance.
An innovative company, not just "yet another VPN": the first in the industry to encrypt DNS queries, one of the very few to support Elliptic Curve Cryptography.
VPN service backed by a security company so one would expect them to keep their servers secure (they provide security testing services).
Very good, light VPN software for Windows, Mac, Linux (beta) and Android that gets the job done.
Lots of OpenVPN connection types available, good mix of obfuscation types, strong encryption parameters and ports.
P2P allowed.
SecureProxy extension for Chrome and Firefox is very good if you want to secure only the browsing traffic. And it's lightning fast!
Attractive pricing, bitcoin accepted.
Clean and informative website. Includes a Roadmap page where they give info on what's under development and what they are working on and privacy/security tutorials.
Netflix, Hulu, BBC iPlayer and a bunch of other streaming services are working via all their locations.
Bad:
Ideally, we would like to see VPN servers in more countries.
No proprietary VPN app for iOS yet.
Software isn't open-source but they plan to release it.
No support for HTTP or SOCKS5 proxies which come handy for torrenting.
Final notes:
This provider was a pleasant surprise for us. The entire testing process (account activation, VPN setup, speed and reliability tests, feature-gathering from their website) was a straightforward one. Their servers are very fast and reliable, pricing is good, and support is friendly and very knowledgeable. Software is very light and doesn't require installation on PC: not the average software that's adding stuff all over the place, from Program Files to registry.
Bearing all this in mind, we give vpn.ac a rating of 8/10 and highly recommend it.
Should you decide to sign-up with them, use the vpn.ac discount code "VPNREV" for 30% OFF recurring discount.