Summary
Features -

4/10

Speed & Reliability -

4/10

Security & Privacy -

/10

Usability & Compatibility -

6/10

Support & Documentation -

3/10

Value for Money -

7/10
Summary
There isn't much to say about Hola VPN except that there is a lot of controversy related to their practice of turning their client's connections into exit nodes and facilitating the use of botnets. There are a lot of shady aspects to this service, so we recommend caution depending on the intended usage.
Hola is a browser-based service that can be used to unblock geo-locked content and it also offers the possibility to stream videos online using an intuitive media player. With over 40 million claimed users, Hola is intended mostly for private and non-commercial users.
Review Update June 14, 2015: We recommend not to use Hola and suggest two other Hola Alternatives that are much better. 
Hola Networks Ltd., an Israel-based company, launched their network in late 2012, and it started to grow constantly in January 2013 by offering a free product.
Hola VPN works as a browser extension for Chrome and Firefox on all modern operating systems, or as a stand-alone app for Android and iOS. Quite surprisingly, the service is available for Internet Explorer, too.
The Media Player service works for streaming torrent files instantly, directly from the browser. Along with the browser extension, the service will require to install a small program that is essentially both a torrent client and a Flash-based media player.
What is very interesting about the service is that it works like a P2P mesh network, meaning that one user can tunnel his browsing traffic through other user's network. The advantage of this feature is that users can benefit from many country locations, including small countries where data centers aren't common. The problem is that if you are a peer, you may get into trouble if other users tunneling the connection through your PC are into illegal activities like hacking or accessing illegal web content.
Features
Hola VPN is available on more devices at the same time, as long as the user is logged in into their account.
Premium users receive unlimited use per day, Tab VPN and the guarantee that they're never used as peers.
Hola for business allows many concurrent sessions, high bandwidth with multiple IPs, faster changing of IP and engineering and technical support.
Hola Media Player allows instant streaming and it works with any torrent or magnet link.
Hola Player for publishers uses automatic subtitles in the user's native language without buffering (if the videos are well seeded). The player is easy to integrate on any website, through an embed code.
The browser extension automatically detects when you try to access public streaming sites (Hulu, Netflix etc.) or websites that are popular with other Hola users in your country, and will pop-out suggesting a location to connect to, such as USA. After selecting the location, the web page is refreshed automatically to by-pass the geo-location blocking.
A history of recently accessed websites or streamed videos will be recorded into your account on their website. You can access the history anytime and clear it. Privacy-aware users would definitely hate this feature.
The extension suggests a list of popular websites, as used by other people from the same country. As one may easily guess, the most popular are Netflix, Pandora, Hulu, Spotify and BBC but we also found many porn and adult cam-sites being popular in the lists.
Software
Being a browser extension, Hola is easy to install and use for private Internet surfing, streaming torrents and videos. The service works on Chrome, Firefox and Internet Explorer, as well as Android and iOS mobile devices.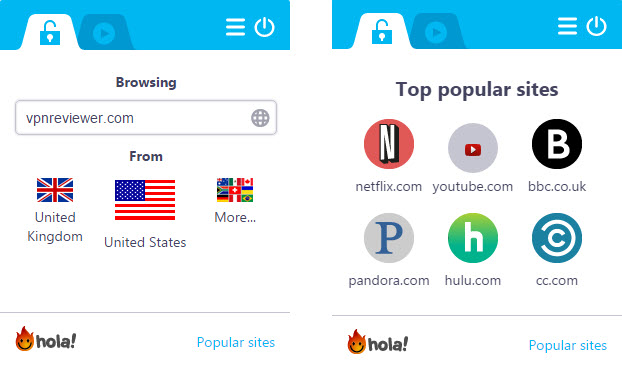 Complete installation guides and troubleshooting issues are to be found in the FAQ section of their website, yet the installation process is so simple that we'd be surprised if someone would actually require to go through any tutorial. To put it simple and plain, it just works out of the box.
It is worth noting that the browser extension is not an always-on proxy service, but it works as an unblocker on request, only for the websites that you want to unblock or access from a different country location.
We tested the Android app and it is establishing a classic VPN connection, which isn't used system-wide for all apps but only for the apps you select from the list. For example, you can select only the mobile browser or the Netflix app to use the tunnel. Hola app for Android also suggests a list of popular streaming apps to install if you don't have them already and might otherwise be blocked in Play Store: Pandora, Spotify, Netflix, Hulu, iTV, Facebook, Vimeo and more. These apps are installed directly from Hola, by-passing the Google Play.
Hola for Android also comes bundled with a mobile Chromium-based browser that should allow easy switching of location. Unfortunately, for some reason it didn't work at all in our testing and it was using the ISP connection. Though the service was working fine with the Android Chrome and Firefox when we launched them from the Hola app.
From a security perspective, Hola is vague about about what they offer in this regard. We don't see "security" being one of the features of their product. Since they do not provide details on this, we decided to run a packet-capture test and dig deeper in the traffic, sniffing the connection made through the Hola browser addon. We discovered that a proxy connection was established mostly on port 22222 and all traffic was in clear-text.
They should make it clear that traffic is not encrypted, as the website claims state otherwise:

Speaking of encryption, they mention that SSL encryption on any site will be available soon for Premium users.
Pricing
All Hola services are available for free. However, the service works as a P2P network, which means that other users might access the Internet through one's computer, using bandwidth and eventually causing trouble.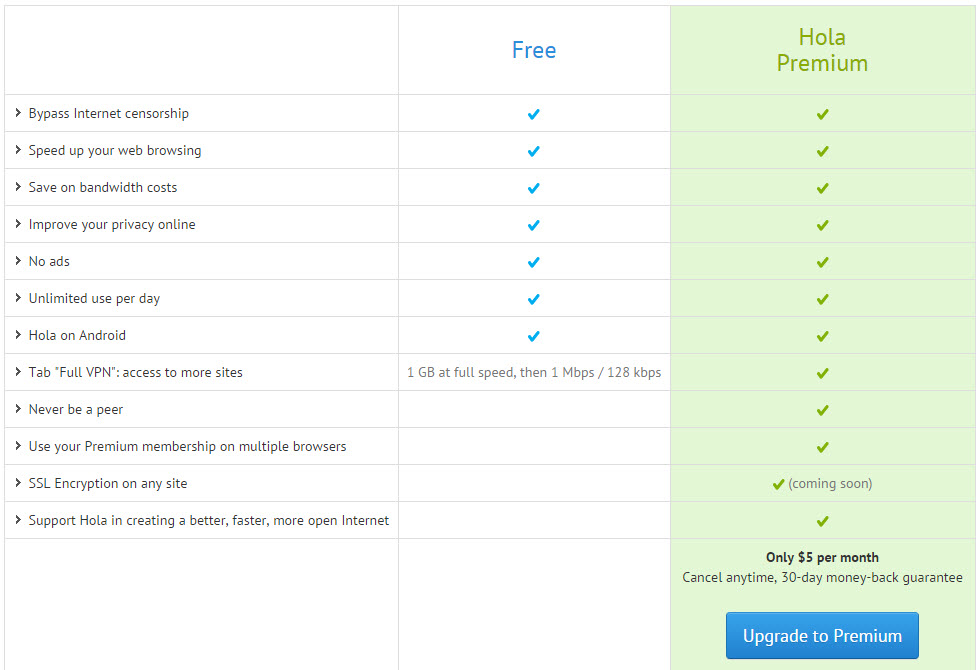 Premium services allow paying users to redirect their requests to other peers, while they themselves are never used as peers. Hola Premium is available through monthly subscription at $5/month or $3.75/month (for annual subscriptions).
Hola VPN on iOS costs $4.99 monthly and $44,99 yearly.
Logging and Privacy
According to Hola Network Privacy Policy, they collect anonymous information (hardware specifications, browser type etc.) to improve their service. The company also collect personal information (IP addresses, name and emails), but also information provided by third party services which can be used to create an account (Facebook, for example). The company claims to collect this types of information in order to be able to provide better services and technical support.
Website access information is collected through cookies, pixel tags, web beacon and website access log data.
Hola may share collected information for law compliance purposes, court orders, to detect and address fraud, security violations or technical issues. Email addresses may be shared with marketing partners to send out promotional messages, which the user can opt out by request.
Speed and reliability
Speed is good when connected to some of the locations widely used for streaming, such as USA, UK, Canada etc., where they are using dedicated and virtual servers instead of P2P through other users' connections. Speed test results through these locations varied from satisfactory to very good: ~3 Mbps to over 100 Mbps sometimes. That should be enough for most demanding streaming services, even in HD quality. The tests through P2P nodes were much slower, but that is not a surprise.
Speaking of reliability, we haven't experience major issues such as connection drops when using the service. A few times we found it difficult to change the location as the extension was still proxying through USA even when we selected other location to be used for that specific website. The extension also crashed a few times and required a browser restart.
Support
Hola customer support can be contacted via email for basic support requests. Business clients benefit from full engineering and technical support. We contacted the support department to ask for more details on their service and haven't got a reply in 3 days and that is disappointing.
Conclusions
The good
the extension is free and can be used by anyone to unblock streaming content.
very easy to use.
proxy locations available almost everywhere. There is even North Korea in the list, but it never worked.
Android mobile app facilitates downloading of media apps that can't be reached in Play Store (Pandora, Netlfix, Spotify and more)
good speed through via the widely-used locations.
the video streaming addon is useful if you don't want to wait to download torrent files. Be warned that it doesn't protect the P2P traffic, so you might get in trouble if torrent traffic is not allowed in your country.
The bad
there is no security as the traffic is in clear-text.
extension is a bit buggy.
in our experience, support was not existing. Hopefully they reply to the paying customers.
the extension doesn't work in "always-on" mode, like ZenMate does.
Final notes
Hola is advertised as a VPN, but when we hear "VPN" we are first thinking about data security (encryption) and privacy. Data security is lacking completely and privacy is questionable. To describe Hola accurately, it is actually a classic proxy service that's very useful for the single purpose of unblocking web content and mobile apps or testing if a website can be accessed from a specific location, say China or Iran. The fact that Hola is vague on how the service works is dangerous, giving users a false sense of security if they aren't doing a proper research on the service before using it.
UPDATE (05/30/2015) Recent news disclosed that Hola is selling bandwidth for botnet purposes. Find out more:
We questioned and didn't like their practice when we reviewed them, as one can find in our review, but now it's very clear that people should think twice before using them. Considering recent disclosure, we recommend to stay away from this shady and unscrupulous service.