Summary
Features -

7/10

Speed & Reliability -

8/10

Security & Privacy -

8/10

Usability & Compatibility -

8/10

Support & Documentation -

6/10

Value for Money -

5/10
Summary
Perfect Privacy VPN is one of the stronger VPN services that we could find. The performance and security are at a high level and even with the existence of a Windows client only and the high prices, we still recommend it.
Perfect Privacy protects the privacy of its users since 2008, when the service was first launched. For more then 7 years on the market, Perfect Privacy is one of the most discrete services available worldwide. One of the best features offered is that no user activity is recorded. According to the Imprint page, they are incorporated in Switzerland and Panama. Several websites report that the service has the headquarter in New Zealand, so we are a bit confused in this matter.
Perfect Privacy VPN currently has 40 servers located all over the world in 25 different countries, including popular locations such as Russia, Iceland, Sweden, Netherlands and Honk Kong.
The Perfect Privacy team develops their software-solutions in-house, without the involvement of third parties. For encryption, they use safe industry standards, like OpenVPN, SSH and IPSec, which can be used with most operating systems and devices. PPTP tunneling is available, too, but it is considered insecure, so users should avoid it.
Perfect Privacy is an initiative of private and independent individuals, coming from different parts of the world. The company stresses out that their services are law-compliant and that they don't review, log, store or monitor any type of data exchange through communications or connections.
Features
Starting at 10,41 euros/month, Perfect Privacy is offering full VPN services. Here is a highlight of their features:
Firewall protection
DNS leak protection
8 port forwardings, offering P2P support too.
Unlimited simultaneous use using a single account
Up to 4-hop VPN cascading
Real-time server latency checking available on their website
SOCKS5 and Squid proxy available on all servers
Ability to browse .onion websites
Perfect Privacy works on all devices – Windows, OS X, Linux, iOS and Android.
A unique feature is the Multi-Hop VPN, which helps users encrypt their traffic through up to 4 hops. Cascading servers makes it much more difficult to trace back traffic and online activities. However, using this feature will affect the speed as each extra-hope would increase the latency. Additionally they provide proxy and SSH-tunneling support which comes handy if you don't want to tunnel all your traffic through their gateway but only the browser or torrent client.
OpenVPN security info: AES 256-bit for data channel, RSA-4096 for authentication, SHA512 for HMAC. Sample from connection log:

Another feature that we like is the information provided on their website, such as a bandwidth status page where the user can see what is the bandwidth utilization on each of their servers, as well as a total of incoming and outgoing traffic and overall usage percentage. The website also includes DNS and WebRTC leak tests.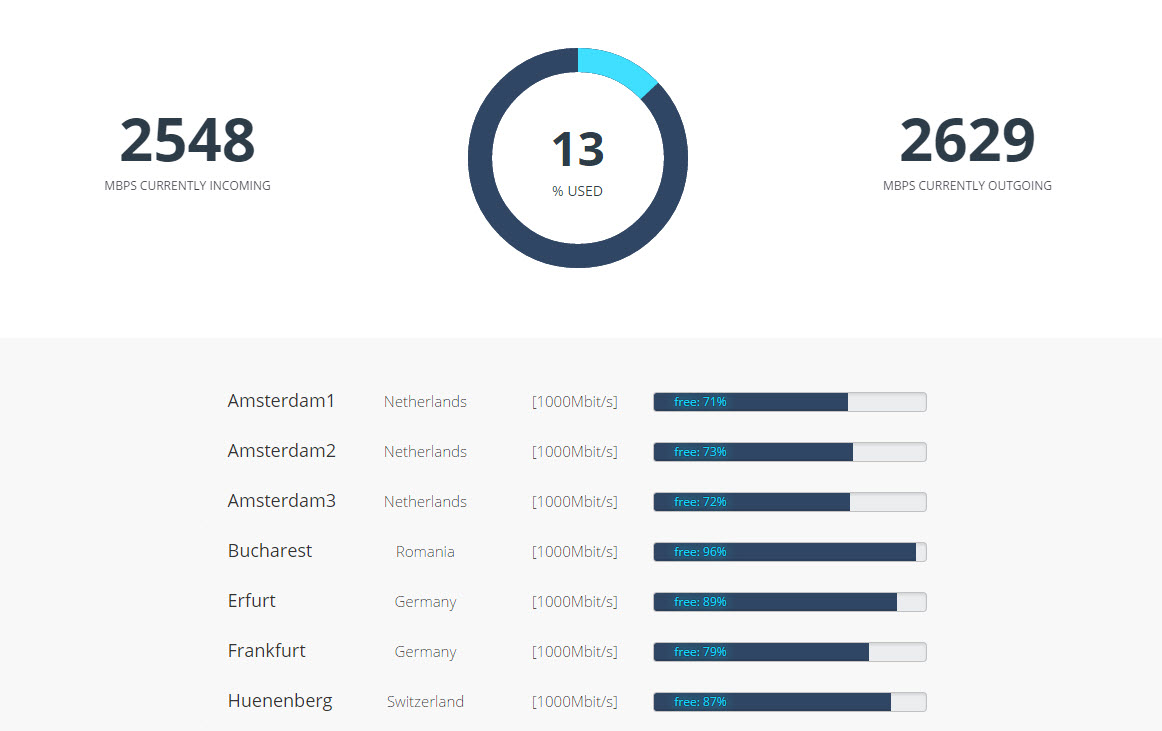 The VPN gateways are located in the following countries currently: Australia, Brazil, Canada, Czech Republic, Egypt, France, Germany, Hong Kong, Iceland, Israel, Japan, Latvia, Lithuania, Luxembourg, Netherlands, Norway, Panama, Romania, Russia, Singapore, Sweden, Switzerland, Turkey, Ukraine, UK and USA.
That certainly is an extensive list of locations to choose from.
Software
The software is easy to install and use on PCs running Windows. Updates are made automatically, ensuring that the software configuration is always up to date.
Currently the client software is available only for Windows, for other platforms there are a few 3rd party VPN clients compatible: Tunnelblick and Viscosity for Mac, OpenVPN for Android, OpenVPN Connect for iOS.
Not having a custom software for other platforms is quite a drawback, since it packs some must-have features that Mac, Linux and mobile users won't benefit from. Tutorials for 3rd party software, including screenshots, are available on their site. Some more tutorials can be found on their forums.
The VPN client is quite complex, yet easy to use, and has numerous useful options such as DNS leak protection, multi-hop tunnelling, firewall modification to protect the user if the VPN connection drops. The software also displays useful information about the VPN servers status like current bandwidth usage and latency by pinging all servers. The most important features of the software are highlighted in the following screenshots: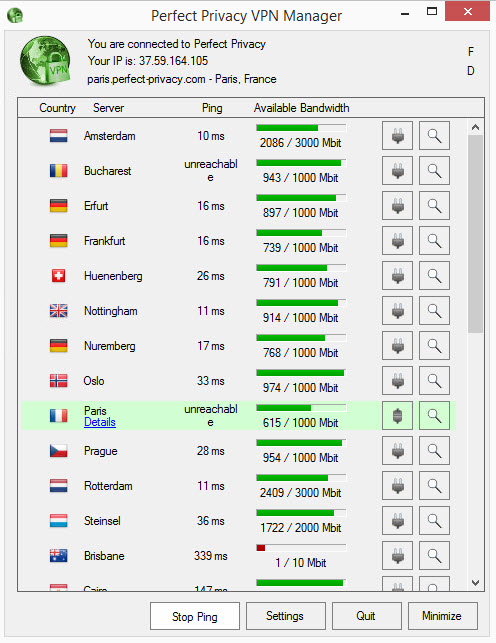 Software settings including Firewall and DNS leak protection: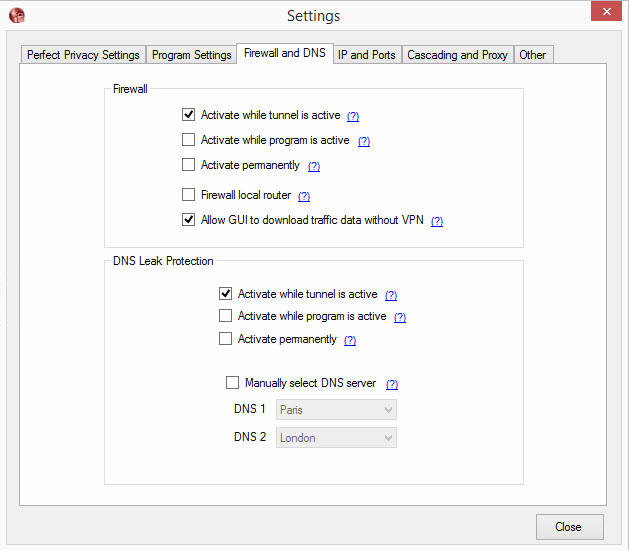 Pricing
Perfect Privacy pricing consists of 5 different packages.
1 month subscription at the price of € 16,49
3 month subscription at the price of € 14,98 /month (€ 44,95 for 3 months)
6 month subscription at the price of € 14,16 /month (€  84,95 for 6 months)
12 month subscription at the price of € 12,50 month (€ 149,95 for 1 year)
24 month subscription at the price of € 10,41 month (€ 249,95 for 2 years)
As for payment options, the Perfect Privacy service can be paid online via PayPal, Bitcoin, EgoPay, Neteller, Perfect Money, WebMoney and PaySafeCard.
It is worth to be mentioned also that PaySafeCard has additional costs (price range will be from € 11,25 to € 20) because of high commissions. There is no official refund policy on their website, but we asked about it and they said that they deal with refunds on an individual basis, meaning that if the service doesn't work or the user is not fully satisfied with the service, they would find a way for the refund. Still, not clear if full refunds are available and if there is a maximum time frame to request one.
Logging and Privacy
According to the Privacy policy, no logging or any user specific activity data is kept, as well as no other types of data – not even connection logs. The company stores only the following data: login credentials, email address and account expiration date. The terms & condition page clearly states that sharing accounts is prohibited.
Speed and Reliability
We had some connection problems to some locations and we reported the problems to the support staff. We managed to connect successfully to most VPN locations, using both OpenVPN and IPSec, and speed was good. A few times the software asked again for the VPN credentials even if they were saved and that was a big annoying. However, connection was established successfully after retrying a few times by inserting the user/pass. Apart from that, no major problems were encountered during our testing, taking place during a few days time frame.
In the speed tests, we found that IPsec is usually faster than OpenVPN UDP, reaching 100 Mbps easily through several locations. OpenVPN through UDP comes next, averaging 50 to 70 Mbps. OpenVPN TCP was noticeably slower, averaging 15-20 Mbps.
We also notice a major speed drop when using the multi-hop feature: between 20 to 30 Mbps using 2 hops, down to 3-5 Mbps using 4 hops. Note that the multi-hop connections are made by establishing multiple OpenVPN connections through the existing one(s), resulting in a "tunnel within tunnel" setup, affecting both speed and CPU usage.
Here are some speed test results (all using OpenVPN UDP without the multi-hop feature enabled):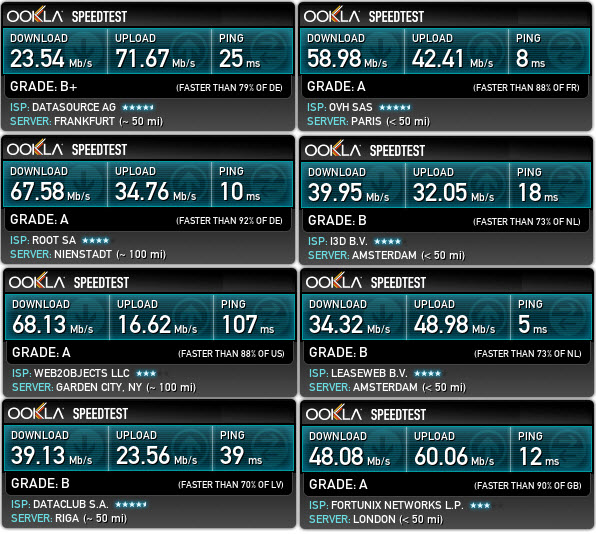 Support
Users can request more information or help by contacting them via e-mail (PGP can be used) or using a contact form available on the website. A forum is also available and it is quite active. The forum community consists of English and German speaking users. As far as support goes, we contacted them 5 times via email and we were pleased to receive well informed replies in a timely manner. Replies were given within one hour on average. Remote assistance can be provided using Teamviewer on request, during specific time slots.
Conclusions
The good
Easy to use and solid software for Windows, packed with must-have features.
Many locations and servers to choose from.
Increased data privacy through the Multi-Hop VPN feature.
Bitcoin accepted.
P2P allowed (except through the USA location).
Not asking for customer data, no logs policy.
Good speed.
Fast and well informed support.
Support for SSH, SOCKS and Proxy.
The bad
Expensive. Pricing is even more than double compared to major competitors.
Custom client software available for Windows only, no mobile, Mac or Linux.
Final notes
Perfect Privacy VPN is definitely a solid VPN service that takes security and privacy seriously. We don't have anything to complain about except for high pricing and the availability of VPN client software for Windows only. Our score for Perfect Privacy is 7/10.