Summary
Features -

4/10

Speed & Reliability -

5/10

Security & Privacy -

3/10

Usability & Compatibility -

3/10

Support & Documentation -

4/10

Value for Money -

5/10
Summary
OneVPN is an unpolished service that seems to have been forgotten or not very well managed. The customer support experience was abysmal, the service itself had technical issues that were never addressed, and they are a long way from being able to compete in today's VPN market.
OneVPN is a Hong-Kong based VPN service, a product of Unravel Technologies Ltd. that started its activity not long ago according to their description. They offer 60+ locations in 21 countries: Czech Republic, UK, Norway, France, Spain, Germany, Netherlands, Turkey, Sweden, Italy, Switzerland, Brazil, Mexico, Hong Kong, Singapore, China, Malaysia, USA, Canada, Australia and New Zealand.
The only information needed to sign up is a name and an e-mail address, but further information may be required depending on the payment method used at check-out.
They claim their motto is "to provide a perfect combo of Security and Speed", so let's find out how accurate that statement is.
Privacy and Logging Policy
OneVPN has a rather short and concise privacy policy, which states as follows: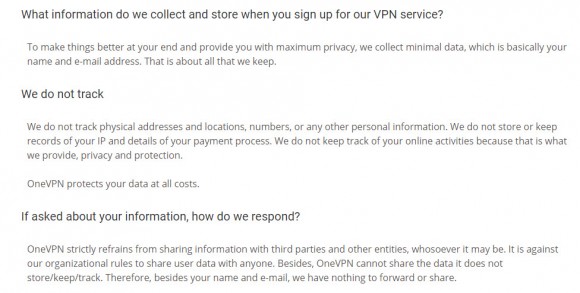 One thing that was not clarified (even by the technical support department) was the phrasing "That is about all that we keep" which isn't very reassuring.
Keep in mind that this privacy policy is current at the time of the review (beginning of 2017), and we recommend that you check out their privacy policy for the latest updates or modifications.
Software
OneVPN offers software for Windows, Mac and Android. Their iOS app is under development according to their website.
We tested the Windows application which is built to server the basic needs directly from the first page, but is lacking in design as far as we are concerned.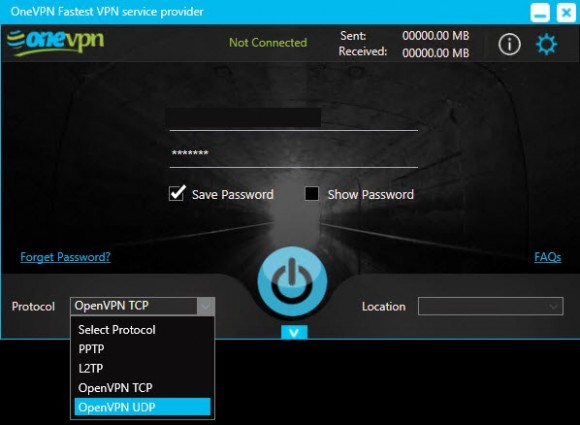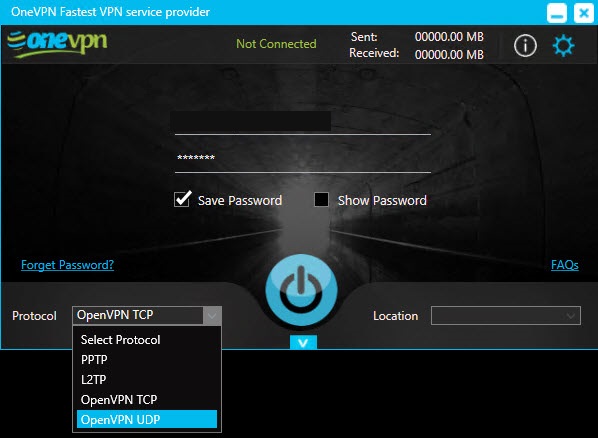 The features are available right on the first page but there were some issues accessing the settings button. We addressed this issue with the tech support department but they had no response on the sport. They informed us that our issue has been forwarded to the pertinent department and that we will be informed when a solution is found. More than a week has passed and we have not received an answer.
There was also a connection log glitch that we reported where the only thing showing was that the connection was waiting to be established, no other information was displayed and the application would eventually stall or disconnect: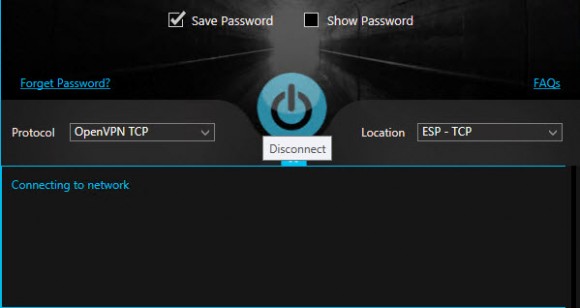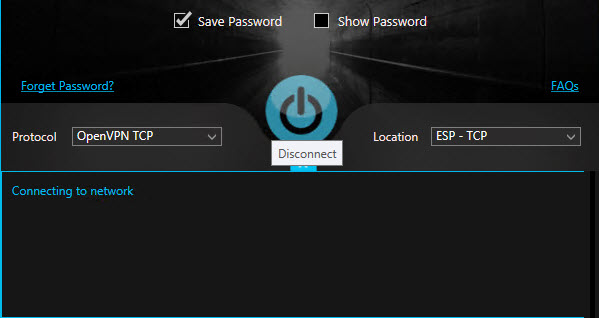 This issues was also forwarded to the support team but yes, you guessed it, there has been no reply in over a week.
Features
OneVPN's application is supposed to have some features such as auto-reconnect and kill-switch that we wanted to test out and speak about, but since there was no reply, we weren't able to run the tests.
Regarding the service, there is a lot of advertisement done on the website for some features that were not explained to us by the support team:


When we asked about ad-blocker and Speed Booster, we were told that ad-blocker is enabled automatically ,which is not true, ads were still showing up and there is no indication that such a feature would be enabled within the software. Surprisingly, we were informed that our internet speed would improve with the Speed Booster, making it better than what our ISP provides. When we asked how this is possible, we received this answer: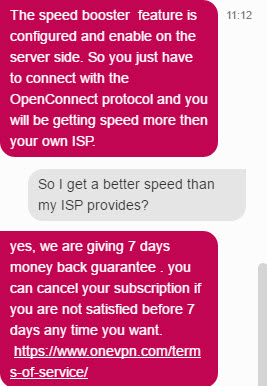 This sort of sums up the customer support experience, but we will talk about that later, for now, we are still shocked about the claim that the internet speed will improve past the ISP limit. This is an obvious fake claim and anyone who knows how the Internet works would agree.
Regarding encryption, OneVPN advertises up to 256 bit encryption, which is a broad statement to say the least. There is no specification anywhere as to what type of encryption is used. Upon testing the connection we found that they use 128bit encryption for PPTP (this protocol is not secure, regardless of encryption strength) and AES 256-bit and RSA 2048 bit for handshakes for OpenVPN. It's a matter of perspective, and we noticed that the lack of transparency is usually a reflection of a low quality service, which in the case of OneVPN is certainly true.
One thing we would like to mention is that while connected, OneVPN blocks the possibility to ping external hosts, which is odd, since it can help with diagnosing connectivity issues and help with the troubleshooting process.
Speed
The browsing speed test results were good: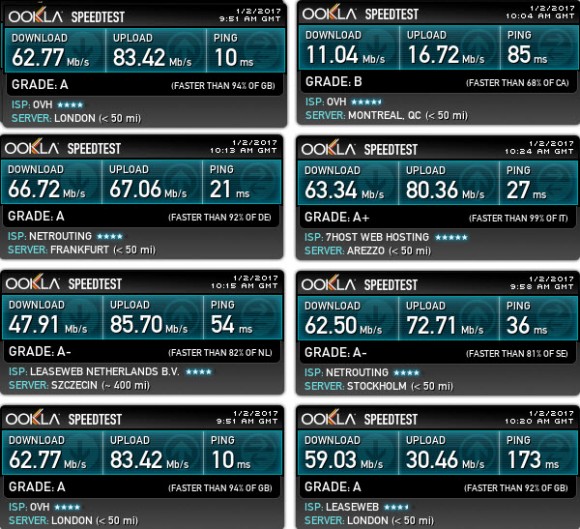 The browsing experience was good, there were no interruptions or issues and we enjoyed the fact that the latency was good regardless of the server location.
When it comes to torrent downloads however, the results were below average: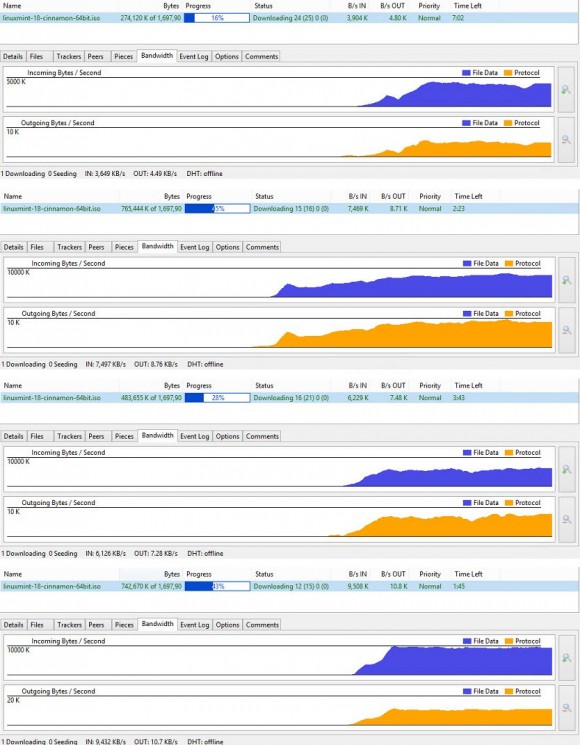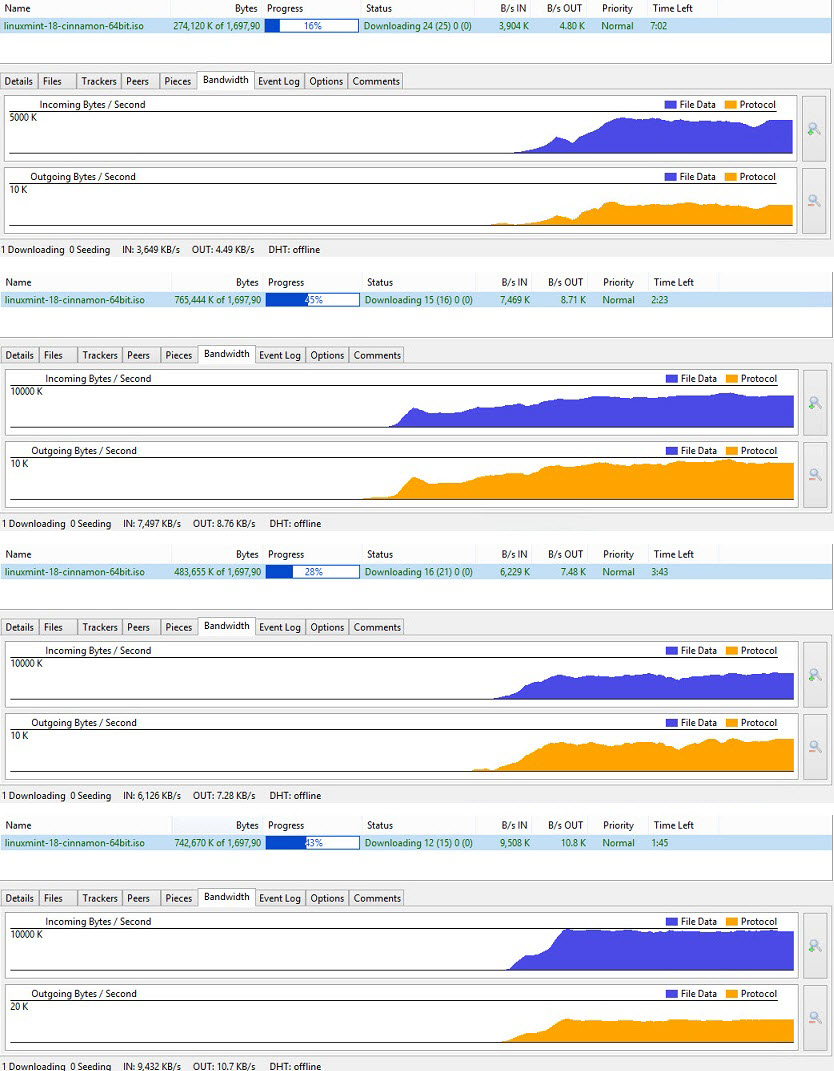 We were expecting higher download speeds for some of the locations at least, but it seems that the browsing speed results did not reflect the quality of the overall connectivity and infrastructure.
Mobile Performance
We tested the Android application, and we have to say that even though it is somewhat self-explanatory, there are still a few things missing, such as direct access to settings and a bit less clutter: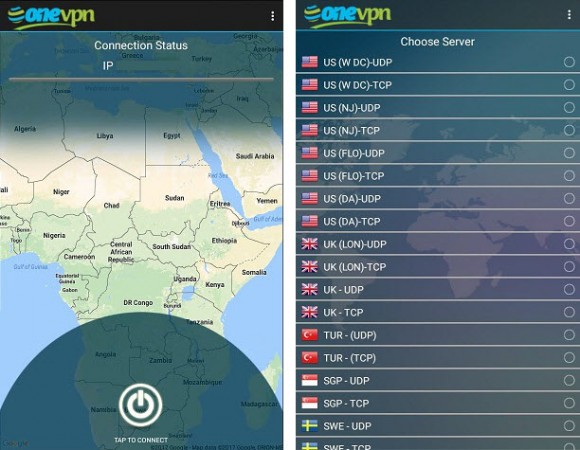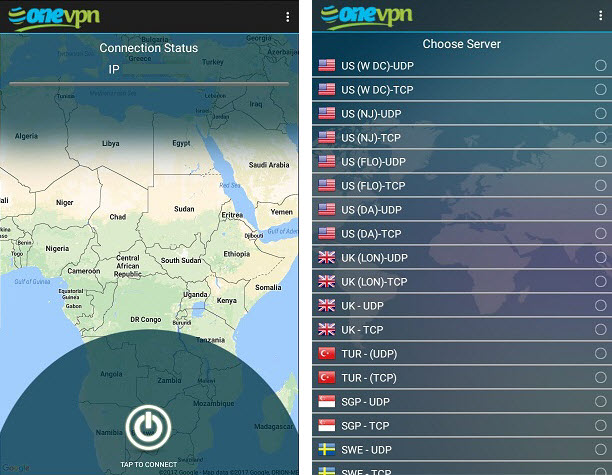 It's not necessarily the functionality that gave us a headache, but rather the clutter and the lack of logic when it comes to element displacement. There were also a few issues with the language used, and as our customer service experience confirmed, English does not seem to be their strong point.
Regarding the speed test results, we were disappointed to say the least:

The mobile browsing experience was chunky, with some interruptions especially when streaming media. Buffered content ran fluidly however, but it is easy to tell that the service is not up to the standards as far as mobile speed goes.
Pricing
OneVPN offers the following pricing plans: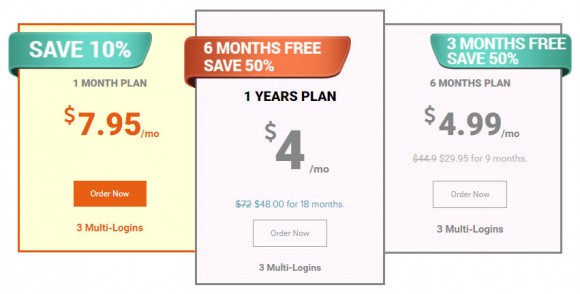 The prices are technically fair considering the market, however, taking the performance of the service into account, it is not justified in our opinion. Assuming this would be a fully functional service with no issues and a decent support team, we would have thought much more of it.
OneVPN accepts a good number of payment methods. We enjoyed the diversity and we appreciate this aspect in a VPN service:

There is an affiliate program available, and if this is something of interest to you, we recommend checking out their website for more information.
Support
The technical support team was probably one of the worst we ever encountered, and that is a very nice way to put it. The tech we spoke to did not answer anything personally, just copy/pasted template answers that were not relevant. We were eventually escalated to someone who seemed to have a better grasp of the English language, however he was not helpful and our questions were never answered, our issues were never resolved.
This is normally not something we overthink, because if a service works well, there is minimum interaction with the customer service department. However, in the case of OneVPN, a service with so many issues, we would expect them to at least be able to guide us in the correct direction.
At the end of the day, we wasted several hours on a chat (more than three to be precise) trying to figure out why the settings button is not working and why our account activation failed several times even though we went through the setup process successfully… twice. There were some issues that occurred later as well, but the support ticket raised was not answered even after over a week had passed.
Conclusions
The overall experience with OneVPN can be described in one word as incomplete. There are however several aspects that cannot be neglected, so here is a quick breakdown of what we liked and what we did not:
Pros:
Clean website, very user-friendly.
Easy sign-up and installation process.
Free trials available upon request (automatic for mobile devices).
Fair prices, (assuming the service would be fully functional and without issues).
Wide variety of payment methods available, bitcoin accepted.
Good browsing speeds.
Proprietary applications available for the major operating systems.
Accessible FAQs and guides.
Cons:
Dismissive privacy policy. They use broad statements to describe specific situations, which is not ideal.
Sensational claims such of services and features which are not explained or justified (ad blocker, speed booster, NAT firewall, best in the world and so on).
Ping disabled, there was no explanation as to why from the support team.
Low torrent download speed.
Poor mobile performance.
Abysmal customer support experience, one of the worst we ever experienced.
Application issues and bugs that were not addressed even though requests were open for over a week.
Considering the experience with OneVPN, we award it a 4/10. We feel that the product is not being developed and monitored by the company. It seems like it was just launched and forgotten, there is no true support and if issues occur they are not addressed. Customer support is just an unfortunate chain of misunderstood issues and confused non-English speaking representatives. Unfortunately, the quality of the service simply does not raise to today's standards.