Summary
Features -

4/10

Speed & Reliability -

6/10

Security & Privacy -

5/10

Usability & Compatibility -

5/10

Support & Documentation -

6/10

Value for Money -

4/10
Summary
NVPN is much too constrictive as far as server locations go (you can only connect to one server location and only the first switch to another server is free. After that, every location change is charged, which is not an aspect to neglect.
nVPN is a VPN service based in Eastern Europe and registered in Seychelles. This information was a bit difficult to come by, there is nothing on the website to point you to the place of operation. We submitted a request prior to ordering to see if we can get some information on their whereabouts but there was no answer for several days. We eventually found an interview in which the company makes a statement about their location. We verified with the support team and they confirmed that they are spread out around Eastern Europe and that they have two points of business in Bosnia and Seychelles.
Even though they offer a good number of servers in several locations (over 50 servers in over 15 countries), we want to make sure it's understood how the subscription goes as it isn't quite explicit on the website. When you sign up, you pay for a single server location, not all the locations they have available. You can only change the server once for free, then it's a paid process. Keep this in mind if you need more than one server location for your VPN needs.
The setup process was simple and only an e-mail address was required to purchase the service. Keep in mind that this might differ depending on the payment method you use. We always recommend paying with bitcoin when available to add an extra layer of privacy to the transaction.
Privacy and Logging Policy
nVPN has a rather strange structure to their terms of service. There is no specific mention of their privacy policy, logged data or stored customer information. There aren't a lot of explaining statements available on their page, so we asked the customer support team. They informed us that they have a zero logging policy and that they stay true to their claims.
We recommend checking out their terms of service in order to see an updated version and determine whether the information provided is enough to keep your mind at ease, should you choose to opt for their services.
Software
nVPN does not offer proprietary software for any of the major operating systems. They simply provide a configuration file that can be downloaded from the client area once the account has been set up. This file can be used with any open-source VPN solution.
Although nVPN does not provide proprietary software, they do have a good number of setup guides that can be found in the FAQ page. It's not a replacement for software, but the guides are pretty straight forward and should be sufficient for the setup process to be done by anyone with a bit of a technical inclination.
Features
One of the few available features that we would like to point out is the port-forwarding feature that is available to customize from the client area.


Currently they have 5 different protocols implemented> OpenVPN – L2TP/IPSec (IKEv1) – IKEv2 – Squid Proxy – Socks5 Proxy.  OpenVPN, Squid & Socks5 proxy can be further tunneled through sTunnel for additional encryption, for instance to bypass Anti DPI solutions as described here.
As far as encryption goes, they use AES 256bit CBC RSA 2048bit for OpenVPN. You can also opt for blowfish 128bit depending on your needs.
There was a bit of an issue which became visible after setting up the configuration file. Even though the server location and IP did change, it showed up as being from the UK due to poor geo-localization. After a more in-depth check, we found the IP address to be in the Netherlands which was the location that we tested. It's not necessarily a negative feat, but it does somewhat reflect on the quality of the infrastructure used.
Speed
Since nVPN only offers one server location for each account, we only tested out Netherlands and US-Chicago. We wanted to get a contrast on the two locations as far as performance, latency and availability of service goes.
The browsing speed test results were as follow:

We were very satisfied with the speed and quality, the browsing experience was smooth even when streaming media over Netflix or YouTube.
The torrent download speed was average, we were expecting more to be honest, especially given the price you pay for a single server location.

The US server location did not allow torrent downloads. Shortly after the file started downloading, the connection was closed and there were no more peers available. This is a rather common situation for the US server locations, so we won't consider it as a negative aspect.
Mobile Performance
nVPN does not offer a mobile application either, so the tests were ran using an open-source OpenVPN client. Here are the speed test results:

We were not impressed with the browsing speed test results, although we have to say that they are not the lowest we've seen and functionality-wise it seemed to be sufficient. The browsing experience was fluid, there were no issues, interruptions or delays even when streaming media from various services.
Pricing
nVPN offers the following pricing plans: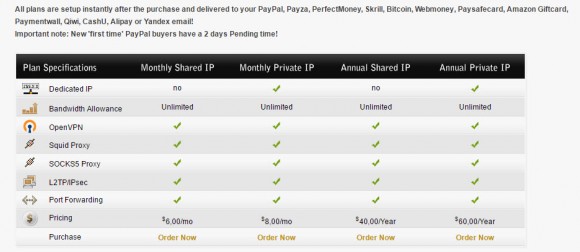 They accept a good number of payment methods such as PayPal, Payza, PerfectMoney, Skrill, Webmoney, Bitcoin, Paysafecard and Amazon Giftcards.
Please keep in mind, that first time PayPal buyers have a 2 day pending period to clear the payment. You should be aware of this if you are looking for instant access. Our bitcoin payment was processed instantaneously and we were able to access our account within a couple of minutes from the payment.
There is technically a three day refund policy that nVPN offers, but after reviewing their conditions, it's hard to imagine a scenario in which you would be reimbursed by the company: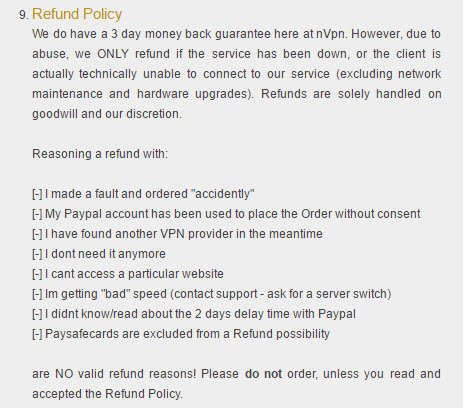 To get a better idea about the details and have an up-to-date version, you can check out their terms of service page. You can find additional information about the service itself and we especially suggest you read them carefully since they are organized somewhat chaotically and it's very easy to overlook certain aspects that might affect your experience.
The prices nVPN provides are high compared to the service you receive. This is not just our opinion; a simple comparison to other VPN providers who offer access to pretty much the same server list and have proprietary applications end up with prices lower than nVPN.
It's debatable whether the service is worth the money, and opinions will always be divided, but we would like to express this simple comparison for those of you who might not be familiar with the current VPN market.
Support
The technical support experience was relatively good. We did not require them for s technical issue, just general information which was responded in less than 24 hours, which is a more than decent response taking into consideration the size of the team.
Conclusions
In short, we feel that nVPN is a rather incomplete service that shows a lot of promise if they continue to develop the service and offer access to more server locations for each account. There are a lot of aspects that need to be improved, so here is a quick breakdown of what we liked and what we didn't:
Pros:
Easy setup process with quick access (except PayPal which takes 2 days).
Good FAQ page with setup tutorials made easy to understand.
Good browsing speed test results.
Satisfying number of payment methods available.
Cons:
Lack of transparency regarding several aspects such as location, logging policy and terms of service (including advertising over 50 servers even though you only get access to one server location without the possibility of changing servers).
First-time payments made with PayPal have a 2 day clearing period, so don't expect to have quick and easy access if you pay with PayPal for your initial account activation.
No VPN software available (they only provide a configuration file for the chosen location).
Below-average torrent download speed.
Expensive service considering you only get access to one server location, $10 / month extra if you want to switch servers without limitations. This paid add-on is available by default with almost all VPN services.
Sensational claims ("100% stealth and anonymous")
Taking into consideration all the factors mentioned above, we award nVPN a score of 5/10 due to having an incomplete service offering a very expensive service compared to the market available today. The  restriction to a single server location without the possibility of change are the downfall of nVPN in our opinion. The speed and stability of the connections are the strong points of the service, and if you are only looking for one server location, nVPN might just be the service for you.