Summary
Features -

7/10

Speed & Reliability -

7/10

Security & Privacy6 -

5/10

Usability & Compatibility -

5/10

Support & Documentation -

5/10

Value for Money -

7/10
Summary
oVPN.to is a VPN service that requires some attention and organizing before it can compete with the big boys on the VPN market. The product they offer is sturdy and performs great. However, comprehension and ease of usage is also important, but once these issues are tackled, they should do much better.
We weren't able to find any information regarding the country where oVPN.to is based, and they are quite secretive about the information made public. We noticed there is no "about" page or company description of any kind on their web site.
They stress the fact that "anonymity is their business", that they have strong ciphers and that there are no logs kept. They offer over 45 servers in 16 countries and with the possibility to check server status, you should never have a hard time deciding where to connect.
There is no stand-alone Android application, they use OpenVPN to set up the profiles containing their parameters.
We attempted to ask about location on one of the IRC channels dedicated for support and the answer we received was "oVPN is not a company, more like a community which exists since 2010. Each oVPN server is handled with jurisdiction at the server's location/country".
The website is a bit too odd for our taste and it's a pretty difficult task to find something specific on the web site. The hierarchy is not logically established and it seems that any search or question becomes into a burdening quest for the holy grail. You may opt to ask for help, and not to imply that the support team will not help you, because they were very eager to help, but it defeats the purpose of a help feature.
Privacy and Logging Policy
oVPN has a very short and straight-forward privacy policy which states as follows: "We do not create or store any log files or any client identifying data and we will not share any details with anybody." Keep in mind that most services do however log connection times and duration even though the traffic or content itself is not monitored.
If you are interested in reading more about their terms and services, you can find their page here and you can get more information about traffic, file servers, up-time and more.
Software
oVPN.to offers a client that is currently in Beta and can be found on their discussion boards. It is configured together with OpenVPN and configures a list of servers that looks something like this once the install is done: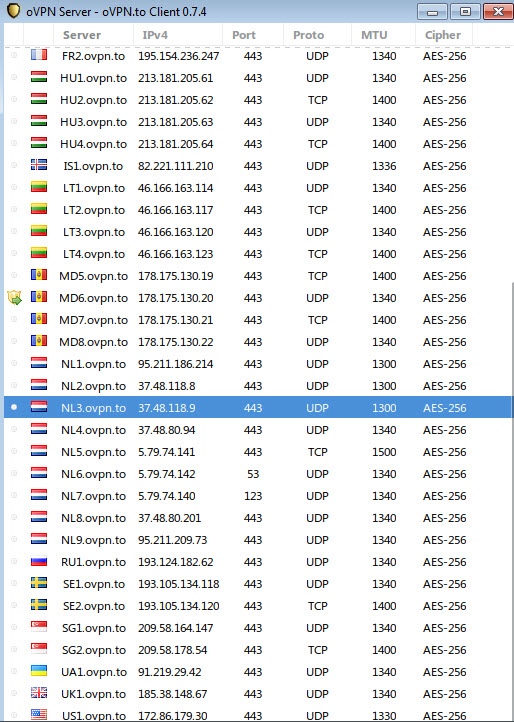 Connecting and disconnecting to and from a server is a self-explanatory process and we really appreciate the simplicity in using the software, we just wish the setup was as straight-forward. The connections were stable and the software did not crash even after extensive and diverse use. Overall we were very satisfied with the performance even though we would have liked to see a bit more features available on the main page.
The Windows VPN client bundles some must-have features such as the ability to block potential IP leaks via Windows firewall as well as DNS leaking protection.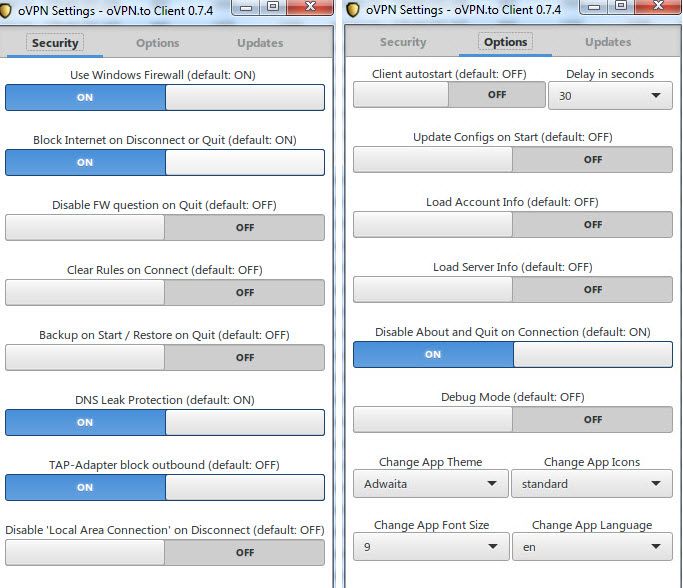 Features
oVPN has a lot of potential, and we liked the clean, uncluttered presentation. They also provide proxy support with SOCKS5 via SSH or SSL tunnels, as well as unencrypted HTTP proxies. Another interesting feature is that their servers are inter-connected via Tinc VPN (a VPN solution)  and give the possibility to chain and randomize SOCKS5/HTTP between Servers through AES-256-CTR/SHA256 encrypted tunnels.
Speaking of encryption strength, their OpenVPN cipher of choice is AES-256-CBC with SHA-512 HMAC and RSA-4096. For their SSH and SSL tunnels, they are using AES-256-GCM and CHACHA20:

Another very interesting feature that we liked is the News page. It shows updates and a list of current events that may be of interest to the users such as maintenance announcements. The site also includes a page with information about their servers, such as their online/offline status, total bandwidth used, uptime and more.
One connection per each server is possible simultaneously, meaning that with a single account you can connect to all their 50+ servers at once. With their proxies/SOCKS5, there is no limit on the number of simultaneous connections. This concurrent connections policy is quite interesting and better than most we've seen so far.
We also have to mention the fact that the FAQ page itself is well made and filled with relevant information. We had to mention it because it is very adequate, especially since the website itself lacks in the structure department and we found most of the required information on the FAQ page.
Speed
We ran several tests on different server locations to get a good idea how well browsing and torrents perform with oVPN. The browsing speed test results are as follow: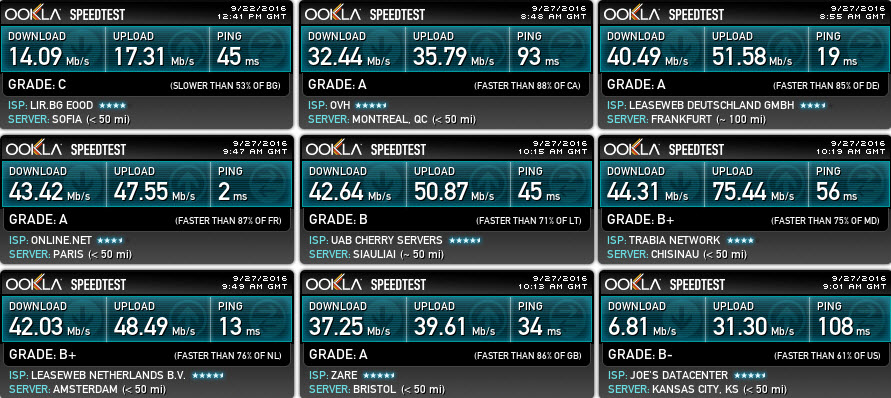 We can't really say that the speed test results were astonishing, but they were decent and using the service was a breeze. There were no delays or disconnects, the browsing was done smoothly and the connection speed was stable.
Regarding torrent downloads, we tested a few server locations and here are the numbers that we came up with for Bulgaria, Germany, Canada and US respectively: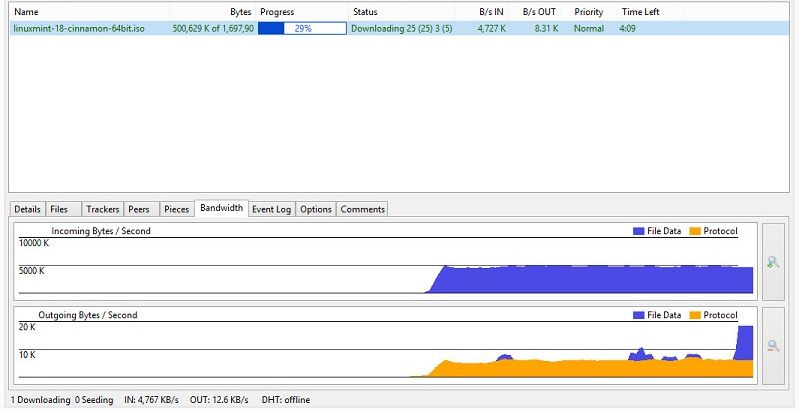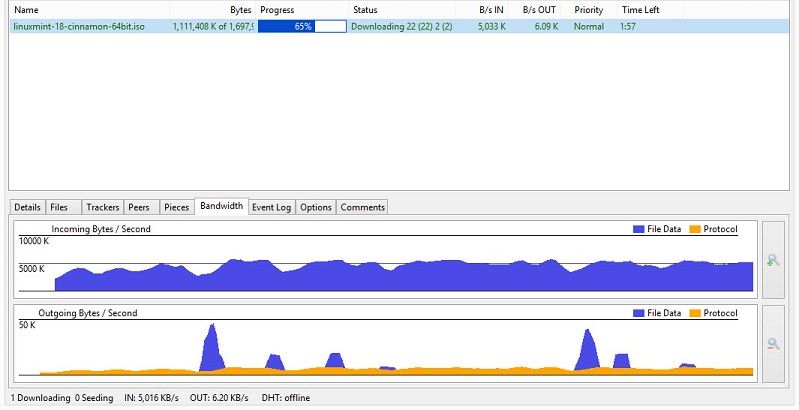 Mobile Performance
The mobile application used but oVPN is OpenVPN which uses the configuration files downloaded from their website once you have an account created. It was very to browse the website and find the configuration files because the links were not available at times.
Once the mobile application was set up (which unfortunately was no easy task) it worked well and gave some decent speed test results: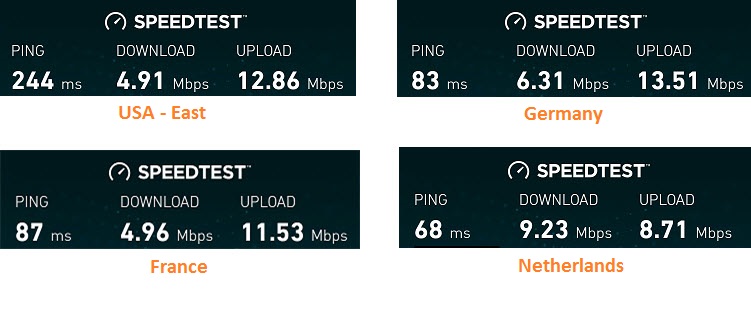 Regardless of how well the mobile application performed and how decent the connection was, we do have to emphasize the fact that the setup was a bit of a pain and not necessarily due to the high degree of difficulty but rather the scrambled instructions and ambiguously phrased instructions, not to mention the site map is a whole separate mystery. This can definitely be discouraging to novice users or potential customers that like a click and connect type of service.
Pricing
With the wide variety of pricing plans that oVPN has to offer, it's very likely that you will find a suitable plan for your needs:

Having so many options that include short period of subscription always denotes a quality product that the provider has no problem sharing for a shorter period of time for testing purposes.
There are also quite a few payment methods and various crypto currencies accepted, which is always nice, especially if you are concerned with your privacy and want to opt for a more private or anonymous payment method. Note that PayPal, Paysafecard and UKash are not available.

The payment went through almost instantly and we were able to convert the funds into paid service in no-time. Keep in mind that you have to top-up your account with a certain amount of money and then select the desired plan from your account page.
You can find more information on the price plans and payment methods available here. We couldn't find anything about their refund policy, if there is any at all.
Support
The support team was very efficient though we have to say that it was quite the endeavor to get in touch with them through the IRC channel. It's not that the setup is complicated, but the parameters are explained in an ambiguous manner and for someone that is not necessarily technologically inclined it might be a bit of a challenge.
They do offer the option of PGP encrypted message communications and ticket submission but again, it's not exactly very easy to understand the information as it is explained on the website.
All that aside, the support team was very helpful and they were able to answer and resolve our submitted issue in a matter of minutes. Even though it was not a very difficult question, it was a sensible manner that a company might choose to postpone answering, but oVPN was very clear and concise with their answer.
Conclusions
In short, oVPN is definitely a service worth taking into consideration when looking for a VPN solution. We had a few things that we like and a few that we didn't particularly enjoy, so here is a quick breakdown:
Pros:
Good connection speed and performance on desktop and mobile devices.
Transparency and lack of clutter both informational and otherwise.
Easy sign-up process with a minimum of personal information required.
Very good support team even though they are hard to get in touch with.
Many payment plans and a good deal of accepted payment methods (including bitcoin).
Cons:
Not very clear about the company's whereabouts.
Many ambiguous formulations in the description, instructions and terms. Most of the information is hard to gather at first glance.
The website is not user friendly, quite difficult to navigate or find relevant information. It's been a pain to find the server profiles to download as well as their beta client software.
Getting in touch with the support team is quite a challenge, although in all fairness, once you reach them they do a great job.
Setup and client configuration for the both mobile and desktop applications was not an easy task at all. Most of the parameters have to be configured manually and it can be tedious and counterproductive.
Not enough server locations, we would like to see more options.
No information about refunds.
All things considered, from a functional point of view, oVPN.to is a great service that works well and does exactly what it advertises to. However, functionality is not everything, and ease of access, comprehension and fluidity of navigation is very important, and we have to say that this was one of the more difficult web sites to comprehend. This and other reasons mentioned before make us give oVPN a very indulgent 6/10, with the hope that they will make the service more user-friendly and that the software will be more approachable by newcomers as well as tech-savvy users.