Summary
Features -

6/10

Speed & Reliability -

5/10

Security & Privacy -

7/10

Usability & Compatibility -

8/10

Support & Documentation -

8/10

Value for Money -

5/10
Summary
OVPN.se needs some infrastructure improvement. Their software has some issues and there is no mobile application, but if these aspects are improved, it could easily be one of the stronger VPN providers.
OVPN.se is owned and operated by OVPN Integritet AB, based in Sweden, Danderyd, just north of Stockholm. The VPN service was officially launched in the summer of 2014, and they take great pride in the fact that they remain fully functional under Swedish jurisdiction as opposed to some competitors that move their operations to fiscal paradises and operate under shady jurisdictions.
Privacy and Logging Policy
OVPN.se claims that they do not log any activity from the customers while connected to the service. That means that in the event of a court order they would not have any information to provide to the law-enforcement entities. The only information they would be able to provide is the method of payment. This means that your privacy would eventually be protected depending on the method of payment you choose and how secure it is.
They do not use Google Analytics or any third party systems that track user behavior. They use Piwik, an open source solution hosted by themselves which automatically truncate the two last bytes in your IP address in order to keep you hidden and secure, even from OVPN.se.
You can find more information regarding the privacy policy here, should you have any further concerns.
Software
OVPN.se uses proprietary software for Windows, Mac and Ubuntu. Other platforms are supported via via configuration files that can be used with various OpenVPN solutions.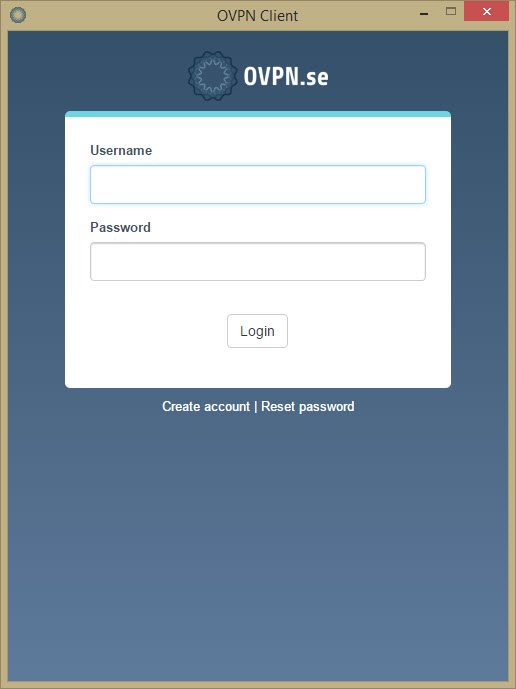 For a full list of supported platforms, you can check out their setup guide page here.
There is a feature that allows you to see connection statistics which we found quite useful: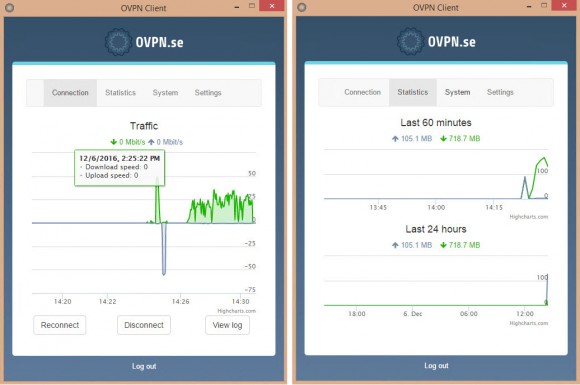 You also have a couple of features that in theory are supposed to be very helpful on the settings page: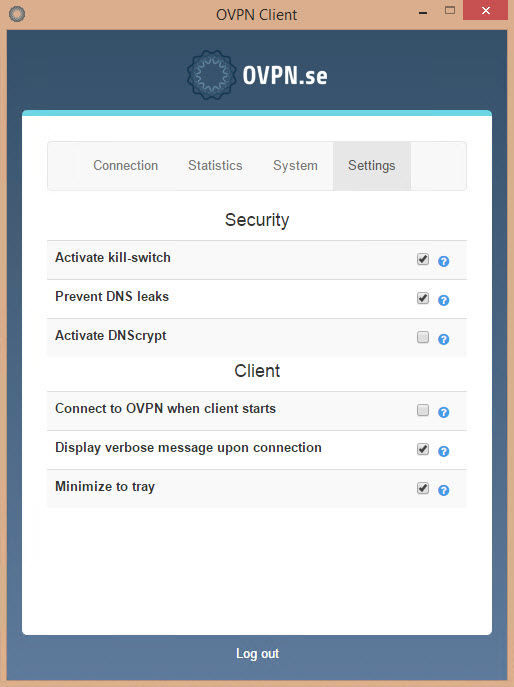 The problem with these settings is that they do not get saved automatically and when used improperly, they can cause your computer to lose internet connectivity. The settings get reset every time you disconnect from the software, and we noticed that if we logged out without initially disconnecting, we would lose internet connectivity altogether. This could be fixed by either re-setting the firewall settings to default (by using this guide) or by uninstalling OVPN.se's application altogether. Depending on the level of knowledge that the user has when it comes to networking and software troubleshooting, this may become an issue.
The software asks you to connect online first and doesn't allow you to change those settings back if you are offline. This cannot be accomplished if you lose your internet connection as mentioned above and there is no offline prompt to explain how to resolve this issues.
We addressed this issue to the customer support team and they stated that they are aware that the kill-switch feature can cause some issues if disconnected improperly, but that our internet connection should not have failed. Either way, we feel that it's not in the best interest of the customer to be stuck without a connection, and to be dependent of another online device to search for solutions (provided that this is an option to begin with).
They do not have a latency meter but they do have the option to connect to the fastest server in each country. Ultimately what this process does is test the connection speed and make sure that your VPN traffic is routed through their fastest server.
Apart from the technical issues we encountered, we found OVPN.se's software to be very intuitive, concise and even though it is a bit resource-heavy, it does the job.
Features
OVPN.se states that they offer over 30 server location in 4 countries: Sweden, Canada, Germany and the Netherlands. We weren't able to find anything for Canada or Netherlands, and when asked, the support team stated that it is a work in progress and the two locations are being implemented as we speak. They gave us an ETA of about two days. After 3 weeks, we still couldn't find those new locations available but only Sweden and Germany.
All internet protocols, including file sharing and P2P are allowed. They do not offer PPTP as they consider it to be obsolete and that it provides very little security, which we found to be reasonable.
The encryption used is AES 256 CBC with RSA 2048-bit for key exchange: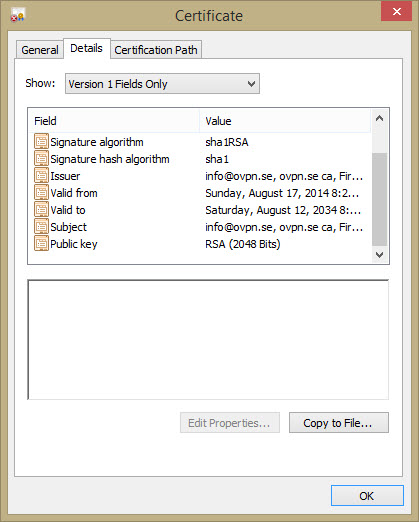 They also state that "all servers operate without hard drives to guarantee that nothing is logged or stored" which is a good point from security and privacy perspective.

OVPN.se offers a router (or box as they entitled it) which has some pretty good specifications for the price of $309 plus shipping (depending on your location). The components of the OVPNBox are:
Intel Celeron 1037U
Atheros AR9382 AR5BHB116
2 GB DDR3 1600 Mhz RAM
8 GB SSD
3 dBi antennas
2.4Ghz or 5Ghz WiFi
These specs are pretty decent for the price and we thought it is worth mentioning. You can find more information about the offer here in case this is something you are interested in particular.
Apart from the regular prices, they also offer additional features such as proxy or multi-hop, and the prices are as follows: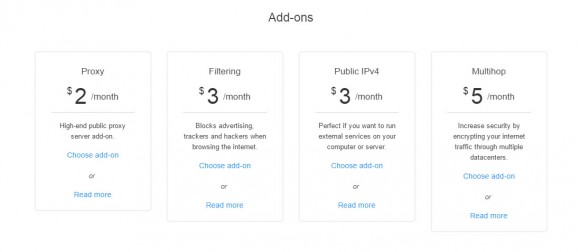 Some of these features (if not all) can be found included automatically with other services, so we don't feel that it's necessarily a plus that these features are available at extra cost.
Speed
The browsing speed tests were decent, as long as you are in Europe you should have good performance. Latency may differ depending on your physical location:

The torrent download speed was however lower, and we feel that it should definitely be improved before taken seriously by anyone looking for using P2P with their VPN service:

Apart from that, we wanted to mention that the browsing experience was smooth, but the torrent download had quite a few spikes, so that may be something you want to keep in mind.
Mobile Performance
The mobile performance was decent, although we would have loved to see a stand alone application. They only have configuration files available to be used with an open-source solution. Here is how the speed test results look for Germany and Sweden respectively:

The browsing experience was good, there were no disconnects or interruptions, and as far as the page-loading process goes, the speed was more than sufficient.
Pricing
OVPN.se offers three pricing plans: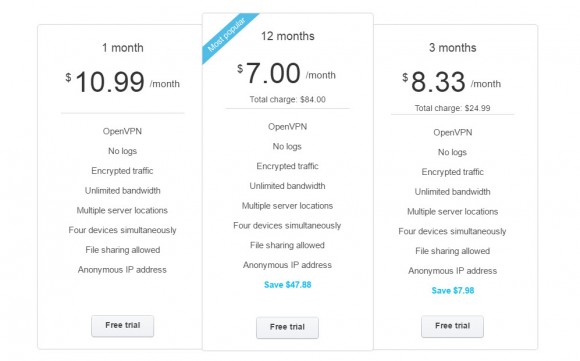 We have to say that they are quite a bit on the pricey side of the market, considering the low number of server locations and the download speed in some cases. We do however feel that they are doing the right thing, approaching the scene correctly, just not with a one hundred percent efficiency. This may be due to infrastructure needs or just the growing of the service itself, and time will tell if they raise up to the standards in all aspects, not just some.
There is a 5 hour free trial and we were told that there is no difference between the full service an the trial version as far as functionality goes. This should give you an opportunity to test the service out and see if it works out for you or not.
Regarding the payment methods, OVPN.se accepts PayPal, credit cards, Swish, bitcoin and cash.
Support
You can contact OVPN.se's support team via an online form (or e-mail) or the online chat that is active 9:00-18:00 CET. They had a very good response time and regardless of how many attempts we made, they were responded promptly. They also provide a PGP key so you can contact them by email, securely.
The technical support we received was great, they were able to give us all the information needed, the representative was very knowledgeable, and even though there were some technical issues (which happens and we find it to be somewhat understandable), they were able to at least clear the situation for us.
Conclusions
In short, we feel that OVPN.se is a good service with some aspects that need quite a bit of improvement. The software issues gave us quite the headache and we feel that it could be seriously deal-breaking especially for someone who isn't able to troubleshoot beyond the regular steps one might take to fix a connectivity issues. Here is a quick breakdown of what we liked and what we didn't:
Pros:
Transparent company, well presented and professional vibe sustained.
Good and easy to use website (logically structured without ads, Google Analytics or unwanted tracking code).
Straight forward privacy policy, very well explained.
Great customer support, knowledgeable and helpful.
Good browsing speed.
Proxy and multi-hop available (although we would have liked to see them included, not as paid features).
Free 5-hour trial for the fully-featured service.
No restriction on P2P traffic
Bitcoin accepted
Cons:
Not enough server locations.
The software has a lot of issues and they are not trivial issues either. It can leave you hanging in the middle of the session if disconnected improperly.
Not so good torrent download speeds.
Too expensive for the features offered and issues encountered.
No mobile applications available.
Mobile performance was rather poor.
Al things considered, we give OVPN.se a 6.5/10 which could easily go up considerably if they solve their software issues and expand their infrastructure. If these issues are being worked on as they claimed, our next review will find them in a better position than it has this time.