Ratings
Features -

6/10

Speed & Reliability -

4/10

Security & Privacy -

6/10

Usability & Compatibility -

8/10

Support & Documentation -

7/10

Value for Money -

5/10
Review Summary
Considering it's a rather new service, NordVPN pleasantly surprised us. Great software, many server locations and being privacy-focused are just a few of the positive aspects. They could use improvement in the infrastructure department as they provided a decent experience but nothing spectacular speed-wise. They are also a bit pricey, but worth it in our opinion.
UPDATE (March, 2017): Check here our up to date Review of NordVPN
NordVPN is one of the newer VPN providers, operated by a company in Panama. Tefinkom co S.A. is the company behind the service, and according to their About page, they've been into web-hosting business for over 6 years.
Features
They have VPN gateways in quite a few locations: USA, Canada, UK, Australia, Austria, Singapore, Lithuania, Sweden, France, Poland, Netherlands, Romania, Germany, Hong Kong, Switzerland, Spain, Italy and Russia. Two simultaneous connections are possible using a single account.
VPN protocols supported are the usual OpenVPN, L2TP and PPTP. They allow two devices to be connected simultaneously using the same account. Security wise, they provide 2048-bit authentication on their OpenVPN and 256-bit AES symetric encryption. We had to find-out ourselves the symmetric encryption level because they don't provide that information on the website. In fact, they claim to provide "SSL based 2048 bit encryption" which is misleading.
Their Tor over VPN and Double VPN are some interesting features. Basically, you connect to a VPN location but the exit-gateway is either the Tor network or a VPN gateway in other location. Both are good options privacy-wise, especially the first one.
A list of aggregated open proxies is one of their other features.
Software
The software is very clean & simple. It includes the list of locations to choose from and it also displays the server load and ping latency. In its Settings section it is possible to use preferred DNS servers and enable Kill Switch protection: selecting processes that would be killed instantly if the VPN disconnects. We tested this setting with processes like a browser and a torrent client, and all went well.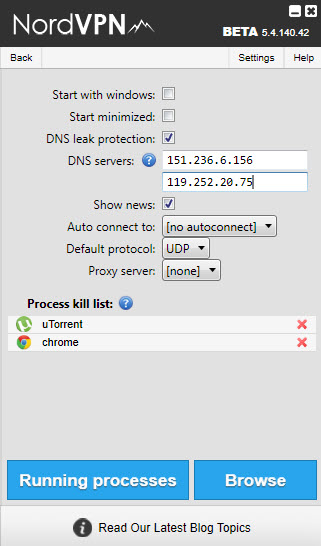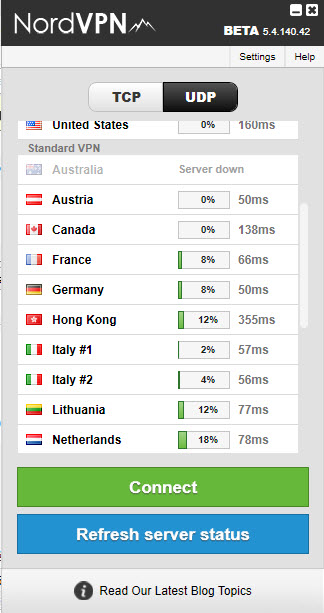 The software is available for Windows only.
Logging and privacy
According to their almost-non-existing Privacy Policy, NordVPN claims to not keep any logs or information about the users except for e-mail address, VPN username and the billing information.
We weren't happy to see they run tracking services on their website: Google Analytics and Ads performance tracking, Adtarget.me.
This is from their ToS:
LOGGING POLICY

NordVPN does not monitor, store or record logs for any VPN user. We do not store connection time stamps, used bandwidth, traffic logs, IP addresses.

We do not get related in any form of censorship, give away your personal information to any third party. We do not fulfill any information request unless it comes with a court order of competent jurisdiction. We are and will always protect your privacy.

PRIVACY POLICY

NordVPN does not keep or store any logs about its users. However, we need to keep some information about the users:

-User e-mail – to send the latest NordVPN news and to retrieve a lost password.

-Username – it is necessary to make a VPN connection.

-Billing information – we store billing information in case of a refund request.
Pricing
The month-to-month plan costs 8 EUR. Paying upfront gives you a better deal: 16 EUR for 3 months, 30 EUR for 6 months and 48 EUR for a year.
Speed and reliability
Speed wasn't quite as good as we would like it to be but decent nonetheless. Reliability wise, we had a few problems with some servers being able to connect to but couldn't reach the Internet.
Speedtest.net results: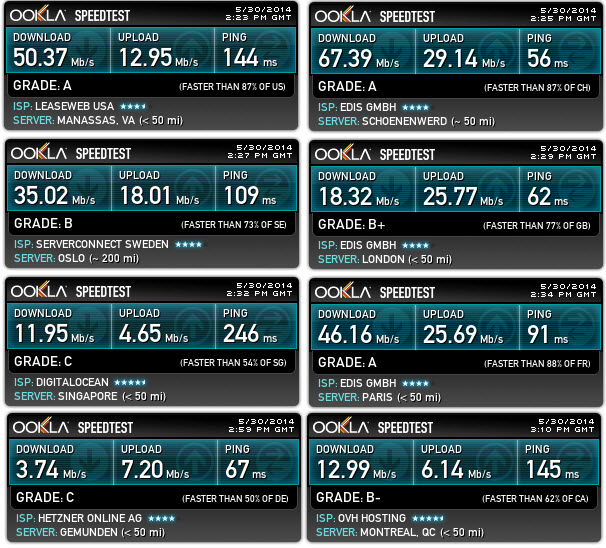 Torrent speed was between 10 and 20 Mbps.
Support
NordVPN provides support by email and web-chat. The chat operator we talked to wasn't a technical person as he couldn't answer some of our questions related to encryption strength, and he suggested to email the technical team.
Conclusions
Good
We like the software. It is very easy to use and provides all the necessary features someone could ask from a VPN software
Torrent/P2P allowed in a few locations
Bitcoin accepted
Not asking for personal details when signing-up
Many server locations
Nice website and useful status page showing the server-load and service availability
Tor over VPN, double-VPN and the proxy-list aggregator are useful
Bad
A bit too pricey compared to others
Average network quality: we were not too pleased with the speed and reliability
VPN Software available for Windows only
Final notes:
NordVPN is a decent provider and it is quite clear that they are new in the industry. Pricing and network quality could have been better, though. They seem quite enthusiastic about what they do, so we expect them to improve their service in the future. Overall, it is a good service – but there's room for improvement. Our score for NordVPN is 6/10