Summary
Features -

8/10

Speed & Reliability -

9/10

Security & Privacy -

8/10

Usability & Compatibility -

7/10

Support & Documentation -

7/10

Value for Money -

6/10
Summary
VyprVPN is one of the stronger VPN services out there due to the high number of locations available, good infrastructure, great speeds and features. Add a trusted company operating the service and a three day free trial and you have a clear recipe for success. We would like to see them accepting bitcoin in the future and maybe adjust their prices to the market, but those are minor details compared to the positive aspects.
UPDATE: check out the up to date VyprVPN Review 2017
VyprVPN is a service owned by the Golden Frog Company, incorporated in Switzerland, a main partner of Giganews – one of the largest usenet providers. They also provide a secure cloud storage service, Dump Truck.
Features
VyprVPN hosts their 700+ VPN servers in Europe, North America, Asia, South America and Oceania and they do provide unlimited access to each and every one of those servers, so there's no traffic or bandwidth limitations what-so-ever.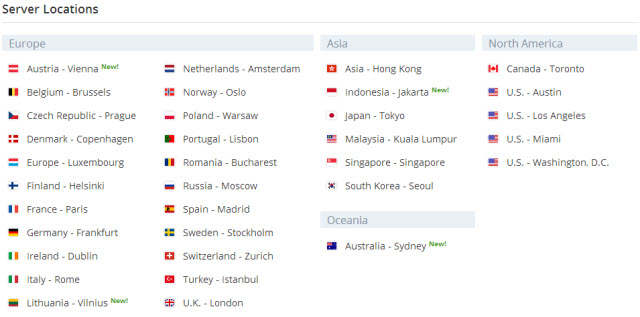 One thing that stands out is the fact that they own the server infrastructure so they don't rely on third parties for hosting the server clusters.
VPN protocols:  PPTP, L2TP/IPSEC and OpenVPN, although the latter two are only available for the "Pro" plans.
OpenVPN is available with two encryption ciphers: 128-bit BF-CBC and 256-bit AES-CBC. Both of them use UDP, port 1194 and 443 for the later.
Using all three major protocols for connectivity, they cover most but-all important devices and platforms. VyprVPN will work on Windows, Mac OS X, Linux, iOS, Android, DD-WRT.
As a bonus, all users get up to 50 GBytes of free cloud-based storage on the DumpTruck service that Golden Frog provides. This is a pretty nifty service, with it's own app (mobile and desktop versions are available) that allows file-based sync trough different devices.
P2P is allowed.
Software
VyprVPN uses a custom connection software, called VyprrVPN-Desktop and VyprVPN-Mobile, for the mobile counterpart. Both clients are clean, fast and easy to use. They allow connections through all three protocols. It is available for Windows, Mac, iOS and Android.
Their VPN client allows fast switching between VPN locations and protocols from a drop-down menu.
Pricing
They offer three different plans, starting with $9.99 / month, $14.99 and $19.99 / month respectively, but you can get almost half-off those prices if you chose to buy the yearly subscriptions.
You get 1 connection over PPTP for the cheapest plan while the medium-price plan and the $19.99 one gives you 2 or 3 simultaneous connections over all three protocols (PPTP, L2TP/IPSec, OpenVPN).
The latter 2 plans includes a NAT firewall and 25 GB and 50 GB respectively of cloud storage on the "Dump Truck" service.
Payment options: All major cards and PayPal are accepted and they provide a free trial for 3 days if you want to test before you buy.
Logging and Privacy
Golden Frog states that although they collect session data, they do it "for use with billing, troubleshooting, service offering evaluation, TOS issues, AUP issues, and for handling crimes performed over the service. We maintain this level of information on a per-session basis for up to 30 days(…)"
BUT they don't collect any traffic data, perform DPI or discriminate against devices or platforms as VyprVPN is "network neutral".
From their privacy policy:
How Golden Frog Responds To Civil Investigations:

Golden Frog will not release a member's identifying information – minimal information reasonably calculated to identify and no more – or usage information to investigators, attorneys, or agencies unless we are directed to do so by a court of competent jurisdiction in the matter. If there is a hearing in court, the member will be notified so they will have an opportunity to contest the surrender of personal information.

How Golden Frog Responds To Criminal Investigations:

Golden Frog cooperates fully with law enforcement agencies, yet there must still be a subpoena before Golden Frog provides a member's identifying information – minimal information reasonably calculated to identify and no more. In a criminal investigation Golden Frog is required by the Law to not divulge the fact of the investigation to the member.
Speed and Reliability
The connections were very reliable in our tests and speed wasn't bad at all. We found that they are doing a geo-location trick by assigning IPs from several countries to servers physically located in another – like Netherlands – which is one of their main clusters. So basically you connect to Sweden or France servers but you are actually connecting to servers in Netherlands, but you will be assigned Swedish or French IP addresses from their pool. This method has advantages and disadvantages and here are some:
Advantages:
You will achieve the same bandwidth speed regardless of country you connect to, if that country IPs are assigned in the main cluster such as Netherlands
Reliability: if the cluster is ok, all "countries" are ok
Disadvantages:
Single point of failure: if the datacenter has problem, all "countries" have problems
Increased latency if you just want to use a server from your "own country" or a neighbor one
While we admit that it is a clever trick, in our opinion the disadvantages are overriding the advantages.
Some speed test results: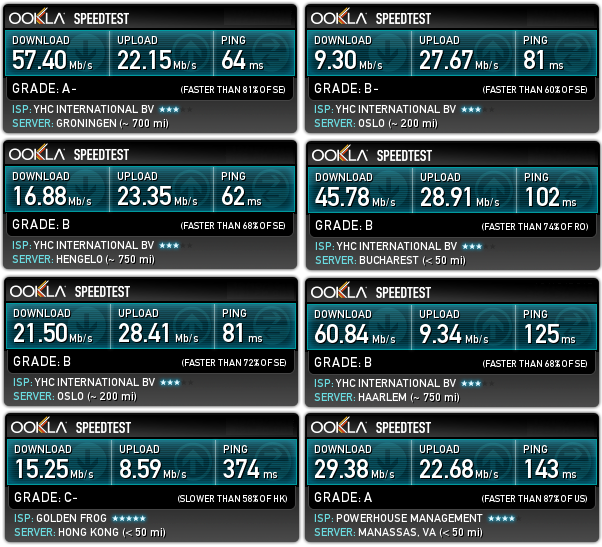 Torrent speed test:

As you can see, speeds are very good and we achieved a consistent download speed of over 6 MB/sec with Bit Torrent.
Support
You get tons of multi-language setup instructions, for various platforms, including exotics such as Chromebooks and Synology NAS, Live Chat and a Contact form. On their contact page they state that it takes 15 minutes to receive a reply from their team. We contacted the support representatives and they replied in 6 minutes, so they keep up to their word.
Conclusions
The good
Many VPN locations across the globe – even if not all of them are physical locations
Good software for most popular OSes (Win, Mac, iOS and Android). It gets the job done
Solid company behind the service
Good speeds, reliable connections
P2P allowed
Free 3-day trial
The bad
We don't really like the geo-IP workaround
Keeping logs for too much time
Only PayPal and Credit Card payments. No BitCoin
Pricing is high compared to some major rivals
Only UDP OpenVPN on two ports
Final Notes:
VyprVPN is a very solid provider. While there are some things we don't like that much about their service, overall we believe that it's a great value for the money. It's not the cheapest one you can find, but it is one of the few "Premium" VPN services available these days.
We give VyprVPN a rating of 7.5/10.