Summary
Features -

7/10

Speed & Reliability -

5/10

Security & Privacy -

4/10

Usability & Compatibility -

8/10

Support & Documentation -

7/10

Value for Money -

8/10
Summary
BolehVPN is a sturdy VPN service at a reasonable price. There are some security related concerns and the speed could be better in some locations, but overall we were very satisfied with the service.
BolehVPN is a VPN service started in 2007. The company owning the service is incorporated in Malaysia and has grown over the years as one of the largest VPN providers in the South-East Asian region. Along with the VPN service, they are also providing seedboxes hosting, game server hosting and VoIP services for the South-East Asian region.
The company currently has servers located in 15 locations in Asia, Europe and North America.
BolehVPN's staff consist of 5 members who do all maintenance, development and support in-house.
Features
The BolehVPN system works entirely based on Open Source technology such as OpenVPN. L2TP/IPsec is also available for the devices that don't support OpenVPN and they do not support the low-security PPTP.
Trying to keep their promise that no logs are kept, the VPN servers are completely independent and do not communicate with the customer database.
The users have the ability to choose which traffic is routed via the VPN. Also, there are no bandwidth limits.
BolehVPN is available for desktops and notebooks that use Windows, Mac OS and Linux, for mobile devices that use iOS and Android and for different types of routers.
On the security side, OpenVPN is using an old CA certificate which is only 1024-bit RSA. On a blog post they commented that an upgrade is due soon and they will issue stronger certificates through the web-portal.
Software
The VPN client BolehVPN GUI is easy to download, install and use. It is currently available for Windows, Mac, Linux. For mobile devices they provide setup instructions for OpenVPN Connect (iOS) and OpenVPN for Android. Router setup-tutorials are also available, for Sabai Technologies (partner of BolehVPN), AsusWRT and DD-WRT.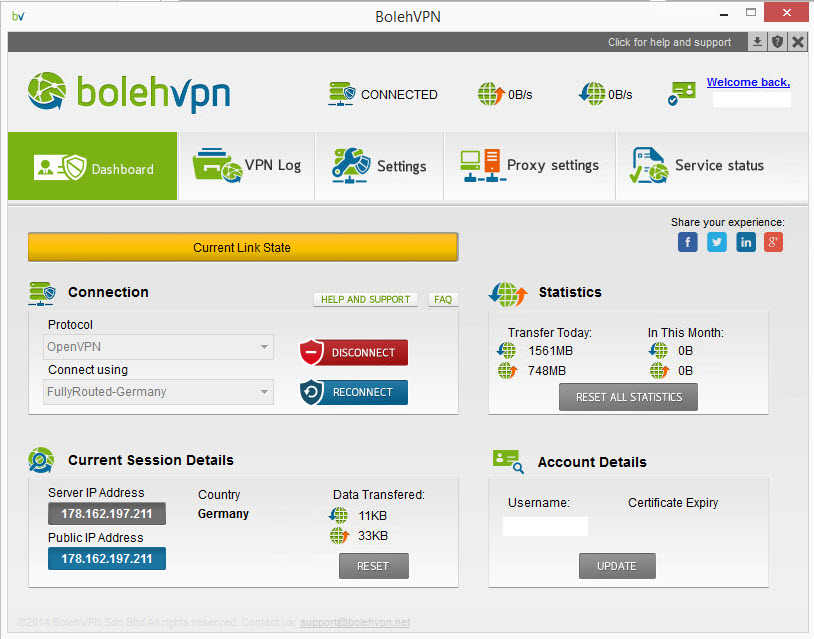 The configuration files and certificates are configured automatically at every startup, but the users can change their preferences from the settings. Complete installation guides are available on the website, having a step-by-step newbie approach, with detailed explanations and tutorials.
The software features a kill switch called "lock down", DNS leak protection running an up/down script from dnsleaktest.com, auto start, status and latency tests by sending ICMP pings to all servers and proxy setup. Multiple types of connections are possible with the software: Proxied, Fully Routed, Surfing/Streaming, TCP Server, xCloak and BolehGeo.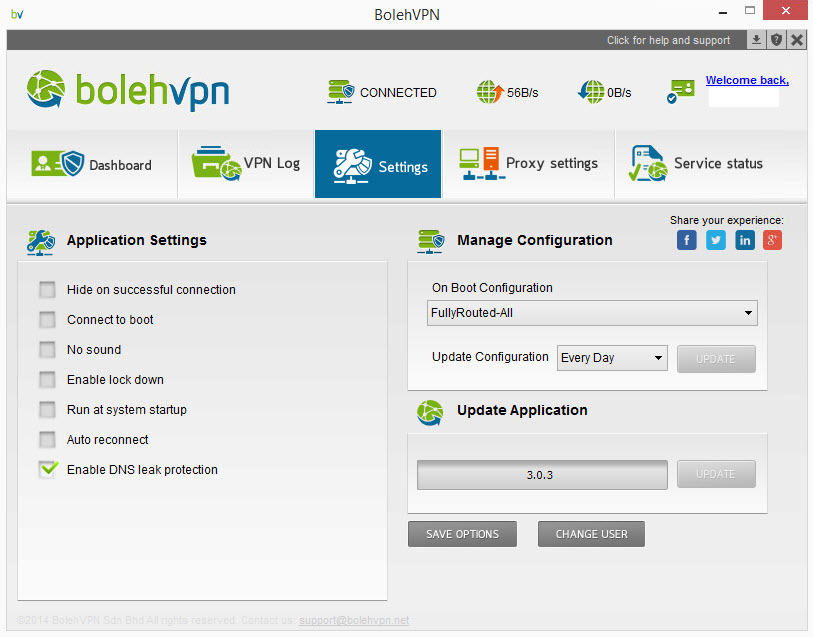 What are the differences between BolehVPN connection types?
All of them are explained into details on this page.
Proxied and Fully Routed are the most secure and can be used to route all traffic, including P2P. Proxied can be used by setting up a SOCKS Proxy in applications that support SOCKS proxies, such as torrent clients. These two connection types are not available with US-based VPN servers.
Surfing/Streaming is recommended for securing communication and access geo-locked streaming services. The encryption level is weaker than Proxied/Fully Routed and this connection type includes servers in USA.
The TCP Server and xCloack are recommended to connect from restricted networks, so that the VPN traffic has a better chance to go unnoticed, looking like normal traffic. These connection types should be used by users in China and Iran.
BolehGeo doesn't encrypt the communication and is available only with the servers in USA. This connection type is recommended only for accessing streaming services like Pandora, Hulu, Netflix and so on.
Pricing
Users can choose from 4 subscription packages, as well as 2 trial packages. The prices are the following:
One day trial for free upon request.
7 days trial for $3.70
30 days subscription for $9,99
60 days subscription for $16.99
180 days subscription for $44.99
365 days subscription for $79.99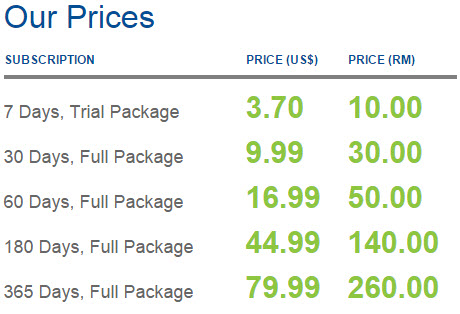 Payments can be made using PayPal, credit cards, bitcoin and direct deposits.
While the trial packages are not refundable (unless the VPN cannot be used), packages of 30 days and above are refundable within 14 days of purchase, with the condition that the request is reasonable and their support staff has been given the opportunity to assist the users. Therefore, it is not a "no question asked" refund policy.
Logging and Privacy
Based on the company's Privacy policy, any personal information received is used only to fill orders and the information is not redistributed or sold to anyone. Depending on the payment method, all that is required is a valid e-mail address. BolehVPN doesn't keep any logs, but in the case of unusual activity like abusing server resources, sending spam or launching attacks through their servers, the company may turn on logging temporarily to identify abuse of services. In case of abuse, the user's account is terminated and all logs are wiped from their system. They make it very clear that this is a last resort and it only happened a very few times since their service is active.
Speed and Reliability
Speed was good in our tests, experiencing around 50 Mbps throughput on most server locations. Connections were stable and we did not experience connection drops while staying connected for many hours. A few times we weren't able to establish connections to some locations and we also noticed that the Hong Kong location was reported by IP location websites being in Shanghai, China.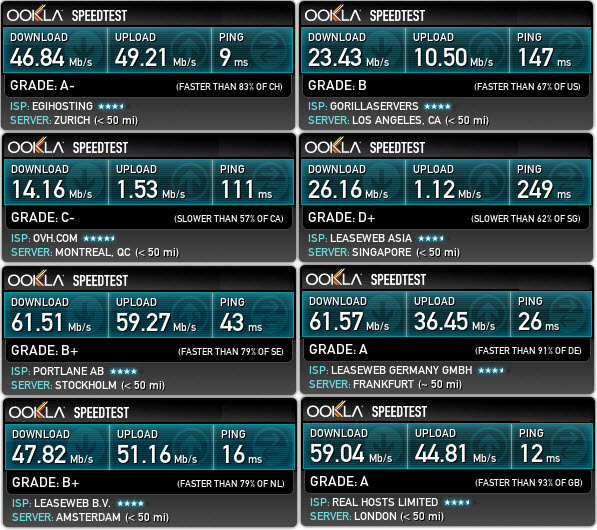 Support
BolehVPN has a very active community and the staff members can be reached through Live Chat on the website, e-mail, Forums and Social Media networks (Facebook and Twitter). Support through their Forums requires registration for Support Access, usually happening within a few hours according to their website.
Conclusions
The Good
Good speed. Not as good as we experienced with some others, but it is consistent.
P2P allowed in some of their locations.
Privacy focused provider, no logging policy.
Easy to use, solid software (Windows, Mac).
Multiple connection types.
Seedbox and game hosting are nice additions.
The bad
Not so many locations.
No mobile apps (except for Android, which is just OpenVPN for Android app slightly customized).
OpenVPN security is out of date.
Ordering and paying is a bit complicated.
BolehVPN is a solid VPN service and the pricing is quite reasonable. The only drawbacks are the limited number of locations, speed that isn't too satisfactory for people those with high speed demand and the not-so-secure OpenVPN implementation. We rate BolehVPN at 6.5/10.