vpnbook.com is one of the well-known free VPN services that's been around for a year now, and it stands out even against some paid VPN services in terms of speed and reliability. (You may want to check our review of VPNBook, made some months ago)
Basically, it comes down to this: if it's good and free, then it's too good to be true. That's what a lot of people think about it, and we received many emails from our visitors asking if they should trust vpnbook.com.
In many people's opinion, it must be either a honeypot VPN service operated by the feds to identify abusers, or the owners are some bad guys with an evil agenda, such as collecting their users sensitive information and browsing habits for their own financial gains (blackmail is the first that comes to mind).
We don't know if the above is true, but we will try to shed some light on this by showing our findings on who is behind the service and what could be their reason to offer free VPN.
Who is behind vpnbook.com?
We don't know the guys who are operating vpnbook.com, nor we have any affiliation with them, but we conducted a research and found out that apparently they are a web-development company from Canada, who's running some other online freebie services.
To find clues on who they are, we got their Google Ads ID from the page source code, which is: ca-pub-3860002410887566:


Then we searched for other websites using the same Google Ads ID, and we found www.gotfreefax.com
On the "Free Fax" website's contact form, we found the following company details (contact page screenshot):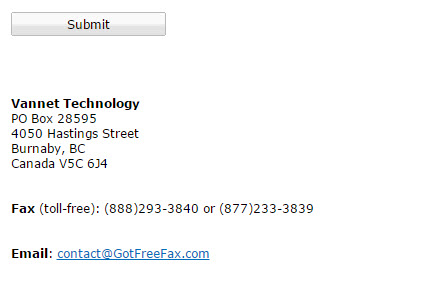 Vannet Technology company's website is www.vannet.ca

The company website doesn't look professional for a company who claims to do "web design". Other online services operated by the same people/company are www.gotresumebuilder.com (design similar to gotfreefax.com) and www.gotsitemonitor.com
As the company address is just a PO Box, we can't be sure they are indeed Canadian, though our findings seem to negate the fact that they're from Switzerland as they claim on vpnbook.com.
How can they afford to pay the hosting bills?
Hosting fast dedicated servers is not cheap and it's safe to assume that nobody would pay from his pocket just because he wants to help others, protecting their privacy and/or anonymity for free.
The obvious question is: does vpnbook.com earn any money from running a "free" service? Yes, they do. The service is not entirely free, but a freemium one.
According to their website, they also offer a "dedicated" VPN service that costs $7.95/month. So they can monetize by selling the dedicated VPN to people who want an upgrade.
Now let's do some math and see if they can afford to pay their bills.
Hosting costs
They have 6 different servers for their free service, so the total costs to run the free service would be a few hundred dollars / month, likely less than a $1k.
Service monetization
Whatever they're selling, be it t-shirts, chocolate or VPNs (targeted audience for the later, meaning better conversion rates), the more visitors they have – the more they sell. Basically, it's all about traffic statistics.
To get money from their visitors either from ads or paid VPN conversions, they need many visitors. And they have a lot of visitors, according to alexa.com which can be used to estimate the monthly traffic of a website. Their current Alexa rank is ~40k and that suggests a very high number of visitors. There are many methods to estimate the traffic of a site, one of them being similarweb.com
So it's quite clear that vpnbook.com has thousands of visitors each day. We don't expect them to make a fortune, but we can assume they have a good chance in getting at least 10 conversions / day for the paid VPN service and that would be over $2000 / month, enough to pay for server hosting and make a nice profit.
Conclusion
We believe that they operate a profitable business and we wouldn't be surprised if they make at least $1k – $2k monthly, even after covering the hosting costs. If our estimates are not incorrect by orders of magnitude, it means that these guys are in the business of making money and likely not in the business of spying on their users. But then again, this is just an opinion and there is no guarantee that they aren't playing dirty against the users. We also can't be sure they are a Canadian company. It is not a better service than a paid VPN for protecting the privacy of users and we recommend using paid services instead of free ones.