Summary
Features -

4/10

Speed & Reliability -

5/10

Security & Privacy -

4/10

Usability & Compatibility -

6/10

Support & Documentation -

5/10

Value for Money -

6/10
Summary
Boxpn offers a good number of server locations at an affordable price, but the lack of bitcoin payment availability, slow speeds, and rather rudimentary encryption are a serious hit on the overall service quality.
BoxPN is a VPN Provider based in Turkey, claiming to be in the web-hosting business for 15 years.
Features
As far as we found out, BoxPN runs its VPN infrastructure on Windows Servers. For this reason, they provide only Windows-specific VPN protocols: PPTP, L2TP/IPSec and SSTP.
They don't provide OpenVPN, which is arguably the most common VPN protocol these days. We like OpenVPN and for lacking it, they are getting a lower score in our review. If you are on Linux, your only protocol choice is PPTP, since SSTP is Windows-only and L2TP/IPSec is hard to setup manually.
VPN security features 128 bit encryption for PPTP and 128 bit for L2TP/IPSec by default, using their client software, although L2TP/IPSec is advertised as 256 bit encryption in their client software. But if you connect to L2TP/IPSec manually, setting the connection yourself and enabling "Maximum Strength Encryption", it will use 256 bit AES.
Same goes for SSTP: advertised to use 2048 bit encryption. Actually, that being the authentication strength not the traffic encryption strength. Traffic is encrypted with a 256 bit cipher. So in our opinion they have to double-check such specifications and provide accurate specs.
Now, back to their infrastructure, they claim to run a 220 Gbps world-wide network. Checking their network status page, we found that there are around 230 servers world-wide, so it means that virtually all servers have 1 Gbps connections. That would be a good feature.
Speaking of network, they have servers on 5 continents, in some of the widely used locations. This is a good thing, since most customers should easily find servers close to their geographic locations.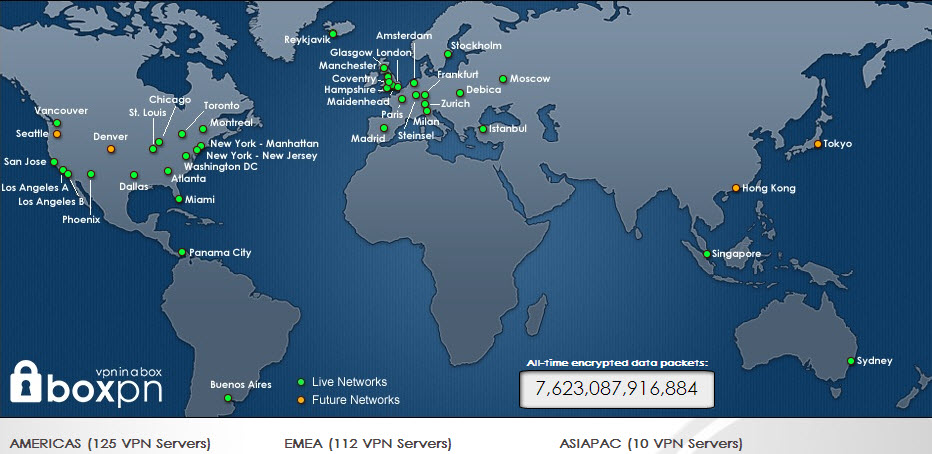 Software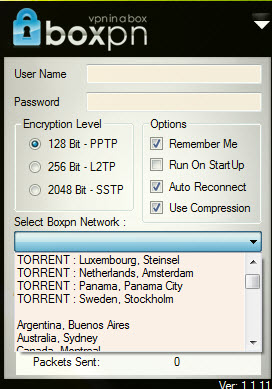 BoxPN has an easy-to-use VPN client that allows for quick server-switching and VPN protocol selection. The VPN client software is available only for Windows, though they provide step by step tutorials to set up the connections on other operating systems.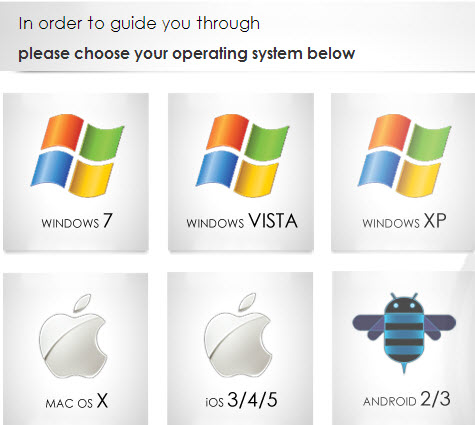 Speaking of other operating systems, we found that their tutorials are out of date. For instance, their iOS tutorial is for versions 3, 4 and 5 while the current iOS version is 7. The same applies to their Android tutorials made for versions 2 and 3, while the recent major version is 4.*. However, there aren't major differences in the VPN setup between older and current versions, so it should be easy to setup the VPN even following out-dated tutorials.
Some important OSes that they don't provide any tutorials for are Windows 8 and Linux. We also found that their setup tutorials cover only PPTP.
Pricing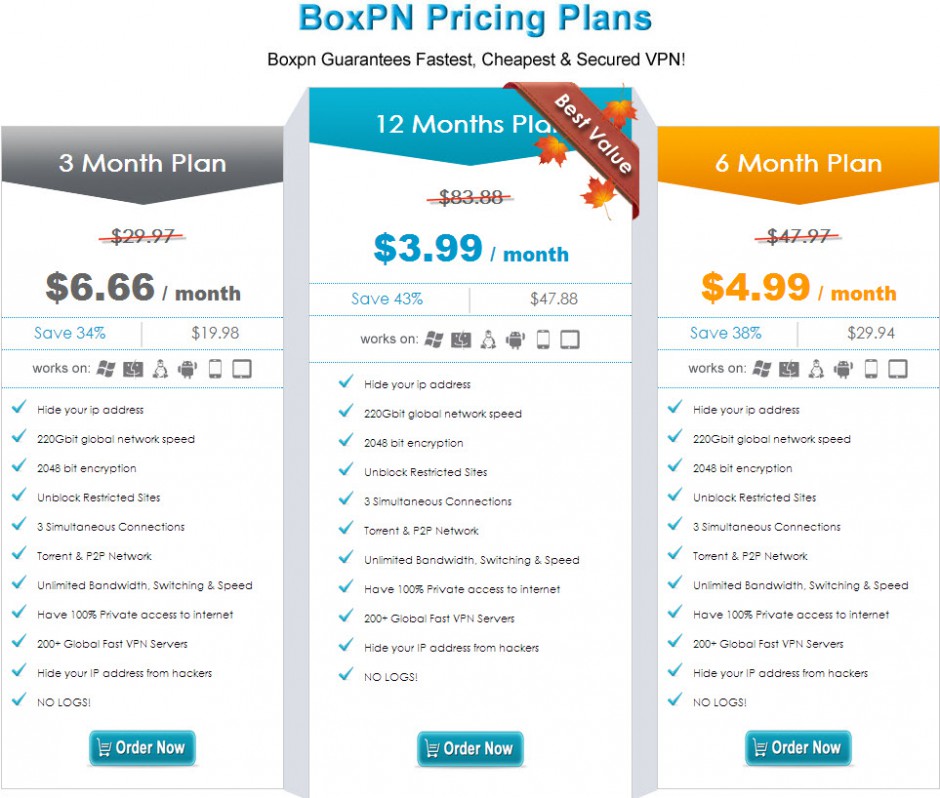 BoxPN has 3 pricing plans.
3 months: $19.98 or $6.66/month
6 months: $29.94 or $4.99/month
12 months: $47.88 or $3.99/month
No monthly plan for that matter.
They have a 7-day money back guarantee.
Payment methods: PayPal, Credit Cards, Webmoney and Perfect Money. No BitCoin.
Logging and Privacy
They have a short privacy policy in which they state that they collect network utilization data like IP addresses. But they don't mention for how long the collected data is stored. No personal details like name and address are required when ordering the VPN service and that's good.
Here's a claim from their privacy policy that cought our attention:
When users connect to boxpn Virtual Private Network, no cookies are stored on their system.

It sounds like the firewalls on their VPN servers are blocking cookies. If that's what they claim and not something we misinterpreted, then it's absolutely wrong.
Speaking of cookies, we weren't pleased to notice that their web-site is full of tracking scripts: Adroll, Alexa Metrics, Google AdWords, Google+ and Analytics, Pingdom, Zopim. This ain't something we like to see coming from a privacy service.
Speed and reliability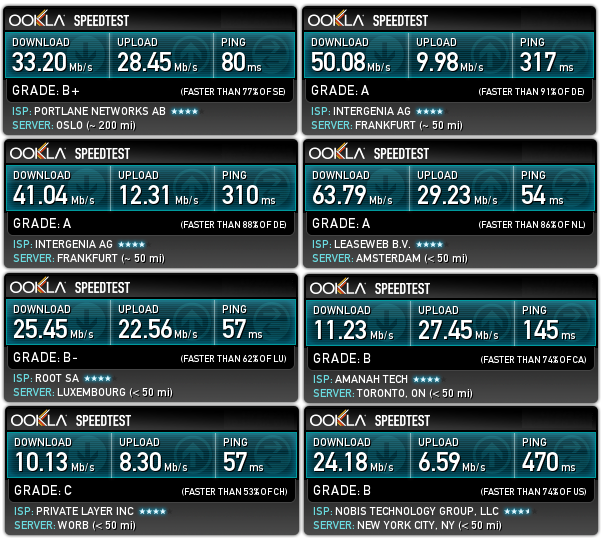 Speed was good in P2P tests but not impressive, slower than some competitors we reviewed recently. Browsing speed was also slow and it took several seconds to load some bigger websites. Even speedtest.net was very slow in the initial loading process, before starting the bandwidth test. The best download speed we got was only half of our available broadband speed of 100 Mbps.
Best torrent speed we got was 7 MBps on PPTP, 5 MBps on L2TP/IPSec and 2 MBps on SSTP.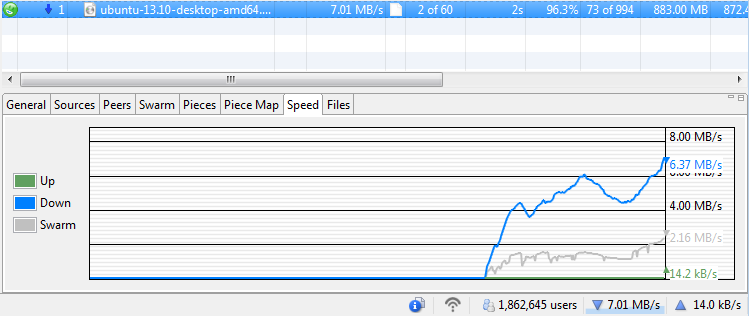 The servers we tested have been reliable, not much to complain about. Some servers we tried to use were under maintenance and we've been redirected to others, in different locations. Video streaming on Hulu was smooth, with no hiccups.
Support
They provide support via ticket-system, no live chat or other "delay-free" methods. We opened two tickets asking about a technical issue and they replied quickly, in 5 and 8 minutes.
Conclusions
The good:
Many servers in many locations.
An easy to use VPN software for Windows.
Good pricing.
P2P allowed in several locations.
Not asking for personal details when signing up.
Email support is quick.
The bad:
No OpenVPN.
No BitCoin.
Outdated tutorials, lacking some important ones (Win 8 and Linux). They provide setup instructions only for PPTP but we received L2TP/IPSec instructions by email on request.
Not so clear privacy policy, site full of tracking scripts.
Speed is far from what we'd wish for but ok for people with slower broadband (10 Mbps to 60 Mbps)
SSTP advertised as 2048 bit encryption, L2TP/IPSec as 256 bit (it's 128 bit with the VPN client software)
Final Notes:
The lack of OpenVPN support, BitCoin, overall slow speeds and a not so clear privacy policy are not to our liking. We feel that BoxPN is not catching up with modern technologies and it really requires some major updates in terms of features. On the bright side, its service pricing is very attractive and the choice of VPN locations stands out. This being said, we give BoxPN a rating of 5/10 and we will gladly re-evaluate our review if they are going to make some necessary improvements.