Summary
Features -

6/10

Speed & Reliability -

7/10

Security & Privacy -

6/10

Usability & Compatibility -

6/10

Support & Documentation -

5/10

Value for Money -

6/10
Summary
EarthVPN offers a wide variety of server locations, SSTP and SSH (which are harder to block in censored countries) and all this at an affordable price which can be paid with bitcoin. We would like to see the addons integrated in the same price and hopefully some mobile applications to be developed. These features will let them become a sturdier service and go up in our top.
EarthVPN is a relatively new VPN service based in Northern Cyprus, but their pricing and number of features makes it stand out. Here is our review
Features
Their number of locations is what gives EarthVPN an edge against its competition – having VPN servers in over 80 locations across 32 countries, allowing users to experience good connectivity and low latency. Bandwidth and speed are unlimited. They host a speed test tool on their page so you can see what speed to expect on specific locations.
Their VPN protocols offering is another feature that we like: L2TP/IPSEC, PPTP, OpenVPN (both UDP and TCP on many ports), SSTP and SOCKS5/SSH tunneling.
They also allow torrent in a few locations.
Software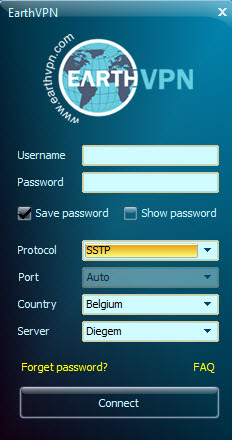 EarthVPN has a simple yet easy to use proprietary VPN client that doesn't require installation (though it requires OpenVPN GUI to be installed on PC).
It runs on any Windows version and allows you to connect via PPTP, L2TP/IPSec and OpenVPN running on many ports UDP or TCP, except for SSH/SOCKS5 tunneling which is possible using a 3rd party software. Users who don't want to use proprietary VPN clients and prefer the classic OpenVPN GUI, can download the OpenVPN config files from EarthVPN's website.
They also have a pre-configured tunnelblick version for Mac users.
Pricing
Their VPN plan is $3.99 / month or $39.99 for a year but you will pay more if you need some "addons" like:
$1.99 for an additional simultaneous VPN connection
$1.99 for AES 256-bit encryption
$1.99 for static IP address
$1.99 for SSH/SOCKS5 tunneling
Enabling all addons, the service will cost $11.95 / month – a price that is pretty much in-line with their competitions, or even better if you consider the number of features.
Payment methods: EarthVPN accepts Paypal, Bitcoin, Alipay, UnionPay and WebMoney.
Pre-configured VPN routers  like DD-WRT by Tomato are provided through FlashRouters.
Logging and Privacy
Here is a snippet from their privacy policy
EarthVPN neither logs VPN usage nor user activity. Neither us nor third parties are technically able to match an IP address to an account. Under no circumstances we will provide any personal or private information to third parties. We are located in the jurisdiction of Northern Cyprus.However in case of law enforcement agencies notify us that our IP is involving in criminal activities ( see terms of service for acceptable use of policy ) we reserve the right to investigate manually to find the cause of criminal activity.
As always, we are very skeptical when it comes to statements like "Neither us nor third parties are technically able to match an IP address to an account".
A VPN provider and his hosting provider are ALWAYS able to match an IP address to an account. Period.
We found that EarthVPN's OpenVPN implementation is a debate topic on Reddit on two topics (one, two) and also on Full Disclosure mailing list. Our bet is that the topics were raised by some competitor. However, we do agree to a certain extent that their implementation relying on a certificate issued by a commercial Certificate Authority is bad practice and a VPN provider should use only self-signed certificates. Hopefully they will fix this.
Speed and Reliability
We ran several speed tests on many of their VPN servers and the results are quite good. L2TP/IPSEC and SSTP were faster than OpenVPN, but we can't really complain about OpenVPN.
L2TP and SSTP in Europe: 50 and 90 Mbit/sec
OpenVPN in Europe: usually around 30 Mbit/sec but we reached over 70 Mbit/sec on some servers.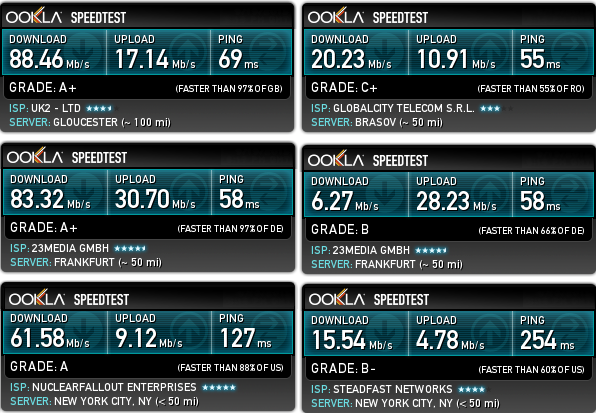 Reliability: we encountered some reliability issues in our tests, like not being able to connect on some servers even though they were replying to ping, or a few servers being offline completely. But overall, the experience while being connected was good.
Support
Ticket system only, no live chat or other real-time method.
Conclusions
The good
Many VPN locations across the globe. It's hard to find a country which doesn't have any VPN servers nearby
They allow P2P in several locations and accept Bitcoin. They also don't ask for all your personal details when signing-up for their service
Software is very simple and it does the work very well. No need to install it
Very good pricing
SSTP and SSH are harder to block in China and other censored countries
Not an US-based provider
The bad
Limited support for mobile devices (no proprietary software, just tutorials on how to setup 3rd party clients. We are not against it but some users lack the skills or are too lazy to import a file into OpenVPN Connect for Android
They are not using a self-signed certificate for OpenVPN
Some servers were unreliable in our tests
The addons will cost you some extra bucks. It would be nice to have them included for free in their main package
Final Notes: EarthVPN is a provider of choice for people looking for an affordable VPN service with servers everywhere around the world. Download speed was very good in our tests so it was clear that the servers are not overused. We rate EarthVPN at 6/10 against other paid VPN providers.