LeafyVPN is a VPN provider based in Hong Kong that offers the run-of-the-mill experience of all mid-tier providers. They have VPN servers in more than 10 countries, unlimited bandwidth and speed on both trial and premium accounts. As far as we noticed, they are focusing on the Asian market – where they also have most VPN servers.
The premium VPN accounts starts from $9/month and goes down to $5.7/month if purchased for a whole year. Let's see how they stack up to the other guys.
Features

LeafyVPN offers 3 US-based servers for the Trial accounts and over 30 VPN servers for the Premium VPN Accounts, in over ten countries. Out of these premium VPN servers, 6 are exclusively used for mobile users. Their website maintains a Servers Status Page which is helpful although lacks important info we would have liked to see, like server bandwidth load. They get bonus points for the 3-days risk-free trials.
The connections are made through OpenVPN, L2TP or PPTP for both Trial and Premium accounts and they feature 128-bit and 256-bit encryption.
Software
You get a custom-build Dialer for OpenVPN, L2TP and PPTP on Windows, that runs on all major versions (read: Windows XP SP3 or newer) and detailed setup guides for Mac OS X (10.4+), iOS, Android, Linux and dd-wrt routers. They also provide one-click connection installers for iOS and Mac.
One thing we noticed trough usage and after browsing their website is that they do NOT support or allow P2P or Torrent traffic on neither pricing plans.  Kind of a let-down, if you ask us. For this reason, they score lower on our feature-set score card.
Their VPN software is very simple to use and we really like the fact that you don't need to install it on the PC. It's enough to unzip it and create a shortcut on desktop to start it when you want to. As you can see in the screenshot below, there's a servers table with a status column.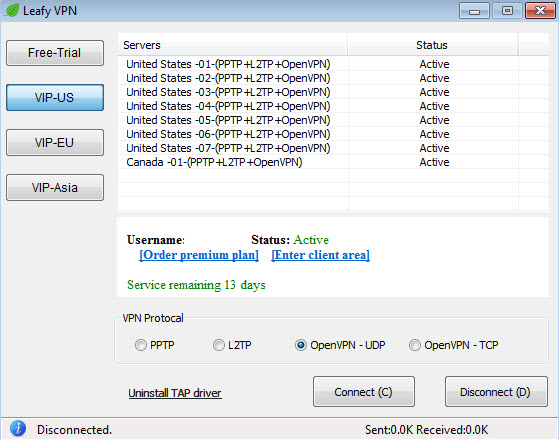 At first we thought that the client is pinging the servers to display their status, but it seems that the VPN client is actually displaying this table via XMPP from Google Docs. So we don't know if the table is updated in real-time or requires manual intervention when a server goes offline.
What we don't like about the table is that it doesn't display some more details about the VPN servers' location and it only provides Country and protocols. We would have liked to see server's city or state – or maybe only the East/West Coast to decide what server is closer in order to minimize latency. However, we noticed that most of their US servers are on West Coast, most likely to better server their Asian customer base.
Well, there isn't much else to tell you about their software. It does it's job and we had no problem with it – except maybe the fact that it doesn't seem to count Sent&Received traffic all the times. But it doesn't really matter, since  they provide unlimited bandwidth.
Pricing
As said before, you get a 3-days Free Trial for all new users and Premium accounts starting a 9 U.S. Dollars per month. If you chose to pay ahead for 3, 6 or 12 months, they do offer discounts down to 5.7 $/month, for yearly subscription. They provide 3 days money back guarantee.
Logging and Privacy
The only official statement we got from their website, regarding Terms of Usage, Privacy and Logging is that they "collect connection logs for 3 days for troubleshooting." That's it.
Speed and Reliability
We noticed that OpenVPN UDP is their fastest protocol, being at least 2x faster than others. OpenVPN TCP was the slowest one, reaching only 1/2 to 2/3 of PPTP's or OpenVPN UDP's speeds on the same VPN server, downloading bandwidth test files from the same sources.
The speed on their VPN servers in Europe and US was quite decent in most our tests: 440KB/sec was the average speed while running speed tests from an EU VPN to US, and ~1MB/sec in some tests.
Speed was obviously better when running speed tests from Europe while being connected on their European VPN servers: 500 to 800KB/sec on average, but getting up to 3MB/sec in some tests. That's not bad at all, but such speeds were quite rare, though. Asian servers were very slow in our tests, but that's because of our location. So for people in Asia, they might be faster.
During our tests, we didn't notice any reliability problems – except a few disconnects every now and then.
Support
They provide support via ticketing system. In the FAQ they claim that response time is up to 12 hours. They don't provide live support. Connection tutorials are easy to follow and include screenshots.
Conclusions
The good:
Clean and simple VPN dialer, no installation required
Affordable pricing
Many VPN server locations for users in Asia
Free trial
Decent speeds that shouldn't cause browsing lag
The bad:
Most US VPN servers are on West Coast and it's hard to find where exactly they are located (town/state)
They do not allow P2P/torrent and they clearly state that P2P usage leads to account suspension
Support only via ticket system and replies may come late. No live support
Final notes: We like their software although it should provide more details about servers location. It's not clear if the status is live or taken from a table that is manually updated. Although speed is not bad, it could have been better. We rate Leafy VPN at 6.5/10 among paid VPN providers