Summary
Features -

7/10

Speed & Reliability -

5/10

Security & Privacy -

7/10

Usability & Compatibility -

7/10

Support & Documentation -

7/10

Value for Money -

6/10
Summary
The Netherlands based service proXPN offer a free VPN service as well as a paid one. We focused on the paid service and we have to say we were very happy with the simplicity and functionality of the service. The speed could be a bit better, but in all honesty they make up for that loss in other areas such as pricing and practicality.
proXPN VPN is a Netherlands-based VPN provider who offers a two-tier VPN service. The free account gets you unlimited web browsing over OpenVPN while the premium account stacks up to the competition's offers with fully-fledged unlimited access to all web services on a number of servers, world wide. Let's see how they've managed to pass our tests!
Features
proXPN offers PPTP and OpenVPN connections although the free (basic) account only gets you OpenVPN. No UDP protocols here, such as L2TP and OpenVPN UDP, for either payment plans. The free account gives you access through one server, located in the U.S. while users willing to pay from 6.25 USD/month will get to choose one of their "many servers located worldwide". They have VPN servers in 7 locations: 4 in US, one in Netherlands, one in Singapore and one in UK. All VPN servers have many IP addresses.
The premium account comes with a 7-days risk free trial for all new users of the service.
They have a nice service presentation video on Youtube
proXPN provides a custom build application for connecting to their network. This app runs on all major OS versions (read: Microsoft Windows XP SP3 or newer, Mac OS X 10.5 or newer. The application allows users to choose the VPN server and the protocol (PPTP or OpenVPN). The Mac App is actually just a modified version of TunnelBlick, a free OpenVPN client.
proXPN does offer support for mobile users and they've put up guides on their website on how to set-up PPTP connections on both iOS 4.0 or newer and Android 4.0 or newer. The "mobile" page on their website promises that custom apps for both iOS and Android are "coming soon" on the respective Application Stores and Markets.
Software
Their VPN dialer is clean and simple. It provides a quick way to switch between servers and VPN protocols, as well as blocking a pre-defined application if the VPN connection drops unexpectedly.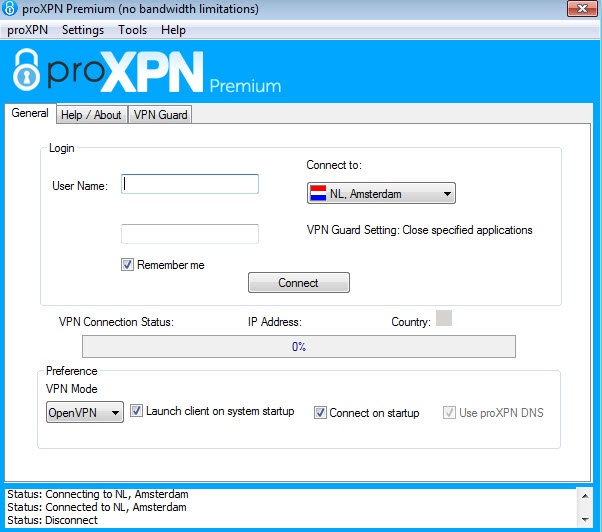 That's a nice feature for those who want to make sure that a torrent application or a browser won't continue to transfer data after the VPN disconnects, eventually exposing your real IP address.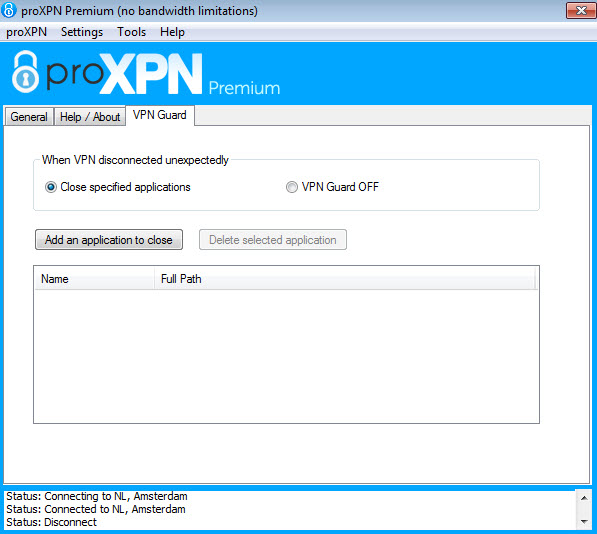 Pricing
The Netherlands-based provider offers two types of accounts. The Free account is available to anyone willing to sign-up on the website and offers unlimited web browsing through just one of their servers in the U.S. The browsing speed is limited to 300 Kbits/second on their free VPN plan, while the Premium plans offers unlimited VPN speeds. However, the speeds are limited by the protocols, as both PPTP and OpenVPN TCP are slower than UDP VPNs.
The premium account runs you 6.25 USD / month (starting price) and gives you unlimited traffic with higher speeds, access to all their servers worldwide, access to P2P/torrenting, unblocked ports and PPTP support (for both desktop/laptops and mobile phones/tablets).
Logging and privacy
This provider makes it clear through their logging & privacy policies that they have zero tolerance towards users that use their networks for illicit activities such as spamming, forging of headers, hacking, distribution of viruses and so on.
As for their logging policy, they state that they will collect sign-up information and connection information which is stored for two weeks. They will log payment details of the premium users such as Name and billing cycle.
Here is a screenshot from the Privacy Policy:

We do not believe that the comment "not that we even could, as the connection is encrypted" is accurate. People should be aware that a VPN connection is encrypted between the end-user and the VPN server, not from the VPN server to the Internet service, such as website, people will access. Even if the user will access a web-site via HTTPS, the VPN provide is STILL ABLE to see what's the website you access, although they can't see what's "inside" the HTTPS connection. So our suggestion to proXPN is to provide accurate technical statements to increase awareness of users of VPN services, otherwise some people might think that a VPN service provides full encryption between the end-user and the websites/services they access.
Reliability and Speed
We stayed connected to the OpenVPN service for several hours (3 hours / connection time on average), in different days. The connections were reliable in our tests and we didn't notice and disconnects. However, the speeds are not the best we've ever seen and that's because they only provide TCP VPN protocols. If you aren't aware of the difference between TCP and UDP VPNs, check our TCP vs. UDP VPN comparison article. Basically, TCP VPNs can be 10x slower than UDP VPNs.
On average, we reached speeds between 3 and 5 Mbit/sec. on proXPN VPN using both VPN modes (OpenVPN and PPTP). The best we got on our proXPN VPN speed tests was around 7 Mbit/sec (OpenVPN TCP), while our connection speed without using a VPN averages between 80 and 100 Mbit/sec: enough to get some of the best achievable speeds from any VPN server, regardless of provider.
Support
ProXPN VPN provides support via email/ticket, twitter and they also have a documentation section on their site.
Conclusions
The Good:
VPN software is nice and simple. We liked it more than some of the other VPN services we tested
Pricing is not bad at all
They provide a free VPN plan
The Bad:
No UDP VPN protocols which means lower connection speeds. Most VPN providers use UDP VPNs by default
Logging policy may confuse people
Some more countries/server locations would be nice
Final notes: their polished VPN software, a free plan and good pricing make up for the speed loss. If you need a VPN for browsing, media streaming and casual downloads, their speeds are good enough. We rate proXPN VPN at 6.5/10 among paid VPN providers.