Summary
Features -

8/10

Speed & Reliability -

7/10

Security & Privacy -

6/10

Usability & Compatibility -

8/10

Support & Documentation -

8/10

Value for Money -

8/10
Summary
TorGuard VPN provides a solid service that is undoubtedly among the strongest of the VPN market. There are some privacy policy issues that we would like to see resolved as it would put any doubt to rest as far as we are concerned. Also, the speed could be improved a bit.
TorGuard VPN is a VPN service from USA, Florida (according to their TOS), focusing on torrent/P2P VPN market. They offer Proxy services for Torrent Anonymity, full-featured VPN services and a Anonymous E-Mail Service with full PGP Encryption. Let's dig a little deeper:
Features
They provide VPN access (up to 5 simultaneous connections) on 40+ servers in 7 countries: USA, UK, Netherlands, Canada, Romania, Switzerland, Russia. They also offer SOCKS5 and Proxy access to use with BitTorrent clients. That's a good addition to the common VPN service, as users don't have to be connected to the VPN if they want to transfer something over P2P networks. Their OpenVPN setup is using 128 and 256 bit encryption. TorGuard also provides a secure webmail solution that is using PGP encryption.
As a VPN feature addon, they allow customers to use a dedicated IP address + unlimited port forwarding for $7.99. That's kind of pricey if you ask us.
Software
You get a Viscosity Build  for the OpenVPN feature, complete with a valid license key and it come pre-configured with all their servers. Viscosity is a mature, full-featured OpenVPN client that offers reliable connectivity and detailed statistics about your connection times and TorGuard gets some bonus points in this regard. Viscosity is available for both Windows (XP SP3 or newer AND Mac OS X 10.5 or newer).
If you don't want to use Viscosity you can download their Custom build dialer app, called TorGuard Lite. This offers OpenVPN connectivity with pre-shared server lists. You don't get the advanced statistics that Viscosity Offers and bare in mind that this is a Java-based app so you'll need to install a Java Runtime prior to first run (the installer will download the latest Java Runtime for you).
TorGuard Lite is available for Windows, Mac OS X and Linux.
If you're interested in the Torrent Proxy services, you can download and use a pre-configured Torrent Client. If you're using Windows, you can chose between Deluge and uTorrent but Mac OS X and Linux users have to settle for Deluge as the go-to proxy'd torrent client.
Interestingly enough, TorGuard offers a pre-configured OpenVPN client for Android users as well, available in two releases, for both Android 4.0 or latter and pre-4.0 users.
TorGuard scores high in our charts because they offer a large collection of dialer software that covers all major OS'es and usage. While there's no pre-configured OpenVPN client for iOS,  TorGuard does offer a pre-configured GuizmoVPN dialer for jailbroken devices, available trough the Cydia Store. So no (official) OpenVPN support for the majority of iOS Users that don't have jailbroken devices.
All desktop and mobile users can connect trough PPTP/L2TP protocols and there are a lot of step-by-step guides on TorGuard's web page for all major operating systems and devices (including DD-WRT routers and Boxee Box users)
The Torrent Proxy tutorials are available as well, on-line on their website and in .pdf format for off-line reading. They cover the setup methods for all major browsers, apps and devices (Chrome, Safari, Opera, Firefox, Internet Explorer, Skype, Boxee Box, Vuze, uTorrent, BitTorrent and Deluge).
TorGuard is  one of the most well-documented VPN/Anonymity service we encountered so far.
Pricing
You get 30-days money back guarantee on all purchased services, no matter the time period or service type, with one condition: not exceeding 10GB of traffic during that first month.
The prices start from $5.95/month for the Torrent Proxy and $9.99 /month for the full-featured VPN service and go as low as $3.95 /month and $4.99/moth respectively if you chose to buy a one-year subscription.
Payment methods: Credit Card, Google Checkout, Paypal, Bitcoin, OKPay.
They are also selling routers that are compatible with OpenVPN (DD-WRT and Tomato firmwares)
Logging and Privacy
The Privacy Policy states that TorGuard collects both personal information entered while ordering the services and website tracking info. Said information will be made available "to third parties when, in our good faith judgment, we are obligated to do so under applicable laws."
Speed and Reliability
Since TorGuard is a service targeting P2P users, we decided to do all our speedtests with BitTorrent, downloading Linux ISOs seeded by many users to get best speeds. Speed on Netherlands servers averaged between 700KB/sec and 1MB/sec. Not bad, but it could have been better. Canadian servers were slightly faster, averaging between 1MB/sec and 1.5MB/sec, reaching a maximum speed of 2MB/sec. Romanian servers were the fastest in our tests, easily averaging 2.5MB/sec, spiking up to 3.5MB/sec every now and then.
Some screenshots from Viscosity traffic graphs showing the speeds we achieved in our tests.
TorGuard Canada VPN: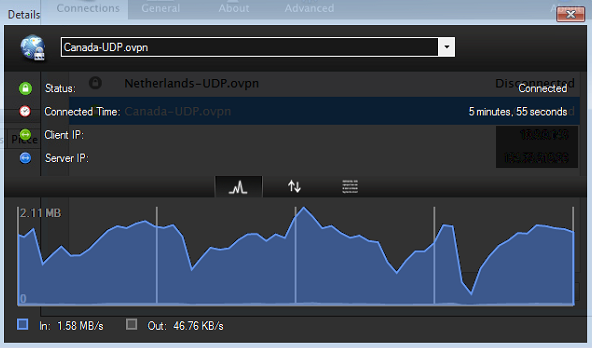 TorGuard Netherlands VPN: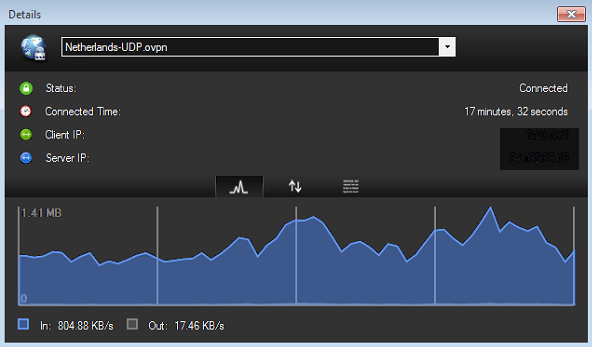 TorGuard Romania VPN: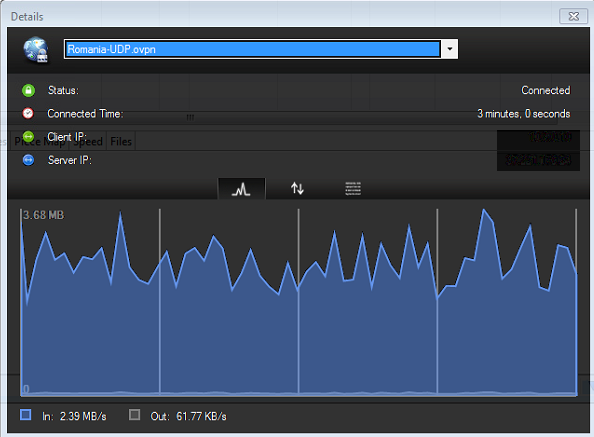 VPN connections were reliable and we didn't face any disconnect issues while staying connected for a few days of total usage (1 to 5 hours per session)
Support
TorGuard offers 24×7 support available trough a ticketing system and web chat.
Conclusions
The good:
Lots of servers in various geographical regions, especially no DMCA-friendly countries
Well documented installation for all major OS'es and devices
License for Viscosity VPN client which is by far the best OpenVPN client out there
30 days money back guarantee
P2P allowed
Pricing is not bad: quarterly and yearly plans are cheaper than many competitors
They accept BitCoin
The bad:
No official support for iOS customers on OpenVPN
VPN speed is not bad, but it could have been better
Their TOS is too long to read: a summary would be nice
Although the keyword "anonymity" is everywhere on their website, they ask for too many details during signup:

Final Notes: TorGuard is a solid VPN provider but they should increase server/bandwidth capacity a bit. They should also provide some clearer TOS/Privacy Policy because nobody ain't got time to read big walls of texts. We don't like that the ask for so many signup details, while advocating anonymity everywhere on their site.. We rate TorGuard VPN at 7.5/10 in the category of paid VPN providers because they have many useful features bundled with their product or available separately.