Back in 2014, we created a list of the best VPN services for torrenting (updated in 2015). Now, after one year since last update, it is time for an update.
Must-have VPN features for torrenting
There are some key requirements to consider when looking for a VPN service to use with torrenting, and we list some of those below.
Not blocking torrent traffic
Many VPN services block torrent traffic either globally or in some of their locations. They do it for two reasons. One, to limit bandwidth usage because torrenting can use a lot of bandwidth resources, and that could be quite expensive in some regions. Second, to stop potential copyright infringement. A high number of complaints would force the hand of their upstreams and hosting partners to kick them out or they may even face legal action.
Accept anonymous sign-ups
Accepting Bitcoin, other crypto currencies and pre-paid vouchers is a must. Another key aspect is not asking for identity verification when signing up.
Have a solid privacy policy
It is important to know exactly what data is collected about users, for how long and how it is stored. That's why you should always check the privacy policies of any service that you intend to use, not only VPNs but any other service that collects personal information. For this reason, we prefer VPNs that do not log activity of users or, even better, do not log anything at all. However, keep in mind that many services promise that they don't keep any logs, but you don't trust everything you read on the internet, do you?
Note that even if the service doesn't log traffic of users, if they provide dedicated IP addresses on a one-per-user basis, then it would be very easy to identify particular users who were using each IP address at a specific time. This is why it's advised to use services that provide shared IP addresses, so that the users connected at the same time would use the same IP addresses, thus making it virtually impossible to identify particular users that were accessing torrent files.
Bandwidth capacity and speed
Speed plays a vital role for torrent downloads, so the network quality and bandwidth capacity are key considerations when choosing a VPN for torrenting. The total number of countries isn't really relevant, as we prefer quality over quantity in this case. There are lots of VPN services out there who advertise hundreds of locations and servers, but most of those are really terrible in terms of speed because they are hosted through cheap VPS providers.
Software features
Must-have features that should be present in any VPN software:
a kill switch: this is software's ability to cut off your internet connection if the VPN disconnects so that the real IP is not revealed in the torrent swarm
allows the user to change connection parameters: ports, protocols, encryption strength. Tweaking these settings could help solving problems and improving speed
reconnect automatically and don't expose the real IP during reconnection
port forwarding improves upload speed. It isn't needed for hit-and-run, if public trackers are used
selective routing per application or SOCKS5 support are very welcome, so that only the torrent application would use the VPN/proxy
Recommended VPN services
Out of dozens of services that we tested, we found that very few of them match the requirements described earlier.
Private Internet Access (PIA)
PIA VPN is very solid and it has been around for a few years now. They've been growing very fast and their network now hosts over 3000 servers in 25 countries. In USA they have servers located in all key regions across the continent. They aren't blocking torrent downloads in any of their locations, only ask for an email address when signing-up, have a no log policy and their software has almost all features we'd ask for.
A very interesting feature that we haven't found in many services, is the ability to check the server server status and response time directly in the software. This will allow you to connect to a more responsive server and get the best experience possible.
With this service, you are also offered a proxy solution that allows you to redirect certain trafic such as torrent downloads. This is a very useful feature that not many provides have available. Below, you can also find a speed test for the proxy feature.
Port forwarding is also available, and the settings and other useful information on this topic can be found here. If you want to read the most detailed and up-to-date review about PIA, you can find it here
We found their VPN servers to be quite fast. Below are some speed testing results.
Torrent download via Canada (Toronto) location:

Torrent download via Sweden location: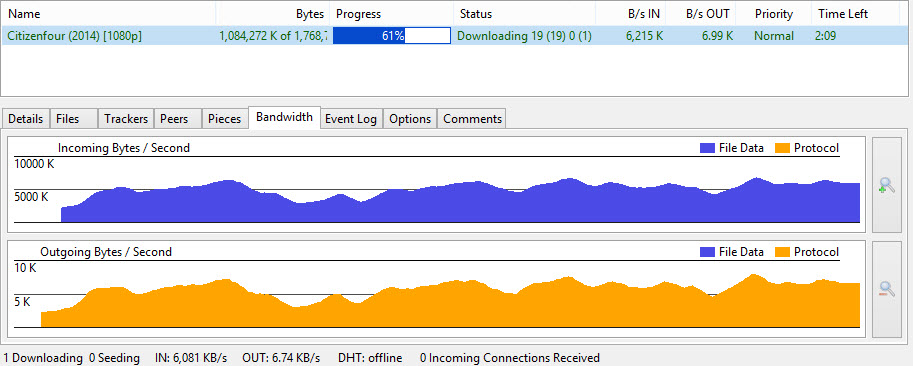 Torrent download via US East location:

Torrent download via Netherlands Proxy (SOCKS5):

AirVPN
AirVPN started as a free service in April 2010, then in 2012 they added a commercial side in order to provide the team a monetary basis which would allow them to offer a quality product through full-time dedication. Today, it is exclusively operated by activists, security issues aware people and they bring a solid infrastructure to the table. They have more than 80 servers with high bandwidth lines and top hardware in 15 datacenters across 16 countries and 3 continets.
There is a feature that we would like to have available with this service, a proxy solution. Unfortunately, there isn't one available, nor is there any mention of availability in the near future.
Port forwarding is available and can be enabled on their website. This is a particularly useful feature which we are glad to see included.
The prices are competitive, and the fully featured software is intuitive and user-friendly. There are several features that are available right at first sight, and you also have your advanced options to choose from.
Below, you can find different speed tests and what results we were able to obtain.
Torrent download via Canada (Toronto) location:

Torrent download via Netherlands location:

Torrent download via Chicago location: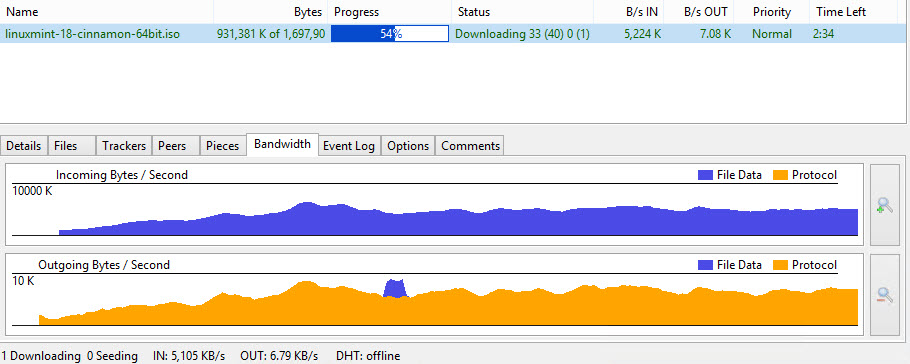 TorGuard
TorGuard provides a wide variety of services such as Anonymous Proxy, VPN, E-mail and they also have a bundle package available with a decent discount in case you require more than one feature. There are over 1600 servers available in over 50 countries, so it is very likely that you will be able to find exactly what you need.
The software is very easy to use, gives a good description and removes any ambiguity about what connection is set up and it very easy to spot if there is any traffic that is being leaked.
There is also a port forwarding option available, but it needs to be accessed from the website in your user interface under the "My Services" menu. From there, you can request port forwarding.
They also offer a SOCKS5 proxy option in case you want to route only your torrent traffic through TorGuard and keep your IP address safe.
The prices are fair, the products are explained well, the check-out process is fairly easy to go through, and the customer support team was prompt and concise in answering our request.
Our speed tests gave us a very good idea about the product's quality, and you can check out the results below:
Torrent download via Canada (Toronto) location:

Torrent download via Germany (Frankfurt) location:
Torrent download via Netherlands location:

Torrent download via New York location:

Torrent download via Proxy (SOCKS5) location:

As you can see in the above tests, the speed is quite good with the VPN connection enabled but much higher using the SOCKS5 proxy, enabled in the torrent client software. However, for best security and privacy it is advised to use the VPN connection, not the SOCKS5 proxy which is not encrypted and some torrent clients may leak the real IP address. You may want to check our tutorial How to secure torrent downloads, which applies to any VPN service.