Summary
Features -

4/10

Speed & Reliability -

5/10

Security & Privacy -

5/10

Usability & Compatibility -

6/10

Support & Documentation -

5/10

Value for Money -

5/10
Summary
SlickVPN needs a lot of improvement, especially in the infrastructure department. The customer support could use a bit of attention as well, as we still have open tickets with them. Add this to sensational claims and no mobile software and you have yourself a guaranteed recipe for mediocrity.
Founded in 2011, SlickVPN is operated by Slick Networks, Inc., a company in USA.
They offer a large variety of server locations (145 gateways in 45 countries) and give you the possibility to have 5 devices connected at the same time. It's also worth mentioning that they support OpenVPN, Cisco IPSec, and PPTP connections. Since they offer such a wide variety of server locations, we suggest you check out the complete list here. Also, here you can find a list of the available protocols from SlickVPN.
It all sound very promising at a first glance, and as they promote their product to be the "fastest VPN service", we just had to poke around and see what's what. Here's what we found:
Privacy and Logging Policy
SlickVPN claims that they have a zero logs policy and it's worth noting that they also have a warrant canary. However, there is something that captured our attention in the TorrentFreak yearly best VPNs article:

This means that they are admitting to interfere with customers' traffic and identify them in order to send out the notifications. This isn't something we'd like to see coming from a privacy company and it also contradicts their claim of "Anonymous torrenting".
Software
SlickVPN provides a custom client software for Windows and MacOS. The Windows software was not exactly a clean application with no issues. Although intuitive and well thought-out by design, it did have some flaws and we ended up with a crashing program a couple of times while connecting or disconnecting from a server.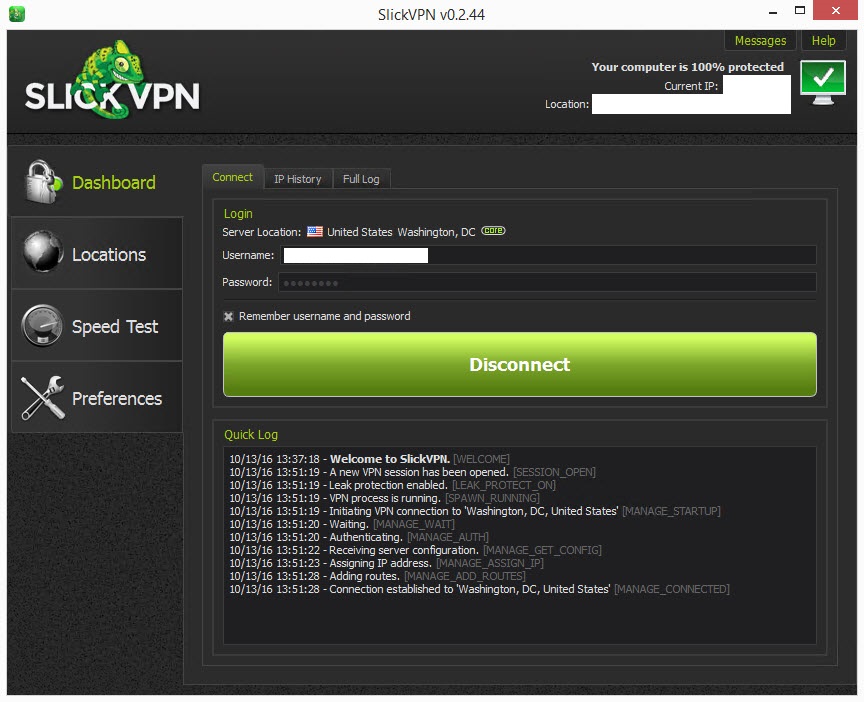 We noticed this happened especially when connecting to a new server location without disconnecting for our current location.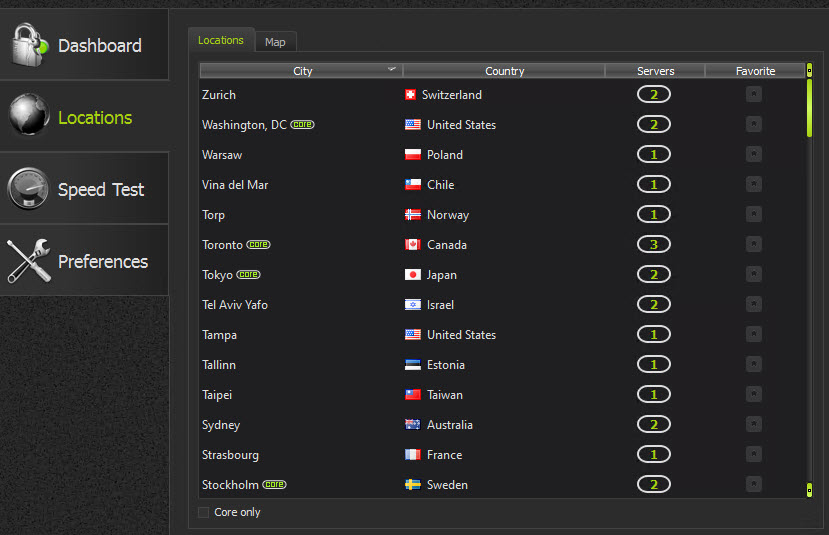 Apart from the minor glitches, (which in all fairness can cause some real problems due to IP leaks if it crashes during use. It hasn't happened to us though) we found the software pleasant to use and that it provided a good variety of settings. Customizing your experience is very important when it comes to a VPN connection, due in large to the particular needs of each individual customer.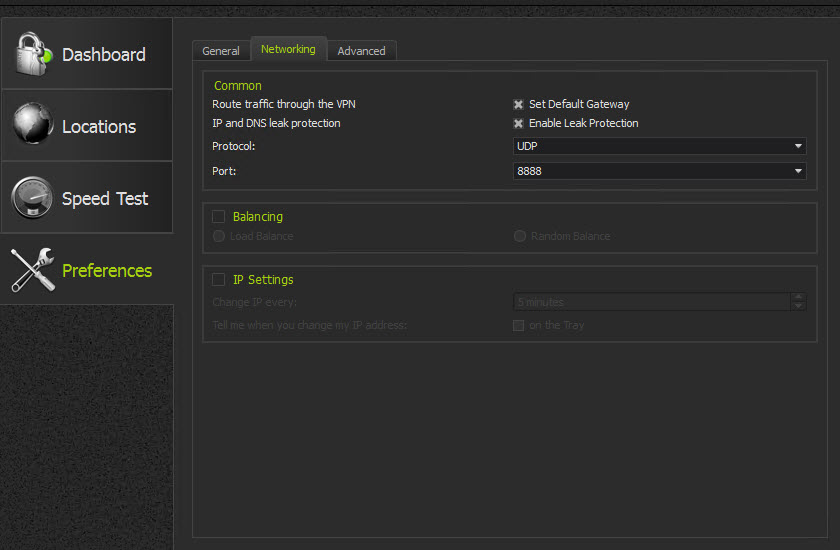 Overall, it's a pretty well made application and we appreciate the time they took to integrate the options that they have available. One thing we did miss is some form of latency meter, which would help us get a better idea of which server locations were faster, and we hope that they integrate it in the future.
Features
SlickVPN offers a good variety of features, and some are worth discussing in more detail.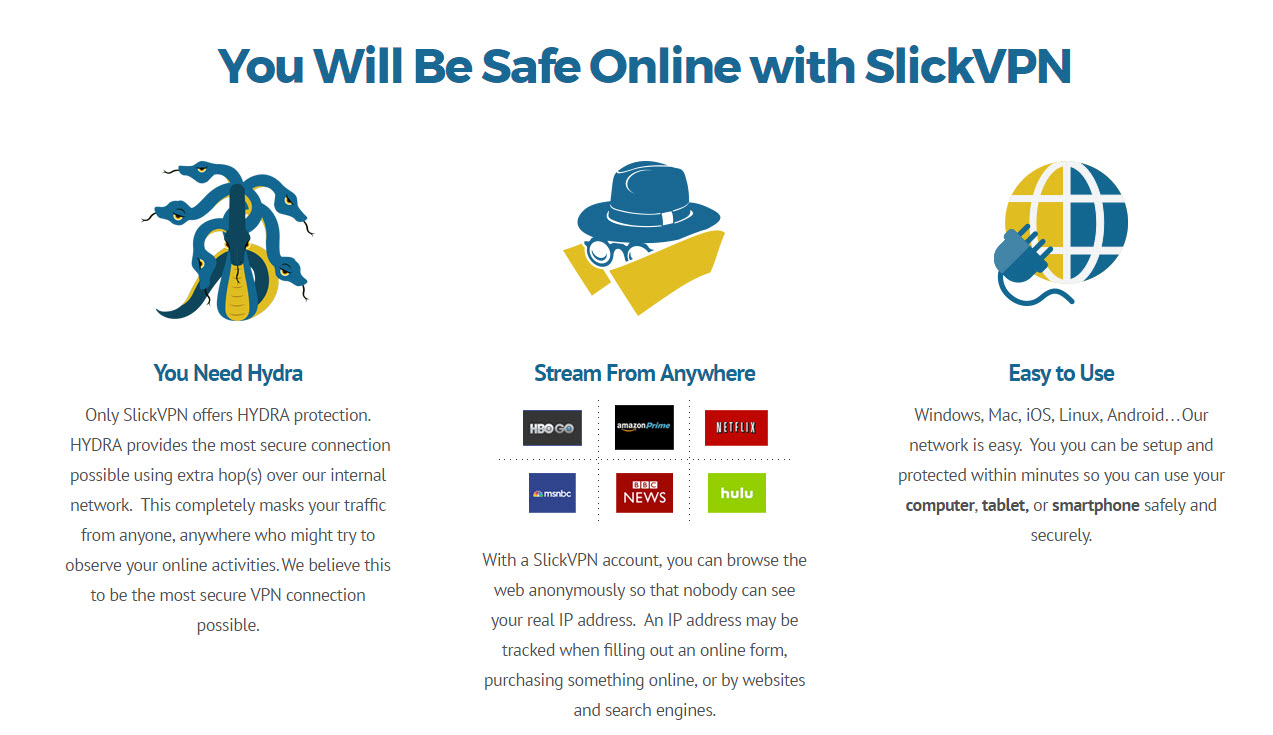 For example they claim that HYDRA, a feature similar to how Tor works (multiple hops, random access through them) offers the most secure connection possible using extra hops on their internal network. They claim that this feature "completely masks your traffic from anyone, anywhere who might try to observe your online activities"…which is not exactly true, as we all know, you are not 100% protected regardless of the VPN service that you opt for. Usually these are just marketing gimmicks, again, used to attract customers that don't do their homework properly.
One thing that we did like, and as advertised works, is the access to media streaming sites like Netflix and Hulu. We didn't test out all the server locations, but the ones tested (including US, UK, NL and DE) had access to Netflix and the streaming quality was quite good. We wouldn't hold it against them if these services would not be available, but since they are, we have to mention them as a plus.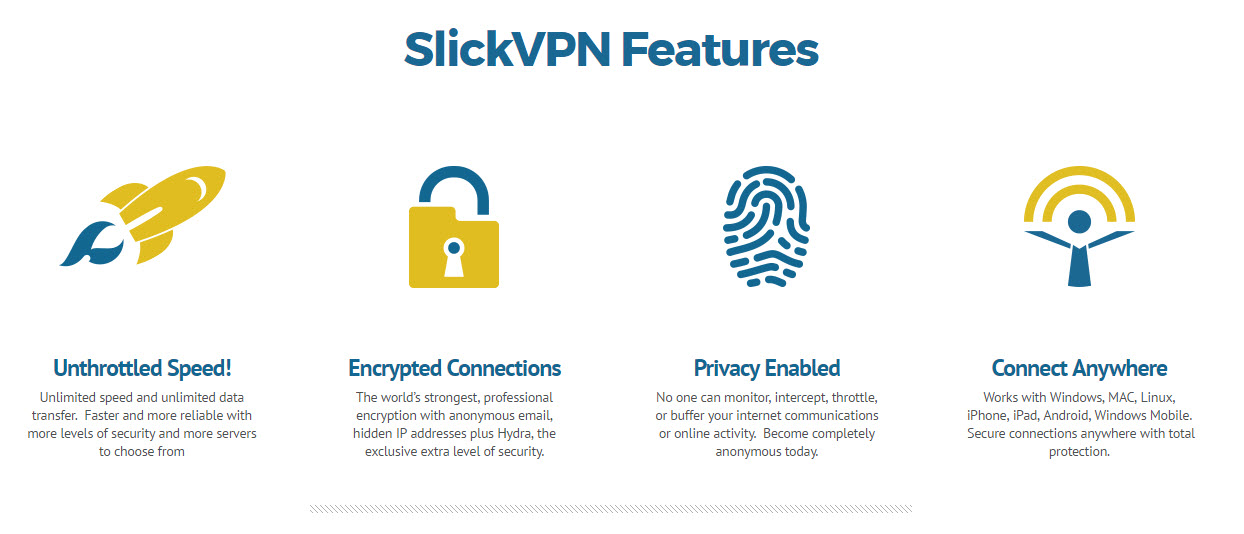 There is another advertisement embellishment that we would like to discuss. They claim to be the "World's fastest VPN"

which, after testing out the product, we can assure you it is far from being an accurate statement. We invite you to check out the speed tests below to find out what we mean.
There are three protocols supported: PPTP, L2TP/IPSec and OpenVPN. The default and recommended is OpenVPN using AES 256 bit encryption. However, we found that their CA certificate is only RSA 1024 bit in size, which makes the OpenVPN connection "not so" secure and definitely not the "world's strongest encryption" as they claim. RSA 1024 has been considered non-secure for a while now and VPN providers should use at least RSA 2048.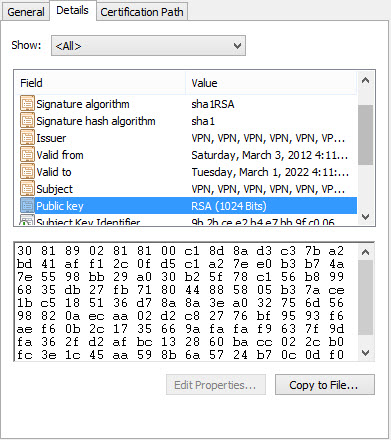 We recommend taking a look at their protocol list for more details.
Speed
The browsing speed test results were average, fair, nothing out of the ordinary, and definitely NOT the fastest in the world, as SlickVPN claims: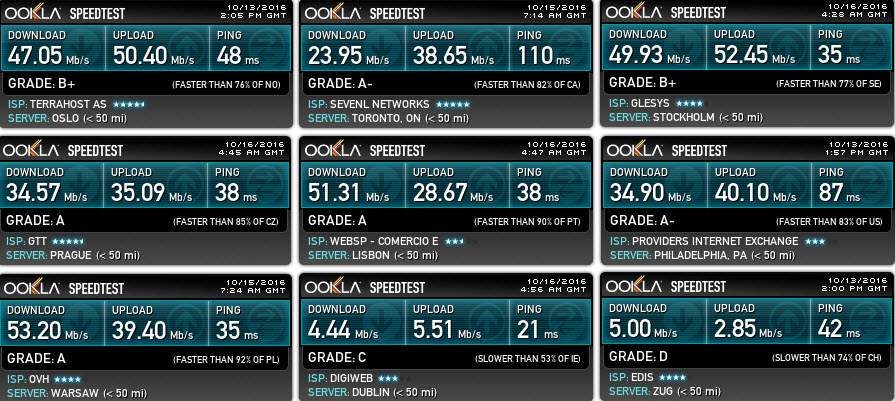 Some servers, of course, were faster than others, and we understand that location, connection type and other factors influence the speed test results, but overall, as mentioned before, the speed was average at best. On the plus side, there were no interruptions or issues, and regardless of the speed test result on paper, the actual browsing experience was not affected, it was fluid and more than acceptable.
The torrent download speed was fairly decent as well:



Please keep in mind that there are also a lot of factors that might sing these results on way or another (such as connection type, torrent type, number of seeders etc.), but this should be a pretty indicative point of reference as far as the torrent download speed goes.
Mobile Performance
SlickVPN does not provide a proprietary application for mobile devices but on their support page they have detailed how-tos for connecting mobile devices to their service. For instance, Android devices can be used with their VPN using OpenVPN for Android which is the most popular 3rd party VPN client for Android. Once installed, you can download the server configuration files from their site and import them. The server configuration files are listed in their locations page. The connection speed on mobile was decent, averaging between 10 and 30 Mbps in our speed tests, connecting to some of the locations near-by.
Pricing
SlickVPN offers the following pricing plans:

The price is somewhat decent, not the lowest, but not exactly the highest either. The consistent discount for the yearly subscription is definitely something worth taking into account.
They also provide the option to pay via PayPal, Credit Card or Bitcoin, and a little bit of variety is always welcome when it comes to payment method.
There is a 30 day money back guarantee. We asked for a refund and it was honored in about 7 days.
Support
The technical support team was not exactly prompt. We had a couple of questions. The first one regarding the initial payment was responded within the hour. We had a follow-up question however, and that was never answered.
The only way to reach the customer support team is via a contact form, which is not very unusual, but we would really appreciate it if they would be more prompt about responding since it is the only method of communication.
Conclusions
All things considered, we were somewhat satisfied with SlickVPN's service, but there are quite a few things missing and that need to be changed in order to make it a top of the line service, as they claim it is. Here is a quick breakdown of what we like and what we didn't:
Pros:
Intuitive website, clear descriptions and easy to navigate.
Easy to use Windows application, software is packed with quite a few nice features.
Speed test included in the software, also quite accurate.
Possibility to set up own connection parameters within the software before connecting.
Fair price if opting for the year-long subscription.
Bitcoin accepted, P2P allowed.
Supports multi-hop connections (like Tor) with their "HYDRA" feature.
Cons:
Software sometimes crashed on us upon changing server locations.
Browsing and torrent download speed is just average, not really the "fastest VPN in the world" as they claim.
Many sensational claims in their website such as "completely anonymous", "fastest VPN in the world" or "anonymous torrenting" which are in fact just marketing maneuvers.
Interfering with people traffic to block P2P and notify users of infringements.
Customer support was very slow and only provided partial help when we contacted them.
No proprietary software for mobile devices.
With that in mind, we give SlickVPN a 5/10 hoping that they will improve their service and take care of the major issues at least. Having crashing software, poor customer support and average speed will definitely not help them climb the ladder in the industry. Also, making false and hyperbolic claims about their product might make potential customers re-consider the VPN provider they were about to choose.