Summary
Features -

4/10

Speed & Reliability -

4/10

Security & Privacy -

4/10

Usability & Compatibility -

4/10

Support & Documentation -

5/10

Value for Money -

3/10
Summary
Ghost Path VPN is a re-seller for SlickVPN and they are not transparent about this aspect at all. Not only that, but some characteristics such as the service or customer support quality did not port over from SlickVPN. The service is redundant in our opinion and we see no place for it in this shape on the current market.
Ghost Path VPN advertises itself to be a VPN service for everyone. The website is neatly arranged and designed, and the structure is logical, with all roads leading to the checkout page. There are quite a few marketing gimmicks used on the website, most of them having to do with hyperbolic attributes such as "bank-grade encryption" or "Unlimited VPN Connections" (which is improperly stated, they refer to the fact that you can connect one device to each individual server simultaneously, not an unlimited number of devices to that same server at the same time).


They offer 136 servers in 49 countries. You can find a full list of servers here. Also, you should keep in mind that the only platform that has a stand-alone application is Windows. All other supported operating systems are supported by means of ovpn configuration files to use with an OpenVPN client. This is not mentioned on the presentation page however, you can only find this information on the FAQ page or under the setup tutorials offered.
Since we just recently reviewed SlickVPN, we noticed a lot of similarities between the two services. Initially we noticed that the website structure was similar, the software is pretty much the same, and after digging a little deeper we found that they use the same infrastructure. We found the same IPs, same certificates and we concluded that Ghost Path VPN is most likely a white-laber reseller for SlickVPN. This would explain the similarities and the infrastructure being the same.  There are slight differences between the two services such as pricing plans (costs are the same, but the plans differ), but as a whole, the final product you receive is pretty much the same.
Based in the state of Georgia – United States, GhostPath VPN advertises anonymous online activity right from the first paragraph on their web-page. They also claim to unlock certain features and online services, protect you against hackers and hide your private data. Let's see if they truly raise to these expectations.
Privacy and Logging Policy
Ghost Path VPN has a 12-point very detailed and very legal-friendly privacy policy. Everything is phrased in such a way that leads us to think we are reading a legal document before entering a contract. It explains very thoroughly what information is stored, why and how it will be used, and to some extent we appreciate the transparency. The thing we are concerned about is the number of situations in which they absolve themselves of responsibility when it comes to sharing user information (see point 4 in order to understand exactly which entities we are referring to).
We strongly recommend to read their privacy policy, as it may shed some light on features and terms that you are interested in. Never take an ambiguous privacy policy lightly, as it can cause a lot more trouble that it saves you.
Software
The Windows application is pretty straight-forward and although it has some features that could have been simplified, we found it rather simple to use.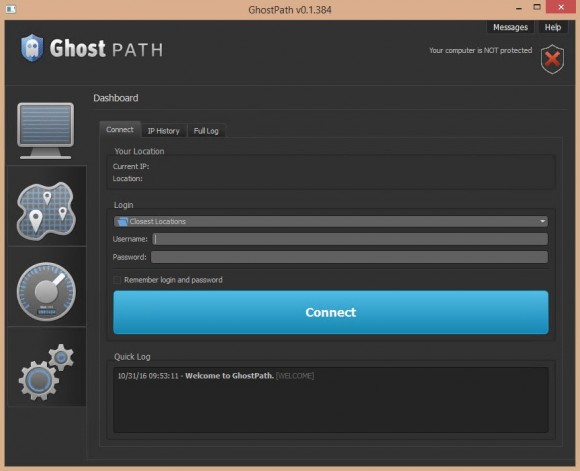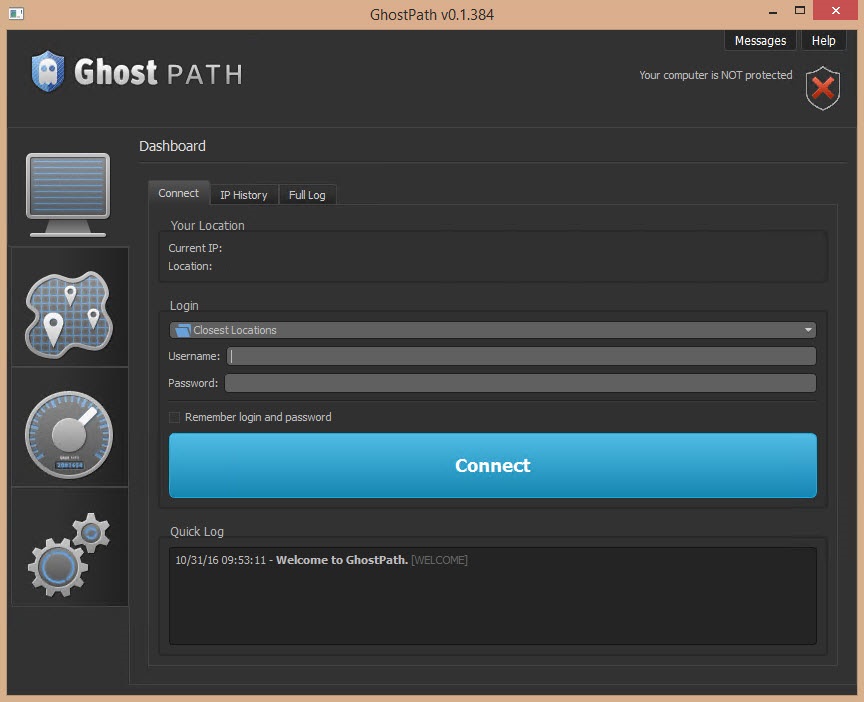 we like the fact that the software gives a good number of settings to customize your experience and get the desired information. There is also an option to extrapolate certain statistics and more: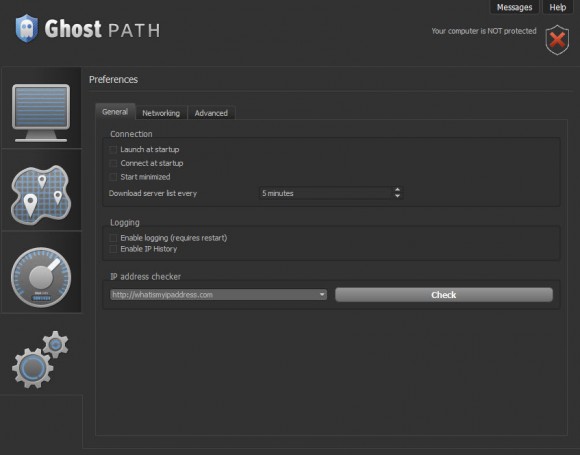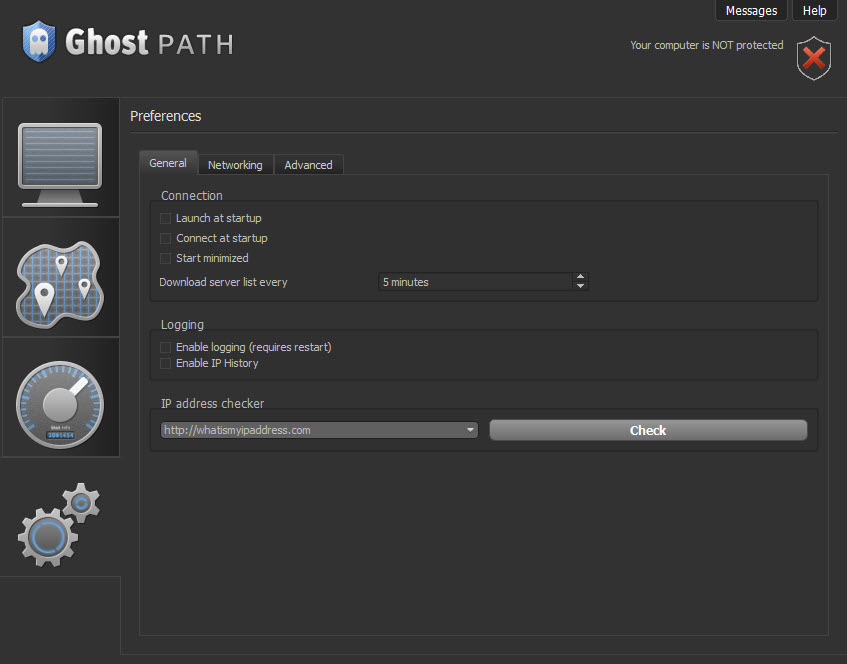 There are also a number of settings available as far as connectivity goes: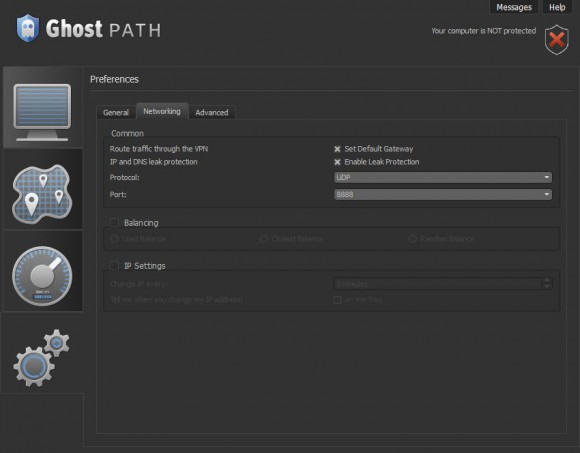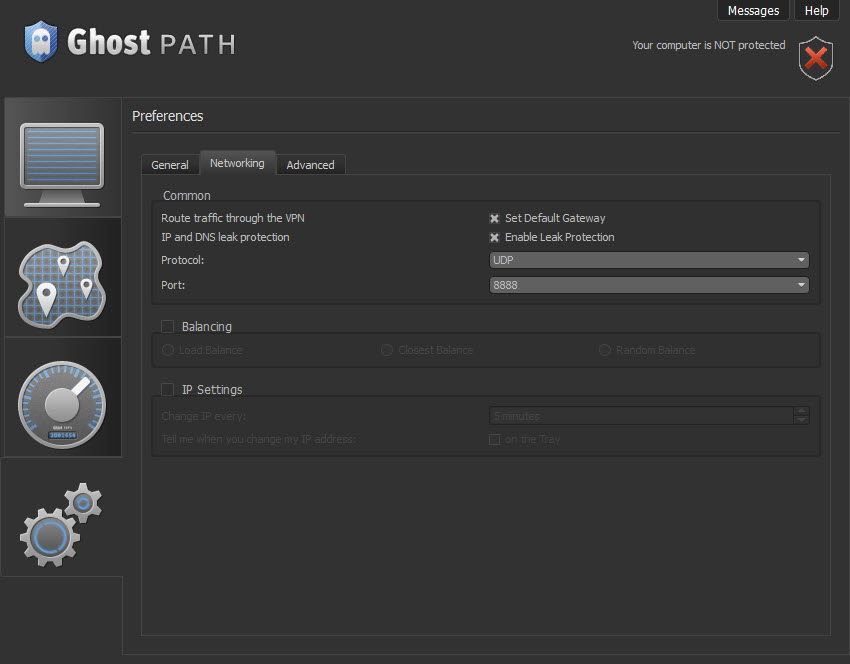 The server location is easy to change, and we liked that it shows a distance from your physical location, which should more or less give you an idea about the latency.
There's a very nice way to organize the connections, grouping them by either location or connection preference. Once they are grouped up, you have the possibility to randomly connect to one of the servers in the group, or have them alternate: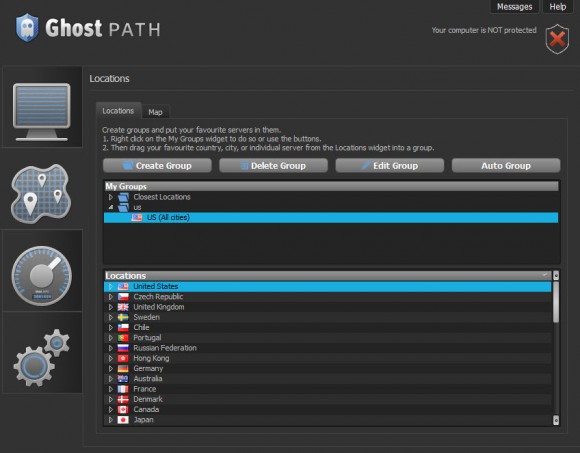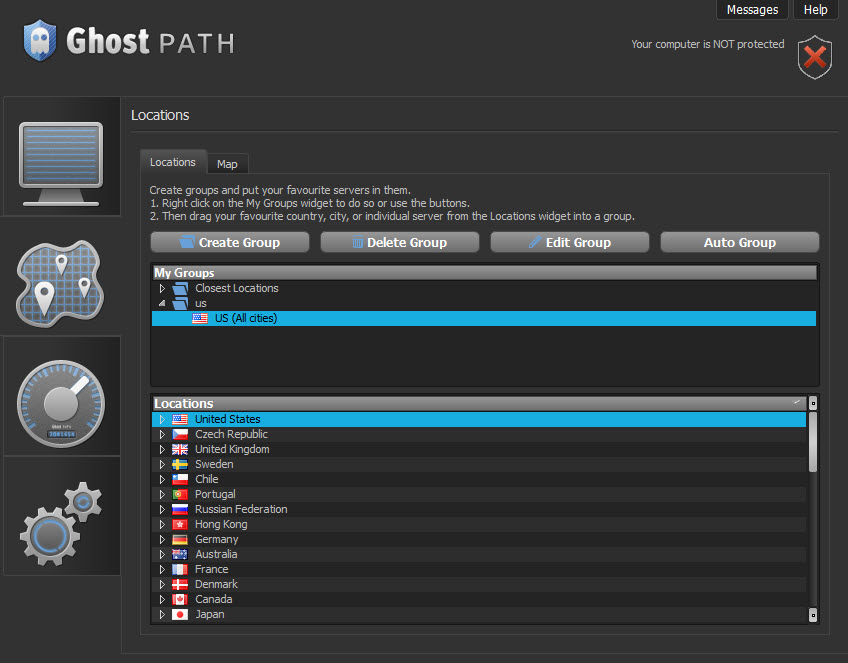 Overall the software is decent, and with a couple of exceptions when it froze for a second or two during the connection process, there were no major issues.
Features
Ghost Path VPN provides a few features from the software when it comes to the Windows application, but as far as the rest of the operating systems go, the OpenVPN client is very limited and many of the simple features such as kill switch or auto-connect will not be available.
Going back to the Windows software, we would like to mention that the kill-switch feature (or IP Leak Protection as they call it) is available from the settings tab.
As mentioned before, we also liked the fact that they included a distance tracker depending on your physical location. Even though this gives you an idea of the latency, it's not very precise and we would like to see an actual latency meter that gives you more accurate values.
Even thought Ghost Path VPN uses the AES 256-bit cipher, 160 bit message hash 'SHA1' for HMAC, the RSA 1024 used for authentication is outdated and not considered secure any more. We expect to see 2048 bit encryption as a minimum standard these days.
As far as coverage goes for the rest of the platforms, you can download the ovpn files from here. Keep in mind that the setup process is for each individual server location, we could not find a bundle with the files. This can be tedious and counter-productive, especially if you plan to use several server locations in a short period of time.
We would also like to talk about their blog, which we found very interesting and is not bloated with advertisements or sponsored content. It's a good read if you want to keep up with the community to some extent.
Speed
The browsing speed was a bit low, of course some of the servers performed better than others, but overall we can't say that we were particularly satisfied with the results: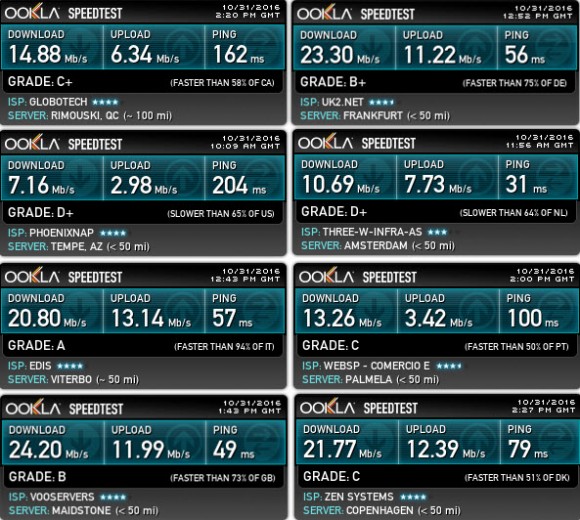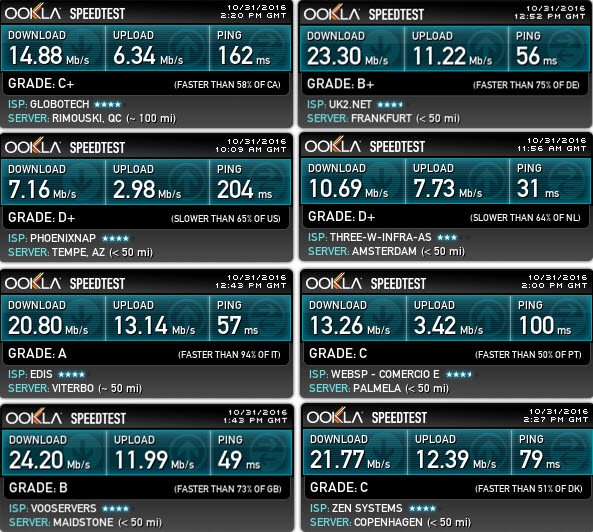 Although the results were not magnificent, we can't say that it was noticeable or that it affected our browsing experience. The connection was steady, there were no issues and pages loaded up properly and in due time.
We cannot say the same about torrent download speed however: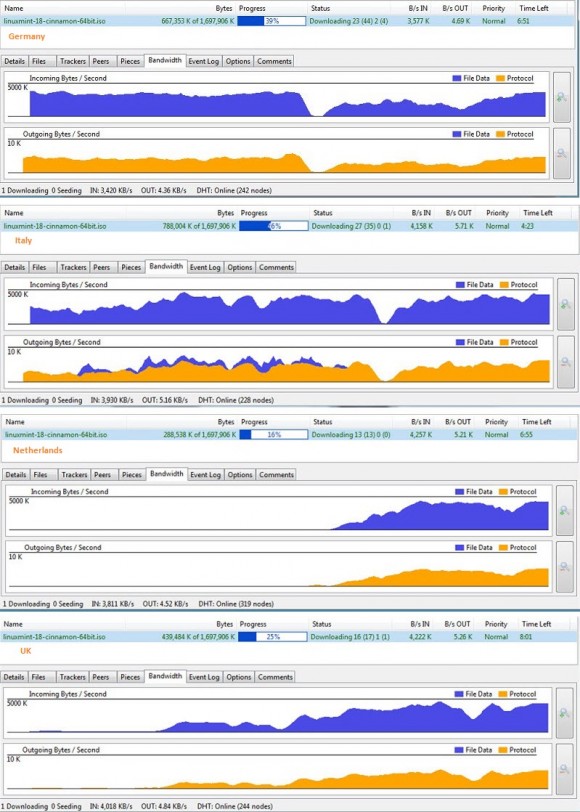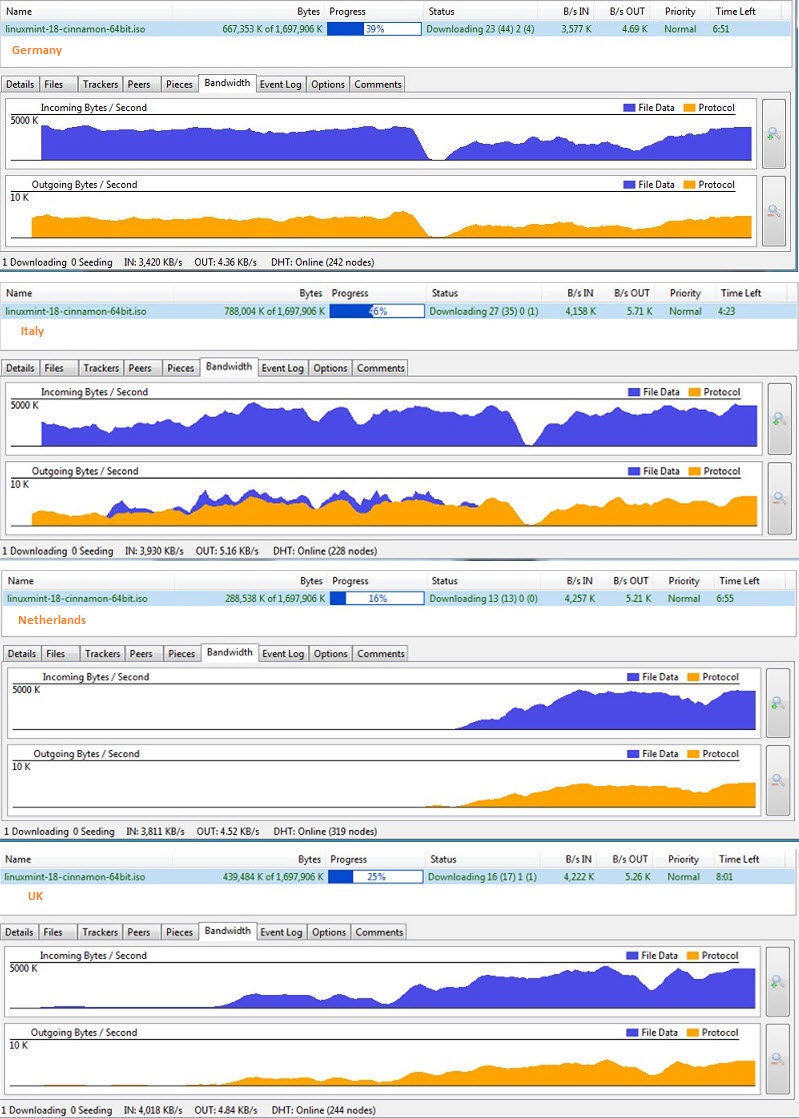 The low speed results definitely reflected poorly on the torrent download speed which was well under the acceptable level. Please keep in mind that we are not looking for blazing-fast connections and we understand that some services or locations perform better than others, but in this case none of the server locations performed anywhere close to an acceptable level, even by free service standards.
Mobile Performance
There is no mobile application to discuss, GhostPath VPN recommends using an open-source OpenVPN client for all its mobile needs. Here are the results for the mobile speed tests for Germany and Netherlands respectively:

Normally, with similar results, we would still have a smooth browsing experience, but in GhostPath VPN's case it was not such a smooth experience. The browsing was sluggish and even froze up for a few seconds at times. Pages with a lot of Javascript content such as popular news pages loaded very slowly. We tested a couple of devices on Android and got the same results.
Pricing
GhostPath VPN offers three pricing plans: weekly, monthly and annual. We'd appreciate some more flexibility when it comes to choosing billing cycles and the one week plan is quite expensive.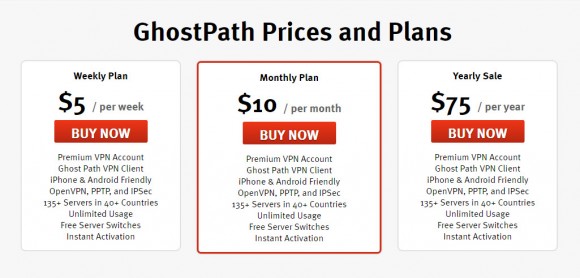 They also offer a 7-day money back guarantee: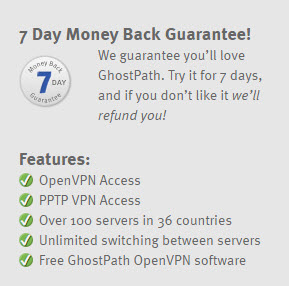 We liked that they offer this along side the weekly subscription for 5 dollars. This shows a sort of transparency and confidence in their product.
As far as payment methods go, they offer the possibility to pay with major credit cards, PayPal and Bitcoin. We find this number of payment methods acceptable, but this may differ depending on your needs and possibility. Some payment methods are available in different locations so it's really a matter of availability and privacy-consciousness.

Support
We were very disappointed with the technical support experience. We were unable to receive an answer from the support team. Our request was simple, related to some configuration files, there was nothing technical or complicated.
Another thing we would like to mention is that the contact form is the only way to get in touch with the support team. When you submit a question or ticket, there is no obvious confirmation. There is no page transition, but rather just a text that shows up next to the form, which you can easily miss. This is not a major issue, but it could make you submit the ticket several times before noticing the confirmation message on the screen. There should be a logical page transition or some sort of pop-up message that informs the user when the message has been successfully transmitted to the support team.
Conclusions
In short, we feel that GhostPath VPN is a decent service with a lot of room for improvement. There are some things we liked about the service and a few that we didn't particularly find appealing, so here is a quick breakdown:
Pros:
Very well structured website, easy to navigate and user-friendly.
A good number of server locations available.
Not much information required to sign-up.
Good discount for the yearly subscription. If they up their game and the service provided is improved, it would actually be worth it.
7 day money-back guarantee.
They accept Bitcoin.
Simple and fully-featured application for Windows.
Cons:
Not being transparent about being a reseller of some other VPN service; being a reseller means no control over the infrastructure.
Lots of marketing gimmicks and only partially true statements used on the website.
No stand-alone application for other platforms besides Windows and MacOS.
RSA 1024 used for authentication.
No mobile VPN clients.
Rather low speed overall (both browsing and torrent downloads).
Terribly slow technical support team. We would love to appraise the quality of the support but we never received an answer, so we will give them the benefit of the doubt.
All things considered, we give Ghost Path VPN a 4/10 since they are just a reseller of SlickVPN, yet they don't match the exact features provided by SlickVPN out of the box such as the refund policy (7 days vs. 30 days), pricing plans (3 vs. 4) and support response.