Summary
Features -

8/10

Speed & Reliability -

8/10

Security & Privacy -

7/10

Usability & Compatibility -

8/10

Support & Documentation -

6/10

Value for Money -

8/10
Summary
Mullvad VPN is one of our recommended VPN services due to their transparency, professionalism and overall Experience. They offer a fully-featured service with only minor improvement needed such as mobile applications and a customer support team that's more present.
Within the VPN users' community it is no longer a secret that Sweden is on the list of "good" countries, along with other European countries such as the Switzerland, Netherlands and some from the Eastern Europe. Swedish data retention law went into effect in May 2012, but it contained minimal provisions which are not applicable to VPNs.
Titling its purposes as "to make internet censorship and surveillance ineffective", Mullvad is a service provided by the Amagicom AB company, headquartered in the city of Gothenburg. From the information presented on their site seems that they have a small team of four technicians.
Features
The website general design is clean & mobile friendly. The information is well-structured and precise, being designed in a modern layout with call-to-action buttons placed in the first screen (immediately below the header you will find "Get Started" & "Buy Now"). On the home page they are presenting the advantages of their service, along with latest news, a list of platforms supported and payment methods. The website doesn't rely on buzz-words and marketing techniques that are usually annoying to the educated VPN user.
A trial account is available for 3 hours if you want to test the service for free before paying.
Mullvad has servers in 4 different countries – Netherlands, Germany, Sweden and USA (East Coast). The user can choose from a list which one to use. The IP addresses are shared for increased privacy. In regard to the number of servers, they don't disclose it on the website but we believe they have around 20, most of them located in Europe.
The FAQ page provides answers to 29 pertinent questions on different topics. It is divided in four main sections: accounts and payments, security, networking and other.
In terms of encryption strength, Mullvad is offering 128-bit Blowfish encryption, using 2048-bit keys and SHA1 HMAC for OpenVPN. As protocols, they use OpenVPN and the not-so-safe PPTP.
Encryption details from connection log:

Three is the number of simultaneously allowed connections, meaning that a customer can use the same account on 3 different devices at the same time. This is pretty much an industry standard nowadays.
Software
The software is open-source and it is available for three operating systems: Windows, OS X and Linux.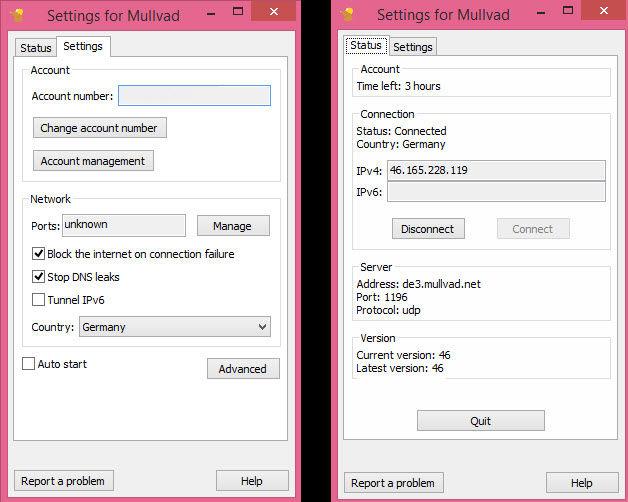 For other platforms such as Android, iOS and routers they provide setup how-tos for using the service with either built-in PPTP or 3rd party OpenVPN clients.
The installation went well in our case and got connected in less than 3 minutes after signing up for their service. Another aspect to be noted is the fact that their software can protect against DNS leaks by automatically setting their DNS servers on the network adapters.
The VPN software can also block the internet traffic if the VPN is disconnected unexpectedly, protecting the user from exposing the real IP address. This feature is often called "Kill Switch".
They do not limit speed, bandwidth or data volume and also offer support for IPv6.
Pricing
The service package has a minimalist structure. The cost is €5 per month. If you want to purchase the service for several months, the cost will be the multiple of 5. For example, two months will cost you 10 EUR, 3 months will be 15 and so on.
As methods of payment, they accept bitcoin, Cash, Bank Wire and Paypal/Credit card (subscription or single payment).
Accepting cash payments, required to be sent in an envelope to the company HQ, is an original method of payment. Since international laws require identification details to be generally associated with a payment, a letter that can be sent to the company headquarters anonymously can ensure buyer's anonymity.
Logging and Privacy
We created an account in less than 15 seconds, so we can say that Mullvad really offers an "instant login". We didn't had to provide any personal data, an account number being automatically assigned to, valid for 3 hours.
Regarding privacy, the Privacy Policy is stating clearly that no logs are kept.
"When Swedish law requires us to divulge information about our customers we make sure not to have that information stored, so that we have nothing to give out."
Speed and Reliability
The US servers were slower than those in the European locations but overall the results were really good. On speedtest.net a bit over 50 Mbps was the best we could reach, yet torrent downloads reach between 70 to 90 Mbps on European locations and 20 to 40 Mbps on US servers.
Some test results: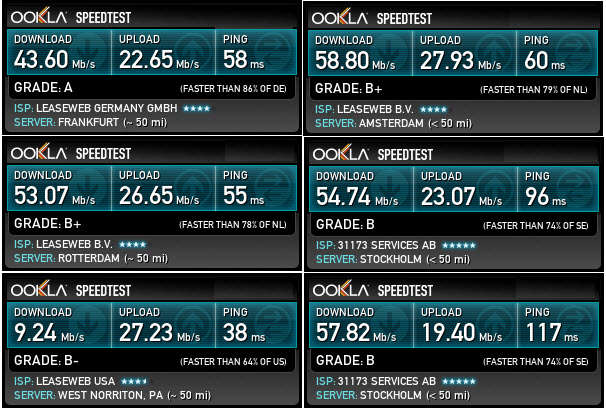 Support
On the support side, we noticed the lack of a live-chat, that could ease the contact with end users. Support is provided by email (PGP encryption supported) and the replies are quick and knowledgeable. On average we received replies within 2 hours.
Conclusions
The Good:
Privacy-focused service, operated by a skilled staff
Easy to use VPN software, packing must-have features. Being open-source is a big plus
Simple and quick sign-up process; users not asked for personal data
free trial valid for 3 hours
Good speed, especially for P2P
P2P allowed
Bitcoin accepted, cash too (a rare option in the industry).
Competitive pricing
IPv6 support, DNS leak protection and Kill Switch
Quick and helpful support
The Bad:
We'd like to see some more server locations for global-coverage
Only e-mail support, no livechat or IM options
Encryption strength could be better
No software for mobile devices
Final notes
From the very first minutes after you visit their website or sign-up with them you can feel that Mullvad is a trustworthy service. In our experience, Mullvad is one of the very few providers in the industry who are really serious about privacy and don't need a marketing team to tell you that. Even if there are some things lacking, their service is top-notch and we give them a rating of 7.5/10.