Summary
Features -

7/10

Speed & Reliability -

6/10

Security & Privacy -

6/10

Usability & Compatibility -

7/10

Support & Documentation -

6/10

Value for Money -

7/10
Summary
CactusVPN offers a fully featured service that needs improvement in some areas but overall provides a good experience. The sign-up information needed and the lack of payment options for Bitcoin along with the restricted number of server locations are a few of our complaints but we are still very satisfied and it seems like they are working on improving the service.
CactusVPN Review
CactusVPN is a service based in the city of Chisinau, Republic of Moldova. An increased interest to cybersecurity in Eastern Europe is nothing but normal and there are several good VPN services opearting in this area. The company emerged on the market on 1st of February 2012. At the moment, they are locating their servers in 4 countries: US (4 servers), UK (4 servers), Netherlands (5 servers) and Romania (2 servers).
Features
CactusVPN offers 5 different VPN protocols – SSTP, L2TP/IPSec, OpenVPN, SoftEther and PPTP. Among them, SSTP & SoftEther are well-known for working in China and other countries that practice censorship and block VPN protocols that can be flagged using DPI (Deep Packet Inspection). Essentially, SSTP and SoftEther are stealthier against DPI than some other encrypted protocols. A proxy service comes as a bonus with their subscription.
At the moment, the software is available for Windows, Mac OS and iOS. For each of the three platforms the user has a step-by-step installing tutorial available on the website. Speaking of documentation/howto's, they are very well structured and easy to follow.
Bandwidth & speed are available with no limit and a single account can be used on 3 different devices at the same time.
Their Smart DNS service allows the user to gain access to over 100 websites/streaming services that are restricted to US, UK, Germany and Poland residents only. Among them: Netflix, Hulu, BBC, Pandora, ABC, ITV and other media websites. The Smart DNS service can be easily set by whitelisting your real IP address on their website, then change the DNS server on your PC/device following a tutorial.
The Romanian and Netherland servers are allowing P2P/torrent traffic. P2P is blocked on the rest of their VPN gateways.
IP address is static & shared, an-extra "bonus" for those concerned about privacy (mixing the traffic of all users connected to the same VPN gateway through the same static IPs makes the footprints hard to be followed).
Speaking of encryption, they use RSA 2048-bit key certificates for authentication and 128-bit Blowfish data encryption for OpenVPN. AES 128 to 256 bit for L2TP/IPSec, SSTP and SoftEther VPN protocols and 128 bit MPPE for PPTP VPN protocol.
OpenVPN Encryption details from connection log:

Software
The software is easy-to-install (6 easy steps detailed with a video-tutorial and screenshots in the "How To" page); it's also newbie-friendly.
After logging in, the user can select the desired country, server and protocol. The software has the option to force closing of programs in case of VPN disconnection (applications killer), and restart the software on establishing a new VPN connection. We tested this feature and it worked well with a bittorrent client. There are several other options that can be turned on or off by the user. Among them: Run at start-up, Sign in at app start or Reconnect if connection dropped. Latest Windows version (4.3.0 at the moment) even offer invoices & news notifications for the users that want to have everything in one place.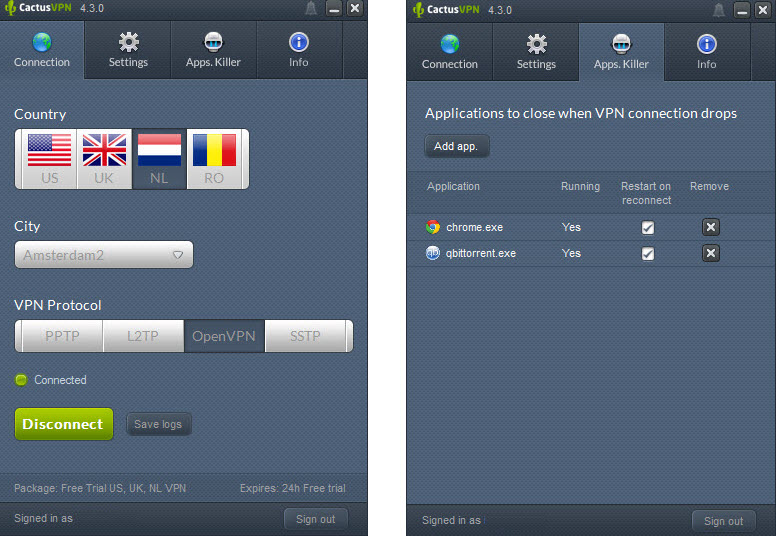 Overall, the software is good but we had some issues in our tests: the VPN connection wasn't properly established through OpenVPN protocol, even though the software was showing the "Connected" status. Even if it's a good practice to always check yourself externally if the VPN is indeed properly connected (check your IP online), this issue could be confusing for some users and we hope that CactusVPN will fix it, eventually.
Pricing
The pricing structure allows the user to choose between different locations. For example, someone can buy just for US or UK servers, or all of them. Also, the SmartDNS can be bought separately or bundled with the VPN package.
At the moment, with the promotional discount activated, one month with CactusVPN will cost between $3.49 and $4.89 monthly, but the usual price is between $4.99 and $6.99. There are three billing cycles available: monthly, quarterly and annually. In terms of payment methods, eight different options are available: Paypal, Credit or debit card, Alipay, Webmoney, Yandex.Money, Boleto Bancario, Qiwi & CashU. Bitcoin is not accepted as a payment method. Another useful feature provided is 50% discount for the second package purchased in the same account. Free trial accounts are available for 24 hours, with no restrictions. For the SmartDNS service, the free trial is extended to 7 days.
CactusVPN provides a refund periof of 30 days, though the refund policy is quite strict and the user is advised to test their service for 24 hours before buying it, as potential problems such as speed issues and not being to access blocked content would not qualify for a refund.
Logging and Privacy
According to the FAQ Page, CactusVPN service is keeping connection logs (information about connection time) for 3 days. They do not track traffic history.
In the same place they mention that "customers personal data is totally confidential and is not shared, shown, used or given to any other party under no condition and no exceptions".
Though according to the Terms and Conditions page, customer data may be shared with 3rd parties such as law enforcement. This sounds reasonable, but the "no condition and no exceptions" in the FAQ doesn't sound accurate.

Speed and Reliability
Speed was good in our tests and the connections reliable. The Smart DNS service works very well and we were able to use Netflix, BBC, ABC GO and Hulu. It's worth noting that Hulu works fine with CactusVPN, as many other VPN services have been banned by Hulu since a year ago.
Speedtest results: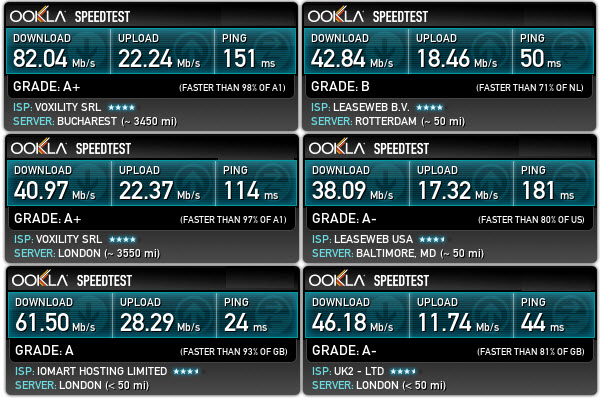 Support
There are two ways to get in touch with the support team – by opening a ticket in the client area or on live-chat. The Live-chat operator was helpful and prompt, yet for more advanced questions he suggested to open a ticket.
Conclusions
The Good
Affordable VPN service in terms of pricing.
Newbies-friendly approach, with step-by-step tutorials for each process, tons of information on the website and blog.
Several VPN protocols available.
Easy to use software, and the Applications Killer feature is nice.
Good SmartDNS service at a reasonable price.
A reasonable timeframe set for free-trial.
P2P allowed (in 2 locations).
The Bad
A bigger number of countries & server locations would be great.
We would like to see an Android app, too.
Bitcoin not accepted.
Refund policy is quite strict. If you don't test with a free trial and notice problems, you may not be eligible for a refund.
Asking for too much personal data when signing up, VPN/Tor/proxy signups are not allowed.
Final Notes
If you're looking for a good all-around VPN solution for streaming unblocking that comes with a Smart DNS service, CactusVPN is a choice to consider. Pricing is good, software is good (though it needs some improvements), but for privacy purposes it is not as good as some competitors. 6.5/10 is the rating we give to CactusVPN.