Summary
Features -

5/10

Speed & Reliability -

4/10

Security & Privacy -

4/10

Usability & Compatibility -

5/10

Support & Documentation -

6/10

Value for Money -

6/10
Summary
CactusVPN lacks transparency and doesn't give enough options when it comes to server locations. They do support all major platforms, a wide variety of payment methods, and have a very intuitive product, but the shortcomings in performance cannot be overlooked as they are a great part of the VPN service.
CactusVPN is a VPN service based in Moldova, founded in 2011 by three friends with a background in e-commerce and has grown into a quite decent VPN service. We had a previous review of CactusVPN in 2015 and we made a new one to see how the service progressed.
Only an e-mail address is needed in order to create an account with CactusVPN, and the credentials provided upon activating your account do not include your sign-up information. They generate a random username and password for each account.
CactusVPN offers 16 servers in 4 countries: US, UK, Netherlands and Romania. This is not exactly a large assortment of locations, we would expect a wider variety, even though depending on your needs it might be enough.
Privacy and Logging Policy
CactusVPN states that they operate a no-log service, which is a change since our review in 2015 when they were claiming to keep connection logs for 3 days

Software
CactusVPN offers a proprietary application for Windows, Mac, iOS and Android:


There are other platforms and devices supported, but with configuration files for OpenVPN, native OS VPN support or DNS setup instructions that can be found on their website.
The Windows application is intuitive, smooth and gave us no problems whatsoever. After logging in, you are taken to the main app screen which allows you to select the country, the server and the protocol:
The software supports the following types of VPN connections: SSTP, OpenVPN, L2TP/IPsec and PPTP. We ran our tests using OpenVPN.
There is also a "Settings" tab with features such as "auto-reconnect" and "DNS Leak protection":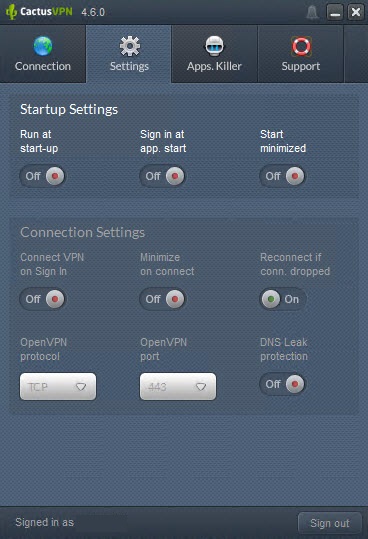 We tested the service with and without the DNS leak protection and there were still no leaks reported during our verification. As far as the auto-reconnect feature, it worked fine under our tested regular disconnect circumstances (in the event of the application crashing or the loss of internet connection).
There is also an information page that has some useful links such as setup tutorials and FAQs.
Features
The software is rather feature-packed and it has a lot of options that allow you to customize your experience depending on your needs. the settings are saved successfully upon exit, even if the task is ended abruptly.
CactusVPN allows three simultaneous connections but as they state in their terms and service, these connections cannot be on the save server:

Apart from the VPN tab after logging in the application, there is an option to access the SmartDNS feature:
The SmartDNS feature did indeed change our DNS settings and it performed well as a function, however, Netflix content (which is basically what SmartDNS would be useful for in most cases) did not work at the time of this review, in the 2nd half of December, 2016. The service recognized that we were connecting through VPN or proxy and it wouldn't allow the content to be displayed. Hulu and some other services we tried worked.
Once you select the SmartDNS option from the top of the login screen, you will be prompted for a DNS key. After authentication is made successfully, the locations and options become available to you. Please be advised that you can have a SmartDNS account without the VPN service as it is sold as a separate package.
The SmartDNS feature allows the user to select the DNS servers location to use for better latency and the region of the unblocked sites: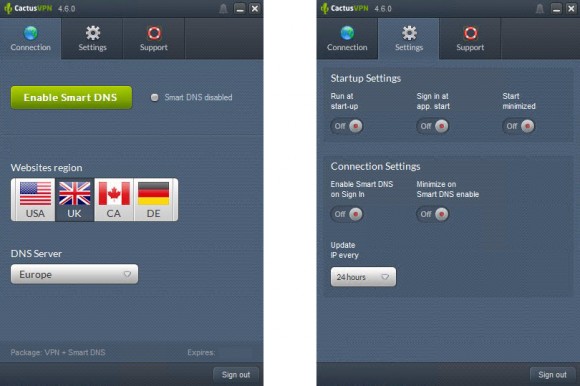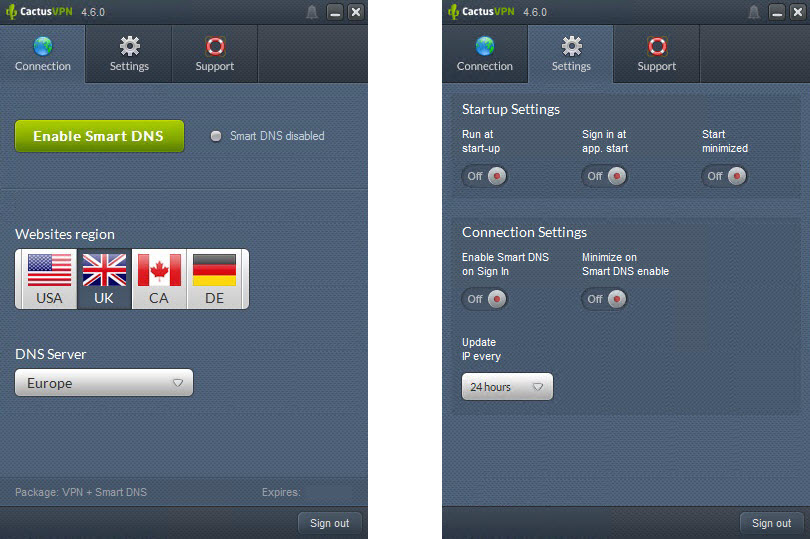 CactusVPN also includes support for a "kill switch" but it is not the usual type found with most other services which is based on firewall or gateway removal.
What the feature does is allow you to select one or a number of applications that are shut down in the event of a disconnect. We tested out this feature, and we found that torrent applications were closed properly and browsers were closed without prompt regardless of the number of tabs opened. However, this "kill switch" is inferior to the other two types mentioned earlier because it may not always work as intended, there can be a delay or maybe you simply don't want to have a process killed unexpectedly, for example a browser tab in the middle of "doing something".
There is also a learning center available with somewhat useful information, and it seems like some articles are still being worked on and are not in their final form.
Regarding the encryption, for OpenVPN they use 128-bit AES-CBC encryption andRSA 2048 bit key certificates with SHA1 HMAC. We checked their CA certificate and we were surprised to find out that they rely on a 3rd party Certificate Authoritity (Comodo) to sign their OpenVPN server certificates. This is a bad practice.

Speed
The browsing speed was decent and we have to say that even though there were some discrepancies in the tested locations, overall the service performance was very good even when running media streaming services.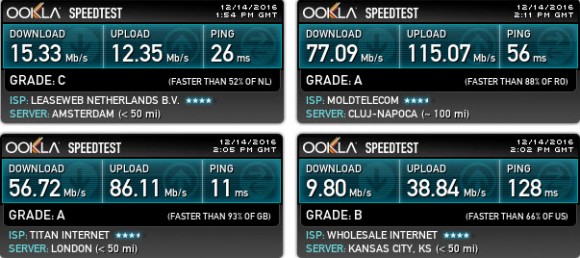 P2P is only allowed in the Netherlands and Romania due to the more lenient laws. Torrents would not connect on US or UK servers regardless of the type or source of the torrent.
The download speed was good on the Romanian server that we tested, but surprisingly low on the one in Netherlands: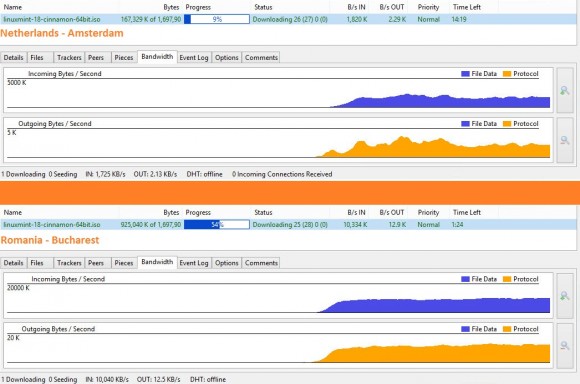 The torrent speed test results for the Netherlands were very low, not even measuring up to a low-end service. The Romanian server performed much better, even though it was nothing to write home about either.
Mobile Performance
The mobile application is very easy to use and has a good number of settings available: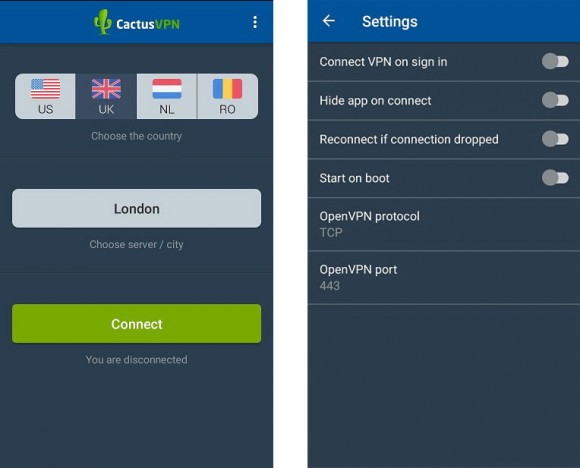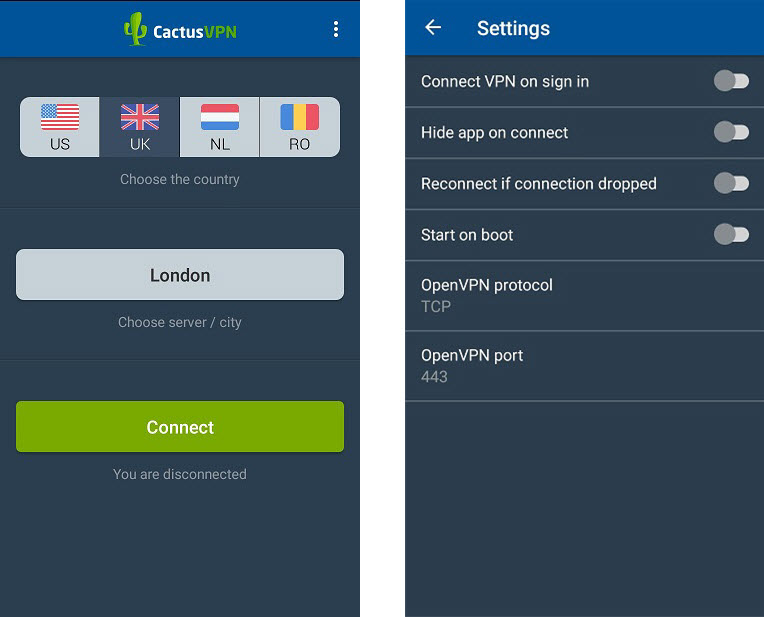 The browsing speed was decent on all tested servers:

The experience was smooth and we had no issues or interruptions while going thorough some basic tasks and accessing media streaming services.
Pricing
CactusVPN offers three pricing plans: monthly, quarterly and yearly and the prices are as follow respectively: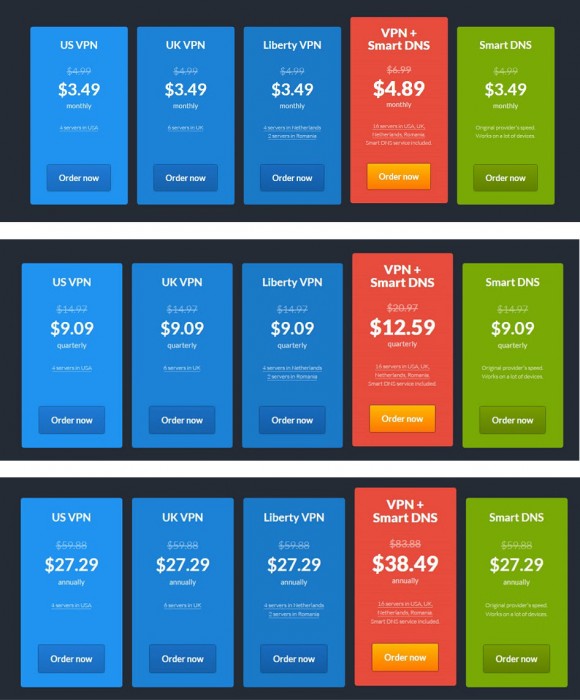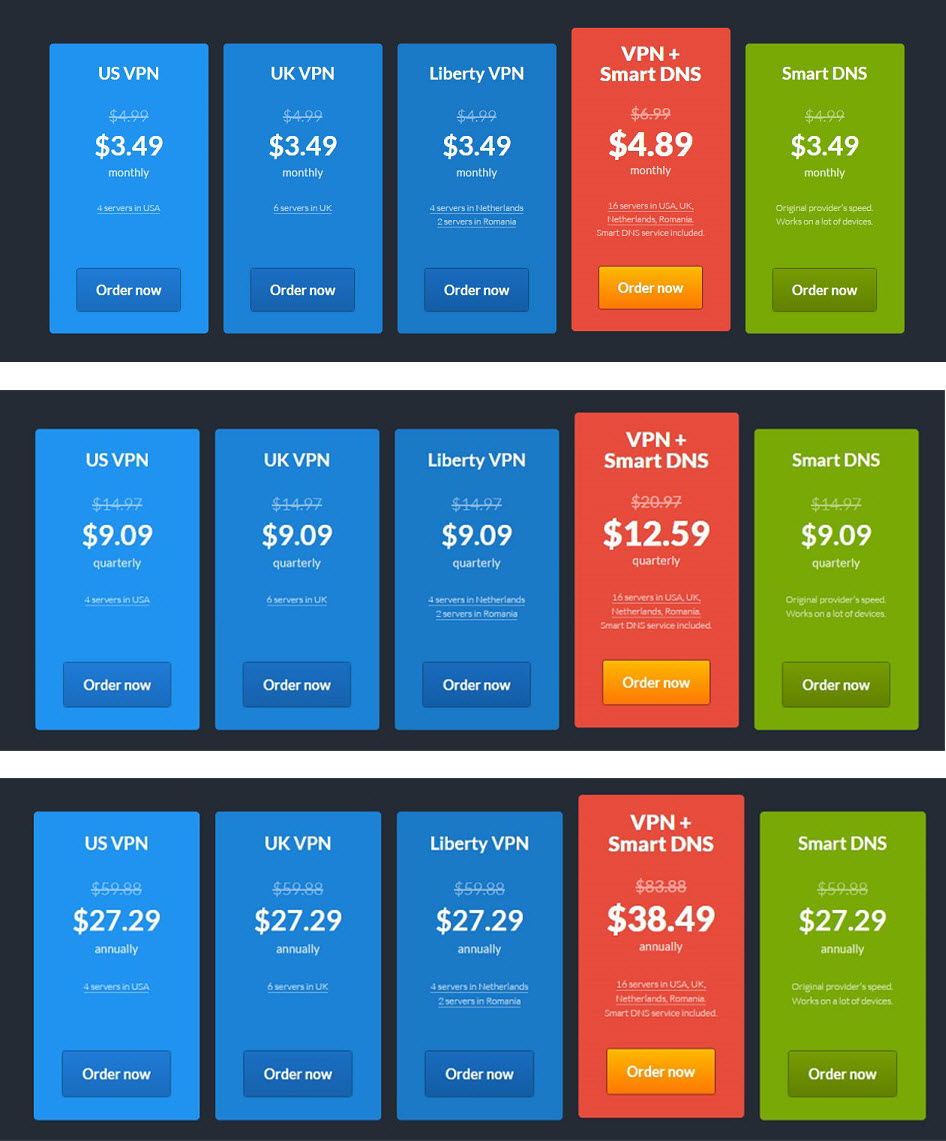 The prices are fair and we like the fact that they have separate plans for VPN and SmartDNS, although the price difference is so small that, in our opinion, it's worth buying the bundle.
Regarding the payment methods, they allow PayPal, Credit/Debit cards, AliPay, WebMoney, Yandex.Money, Boleto Bancario, QIWI. In our opinion, this is a good variety of payment methods which allows you to opt for a more privacy-oriented one.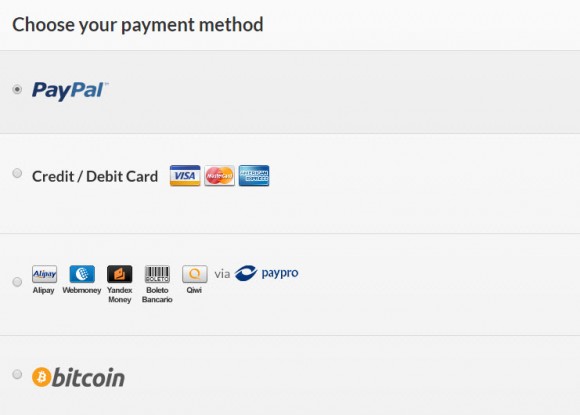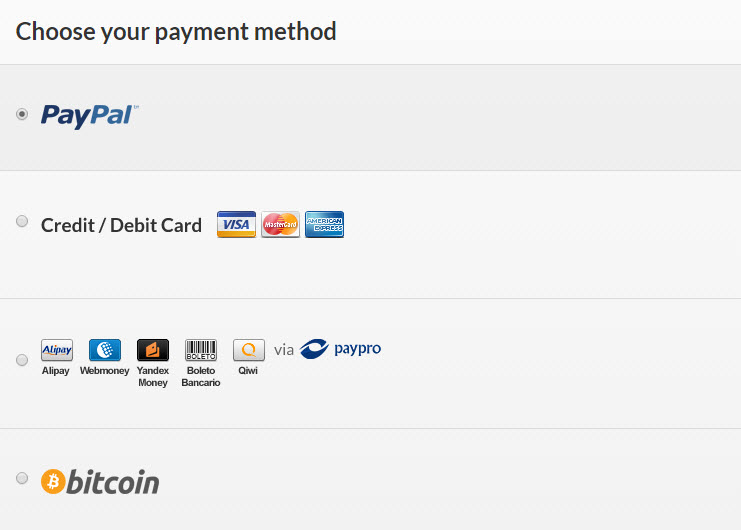 CactusVPN offers a free 24 hour trial with no credit card required, no speed or bandwidth limitations, no ads, no logs and full access to all VPN locations and protocols. There is also a free 7 day trial for the SmartDNS service, which is quite acceptable.
There is also a referral program available. We recommend checking out their page to make sure you take advantage of the most up-to-date offers available from the CactusVPN team. Bringing a friend in the network will get you one month of free service.
There is also an affiliate program that you can apply for which rewards you with 25% of every transaction you bring to the service.
Some of the prices may be out-dated as we tested the service during the holiday season when they had several promotions going on. For an up-to-date list of the prices we recommend checking out their pricing page.
Support
The customer support service experience was a good and rather fast one. We received prompt and quality support when we addressed some of the questions to the CactusVPN team.
There are two ways to contact the support team. There is a web-form and an online chat system which was answered on the spot.
They have a 30 day refund policy, but we recommend reading the terms as they are very strict. We couldn't figure out a scenario where you would actually qualify for the refund.
There are a lot of liability waivers such as:

This, to us at least, means that if the software was to stop working one day, all you could do is wait and hope they fix it, as it's not part of the terms and services and therefore not a mandatory service that CactusVPN is liable for. This and other statements make us strongly suggest that you should read the terms and conditions very carefully.
Conclusions
In short, we feel that CactusVPN is a well-rounded service that does its job well. Here is a quick breakdown of what we liked and what we didn't:
Pros:
Intuitive applications for the major platforms.
Decent prices.
A separate SmartDNS product available.
Not asking for personal data to sign-up.
A good number of payment methods available.
24 hour for VPN and 7 days free trial for SmartDNS available.
Very useful learning center and FAQ page.
Great customer support experience.
Cons:
Weak OpenVPN security, they use certificates issued by a 3rd party Certificate Authority.
Outdated OpenVPN bundled with their software.
Not clear on the location and the details of the company. Support representative told us they are based in Canada, yet everything points to Moldova including their About Us page.
Below average speeds for the Netherlands servers.
Not enough server locations compared to other services. Very few countries to choose from and few servers available in those countries.
P2P only allowed on 2 locations.
Included 3 simultaneous connections with an account, but not allowed on the same server.
Since our review last year, there have been some changes in CactusVPN service, some for the better, some for the worse. Here is a quick break-down of the differences:
Bitcoin was not an accepted payment method in 2015, now it is.
They only need an e-mail address in order to create the account, whereas last year the information required included a name and address.
Their Privacy Policy was changed and now they claim to not store any logs.
The refund policy is more lenient now and there are more scenarios that qualify you for a refund.
They have a proprietary application for Android now.
Even though they replaced the Blowfish encryption with AES, they started using 3rd party certificates which raises some question marks.
Performance (reflected in browsing and torrent download speed) is lower now. This might be due to an increase in user-base without adjusting the infrastructure to the number of current connections and bandwidth requirements.
They removed a server from Netherlands, added 2 servers in UK, Romania and US servers stayed the same.
Due to the reasons mentioned above, we give CactusVPN a 5/10 due to the bad practice of relying on a 3rd party Certificate Authority, lack of diversity in the server locations and some low speed test scores.  We would have to see some serious improvement in the infrastructure and available locations in order to put them higher on the VPN marked scale. It's just a matter of perspective, and they seem to be on the right track.