Summary
Features -

3/10

Speed & Reliability -

4/10

Security & Privacy -

4/10

Usability & Compatibility -

6/10

Support & Documentation -

3/10

Value for Money -

4/10
Summary
ShadeYouVPN is not even close to raising to the vpn market standards. The lack of transparency, setup issues that can render the user unable to connect to the interne, low speeds and terrible customer support time should be enough to give you an idea of how the service functions. The few positive aspects of the service simply pale in comparison to the negative ones.
ShadeYouVPN is a company based in the Netherlands according to them. However they show up as being part of DATA ACCENTS LP (Scotland) and what was even more odd was that their Facebook page post are in Russian, as well as their 2nd language on the website. The 2nd language of their client software is Russian and the CA certificate info also points to Russia, Saint Petersburg.
They are not active on Twitter at all, but just seems to have a generic social media setup. Their Facebook page has posts as old as 2013 but there's a gap between 2014 and 2016 which points to a rather new company setup or a new collaboration as far as the product goes.
The only thing needed to set up an account with ShadeYou VPN is an e-mail address. The payment information is processed separately, so if you choose to pay via credit card or Paypal, the privacy is according to the method of payment.
ShadeYou VPN has servers available in 12 countries, which is a rather restricted number of locations in comparison with other VPN providers. It really depends whether the service suits your personal needs as some locations may be irrelevant to you.
Privacy and Logging Policy
ShadeYouVPN has a very short privacy policy, which in most cases is preferable. They explain that they do not collect information about the activities of their clients on the network. They also state that they do not keep logs, so they would not have any information to hand over to third parties.
Please keep in mind that this privacy policy is valid at the date of this review (December 2016), so make sure that you check out their up to date privacy policy here.
Software
ShadeYouVPN only offers a proprietary application for Windows which supports OpenVPN, PPTP and L2TP/IPsec. All other operating systems are supported via OpenVPN configuration files that can be downloaded directly form your main account page (It was a bit tricky to find them at first glance, but you shouldn't have a problem finding them).
The Windows application is very intuitive and well built design-wise: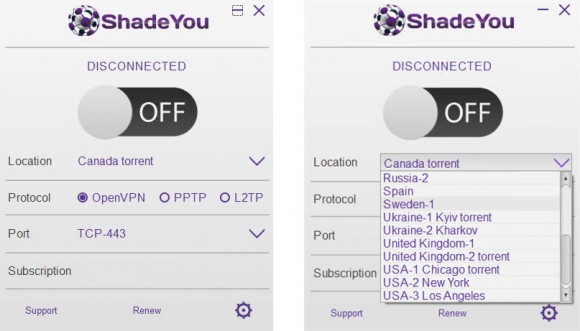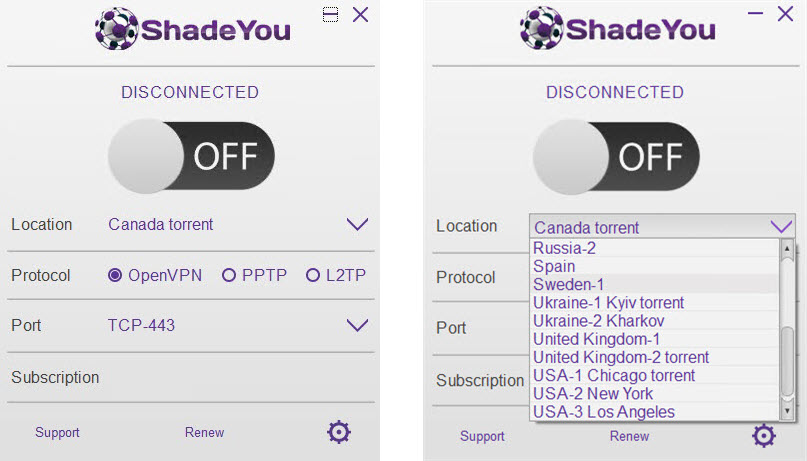 The simplicity of the application is a plus in this case, it has the possibility to change the server location, port and protocol right on the main tab.
There is also a settings gearwheel button to the bottom-right corner that gives you some additional options to customize your experience, such as the DNS leak protection, a kill switch and more: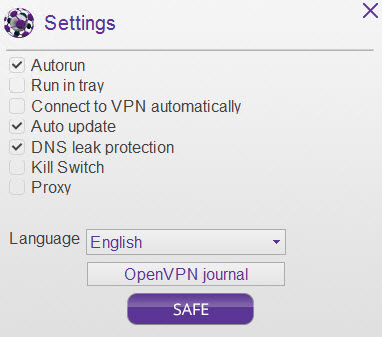 There are no complaints regarding the design and features available on the software itself, however we did have some connectivity issues such as slow connection time (For example Canada and Spain servers took up to 2 minute to connect), disconnects and even a couple of crashes in instances where we switched the server location without first disconnecting from the current server. We noticed that the time of the connection also affected the connection time and performance, which makes us believe that their current infrastructure is not strong enough for the number of connections at peak hours.
Features
ShadeYouVPN offers 19 server located in 12 countries and allow a maximum of 5 simultaneous connections. We would have liked to see bit of a wider variety of server locations since it is a bit on the low side relating to today's market.
Regarding the encryption, we found that they use AES 256 CBC and 1024 bit RSA. However, they advertise "2048-bit encryption" on their main site, which raised a flag immediately when we noticed it.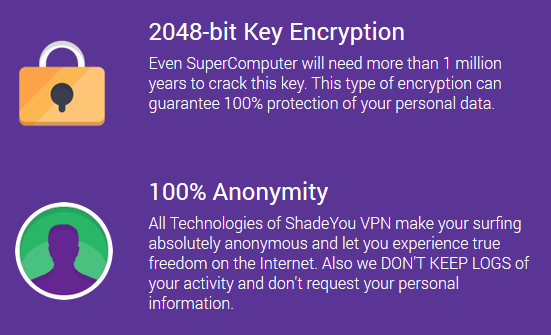 This is a marketing gimmick that is used very often to trap people who think that bigger is better when it comes to encryption, not realizing that it's a whole different type of encryption they are talking about. If you want to find out more about AES and RSA encryption, we recommend the following article which should clarify things in a few words. We checked their encryption parameters and found that it's not even 2048-bit RSA that they are using, but 1024-bit, which is not safe to be used.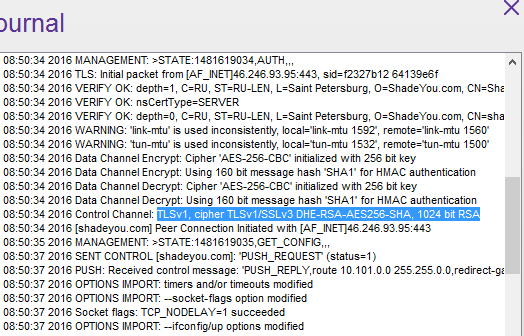 As you can see in the connection journal, they use 1024 bit RSA. We also checked the CA certificate, which confirms it's 1024 bit RSA: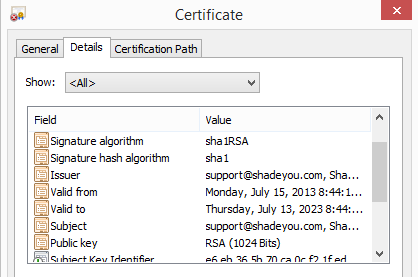 As for the "100% anonymity", it should be obvious to anyone that there is no such thing on the Internet. Especially not with a VPN, as VPNs aren't designed for anonymity in the first place.
The software includes a kill-switch feature in the settings page. The kill-switch does the job by removing the default gateway on the system. This is effective, but you should know how to restore it manually in case the software crashes or the system reboots for any reason, because there is no other way to restore it through the software. This could be quite problematic for someone who isn't really into networking and computers. For example, we connected with the kill-switch enabled and closed the VPN software window clicking on the "X" in the upper right window corner. The software disconnected and closed gracefully, yet the gateway wasn't restored and this is a bad thing.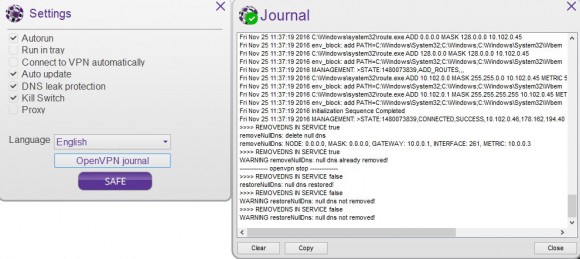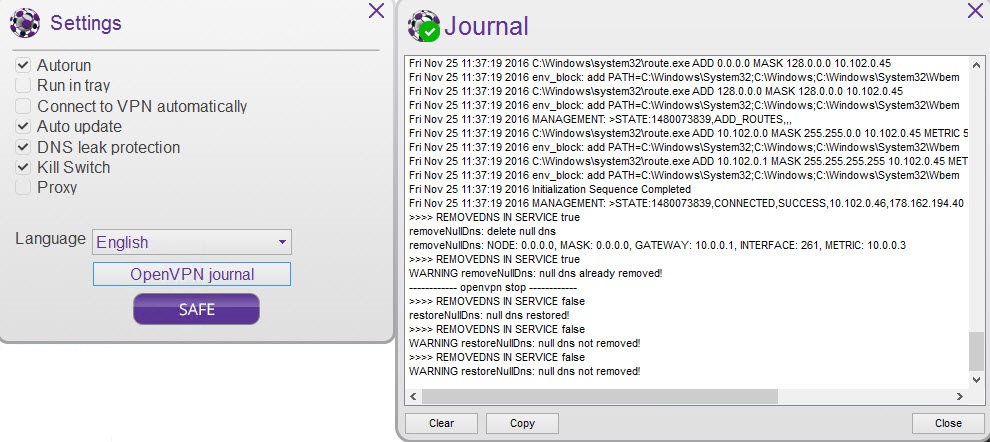 There is also a possibility to check your connection log by clicking the "open VPN journal" button. This feature is especially useful if you need to track certain parameters during your connection, and it can help a lot in troubleshooting connection issues.
Other operating systems are supported via configuration files that they recommend using with a third party OpenVPN client. The configuration files are easy to locate and download on their site, right from the header after you log-in. They come in a ZIP archive and include all server locations, the Certificate Authority (CA) file and user certificates for authentication to the service.
They also offer a free web proxy that is explained as follows: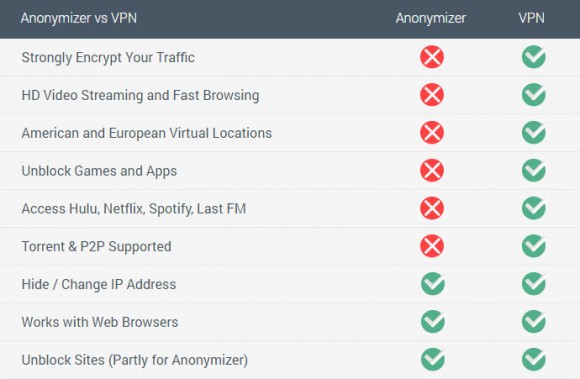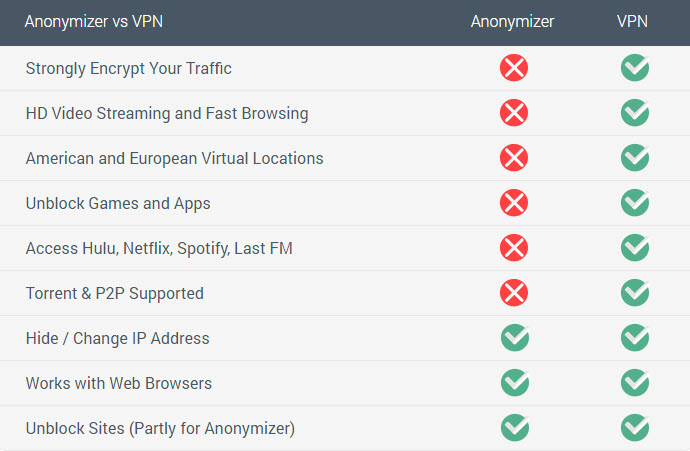 Speed
The browsing speed was below average, and this reflected on the browsing experience itself. The following are the speed test results we had connecting via OpenVPN.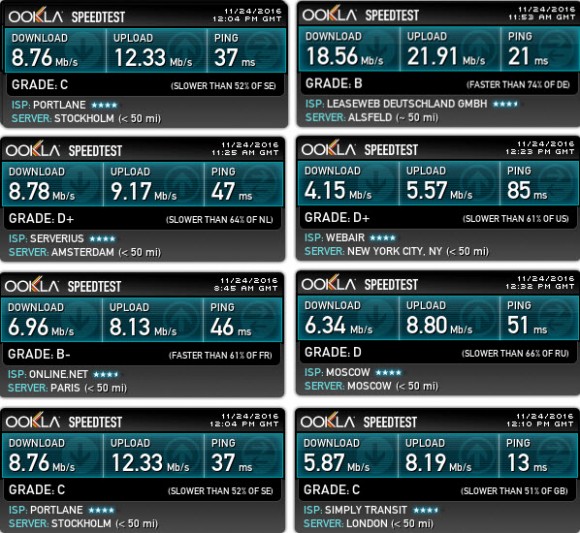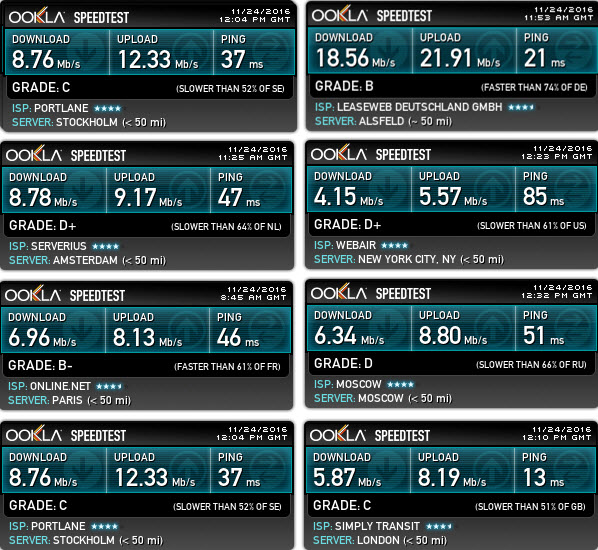 The browsing was sluggish at times and we have to mention that the connection time was a bit on the slow side as well. We had servers such as Spain that sometimes would not connect at all or would connect after two minutes of failed attempts and retries. This varied depending on the time of access, for example the same Spain server connected without problems during the night, even though there was no improvement in the performance.
We also ran some speed tests connecting via L2TP/IPsec and the results were much better, as you can see below: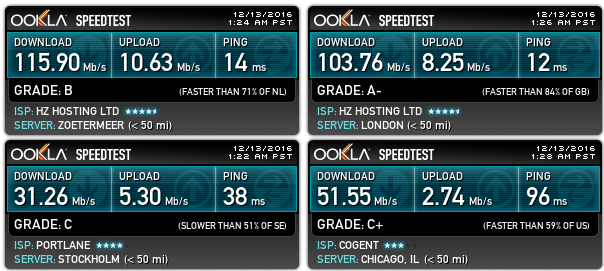 While speed is much better with L2TP/IPsec, the problem is that the DNS leak protection doesn't seem to work at all with it, but only with OpenVPN.
The torrent download speed was even worse (tested via OpenVPN), and we have to say that the speed doesn't even rise to the standards of a free service, let alone a service that costs $10/mo.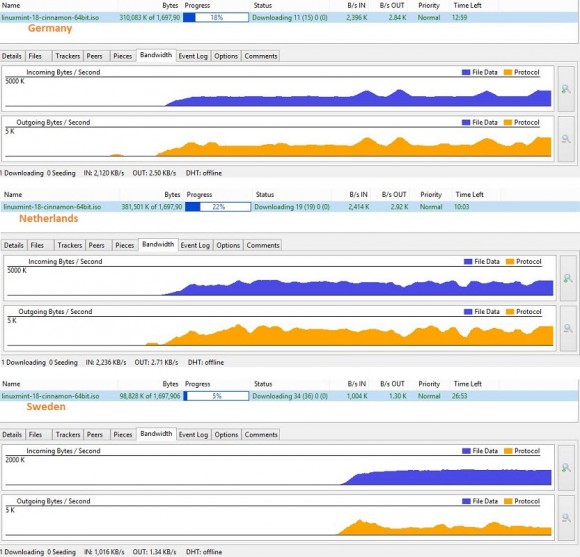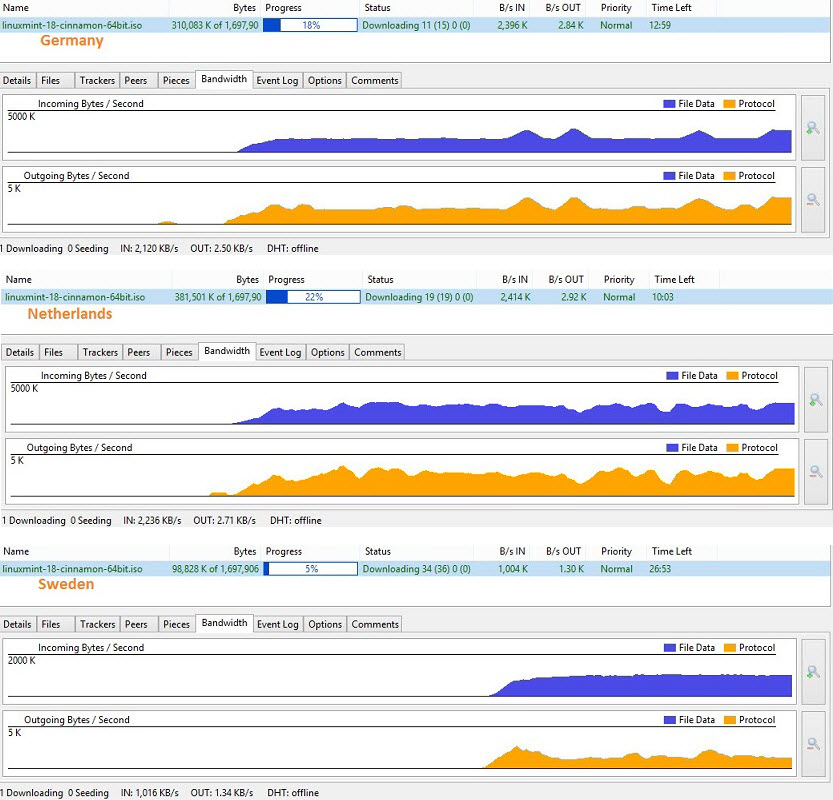 There were also a couple of locations such as Hong Kong or Spain where we were not able to start the downloads at all. These servers are not marked as not having torrent availability, and when we attempted to reach out for a response to the customer support team, there was no answer on chat.
Mobile Performance
There is no mobile application to talk about, ShadeYou VPN offers support by recommending a free OpenVPN solution and by providing the configuration files. We have gone through the setup process and were able to test out some of the locations for you: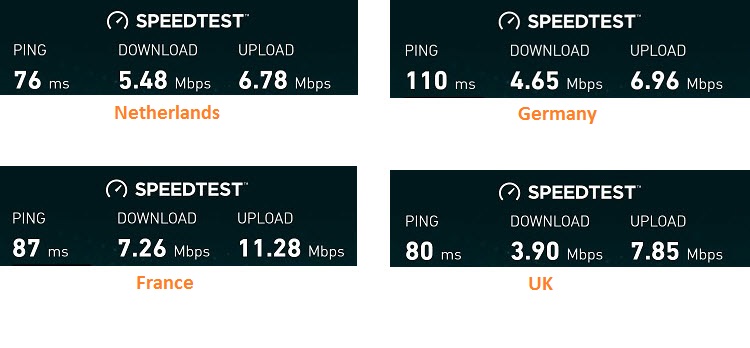 Even though the speeds may vary a bit depending on your location in relation to the server, the speed test results were quite low. The browsing experience was somewhat acceptable, but there were times where loading stalled and we even pages taking up to 30 seconds to load.
Also, not having a stand-alone application for mobile is definitely a minus point, especially since the need for mobile privacy is increasing each day. Features such as kill-switch or auto-reconnect are not available through open-source solutions, which is something to take into consideration, especially for the privacy-conscious customers.
Pricing
ShadeYou VPN offers three price plans: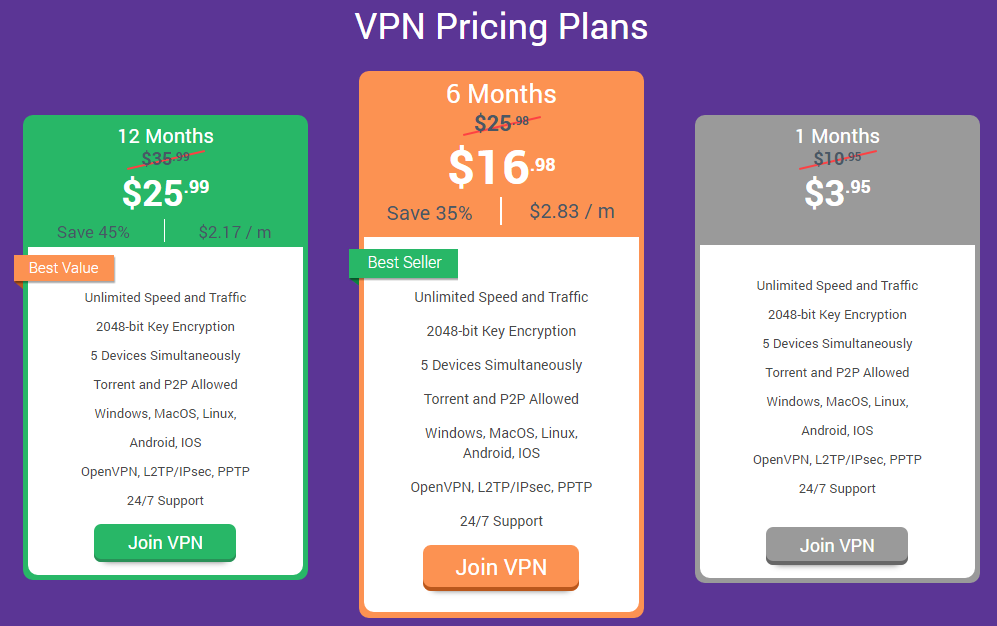 The price is low, and somehow reflects on the product quality. The refund policy covers 7 days since purchase, but be aware it is not the kind of "no questions asked" policy, especially if you use the free trial for one day before asking for a refund. From their refund policy:

Support
The customer support experience was not all that great, and there were some delays initially. The customer support rep was helpful but it just seemed like it took a little longer than it should have, even having some issues still not answered.
We liked the fact that ShadeYou VPN offers a 24 hour free trial with the service which should give you plenty of time to test out the product. The free account was activated instantly after verifying the email address.
There is another small annoyance that we found on their website as far as the support part goes. Once you start navigating, there is a pop-up that offers to help you get in touch with the support team via chat. This is great and all, but if you navigate back and forth between the pages, the pop-up prompts you again, and again, regardless of how much time you spend on the site already. This might just be a glitch from their end, but it's something that can eventually get on your nerves.
Conclusions
In conclusion, ShadeYouVPN is a cheap service which delivers just that: a cheap service. The quality doesn't come close to where the standards are. Here is a quick breakdown of what we liked and what we didn't:
Pros:
Easy to use software (Windows)
Cheap, free 24-hours trial
Accepts bitcoin, allows torrent in some locations
Good speed with L2TP/IPsec
Cons:
Business itself lacking transparency
Advertising "2048 bit encryption" and "100% anonymity" which are completely false claims
The kill-switch can be a real pain for the users who don't know to reset their network settings manually
DNS leaks with L2TP/IPsec, meaning that the "DNS leak protection" doesn't work with IPsec
Only offers a stand-alone application for Windows, the rest of the operating systems are supported through OpenVPN configuration files
Low speed with OpenVPN compared to L2TP/IPsec
Slow response time from the customer support team. We still have an unresolved issue to this day
Using VPS servers in some of their locations, this results in low security & privacy as well as lower speed
Taking all this into consideration, we award ShadeYouVPN a 4/10. It is lacking a lot to come close to today's standards as far as VPN services go, and it falls short even to some free VPN solutions available today.