Features -

8/10

Speed & Reliability -

7/10

Security & Privacy -

6/10

Usability & Compatibility -

9/10

Support & Documentation -

8/10

Value for Money -

7/10
Review Summary
VyprVPN is without doubt a solid service with a lot of good features.
Comments Rating
( reviews)
VyprVPN is part of Golden Frog, GmbH based in Switzerland. There is a whole story behind how they started out as a response to the Room 641a scandal where the NSA was conducting surveillance on AT&T's networks. It's unclear whether this was the actual reasoning behind it, but it's certain that they are developing security solutions and today we will be focusing on their VPN service VyprVPN.
The service provides users with over 700 servers in over 40 locations. There are also over two hundred thousand IPs so there is no question that it covers a wide range of needs.
They offer a free account which has no significant limitations apart from allowing only two connections at once and limiting your traffic limit to 1GB. You can read more about the free account and we suggest trying it out directly from the application because the website has a 3 day free trial only if you sign up for the service.
VyprVPN supports the following operating systems and platforms: Windows, Mac, iOS, Android, VPN for TV, VPN for routers, anonabox, blackphone and qnap. We feel it's sufficient as it covers pretty much all the major platforms.
Privacy and Logging Policy
VyprVPN has a straight-forward privacy policy, but they do log customer IPs, timestamps and data usage statistics and hold it for 30 days. They explain in which cases the information may be handed over to third parties or authorities, but considering the jurisdiction, it's just a matter of choice. We personally dislike services that collect too much information or store it for a long time.
You can find more information on their privacy policy here and we recommend reading carefully before signing up for a subscription, especially if you plan on choosing a long-term plan. Depending on your needs and how security-conscious you are, it might not be an issue.
There is something we would like to mention regarding the free account. The process may require you to e-mail the support team and tell them your location (or rather the location). The e-mail received also informed us that the account will not be activated until we answer. We sent in the response and then we were required to send in a screenshot with the IP we were using.
Software
The Windows application is very well built and we really enjoyed the experience. It's simple yet covers all the major functions you need to make the VPN service work for you.
The settings allow you to further customize your VPN experience and the sub-menus are structured intelligently.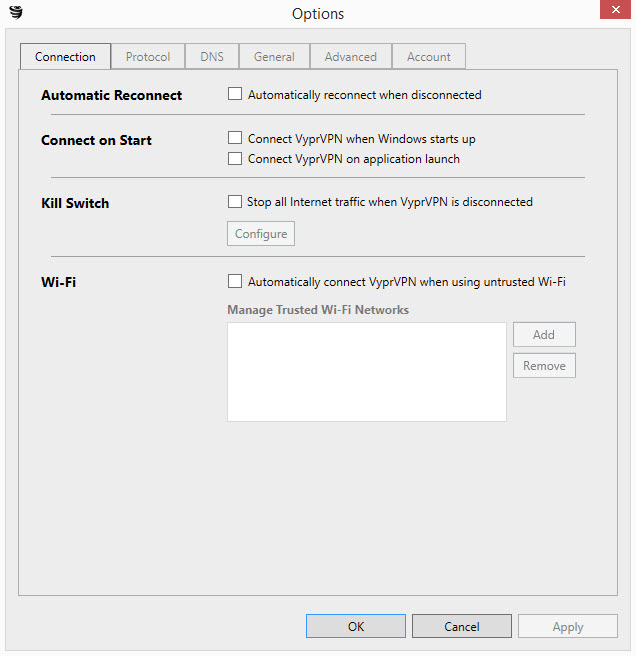 There is an argument to be made when it comes to design that the proportions were not kept when accessing additional menus like in the case of the mobile application for example. This is strictly from a design point of view and we don't feel it doesn't affect functionality.
Features
VyprVPN offers a wide variety of features such as auto-reconnect, a killswitch feature, the ability to add wireless networks to the trusted list, changing your protocol, encryption type and DNS , all directly from the settings menu. These features may seem like general features that all VPN services should have, and we agree, but you would be surprised how many services either don't offer them or have a complicated process of configuration.
You can also set up the desktop notifications for the application , verbosity and access your account information directly from the app. We liked this feature especially since changing your password can turn into a real quest with some VPN services. They also present a general overview of their feature on the main page of their website.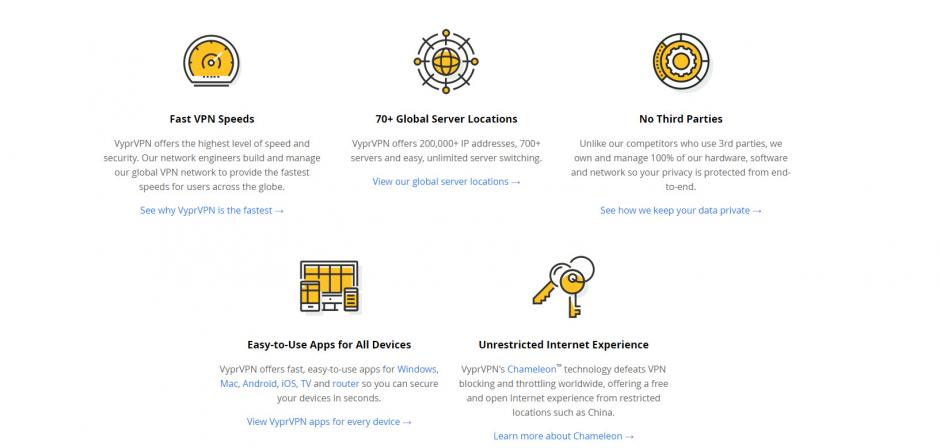 Regarding the encryption, OpenVPN has 256 bit AES with RSA 2048 for key exchange. Be aware that the maximum setting must be chosen manually as 160-bit encryption was selected by default in our case. You can change this from the settings menu of the application. It is also worth noting that they also offer a so called "Chameleon technology" which is an obfuscated connection that is effective against DPI technologies, such as the Chinese Great Firewall.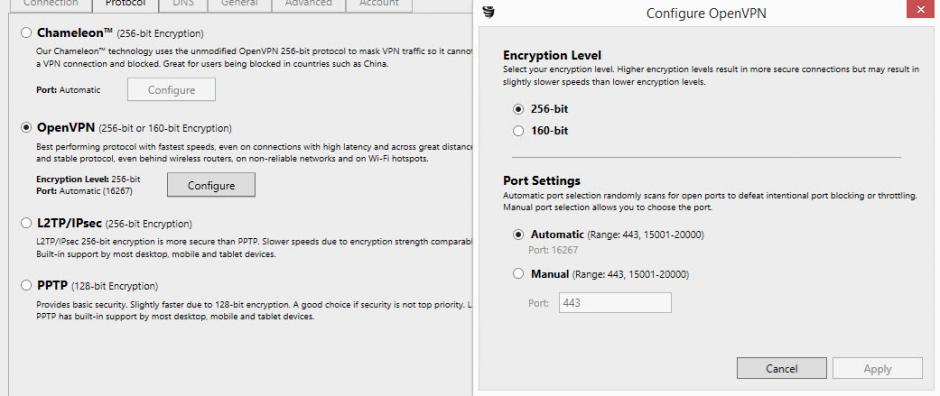 Overall the service provided a very pleasant experience with a fully-functional and easy to customize application. These aspects may be more important for some users than others, but our opinion is that a good balance between performance and privacy must be found regardless of the usage. It's very unlikely that you would opt for a VPN service if at least some kind of security was required.
Speed
The speed test results were very good, the browsing experience was fluid and there are no mishaps to mention.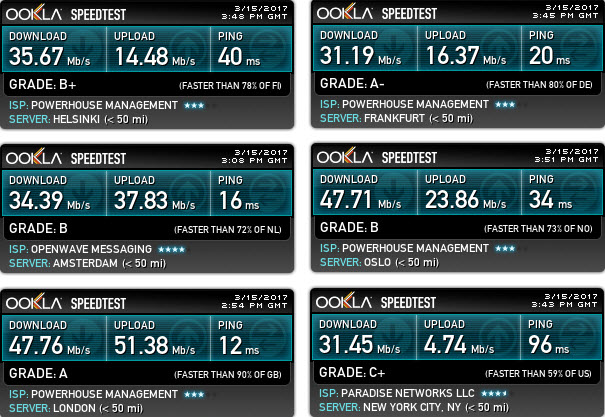 The torrent download speed was also pretty good, and we liked the fact that torrenting was allowed on the tested servers.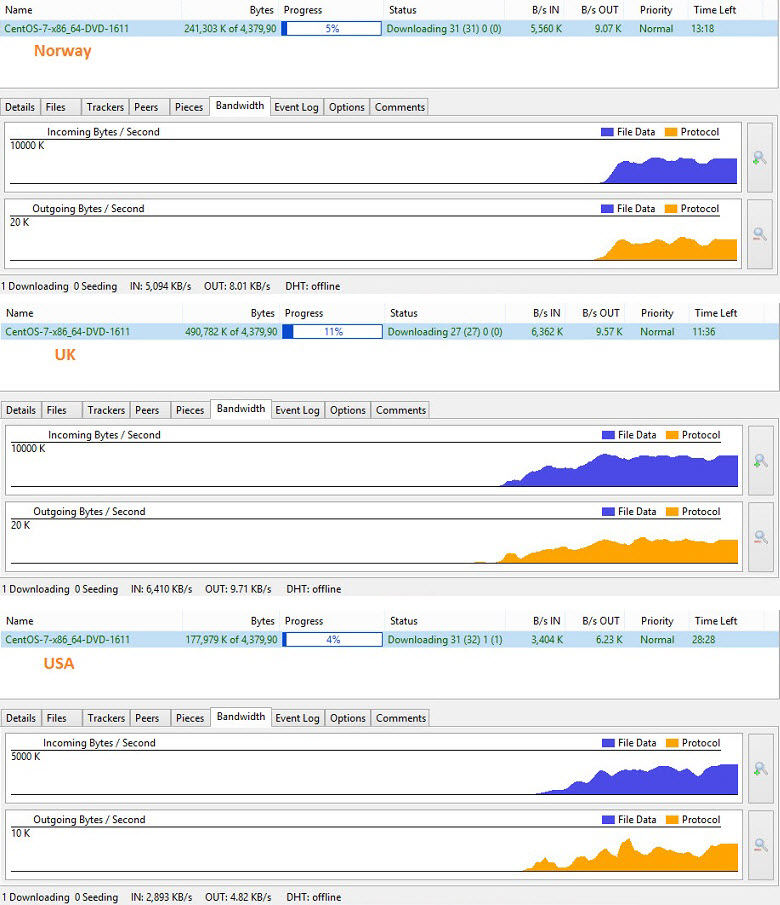 We really enjoyed the speed that VyprVPN offered because it allowed us to run through all of the regular VPN activities such as streaming media and downloading torrents without any problems whatsoever.
Mobile Performance
We tested both the application for Android and iOS but they are pretty much the same so we will not be approaching them independently. The iOS application has exactly the same design and functionality as the android app. The performance was pretty much the same with just some minor discrepancies in performance that probably have to do with the time of the tests and connection.
The android app was very intuitive with a short demo that explains the major features and settings.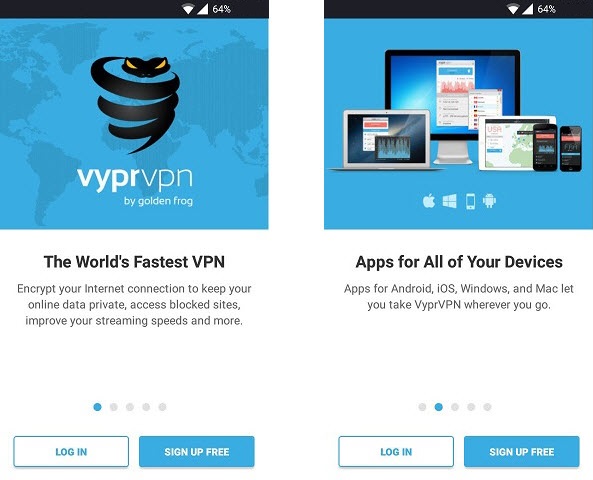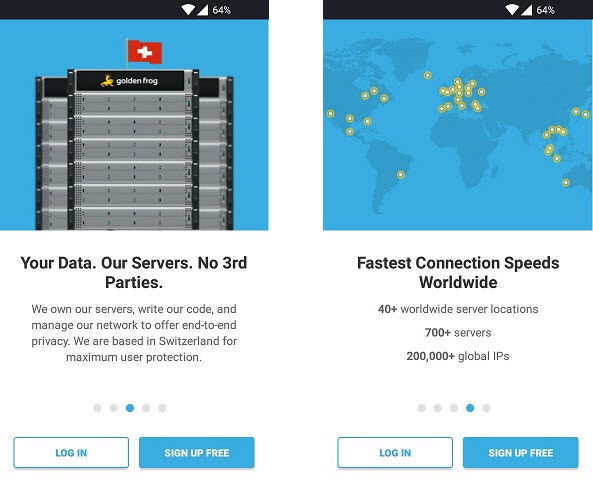 The software was functional, there were no issues, interruptions or disconnects during the testing period.
The servers are available to choose right from the main page of the application.
The settings are available from the upper-right corner and we have to say that there are quite a few features that allow you to customize your experience with the product.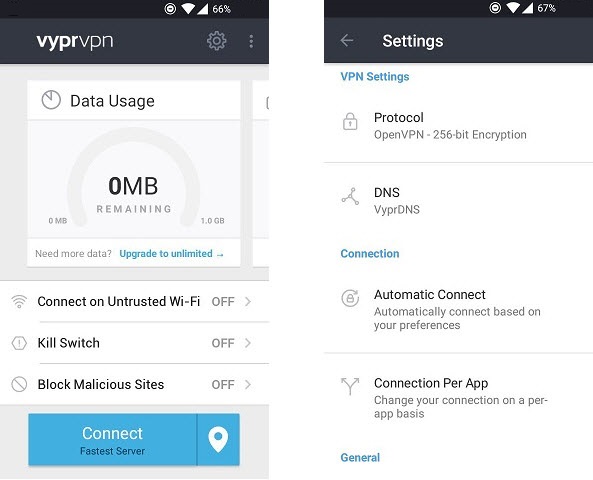 We had no problem understanding the structure of the application and we really enjoyed the fluidity and functionality of the software.
The speed test results for the mobile application will be uploaded shortly in one of our updates.
Pricing
VyprVPN is a bit expensive in our opinion. It's only decent if you get the yearly subscription discount.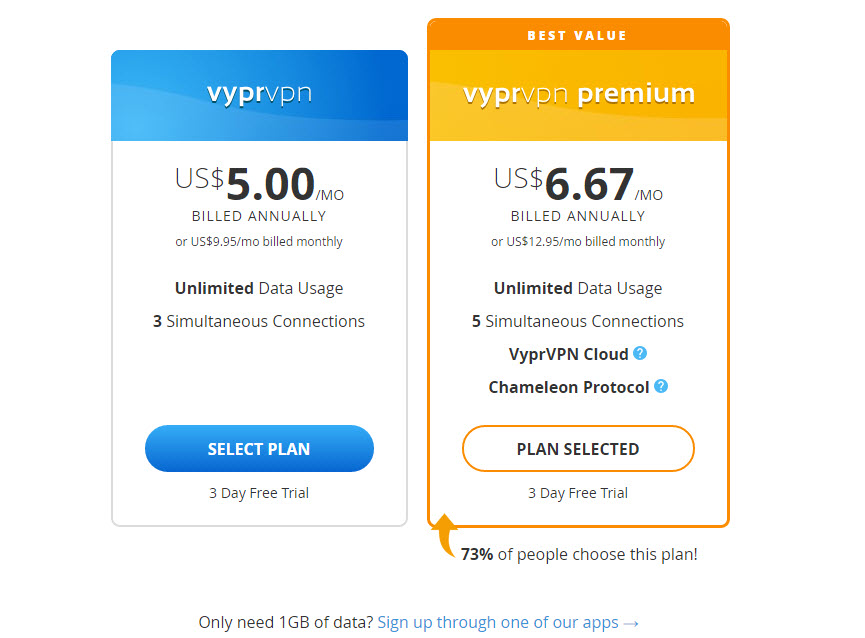 It's not necessarily the pricing plan that discouraged us, but rather the fact that they do not accept bitcoin. We have an article about why we feel it's a very good idea to pay with bitcoin when it comes to VPN services. You should take a look in case you were wondering why we always look for this payment method in VPN services that we test out.
Support
You can contact the support team via live chat on their website, or via a contact form. We recommend contacting them prior to signing up if you have any questions as they may help clear up some aspects.
The customer support team was friendly and professional. Our chat session was answered promptly however the support form we submitted took a little longer (close to 16 hours) so we recommend the live chat if you have a pressing matter.
We had a couple of general questions regarding the service that were answered promptly and in a professional manner. The service worked fine so we had no technical issues to report and the information needed was found in the FAQ Page.
Conclusions
In short, we feel that VyprVPN is a strong service with a lot of good features. There were a few negative aspects, so here is a quick breakdown.
Pros:
A good assortment of server locations.
Very intuitive applications and website and we liked that they kept the same app theme in all their platforms.
Great performance for both browsing and torrent needs.
Great customer support team (although the form submission took a little longer than we expected).
Cons:
Too much information needed to sign up.
Invasive verification process without any explanation (we assume there was an IP conflict for multiple connections).
Expensive unless opting for a yearly subscription which is not viable for everyone.
All things considered we award VyprVPN with a 7.5/10 due mostly to the constrictive privacy policy. It's important that your VPN provider collects as little information as possible and it's not optional. Keeping your privacy safe can be very important in some cases and we feel that companies that neglect this aspect allow their service to defeat its purpose.