When it comes to protecting your real IP when using a VPN, it is not as easy as the VPN services advertise. In fact, it is quite difficult to maximize your privacy and anonymity. Browsers are very complex and have embedded support for many technologies that may leak your real IP and fingerprints all over the place. While most VPN clients have some basic leaking protection, mostly for DNS and connection drops, that isn't enough. The good news is that there are some really good online tools that can reveal a lot of information and you can see what could be wrong with your VPN.
doileak
doileak has a modern, good looking interface and combines several tests. It also gives a colored rating for each test, highlighting the risk level.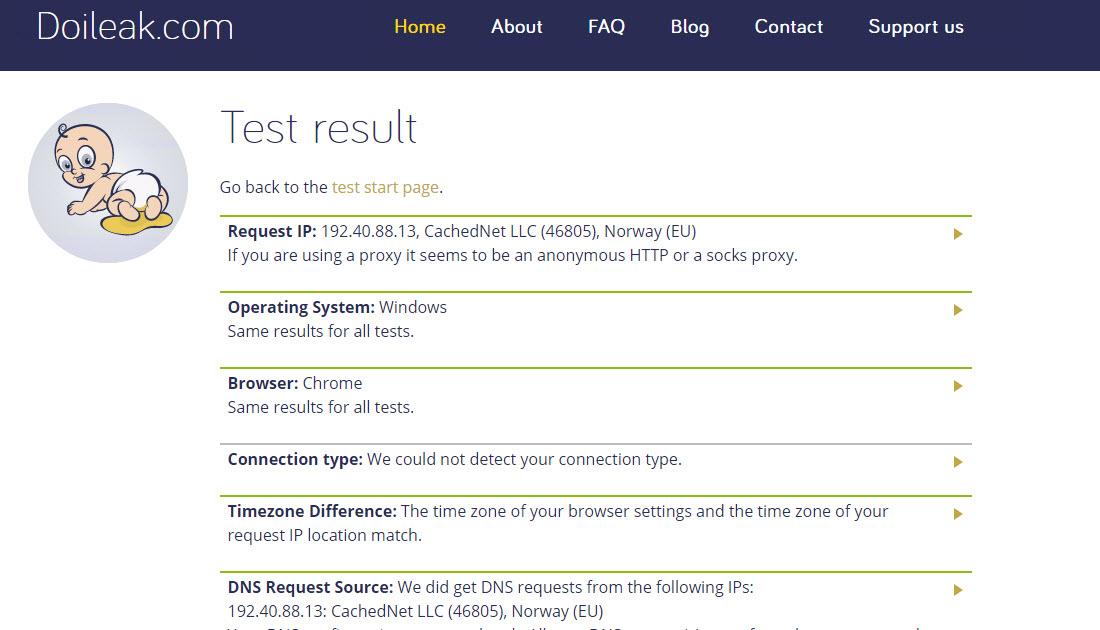 Running the test takes a few seconds and the results are displayed in a single page, with an explanation for each one of them.
Tests performed: IP geo location, Operating System based on fingerprint and browser user-agent, connection type based on number of hops, timezone difference, DNS servers, IPv6 address, WebRTC, Flash, WebGL, 3rd party cookies, HTTP request leaks and last, but not least, torrent IP check (this check needs to be enabled before running the test).
doileak is mobile friendly.
Pros:
very clean layout, mobile friendly, no ads
shows lots of information, every test is explained in layman's terms
the DNS test is accurate
includes torrent IP check
Cons:
doesn't provide much browser information (plugins, resolution etc.)
whoer
whoer is one of the well-known IP info tools and it's been around for quite some time. The test results are displayed as soon as you open the website. It provides two testing types: Lite and Extended Version. In the Extended version, a lot more information is displayed.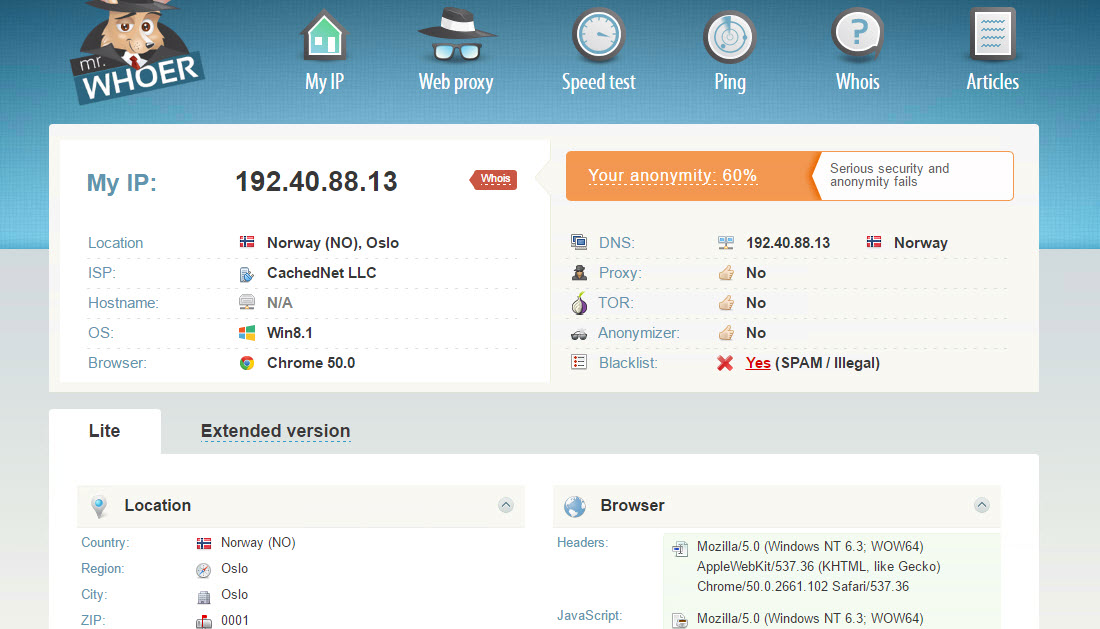 Based on the testing results, whoer gives a percentage rating of anonymity level, but you should take this with a grain of salt, as some ratings are questionable. For example, it gives a high penalty if you are using a DNS from a different country. We don't see a problem with that. In fact, we think it's recommended to use a DNS from other country, like DNSCrypt with DNS servers from some of the more privacy-friendly countries who aren't into DNS censorship.
whoer isn't mobile friendly and that's a shame.
Tests performed: IP geo location, OS and browser detection, DNS servers, Proxy/Tor IP checks, IP blacklist check, Javascript, Flash, WebRTC, Java, ActiveX, language, timezone difference. In the Extended version it will display additional information such as browser resolution, detected browser plugins, complete browser headers and more.
Additionally, whoer provides a nice speed test tool, a web-based proxy and a multi-region ping tool which comes handy if you want to check the latency from various countries.
Pros:
displayed information is grouped in two versions: Lite (most relevant info) and Extended (more technical)
provides additional tools (speedtest, proxy, ping)
Cons:
it displays only one DNS server
website isn't mobile-optimized
no torrent IP check
no IPv6 check
ipleak
ipleak.net is a project of AirVPN, one of the most popular VPN services. It shows the IP and country of visitor followed by the WebRTC information and the DNS servers, which are detected during a longer time.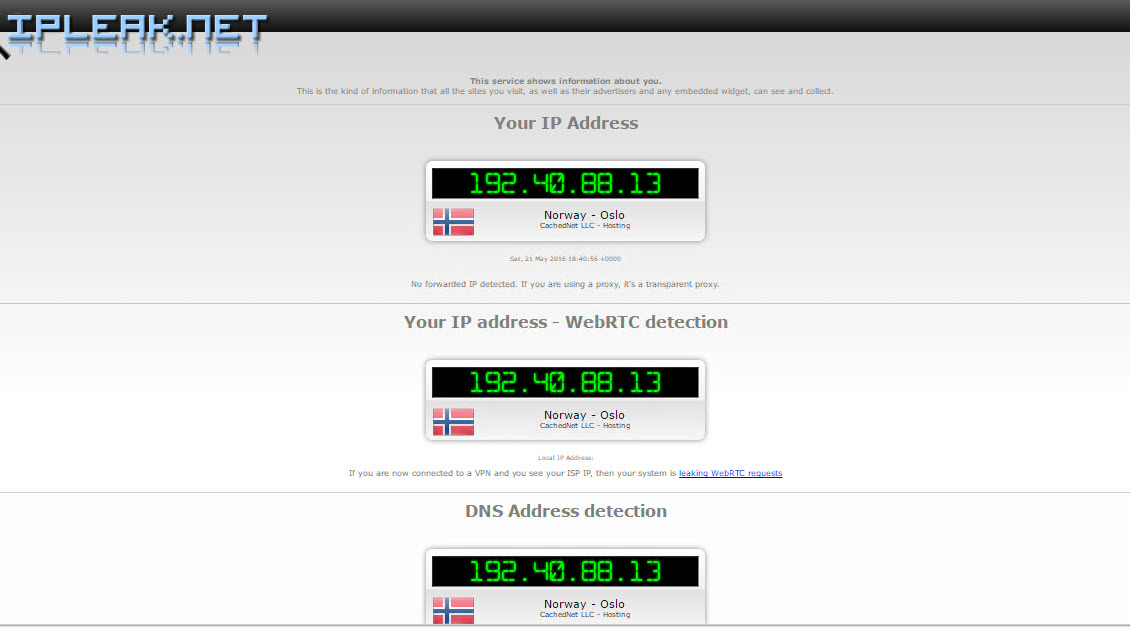 Tested performed: IP geo location, WebRTC, DNS servers, IP details (whois, whether it is a Tor exit node or AirVPN server), torrent IP detection, browser geolocation, browser headers, detected plugins, resolution, Operating System.
Pros:
simple and effective, everything into a single page
Cons:
not mobile optimized
DNS detection isn't too accurate (doesn't always display all DNS servers)
lacks some of the checks provided by other services in this article
JonDonym's anonymity test
ip-check.info is a service of JonDonym. Before starting the test, the tool will show if the IP address belongs to JonDonym's or Tor projects. Running the initial test takes a few seconds but you will notice that the site is still loading and will display more results later. It also gives a rating for each check.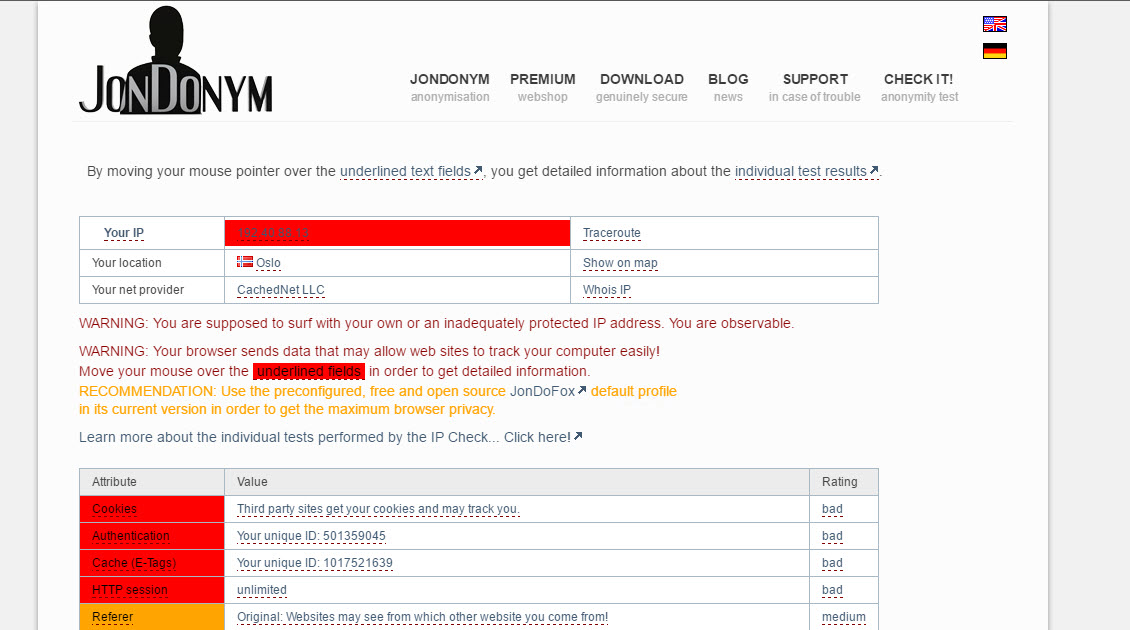 Tests performed: IP geo location (includes whois and ability to traceroute the IP), cookies, authentication data, caching, referer, user agent, do-not-track, Flash, Java, JavaScript, resolution, fonts information and more. All checks are explained into detail.
Just like whoer.net, it isn't mobile friendly so it makes it hard to read the small texts on your smartphone.
Pros:
Cons:
lacks support for important checks: DNS, IPv6, WebRTC
website isn't mobile-friendly
full test takes a lot of time (several minutes)
Conclusion
Out of all tools tested, none is perfect. For best results, it is advised to combine them and test your VPN for leaks with 2 or even 3. But if we are to name the best out of the 4 services described, that would be doileak.