Summary
Features -

2/10

Speed & Reliability -

2/10

Security & Privacy -

2/10

Usability & Compatibility -

2/10

Support & Documentation -

2/10

Value for Money -

2/10
Summary
Spotflux VPN was one of the more unfortunate VPN experiences we've had. We're not sure if they were just going through a rough patch but there are some serious infrastructure and security issues that make a VPN service redundant if they are non-functional. IP leaks, no torrent downloads and unreachable customer support team are just a few of the issues we've encountered with Spotflux VPN.
Since its official launch in 2012, Spotflux, the New York City based start-up, has been growing the number of users constantly. They offer a free VPN service that provides some neat features and a premium package that gives you extra protection and availability for additional major platforms such as Android, iOS and Mac.
They offer a free 3-day trial for the premium package which should be enough time to get a very good idea if this software is for you.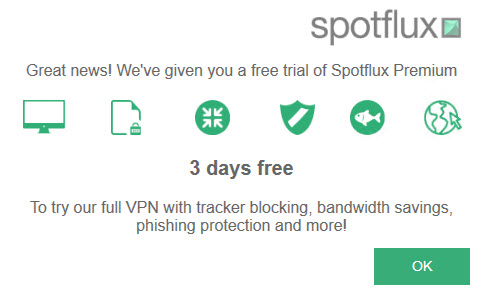 There are five different server locations to choose from: US East, US west, UK, Australia and Germany. That's really a small selection for a paid service.

After testing out the features, functionality and running several speed tests, we came up with some very interesting results.
Privacy and logging policy
There is no personal information required for the free service. No name, e-mail, or anything of the sort. According to the privacy policy, the information collected from paying customers that opt for the premium package is not shared with any sort of third party and is only used for internal purposes.
Advertisements are being allowed on a very strict selection within the application for free users. There is also a mention of no information being shared in a civil legal matter, and that the information can only be obtained through a court order. This may not be something that you are particularly interested in, but you can find more information on the privacy policy here.
Software
The Windows software is intuitive and offers a basic range of customizing your connection options, location, proxies, and allows you to submit a bug report directly from the application.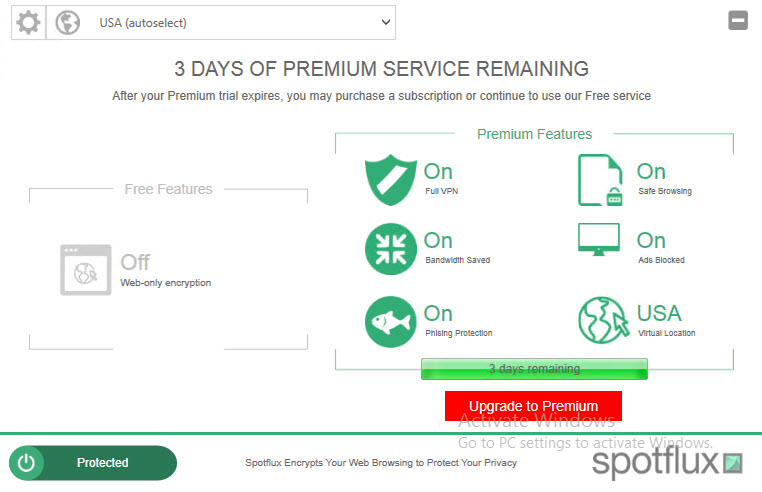 The interface displays the status of the different options that are available such as the number of ads blocked, your virtual location, phishing protection, bandwidth saved etc. It's a really good idea to have your connection status visible at all times, as we noticed with some services, we found ourselves vulnerable to leaking our IP address because the connection would go down or because one of the features was not enabled.
There were no crashes while using the software, it was fast and responsive, the connection was established faster in some cases than others, but that is directly related to which one of the servers we were attempting to connect to. All the functions were tested, the settings applied correctly, but one thing we found was that the location can only be changed if you first disconnect from the server you are currently on. This may or may not be of interest to you, but we thought we would mention it.
Even though we had no software crashes, we did have to reconnect several times, because after a short period of time, the connection could not be established. We tested this on all locations available and got the same results. This is definitely not something that we found appealing, it really gives a bad browsing experience.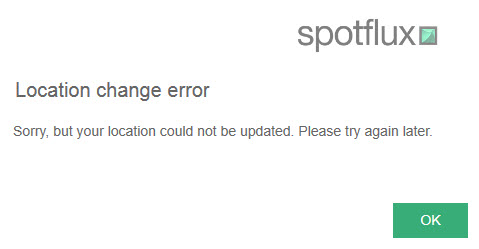 The software gives the opportunity for web-only encryption, meaning that only your browser traffic will be directed through VPN. This is particularly useful if you are into gaming, leaving only the browsing part to the VPN software.
Spotflux does not go all out with making the application extra-shiny or complex, because in all fairness, it doesn't have to be. It sticks to the basic and logical functional options, which we have to mention because we found it very comfortable to use. This might have to do with the fact that since it is a free service, it targets the general user that might not be as technically savvy, and requires a simple environment that can get the job done without too many options to meddle with.
They also offer a browser add-on which is supposed to encrypt the web-browsing traffic. We tried it and never worked. Although it was reporting that Protections is Enabled and the number of "sites secured" was growing as we were browsing the Internet, we found that the connections weren't going through the proxy at all.
Features
We weren't able to get Netflix or Hulu to work, torrents did not connect (regardless if it was a public torrent such as an Ubuntu installation file or other types of torrents).
The connection dropped several times while trying to stream BBC, all available locations had the same issue. We don't necessarily expect the service to be lightning-fast, but the connection dropped around 4-5 times/hour, and this is a lot more that we think a comfort zone is, even for a free service. Keep in mind, that for the duration of our tests, their premium package was enabled, so we had access to the best paid service they provide.
There were several other connection issues that we had with Spotflux such as connecting to remote desktops and peer to peer content. Again, this might not be something that everyone is interested in doing, but the restrictions are so broad that it's very hard to use the software's advanced features.
Speed
We ran some speed tests, and here are the results we obtained: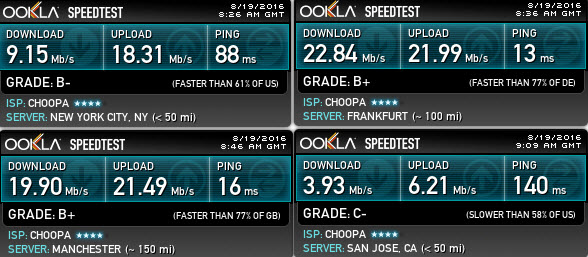 Even though the results were mostly acceptable, we cannot stress enough the fact that there were disconnects or loss in connection speed on all servers. The browsing experience was terrible for the most part, and it seems that only the first five or ten minutes were actually acceptable.
Torrent downloads were not possible through Spotflux, so we are unable to provide you with any statistics in this area.
Mobile Performance
Spotflux's Android application was as unsuccessful in keeping a connection as the Windows one. When it works, it works well, but with so many disconnects and connection errors, it's hard to actually appreciate the application.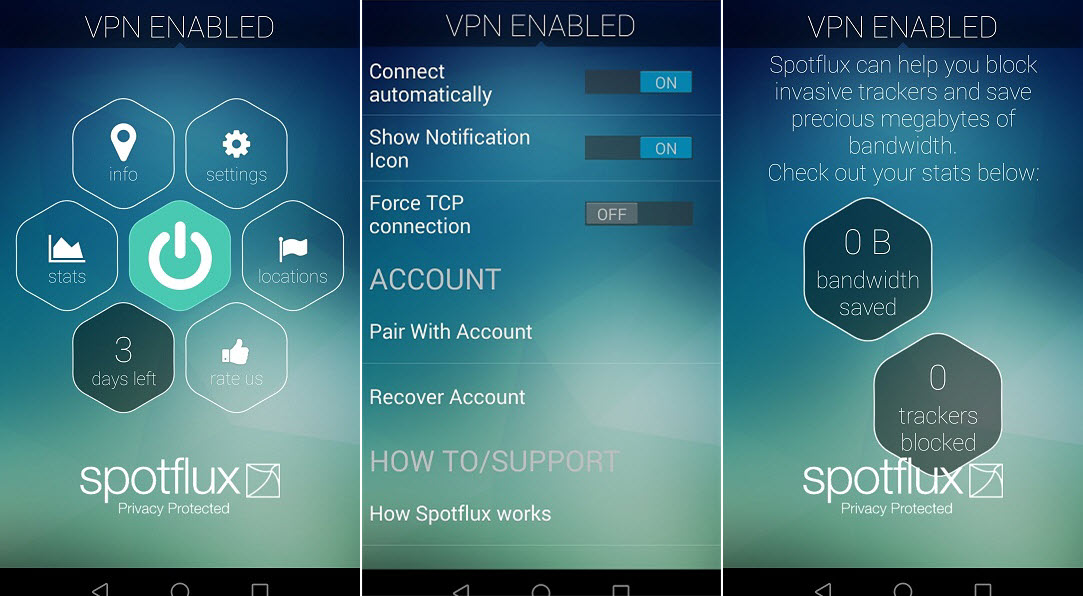 The interface is self-explanatory and has a lot of good features that you would want in a mobile VPN solution, assuming that these features actually worked of course. Some functions responded sluggishly, such as location details, statistics and information, and it really lowers the quality of the experience you have when using the application.
We were able to complete some speed tests after several failed attempts due to connection issues. As we expected, the connection speed was not terrible, but the stability is the factor that really needs to be taken into consideration. Here are the results we obtained: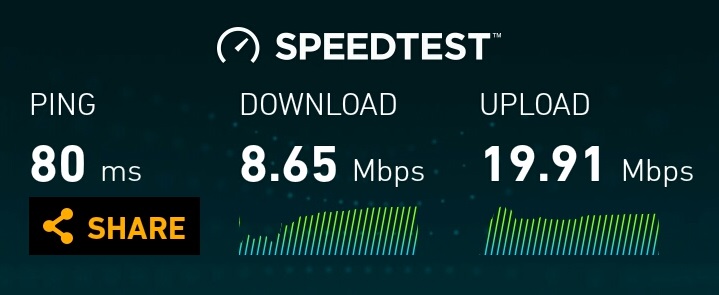 Prices
Spotflux offers two annual subscription plans: One for mobile devices for $29.99/year and the premium plan which includes browser and mobile availability for $37.99/year.
There is also an option for a monthly subscription for $4.99/mo. and they have PayPal, Credit Card and Bitcoin as accepted methods.
The refund policy states that the annual subscription can be cancelled within the first 45 days. To read more about their refund policy, you can check it out here.
Support
The customer support experience was not a good one overall. We addressed a general question about proxy settings and we received an automated message stating that their customer support department is undergoing some changes and that we should check out their support page. When doing that, we were unable to find the information need, so there isn't too much to evaluate from that point of view. We are unsure if this is a temporary issues or if this is the customer support level that they actually offer, but it certainly was bad timing.
Their Helpcenter page is very intuitive and rather well built. However, it doesn't include too much technical information, but rather a general overview of the settings and basic troubleshooting steps. Since we were unable to get a response from the support team about our question, we cannot say that it was particularly useful in our case.
Conclusion
We were very disappointed with the service that Spotflux provides, mainly due to the functionality and connection issues that we encountered. To top it off, customer support was unreachable when we needed them, and the FAQ page was rather unhelpful regarding the issues that we faced. Here is a quick breakdown of our analysis:
Pros:
Access to their premium service for 3 days free of charge.
Intuitive interface.
Well designed applications and website.
Easy to understand privacy policy.
Bitcoin payments accepted.
No way to see what are the encryption parameters and the connection logs.
They use cloud servers instead of dedicated hardware.
For DNS they are using public services like Google.
Cons:
Multiple functionality issues. Connection going down all of a sudden.
Only 5 virtual locations available.
Torrent downloads were not possible.
Prone to IP leaks.
Connections issues that would not allow a fluent browsing experience.
Browser add-on not working at all.
Customer support was unreachable.
Due to the reasons mentioned above, we give Spotflux a 2/10 with the hope that they are just going through a rough patch and that they will take care of these issues in the near future. We see a lot of potential in their service and we would love to see their product provide us with some good results in a future review, but for now we don't recommend it. They even claim on their home page to be "The world's most advanced VPN". Not sure what they mean by that, but they don't seem to be using their own service.