Summary
Features -

5/10

Speed & Reliability -

5/10

Security & Privacy -

3/10

Usability & Compatibility -

6/10

Support & Documentation -

6/10

Value for Money -

5/10
Summary
ZenMate VPN has a lot of great features for a free VPN service. We are still waiting to see the final format when the full paid product is launched. It's very important that they fix their security issues and improve the infrastructure if they want to keep up with the VPN market.
ZenMate is a security & privacy service based off Germany, providing secure tunneling for browsers and mobile devices. The company operating ZenMate is ZenGuard GmbH,a Berlin-based startup.
Review Update, March 10, 2017: ZenMate Review 2017
ZenGuard, the start-up of year 2014 in Germany (according to the deutsche-startups.de online publication) managed to attract investments worth almost 1 million euro during the last year and it is planning to expand the business even further.
According to its founders, behind the 7 letters of its name lies a simple browser plug-in aimed to protect users privacy over the internet. At the moment, the company provides servers in 5 different countries on 3 continents: Germany, Switzerland, United Kingdom, Hong Kong & USA.
The service is also available for mobile devices using an easy to use app that can establish a secure VPN tunnel using IPsec protocol.
The ZenMate team is coming from 8 different countries. In the about page 24 staff members are presented, being also mentioned their international approach, with 12 languages spoken.
Features
ZenMate is currently available for three different browsers, for free: Google Chrome, Mozilla Firefox and Opera as well as on other desktop browsers that are based on the Chromium Open Source Browser Project, namely SRWare Iron, Chromium and Comodo Dragon.
Be aware that ZenMate is not a full-featured VPN service, but a proxy addon for the browser that will also encrypt the browsing traffic. Other traffic on the PC will not be secured by the addon.
Also, an iOS and Android App is available, and this one provides a classic VPN connection using IPsec.
On the technical side, for encryption, ZenMate use the latest TLS 1.2 (RFC 5246) protocol and support different cipher suites with PFS (Default for Chrome/33 is TLSECDHERSAWITHAES128GCMSHA256) and up to TLSECDHERSAWITHAES256GCMSHA384.
Software
After adding the browser add-on, the user will be automatically redirrected to a page where he will be asked for his email address. Providing this information will also mean an agreement regarding Terms of service and Privacy policy.
The step being completed, the add-on will be ready for use, the user only being notified with a shield icon in the upper right of his browser.
An automated password is created and browser traffic is always encrypted and secured as long as the connection is ON. Also, the add-on selects a server location automatically based on user's location, but the user can change it anytime to one of the 5 locations currently available.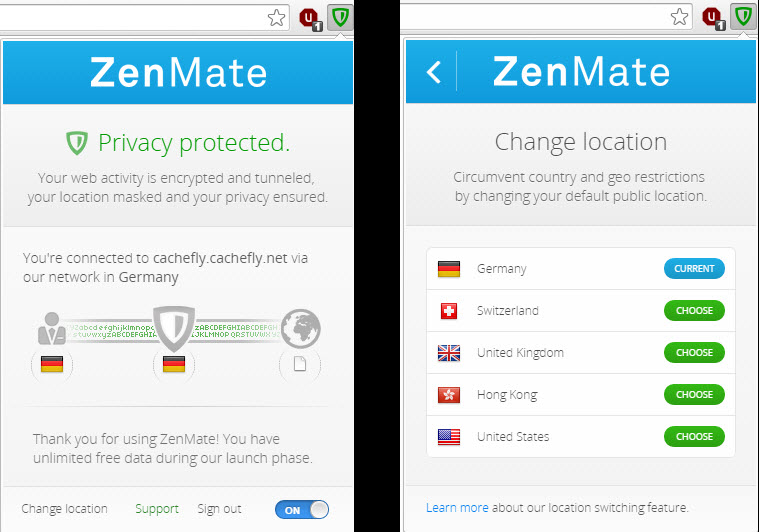 Pricing
In terms of pricing, ZenMate is currently free but on their website there are also 3 different pricing packages, as Premium upgrade:
Monthly plan, costing 8,99 euros per month, is the first option.
The 6 Months plan, allowing the user to save 20%, it's gonna cost the user 7,99 euros per month.
Yearly plan will save 30% of the user's money, being available at 6,99 euros monthly.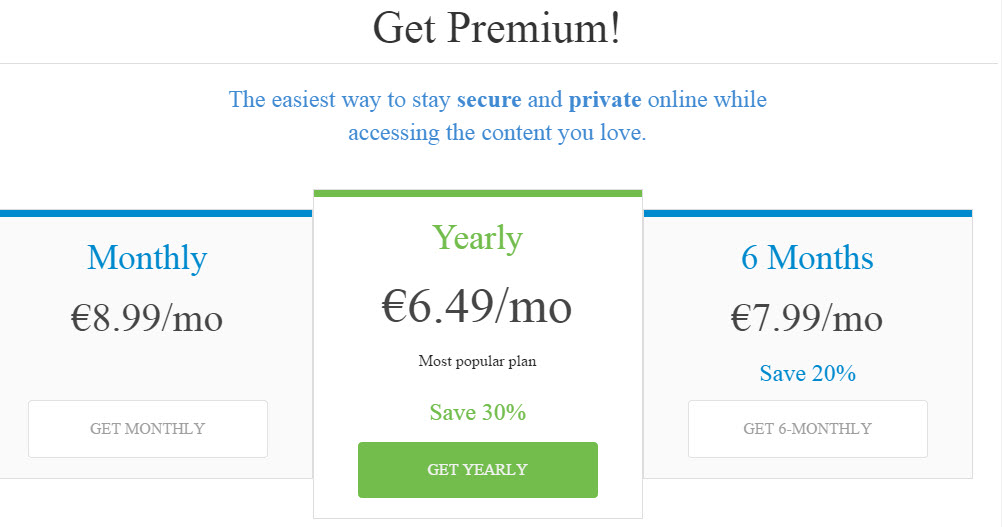 For the moment, the Premium package is not available to purchase. The browser widget is announcing the user that he has "unlimited free data during our launch phase".
When it comes to payment methods, ZenMate is accepting 75 different types of payments, including credit cards and PayPal.
The mobile VPN app is available for free but there is a monthly traffic limit of 500 MBs. In order to unlock the "unlimited" feature, an in-app purchase is available on a recurring monthly or yearly basis. The monthly price comes around $2 and the yearly is $20.
Logging and Privacy
According to the Privacy policy, "no personal data is collected, processed or permanently stored." However, there are 5 different situations when the above rule does not apply:
When selecting a certain server to use ZenMate;
When the customer support is contacted;
When a user is subscribing to newsletters;
When ZenMate is providing further information upon user request;
When users are generating postings in forums, communities and through comment functions.
For sign-up they require only the email address. However, in the Privacy Policy they admit to store the IP address of user "temporarily" to "prevent attacks against ZenMate" – whatever that means, as no time-frame is defined.
Speed and Reliability
We aren't publishing the speedtest results like we normally do because when using speedtest.net with ZenMate, the connection is made directly – completely bypassing the ZenMate proxy service. But we some other tests we made, when the connection wasn't by-passed, we got consistent results between 20 Mbps and 70 Mbps. Video streaming using popular services like Netflix and Hulu was smooth, in HD quality.
Support
ZenMate provides support via email and we found that they reply within a reasonable time frame, in less than 24 hours.
Conclusions
The Good
Easy to install and use.
Decent speed.
Free (for now).
The Bad
Limited number of server locations.
While still a startup which looks solid, we'd like to see more features to address the needs of many users, like support for OpenVPN.
Being a browser add-on, ZenMate does not "cover" the user while he is using the internet outside the browser (P2P, email clients etc.).
IP leaks are all over the place, so you definitely need to use additional plugins to stop some of the leaking (over WebRTC, Flash etc.). This is a problem for users who are very serious about their online privacy.
Final Notes
As long as ZenMate can't be called yet a complete VPN service, the service is quite good for its capabilities as a browser add-on and a simple VPN app for mobile devices. From a privacy perspective, the browsers are doomed to fail as there are many ways to leak the real IPs of users (via DNS leaks, WebRTC, Flash, Java to name just a few.)
Considering the fact that ZenMate is free to use at this moment, we recommend it to people who don't have high requirements for security and privacy, but only need an encrypted proxy for moderately-secure browsing and to by-pass geo-blocked content like Netflix and such.