There are quite a few VPN services out there, some free, some paid, some supporting all major operating systems and some focused only on specific environments. With so many options available, it can be tricky to choose the VPN service that is right for your needs, and with an increasing popularity of android devices, we thought we should bring you a list of free VPN services for Android that we enjoyed in our testing.
We will be reviewing features, functionality and speed, but please keep in mind that we are testing a mobile environment and that the services in this review are free of charge and may not perform as well as some of the paid services you are used to. Some other aspects to consider are privacy and security. If these two are key factors for you in choosing a VPN service, then you should only consider paid VPN services, as free are rather meant to be used for casual purposes and basic security and privacy.
Opera Free VPN for Android
Opera offers a "free VPN" (we prefer to call it "proxy") via the browser available for different operating systems and through plug-ins for different browsers. Today however, we will be talking about the free VPN service they offer for Android, which made our list due to a number of interesting features and great overall performance. Let's find out what they brought to the table.
Logging and Privacy Policy
As most free VPN services, Opera Free VPN stores personal information that can vary from connection time to IP address location. This is not necessarily an issue, we are giving you this information because it may be relevant due to the nature of your VPN usage.
You can find more information on their privacy policy here. We recommend checking out this page before signing up as some terms and conditions may change.
Software
The Mobile software offered by Opera is quite unique in that it's clean and very snappy. Add a great design and intuitive structure and you got yourself an application worthy of a paid VPN service.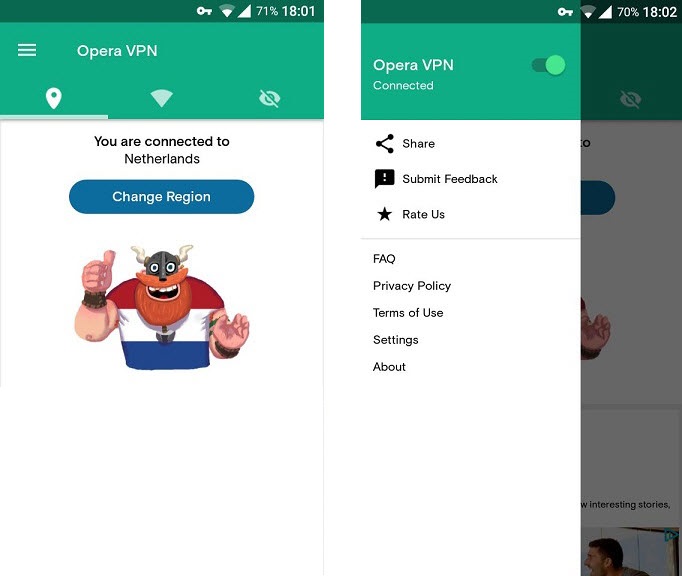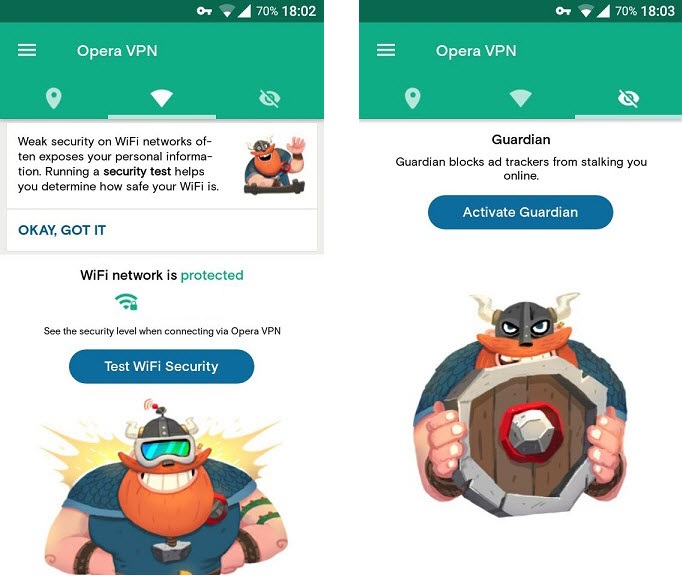 We enjoyed the fact that all the menus are easily accessible and included an attractive theme to make the experience very pleasant.
Features
Apart from the ease of access to the general information such as privacy information, Opera offers a WiFi network protection feature consisting of a security test to determine how protected your WiFi connection is. If you are wondering what kind of tests does it perform: type of network (public or private), security level (encryption), number of devices sharing the same WiFi network, if WiFi sniffing and network monitoring would be possible (pretty obvious that it is possible as long as a VPN isn't connected).
Available locations: Canada, Germany, Netherlands, Singapore and USA.
Speed
Here is how the speed test results looked like.

The results were more than satisfying, especially since we are talking about a 100% free service with such a wide reach (over 1 million downloads in Google Play). We were able to browse and stream media without any issues on a 1080p Android device, which should suffice for general use.
Conclusions
We really liked Opera Free VPN as a whole, and there are a couple of things we would like to see improved, so here is a quick break-down
Pros
Easy setup process with no information needed for registration.
Very intuitive application with a pleasant design.
Decent number of locations covering major regions in terms of user demand.
Auto-reconnect even if the mobile device restarts
Nice features such as ad and tracker blockers, WiFi security etc.
Cons
Download speed could be a bit better, but still very good for a free product.
Not entirely an Opera product, but white label of SurfEasy Inc. from Canada.
No details about encryption, debugging and other info for crypto geeks.
Lantern VPN
Lantern VPN, while falling under the free VPN category is restricted by a 500MB traffic limit. This limit can be lifted by subscribing to the paid service.
They only support Windows and Android at the moment, but the iOS application is under development according to their website. We recommend visiting it for updated information if you are interested in the product.
Logging and Privacy Policy
Their website and apps use Analytics collect information about usage, meaning that they collect information about visited websites. However, they do claim that the information is used solely for statistical analysis and that there is no personal information tied up to accounts.
There is also a mention about collection of IP addresses and time stamps but there's no mention about how long the information is stored (just that it gets deleted after several days which could mean anything really).
You can find more information about their privacy policy here and we recommend checking it out before using the service.
Software
The software is very simplistic which is not necessarily a negative aspect, just that it can throw you off if you are used to applications that have buttons or menus (like most of us are). There is only a possibility to turn the service on or off and by default the free service connects you to the USA-NY server.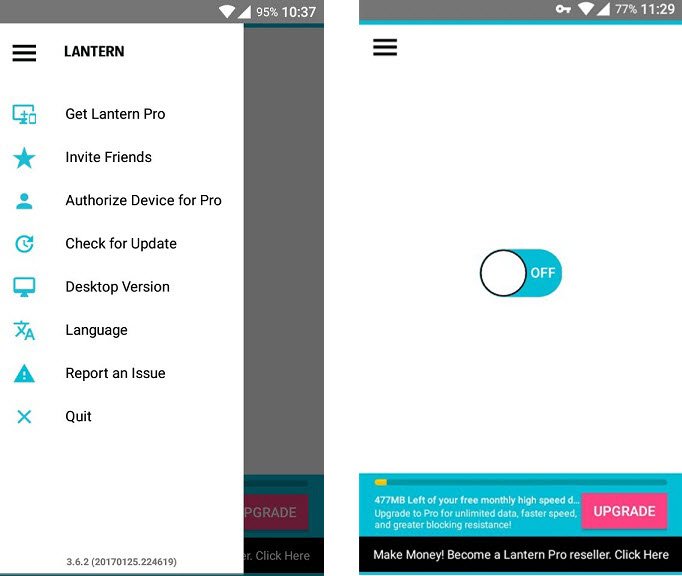 Once you have exceeded the 500MB monthly traffic limit, you have to sign up for the premium service which has the following pricing plans.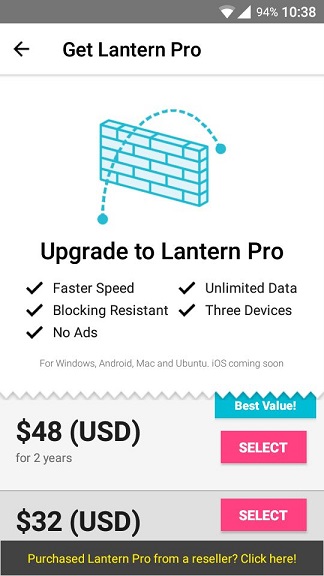 We don't like the fact that you have no access to features such as ad blockers, making the software much too light in customization options.
Features
There are no features to speak about. We contacted the company to see if the option list or application settings would change if we opted for the premium package but 48 hours later there was no answer. Moreover, we could not find any forum, post, tutorial, review, video or any information that would indicate this.
Apparently the software does block ads once the premium feature is enabled, but this would be a bit hard to determine without going premium, and we would like to focus on the free aspects of these services for the time being.
Speed
As mentioned before, the free VPN service offered by Lantern VPN only includes access to a server in NY United States. Here are the speed test results.

The speed was above average and we were able to browse and stream media content without any interruptions. Overall, considering it's free, we were happy with the performance, it's the restriction to the NY server that is a bit concerning however.
Conclusions
In short, we feel that the service is incomplete and with only two possibilities of pricing plans (12 and 24 months) we think that more features should be available to the general public to test out. After all, it's a pretty big commitment and you need to be able to test out what you are getting into. We understand that not all VPN services offer free trials, but they do offer a shorter period of sign-up which allows you to test it out thoroughly.
Here is a quick break-down of Lantern VPN.
Pros
Easy sign-up process with no e-mail requirement.
Intuitive application.
Good performance.
It's working in China.
Cons
Only one server location available with the free version.
No trial period for the premium service.
Not enough information about the offered services on their website.
Sluggish customer support experience.
Lack of customization of the overall VPN experience.
F-Secure Freedome VPN
F-Secure VPN is a fully-featured VPN service that offers 5 days of free access. After those 5 days expire you will have to sign-up for the premium service that has the following pricing plans.
We don't particularly like the fact that the pricing plans are for a whole year only, but in all fairness you do get 5 days to test out the full service.
Logging and Privacy Policy
Although they are very transparent about the information they collect, we feel that they collect a bit too much. Your e-mail address and even name or phone number might be required in order to set up your account and they clearly state that this information can be used to protect about fraudulent use such as copyright infringement issues.
You can find more information about their privacy policy here if you are interested. We strongly recommend reading their privacy policy if you plan on signing up for a year's worth of service and depending on the intended usage.
Software
F-Secure offers a very attractive application that has a very small learning curve. It's intelligently built and has all the information you might need right on the main page.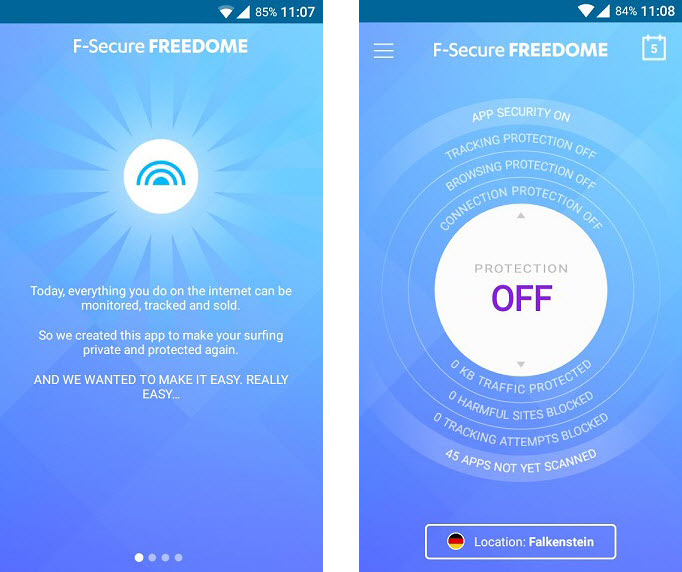 We only experienced small issues with the application throughout the testing period and we found it complete and enjoyable.
Features
The application offers several features such as tracking protection, app security and browsing protection. There is also a connection protection available that encrypts the traffic although it's not specified what type of encryption is used. We sent them an e-mail but there was no response and the chat function was offline (most likely due to the schedule and timezone difference). We will update if we receive more information on the encryption they use to protect your data.
We tested out the ad blocked and it did a good job blocking annoying pop-ups, even from well-known sources such as major news sites and media streaming services. YouTube ads were only blocked if accessed through the browser, the mobile application is not affected by the included ad blocker. The system also showed that sever tracking attempts were blocked and we appreciate that they took the time to have a real-time reporting tool built in the app.
We did find an issue with the application. If you swipe the application away or try to minimize it, it will disconnect you from the VPN server without notice. This can be an issue depending on the running processes at the time of the disconnect.
Another aspect worth mentioning is that F-Secure VPN allows 5 simultaneous connections, which is a bit more than the other services we tested for this review (generally limited at 3 simultaneous connections by other providers.)
Speed
The browsing speed test results were as follows.

We were rather surprised to see the poor results for Canada, but we have to say that the speed test results were not reflected in the overall performance. Browsing was smooth and even on the server with the lowest scores (Canada) we were able to stream media content without interruptions.
Conclusions
In short, F-Secure VPN is a fully-featured VPN service for android part of a larger online security suite. It's understandable that there are some shortcomings due to this fact, however there are some aspects that could easily be improved so here is a quick pros and cons list.
Pros
No registration required.
Very intuitive application.
A good number of server locations with 5 simultaneous connections allowed.
5 day free trial of the full VPN service.
Cons
Logging too much information for our taste.
Only yearly subscription available.
Speed test results could be better.
ZenMate VPN
ZenMate VPN provides 7 days free premium VPN service. After that period expires, you would have to sign up for one of the offered plans.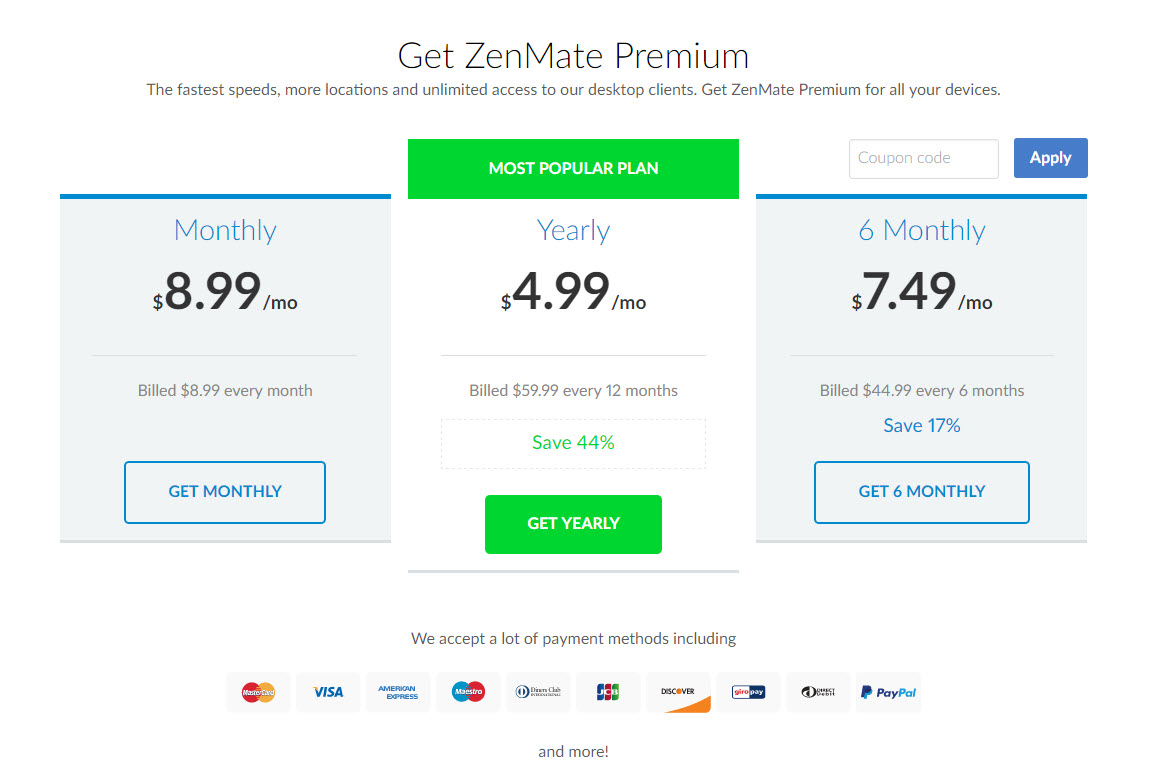 We enjoy the fact that they offer the possibility to acquire service for a single month, although the price is a bit high at $8.99/mo.
There is an e-mail verification required, so keep that in mind when signing up for the free 7 day period.
Logging and Privacy Policy
ZenMate VPN does collect information for analysis and marketing purposes, and although transparent, the privacy policy does inform of a lot of information collected. We understand that the service needs some information in order to improve the service, but in our opinion it's a bit much.
You can find more information about their privacy policy here.
Software
The mobile application was a pleasure to use and has a great design.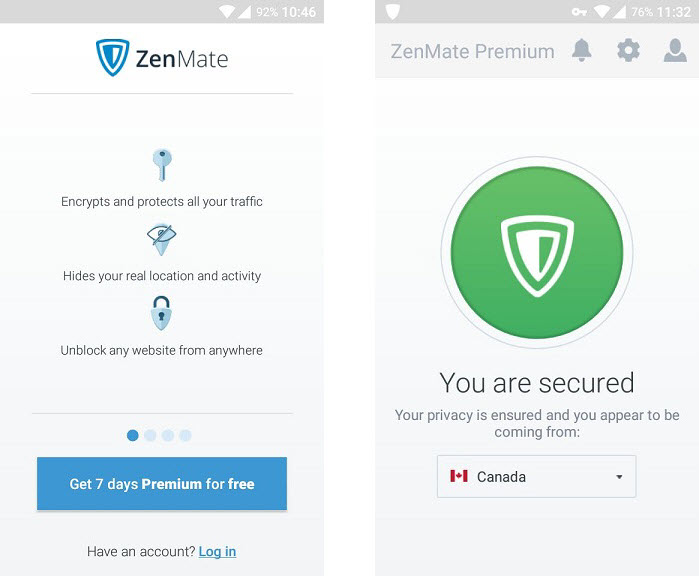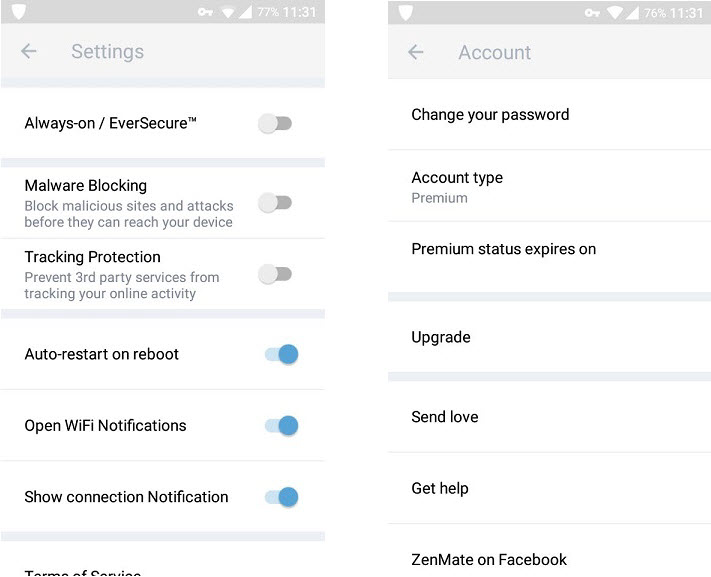 The settings option allows you to customize your experience quite a bit and the account page allows you to access several account management features directly from the app.
There were no issues or interruptions while using the application and we rate the overall experience as great.
Features
There are several features that ZenMate VPN provides such as malware blocking, tracking protection, connection notifications and more. Let's talk about the features that we found most useful.
The ad blocker actually works. We tested out several news websites, popular streaming services and websites heavy in ads and we were pleasantly surprised to find no ads popping up. Some unwanted content will be displayed upon user interaction such as clicking banners, ads and so on, but that's out of the ad blocker scope and it should be part of the user's common sense.
There is an auto-restart on reboot option that can be activated which worked as intended when tested out. It's a neat feature that most users won't be very interested in, but it can be very helpful depending on the intended use and the hardware used for the application.
ZenMate VPN offers a proprietary feature as they call it "EverSecure" or Always-on. This feature will keep your VPN connection active regardless of the state of the mobile device (as long as it's powered on of course). This can be disabled from the settings once needed, and we found that it can be a pretty neat feature to have in some circumstances. We tested out switching networks from 4g to WiFi and so on and it worked just fine.
Speed
The speed test results for ZenMate VPN were very good.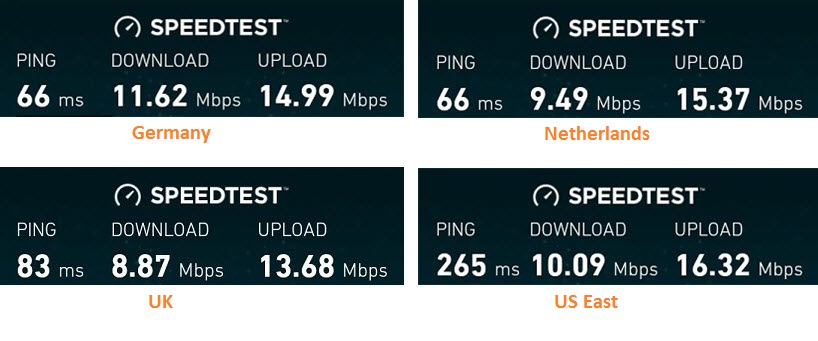 The browsing and overall experience were great and media streaming was done flawlessly. We would like to mention that while these are some of the highest speed test results in this review, this service is only free for a limited amount of time and should not be equally compared to a service such as Opera VPN for example which offers unlimited free VPN.
Conclusions
In conclusion, ZenMate VPN is a very well built VPN service and the performance is proof of the quality. There were some features that could be improved so here is a quick break-down.
Pros
7 days free trial for the full service.
Great speed test results.
A good number of server locations, pricing plans and payment methods.
Lots of available features that work as intended.
Good and complete overall VPN service.
Cons
Constrictive privacy policy (although transparent it they just log too much.)
Too much information needed for setup.
A bit pricey once the free trial period ends.
After reviewing the services above we have to stress the fact that the only completely free service is Opera VPN. While the other services have free options, you won't benefit of the fully featured service until you sign up for premium (or unless you create a new account). These options may or may not be viable, which is why we made an effort to explain the pros and cons of each service in order to help you make the right decision.