Summary
Features -

4/10

Speed & Reliability -

4/10

Security & Privacy -

3/10

Usability & Compatibility -

5/10

Support & Documentation -

4/10

Value for Money -

4/10
Summary
Ivacy offers features such as split tunneling and a great torrent download experience and a very nice mobile application. However, there are some issues that cannot be overlooked. Sharing the infrastructure with PureVPN, an ambiguous privacy policy and a messy infrastructure are only some of the serious problems the service has.
Ivacy is a Hong Kong based VPN company that (according to them) offers the best VPN service in the world.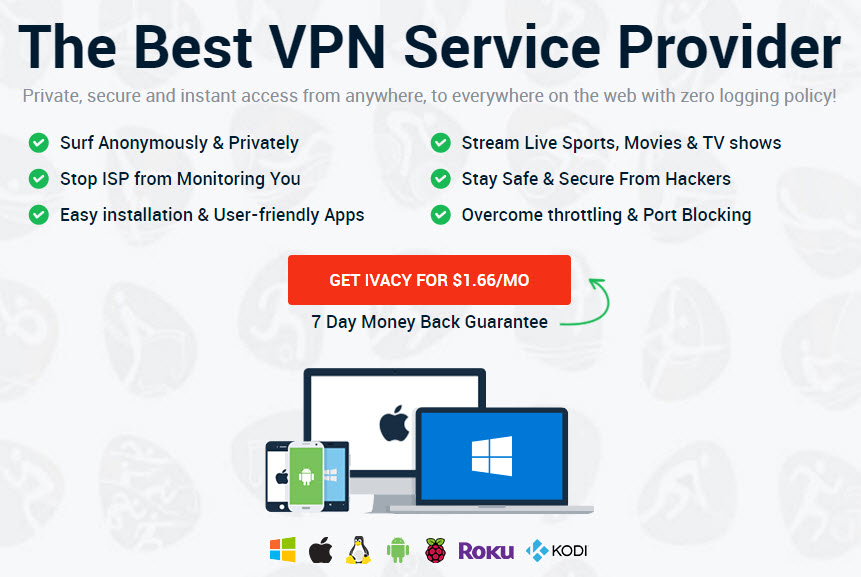 They began their activity in 2007 and since then there were a lot of mixed opinions about the quality. Lately (around mid 2015, they announced some infrastructure changes that apparently brought new features to the table, such as tunneling and workarounds for Netflix, Hulu and other media streaming sites.
One interesting thing that we discovered is that the CA certificate they use for OpenVPN connections is issued for PureVPN. In other words, we are almost sure that it's the same owners behind both Ivacy and PureVPN or it's the same service operating under two different names.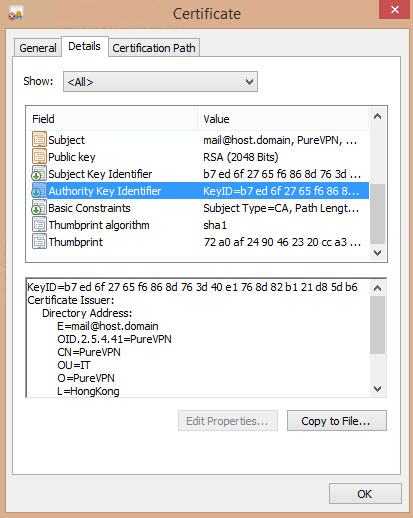 To confirm the finding, we connected to some of PureVPN's servers and noticed that they are, indeed, sharing the infrastructure and IP space with Ivacy. Most of the IP addresses belong to the same company, Secure Internet LLC.
Ivacy offers 250+ servers in over 100 locations, with 5 simultaneous connections allowed. There aren't too many servers offered for US and UK, but they do have a wide variety of locations available. You can find more information about these locations here.
They don't require much information when signing up, just and e-mail address and they accept a variety of payment methods, which is something that we found refreshing, especially since many competitors that provide a similar service have a limited number of accepted payment methods. We were also very pleased to see that they accept bitcoin.
We had the opportunity to test out multiple features, so let's find out if they deliver a service worthy of your time.
Privacy Policy
Ivacy has a rather descriptive privacy policy that contradicts itself in some aspects. The first thing that got our attention was the fact that they provide personal information to third parties and that the information is also used in Google Analytics. This would be very hard to be true considering they have a 500MB traffic refund policy, which could not be measured without tracking your traffic.
Their "Zero Logs" policy is backed up simply by the fact that they do not log online activity, but there is no mention about the connection logs, so it might be improperly stated that they have zero logs.
There is also a P2P policy statement there that lets you know which servers are unavailable for P2P, and there were over 20 countries listed. This makes us wonder which ones are actually viable solutions for your P2P needs.
You can find out more about their privacy policy here.
Software
The Windows desktop software was intuitive, and well designed, unfortunately the functionality was not all that great. There were some connection issues, some mixed server connections, authentication issues on certain servers and the settings are a bit limited.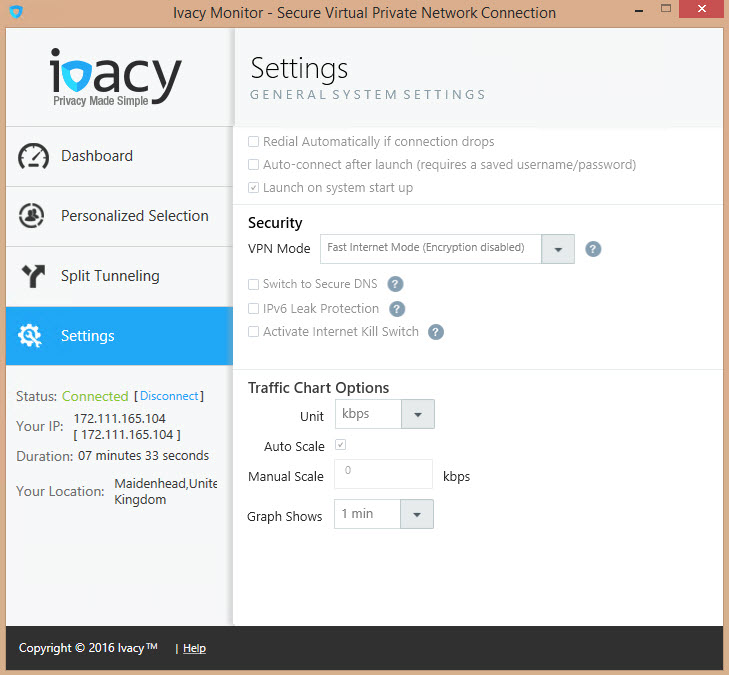 The Dashboard offers quite a few connectivity options, and you also have the option to select servers based on the desired usage, such as streaming media servers, TV, anonymity servers, etc.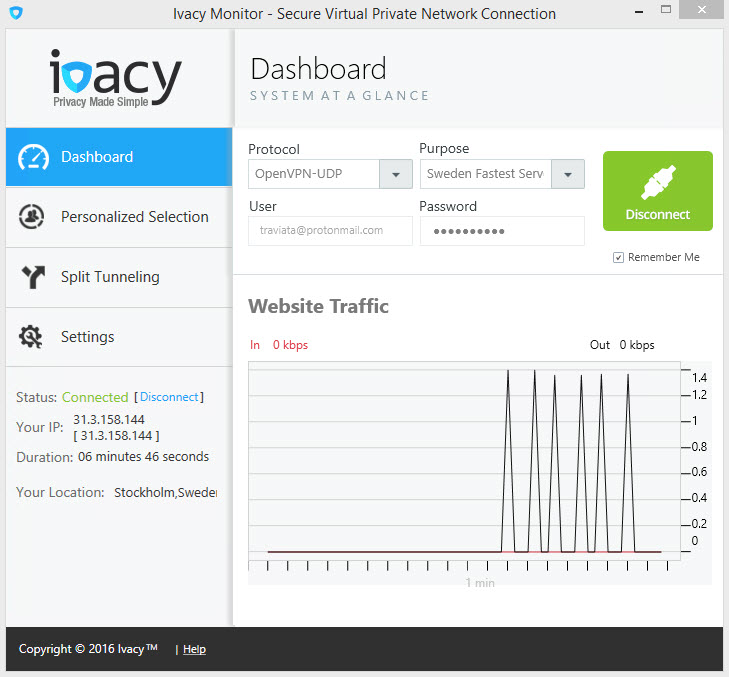 We found that the dedicated Hulu and Netflix servers are actually working at the time of this review, but keep in mind that Netflix is blocking such services aggressively and it is only a matter of time until all of them will be blocked.
The dashboard offers some information about your connection settings, locations, latency and a rudimentary traffic monitor. We had a couple of crashes in the application that we could not reproduce, so we will assume that it is not a recurring issues, although this drastically reduces our level of trust in the application's stability. Being disconnected mid-session can lead to IP leaks and issues that are definitely not to be overlooked.
Features
Since we were very curious about the split tunneling feature that Ivacy promotes, we ran some tests to find out how it performs. The application needs to be ran in administrator mode in order to use the split tunneling feature, which might be an issue if you are accessing the software from a closed network which does not grant you full access to your machine.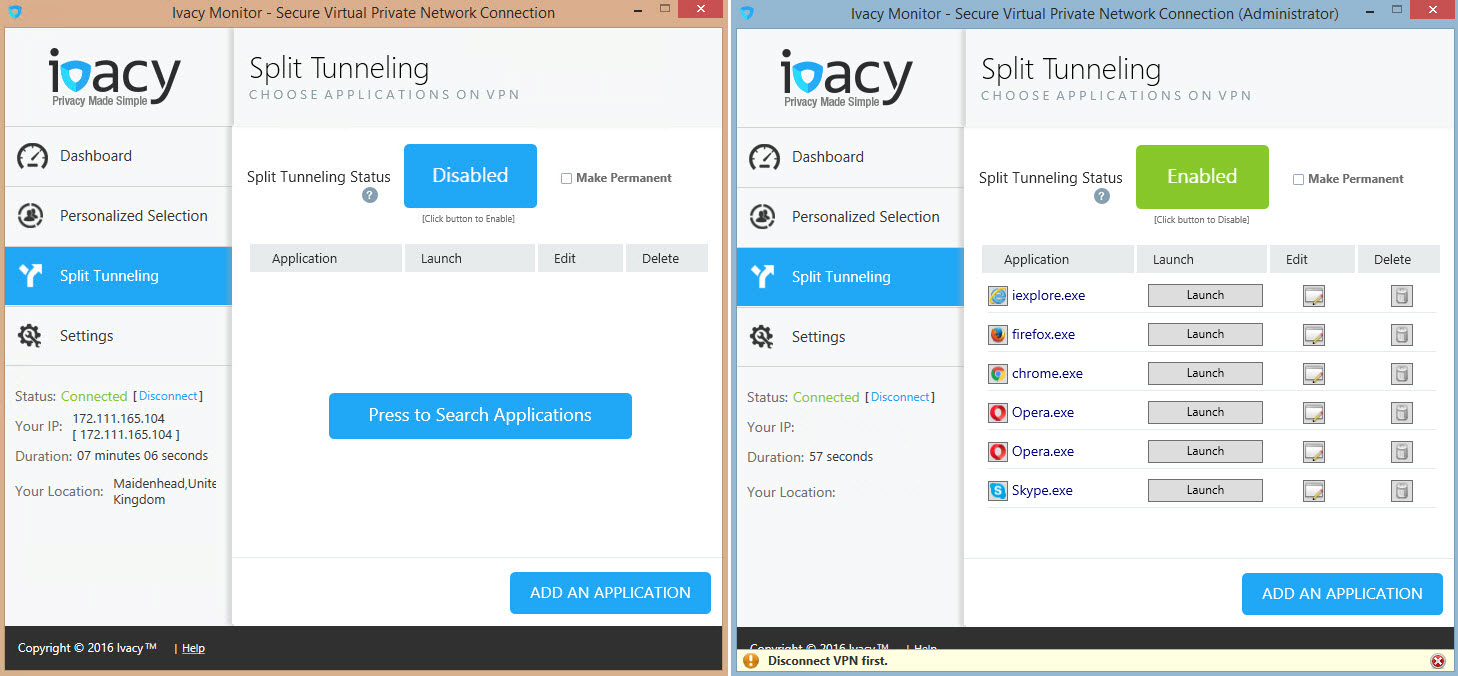 One thing we noticed, is that by default, the encryption is set to disabled, only being able to be changed from the settings menu. You can change it to 128 or 256 bit. You also have the possibility to enable options such as secure DNS, IPv6 leak protection and kill switch.
There is no mention or guide to setting up port forwarding or about the proxy feature being available (there was a paragraph about some shared keys that were available for a premium package in the FAQs, but it must have been removed because we were unable to find anything in the purchase options). We addressed the issue with customer support and they notified us that there is no proxy available, but nothing about port forwarding. However, we noticed that once connected to the VPN they are assigning public IP addresses, both IPv4 and IPv6, which means that port-forwarding isn't needed and the connections can be made from the Internet to the VPN user directly.
Latency is not shown or measured, it is merely described as being the fastest route to a specific location that you choose for your connection. For example, you can choose to connect to the fastest server in the US, but it doesn't show you any value for latency. This might also bring up some issues if you are trying to connect to a specific server location, because if manually selected, it will often not be the fastest connection you can get. This happened to us on several connection attempts to the UK and US servers, resulting in connection issues, lagged response from the application or even crashes.
The following connection protocols are available: OpenVPN, L2TP, PPTP and SSTP.
One annoying thing we discovered, is that the settings in the software aren't saved at the end of the session. The last server location or other connection options get reset and you have to manually set all connection specific details when starting the VPN connection.
Another thing we dislike is that some of their servers aren't actually physically located in the countries they claim to be, but they make use of geo-located IPs. For example, their Colombia location is actually in Brazil, Pakistan, Saudi Arabia and Costa Rica are in USA. We haven't checked all of them, but it's likely that they are not the only ones.
Speed
The speed tests rand gave some decent results, however, we noticed that these tests did not reflect well on the browsing speed on the servers. Even though we were able to download at a reasonable rate, the browsing speed was poor, with a lot of lag and slow loading times for even the most basic of web pages such as Wikipedia articles or plain text blogs.
Below, we attached some screenshots with the results from browser and torrent speed test results:

torrent speed test results: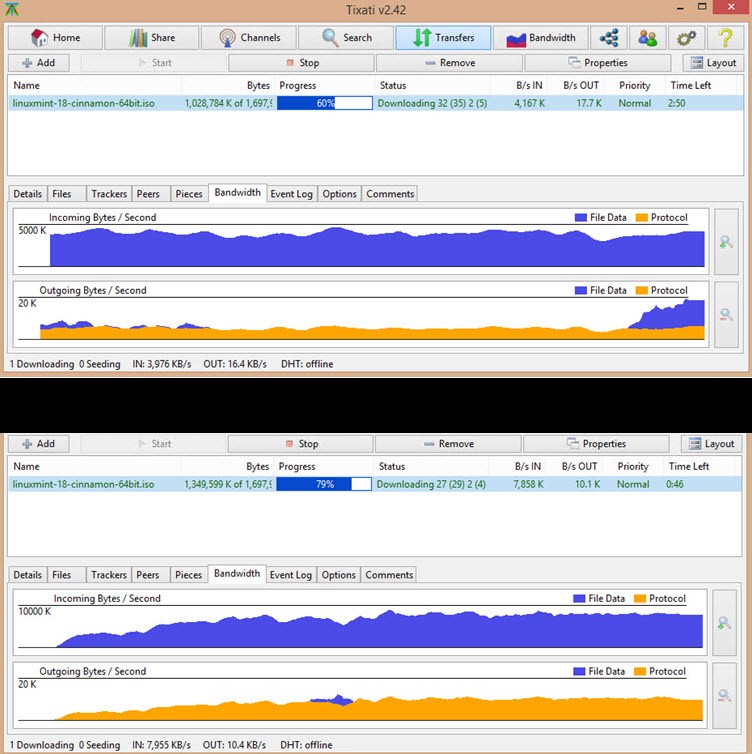 As you can see, some servers performed better than others, but the results were still not up to par. While the torrent download speed was good, it could have been better.
We also noticed that once the encryption level was raised from the settings menu, the speed decreased in both torrent and browsing. As the software connects you with no encryption by default, we wanted to test out how it would perform under each encryption method, and the speed decreased with about 10-15% for each increment in the encryption.
Mobile Performance
Ivacy is working on an iOS app at the moment, so that option is not yet available. We were able to use the Android app though, and the results were a bit better. The application is intuitive and doesn't give you too many options for customizing your experience. For example, the settings panel only allows you to save your password, no other functionality or options:
We were able to browse at a good speed and the tests also gave decent results.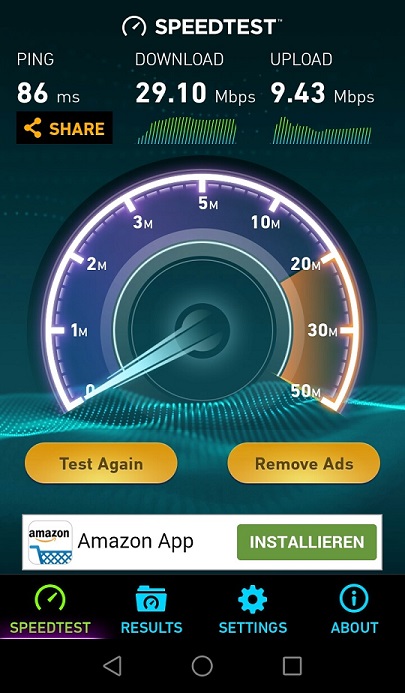 There was no way to see connection logs or any other encryption information via the mobile application, an aspect that we did not appreciate.
Prices
They have three different plans available as follows: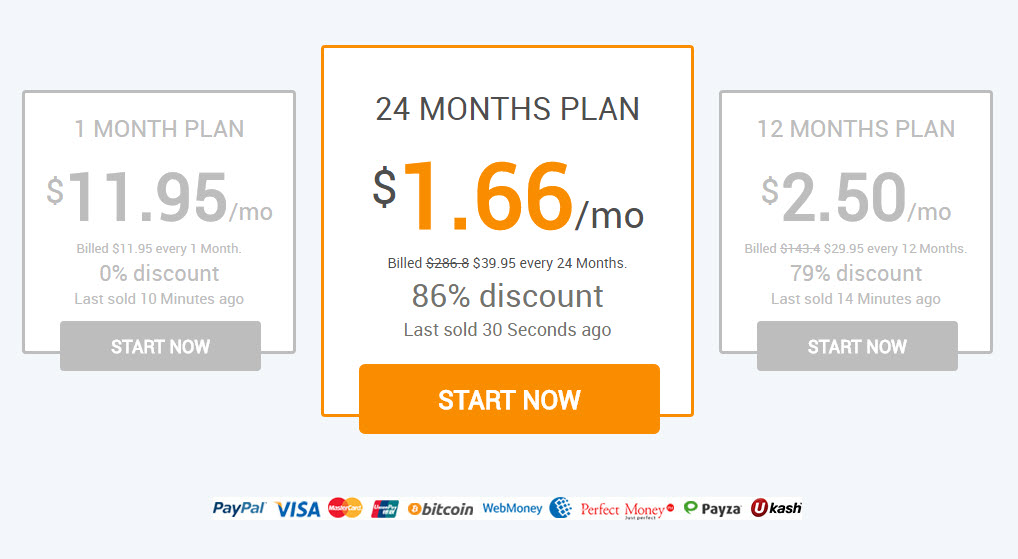 We liked the fact that they offered a good variety of payment options but we didn't particularly like the fact that you only have monthly, yearly and biennial options for your subscription. A three month plan would have been nice and also a free trial would be needed in our opinion so you can get a good idea of what the product can do for you before you make a decision on purchasing it.
They have a 7-day money back guarantee, but the restrictions are very unrealistic. They have a 500Mb limit, which if exceeded automatically disqualifies your eligibility for a refund. Simply running a few speed tests and some basic browsing will easily make you exceed the 500Mb, sometimes without even having the time to test out two or three servers.
There is also an issue with refunds not being available if the purchase has been made with bitcoin. This is not a policy that we ever encountered with other services.
Support
We sent the support team a general question and we received a reply after roughly 16 hours. They have live chat available on the website. However, if there is no agent available to help, you get a form that sends your message to the support team. In a two-day span, we have yet to see the chat service being active.
There are also a lot of complaints about the customer support team's response time on the Android store, which shows the rating of the service at a 3/5 star rating from around 100 reviews. This might not be enough to get a realistic idea about the quality of the service, but after testing the application, we tend to agree with the rating.
Conclusion
Here is a breakdown of what we liked and what we did not:
Pros:
Decent torrent speeds and plenty of locations available.
Split Tunneling feature not found in too many VPN products today.
Nice mobile application that even though is missing some features, performed well and provided a reliable connection without interruptions or crashes.
Cons:
Not a stand-alone infrastructure, it is shared with PureVPN (different companies, same infrastructure and likely ownership).
Browsing speeds are poor.
Not all server locations are physically located in the countries they claim to be.
Encryption is disabled by default in their Windows software.
DNS leak protection not enabled by default.
No connection logs available.
Privacy policy is ambiguous.
Due to the various issues we've encountered while using Ivacy's product, we rate this service a 4/10. There is a lot of room for improvement and we hope to see the service bloom, but at the moment it does not rise up to the standards and there are some serious issues that should not be present in a service belonging to this niche.