Summary
Features -

6/10

Speed & Reliability -

5/10

Security & Privacy -

5/10

Usability & Compatibility -

5/10

Support & Documentation -

4/10

Value for Money -

5/10
Summary
ExpressVPN is a decent VPN service with a lot of unexploited potential. It seems like a lot of the features are well thought out but poorly executed. We are sure that if they stay focused on important aspects such as infrastructure improvement and get a competent customer support service, they will climb our ratings significantly.
Founded in 2009, ExpressVPN evolved into a sturdy service, competing with the top names in the business. Registered in the British Virgin Islands, the service now offers over 1000 servers in over 87 countries. They offer cross-platform VPN access (apps for Windows, Mac, iOS, Android, Routers, and Linux; configurations for other routers, consoles, and more).

ExpressVPN also advocates internet privacy, supporting organizations such as Electronic Frontier Foundation, The Internet Defense League, Fight for the Future and Access.
Since our last review in 2014, we discovered some major changes in ExpressVPN. The software changed, the number of servers, a dedicated DNS service for streaming has been added and more. We would like to discuss some of those changes and see how high ExpressVPN raises the bar.
Privacy And Logging Policy
ExpressVPN has a very short privacy policy which states that some personal information is stored at the moment of purchase, but that this information will never be shared with a third party. There is no mention of how this information will or will not be shared with legal entities, should there be an investigation, and the general phrasing used does not confer us with a sense of security. You can find the privacy policy here under the third section of the Terms of Service.
Software
The Windows application performed very well. It was easy to use and had some very good features available: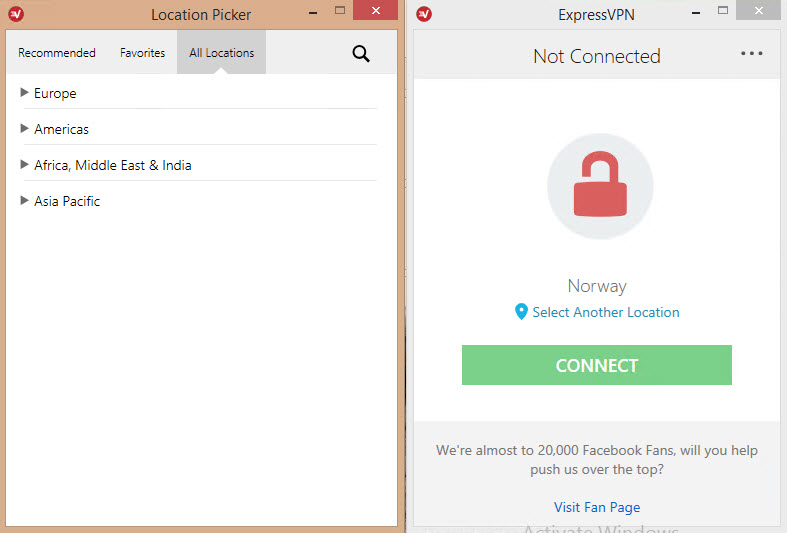 The software also gives a good variety of settings that help you customize your experience. Every user is different and has different needs, so it's always refreshing to see a good options panel. It supports multiple connection protocols: OpenVPN, L2TP/IPsec, PPTP and SSTP.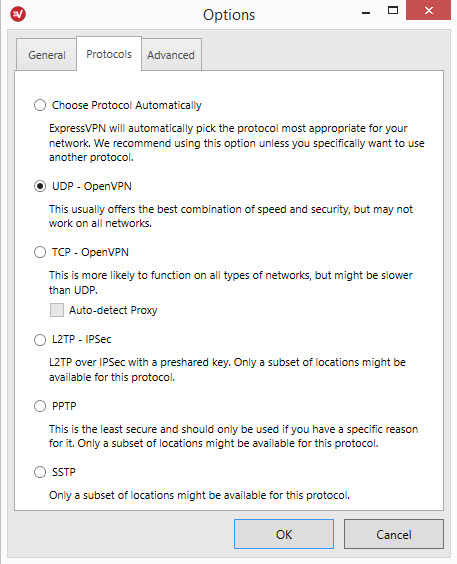 Looking back on what the software was like in 2014, the new format is a big improvement. It is more uncluttered, easier to use and the functionality did not have to be sacrificed in order to obtain good graphical results.
There is a possibility to see the diagnostics of each connection and export the data, along with a speed test and latency meter, which we have to say we are a very big fan of. Some software only selects the fastest location automatically without ever giving you any numbers on the speed that the connection is established at.
Another very refreshing thing about the interface is that it's not bloated with useless elements. It's a snappy, clean and intuitive application that offered no unpleasant experiences while testing it.
Features
ExpressVPN offers quite the list of features when presenting the product, such as 3 simultaneous connections, strong encryption, unlimited bandwidth, server switches and speed, zero logging and more.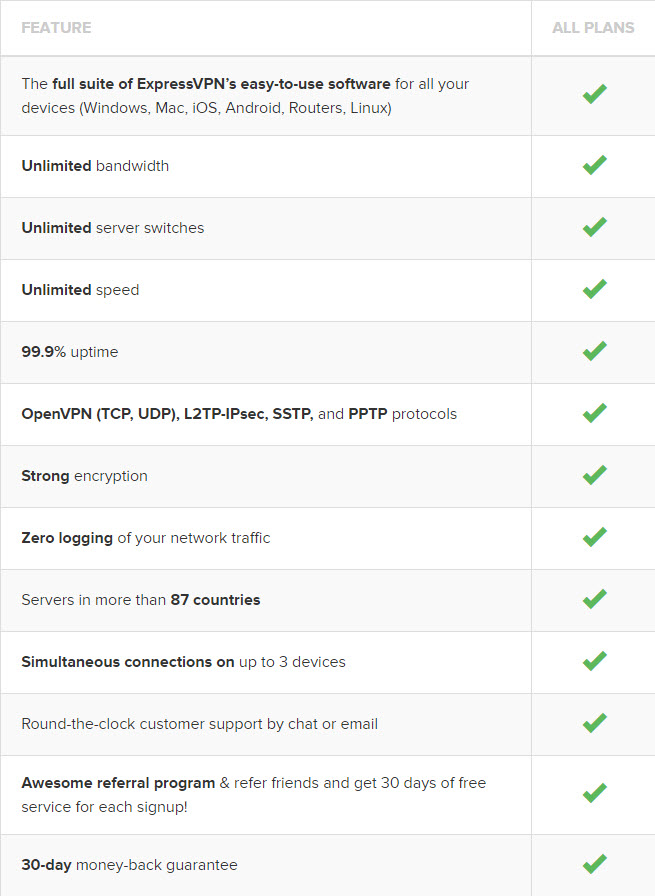 They provide details about the encryption used in a dedicated page: VPN Encryption. It seems that they upgraded the encryption strength since we tested the service for the first time and now they are using AES-256 for data, RSA 4096 for authentication and SHA-512 HMAC. This is a big upgrade over what they were using back in 2014 (RSA-1024, Blowfish 128, SHA1 160-bit).
Setting your port, location or DNS server has been greatly simplified since the last time we looked into ExpressVPN. The "Settings" option gives you the possibility to quickly make modifications to the connection type so that it suits your needs.
One thing that we found very refreshing is that Hulu and Netflix are actually available and running, not only from US servers, but also from other countries such as Denmark and Netherlands. With the continuous battle against geo-location unblocking services like VPNs, these streaming services have banned hundreds of data centers all around the world, and they systematically want to ban them all. Still being able to run Netflix and Hulu through your VPN service is a plus, however, nobody can guarantee how long this will still be an available feature for.
Proxy and port forwarding are not available from ExpressVPN, and when contacting support about getting an explanation, we were told that since the service is secured, we require no proxy or port forwarding. This was a very displeasing explanation, especially since there is no mention of availability on the website.
They recently (on August 17th 2016) launched a mirror .onion site within the Tor network. You can read more on this topic here.
We would like to mention that ExpressVPN is not restricted in China, which we found quite strange, or rather suspicious, since most VPN services, even the small ones, are restricted there. We were unable to find out why they are not restricted, and we would rather not speculate since we have no facts, but it's just an observation we found interesting.
Speed
The browsing experience was fluid, there were no disconnects and even though the speed tests provided lower numbers in some countries, we were still able to browse without issues. The service could be improved a little by increasing the bandwidth, but in all honesty, it just seems like enough. Here are the browsing speed results that we obtained: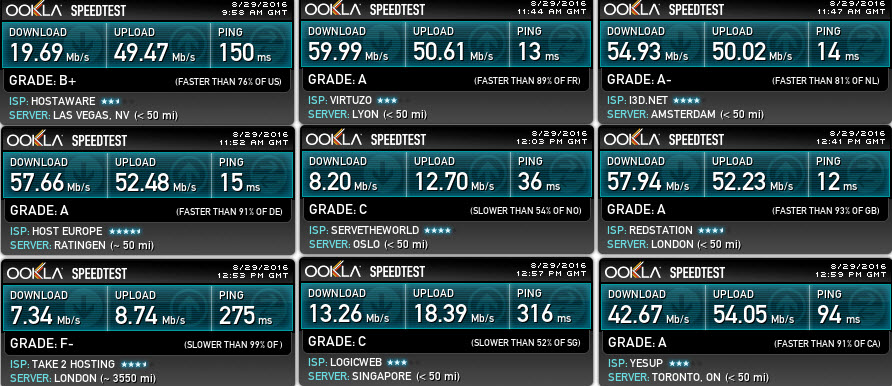 The torrent download speeds were up to par, nothing insanely fast, but still solid, with no disconnects or leaks, and good connection times. Again, some server locations provided lower results than others, which is why we try to include as many relevant locations as possible in our tests. As a general rule, the farther you are from a location you are trying to connect to, the lower the latency, and generally the download speed, so you should keep that in mind when looking at the download speeds. Here are the torrent speed test results for Canada, Netherlands, Norway and UK respectively: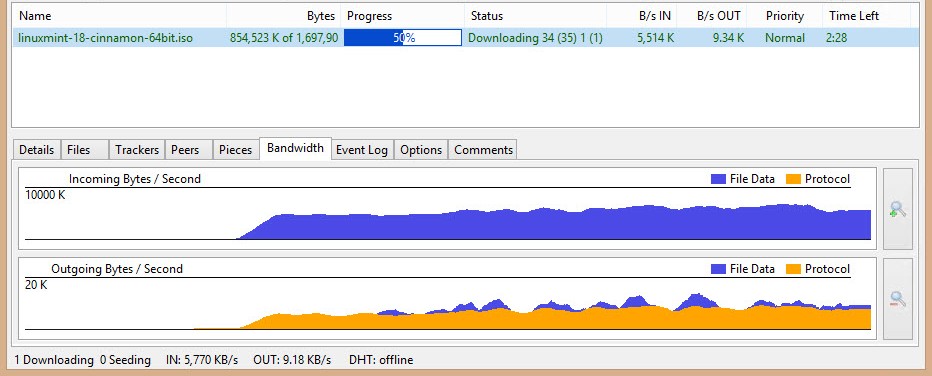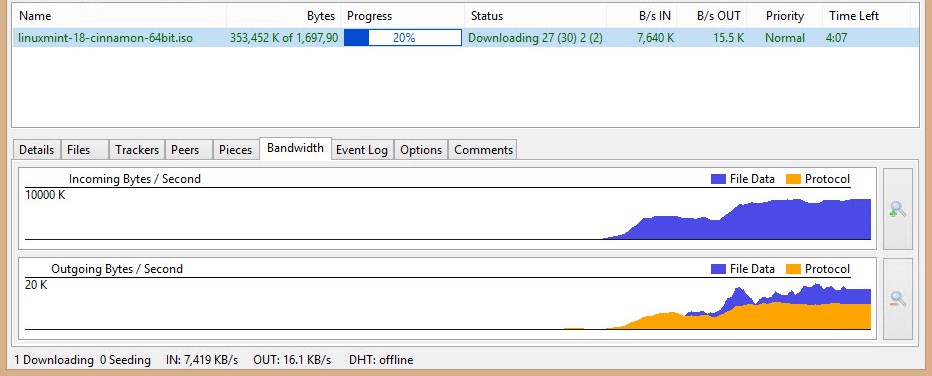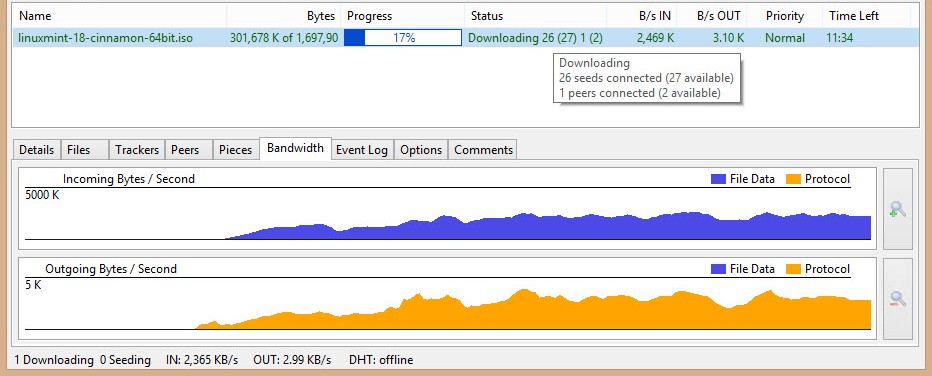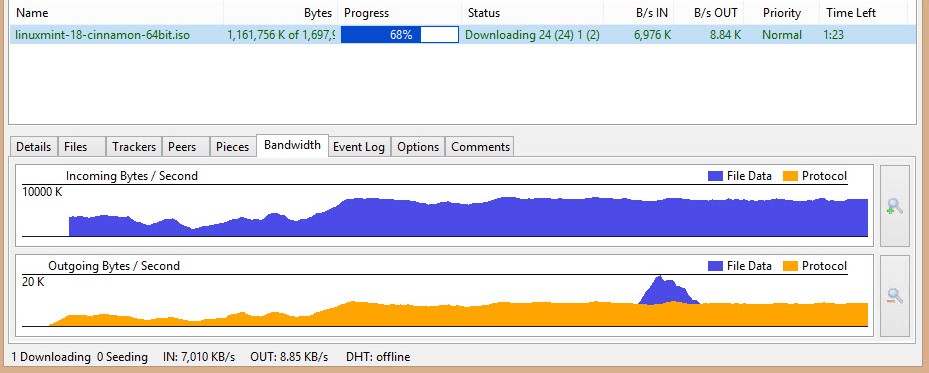 Mobile Performance
We tested out the Android application quite extensively and we really liked what we saw. The app itself is very well structured, easy to navigate, and provides sufficient options in our opinion.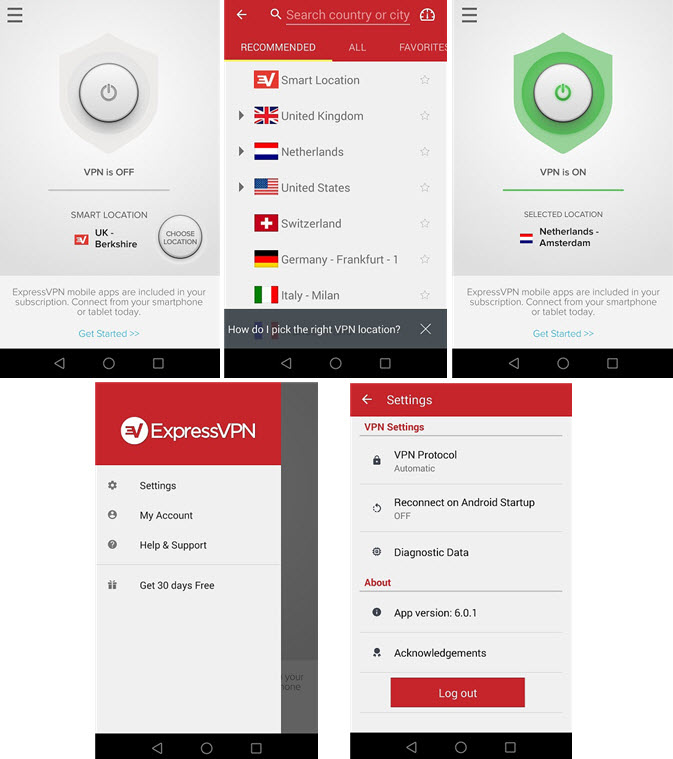 There are several options that help you customize your mobile experience, but we noticed that in some cases, the connection did not establish correctly on the first try. This might or might not be important for some users, but IP leaks can generally occur if the connection isn't properly established, so the best thing to do, is check your IP and DNS after establishing your mobile connection. Here is a list of the best sites to check for IP leaks.
The speed tests were nothing out of the ordinary, but the connection was solid, and apart from the connection issues mentioned above, we were pleased with the overall performance. Here are the speed test results for Germany and Italy respectively: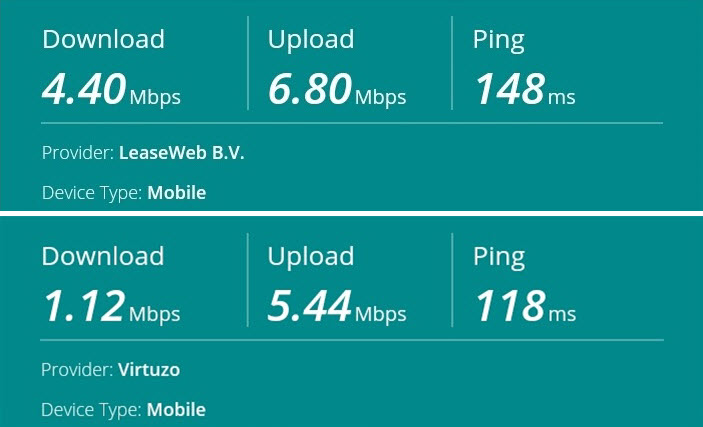 The Android application was easy to use, easy to download and install, and required no additional setup or configuration files, which is always a plus if you are looking for a click and connect type of service.
Prices
ExpressVPN offers three different pricing packages, with some significant discounts as the subscription period increases:

We have to admit that they are not the cheapest in the business, but seeing how they have a 30 day no questions asked money-back guarantee, you should be able to test out the service and decide whether the service is worthy of your buck.
There are several payment methods accepted, which is always a plus when it comes to VPN services, however, depending on the type of method you choose, your personal information will be available to them, so keep that in mind when making a purchase: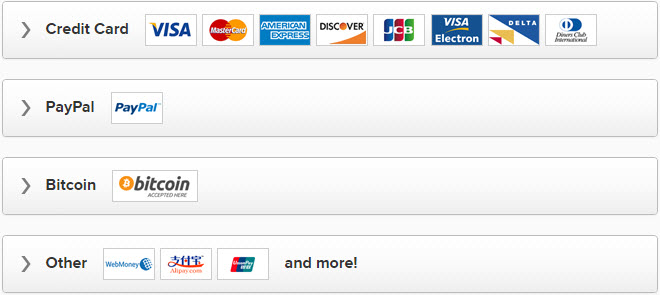 Support
The support team was not very helpful. They have a live chat system that vaguely answers your questions in a very impersonal and "template" way. All answers were provided in bulk, the messages were long and delayed, and related to a general topic rather that the matter at hand. Live chat should not be template oriented, as it doesn't facilitate communication like it does in e-mails for example.
We attempted to send a written request to the support team regarding a different issue using the contact form, but 24 hours later we have still not received an answer. Keep in mind that we used a paid account while requesting their assistance, and we had a pertinent yet not very difficult request for them. We assume that the matter will be handled eventually, but we would have like some sort of response after we sent in the request.
Setup guides, FAQs and tutorials can be found here, and they are somewhat helpful for general questions or issues, and we look at this as a plus, considering the experience we had with the customer support team.
Conclusions
In short, we feel that the product provided a satisfying experience, on both Windows and Android devices. We were able to run the applications needed without lag, browse at decent speeds without interruption and all this at a fair price. They improved quite a lot since we first tested them in 2014, and for this reason we are now giving ExpressVPN a better rating, of 7/10.
Here is a breakdown of what we liked and what we disliked:
Pros:
Good intuitive apps, easy to understand and use.
Fluid connections, no disconnects or interrupts.
Decent torrent download and browsing speeds.
Many servers and locations to choose from.
Dedicated DNS service for streaming.
30 days unconditional refund policy, no personal data required to sign-up, Bitcoin accepted.
Cons:
Some details about the service are questionable: they are incorporated in British Virgin Islands but rumor has it that they are based (physically) in Hong Kong. Also, the website isn't censored in China and this raises a flag, considering the fact that most VPN websites are censored even if they aren't popular.
Bad customer support experience. Very impersonal and robotized answers on chat, and the contact form took long to provide us with an answer.
Speed is not so good, far from "the fastest VPN on earth" as they advertise on main page.