Summary
Features -

8/10

Speed & Reliability -

6/10

Security & Privacy -

8/10

Usability & Compatibility -

8/10

Support & Documentation -

7/10

Value for Money -

8/10
Summary
IVPN is one of our recommendations due to the stability and performance of the overall service. Some aspects such as mobile applications and a little infrastructure work may be needed but we are very happy and since they have been constantly improving their service since 2009, we're optimistic that they will be on a continuous climb to the top.
Founded in 2009 by a group of security specialists, IVPN has grown to be loved and appreciated by many users. They have been improving the service and growing their customer base ever since. Based in Gibraltar due to better privacy laws, IVPN provides over 20 servers in 12 countries: Canada, Switzerland, Germany, France, UK, Hong Kong, Iceland, Italy, Netherlands, Romania, Sweden and the United States. It's worth noting that IVPN is also a sponsor of EFF.
Connection support is available for Windows, Mac, Linux, iOS, Android and several routers such as DD-WRT, Tomato and PfSense.
They generally have good reviews, but as with anything, there will always be mixed opinions, so we wanted to give it a try for ourselves.
Privacy and Logging Policies
IVPN has a very straight-forward privacy policy, no ambiguous phrasing or general wide-ranged rules. There is a paragraph in particular that arose our interest and it is as follows:
This means that even if somehow they would be compelled legally to give out a user's information, they would be unable to do so since they have no connection logs or store otherwise personal information. Being incorporated in Gibraltar, as mentioned before, also confers them a bit more legal coverage, as the laws are less strict and court orders are not easy to come by for such issues.
There are many other specific issues addressed in the privacy policy, which we would recommend reading here. We generally recommend reading the privacy policy carefully since there might be hidden information about data collection, third party involvement and legal obligations.
Software
The software provided by IVPN is intuitive and gives a lot of connection options right off the back.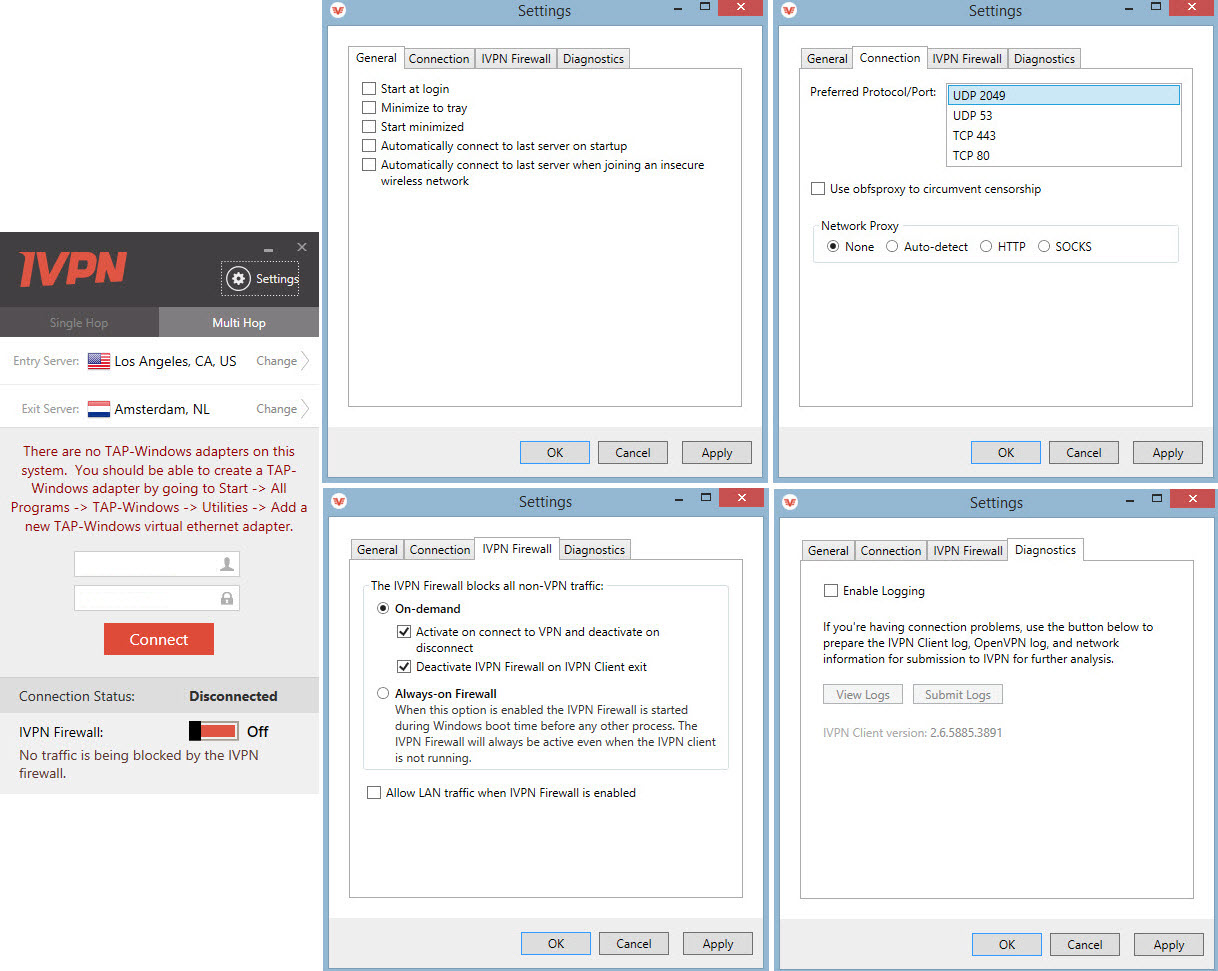 We had a fluid experience with the software offered by IVPN, no disconnects, and even though some of the configuration parameters needed setup, once it was up and running there were no issues.
The software has everything you would expect and need from a VPN service, and it can accommodate even the most basic of users due to its simplicity in design. We found this very refreshing, especially with many services offering eye-catching, flashy software that is not responsive or fully functional.
The software includes latency tests which come handy in choosing the servers to connect to, diagnostics (connection logs) and ability to send them to IVPN directly, a firewall/kill switch that's very effective and some more features. For DNS they use their own servers instead of 3rd party DNS services.
Features
As expected, we were unable to access Netflix as their servers are banned, but we were able to connect to BBC and stream reasonably. We wanted to mention this because there are a lot of questions about these particular services and we hope that this will answer most questions about media streaming.
IVPN provides support for Obfsproxy as a feature. Obfsproxy is a tor sub-project which can be used to obfuscate any traffic so that it becomes unrecognizable. This is extremely useful in countries like China, where the ISPs are using DPI (Deep Packet Inspection) technologies to recognize and block VPN connections.
Another very interesting feature that IVPN offers is Multi-Hop connections. Similar to the connectivity type in Tor, with the connection node being in one location and exit node in another. They are intertwined, and this feature brings an extra layer of protection for the user.
They are supporting OpenVPN for main connection types with their software or with configuration files. These are the security parameters: AES-256-CBC cipher for data encryption, SHA1 for HMAC and RSA 4096 for authentication. They also support L2TP/IPsec which is less secure and we noticed that they acknowledge this protocol weakness, making the users aware.
Speed
The service performed well in the speed tests that we ran. We have separated the tests into torrent and browsing speed tests and we will approach them individually.
Torrent Speed
Depending on the location, the download speed oscillated, but within a satisfactory range.
France: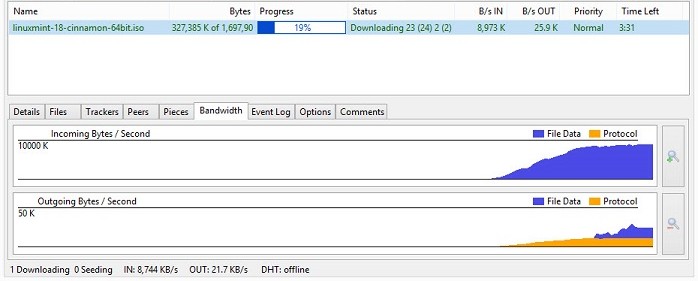 Iceland: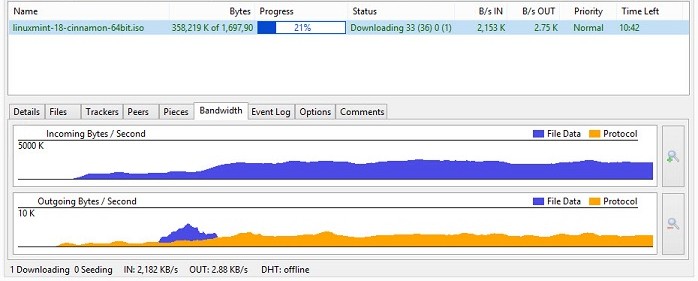 Netherlands: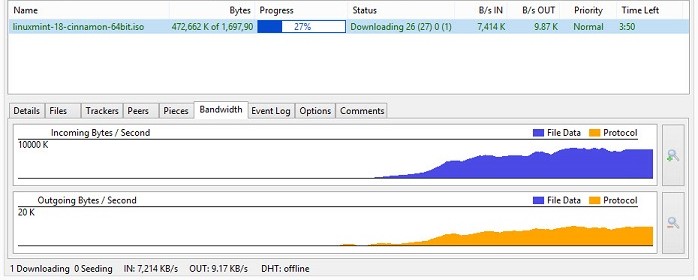 USA Miami: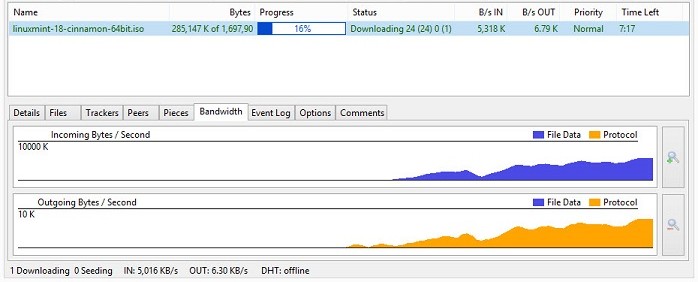 There were no disconnects, errors or tracker issues regardless of the time when we conducted the speed tests.
Browsing Speed
The browsing experience was great, there were no delays in load times regardless of the type of page loaded. The speed test results were decent, some locations came out with better numbers than others: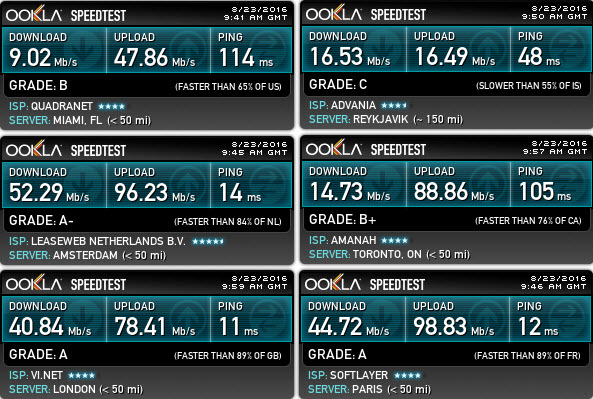 Mobile Performance
We tested the application on our Android device and the setup, while a bit tricky for the non-technical users, was explained well in the instructions offered on the website. It is notable that for Android users, they don't have a proprietary app but offer support through OpenVPN for Android, by Arne Schwabe, and you can find the setup guide here:
The mobile application connects smoothly and it even provides you with a connection log in order to see what parameters it used for that specific connection. This could be a rather useful feature in order to prevent some incorrect connections from the user's part.
The browsing experience was good on all tested servers, even though the speed test results varied. We were expecting a bit higher speeds to be honest, but functionality did not seem to be affected. Here are the results obtained for the servers from Canada, US West, Netherlands and France respectively: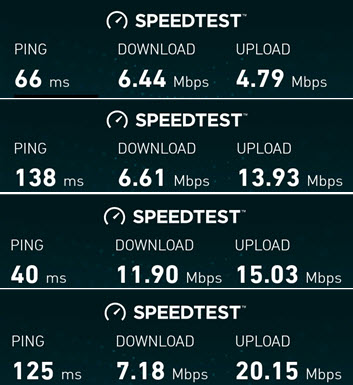 Prices
IVPN offers a monthly, quarterly, and annual plan, with substantial discounts as the subscription period increases.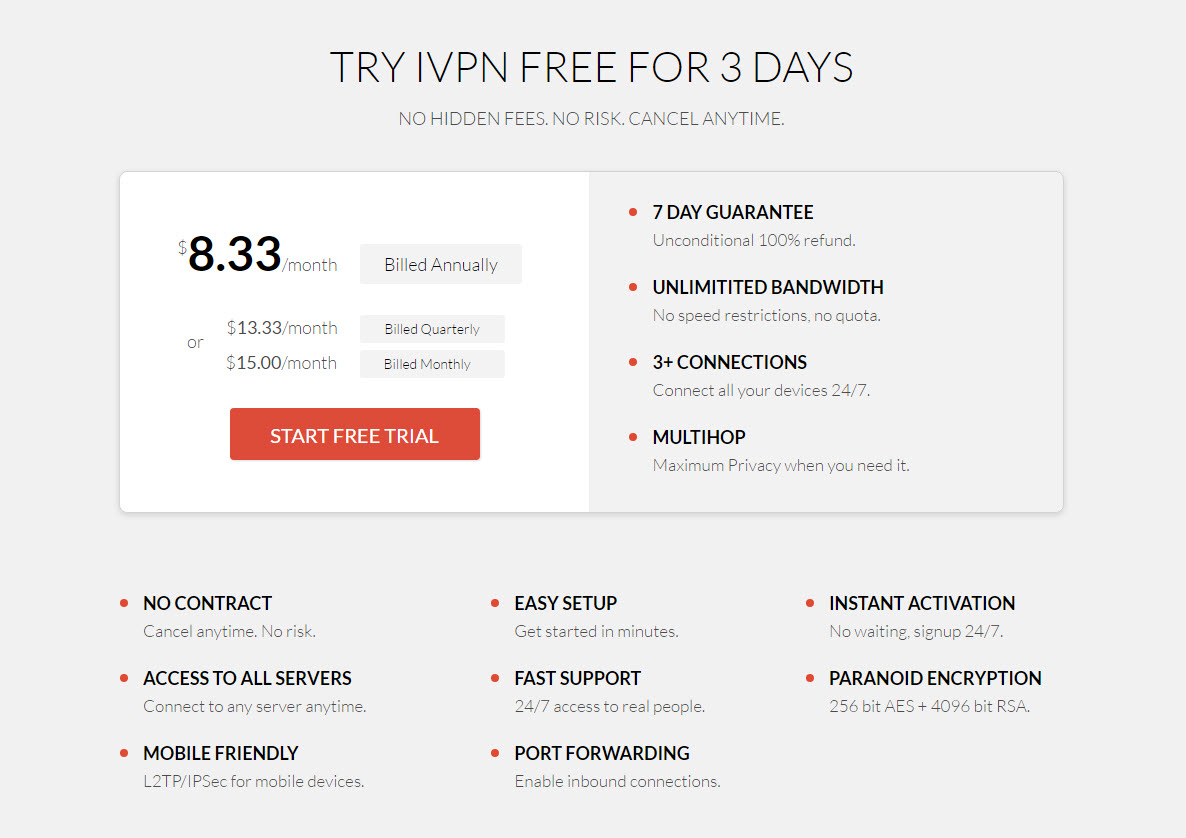 We have to mention that it's not the cheapest VPN service around, but considering all the features you get, if you decide to go for a full year subscription, the price is more than reasonable.
They have a 7-day no questions asked policy, which should give everyone more than enough time to test out all the specific features that they might need. Having a no questions asked policy really enforces the fact that IVPN provides a solid product aimed at a certain niche, and they are not reluctant to give customers a taste of their hard work, knowing that they will be satisfied with the service.
Please keep in mind that the pricing options are valid at the time of this review, for an updated list of prices, you can check out IVPN's page here.
Support
We addressed a technical question to the support team, regarding a connection error we were receiving due to the system settings we had in place. The response was prompt (a couple of hours), and the information provided led us to resolve the issue. It wasn't a very difficult and uncommon issue, but we wanted to see how quickly a response would be generated for the average user encountering an average issue.
Overall they were very polite, the e-mails were well structured and written in proper English, which leaves us with a very good impression as far as the technical support team goes for IVPN.
Conclusions
In short, we had a very good experience with IVPN. There were no glitches, issues or software-related problems, the customer service team was on top of our request and the mobile applications we tested performed well. Here is a quick break-down of what we liked and what we did not:
Pros:
Intuitive and functional applications for Windows and Mac, effective kill-switch/firewall.
Clean interface that allows the user to take full advantage of all available features without too much of a hassle.
Solid service, privacy oriented.
Clean website, well-structured information, setup instructions and awareness articles.
Stable connections, great browsing experience.
Features such as Multi-Hop and Obfsproxy available.
P2P available with no encountered restrictions.
Great customer support. Helpful and prompt team.
Cons:
They offer a third party application instead of an Android or iOS solution. They do not provide their own app.
We would like to see more servers and locations available in the future.
Speed is satisfactory, but could be better. They seem to need more servers as quite a few are overloaded according to their Servers page.
Prices are a bit high unless you go for the full year subscription which provides a considerable discount.
As final notes, IVPN deserves a rating of 7.5/10, meaning that it is now one of our favorite VPN services and we highly recommend them.