Summary
Features -

8/10

Speed & Reliability -

8/10

Security & Privacy -

4/10

Usability & Compatibility -

7/10

Support & Documentation -

4/10

Value for Money -

5/10
Summary
ExpressVPN doesn't seem to be focused too much on privacy. They have a shady privacy policy and some security flaws that should make you think twice about acquiring the service. We feel that it's very important that you have a clear understanding on your VPN providers' logging and privacy policies. There are other issues such as the price and the customer support service that drag the product down even more.
ExpresVPN is a VPN service incorporated in British Virgin Islands. We had to do some digging in their website to find where their company is incorporated.
Features
ExpressVPN provides a privacy service with servers in many locations, over 45 countries to be more precise. Their selection of countries cover all continents and it's hard to be anywhere in the world not finding a server location nearby. Two connections are allowed at the same time with a single VPN account.
Encryption and protocols wise, they provide OpenVPN, L2TP/IPsec, SSTP and PPTP. While the later is too not secure, the rest are ok-ish: we were quite disappointed to see that their OpenVPN implementation is still using the default Blowfish 128-bit encryption with RSA-1024 keys. 1024-bit keys are very weak in today's standards. Furthermore, they advertise "Strong Encryption" and "256-bit" on their website. That's quite misleading since their software is using OpenVPN with 128 bit encryption and even if L2TP provides AES 256-bit encryption level, we're sure that most of their customers are using the branded software with OpenVPN. L2TP/IPSec can be setup manually.
We asked them for details on OpenVPN encryption strength and the the support staff didn't seem to know what they are using, insisting that it is 256 bit encryption or dodging the question replying that it can be "TCP or UDP" (?!).
Encryption strength:

Software
They provide a proprietary VPN connection software for Windows, Mac and mobile platforms (iOS, Android) using OpenVPN protocol. We tested their software for Windows, Mac and Android and we found it quite decent. It is easy to use and does a the job for the average user who wants to get connected quickly, after selecting a VPN location. But for an advanced user who looks for more advanced features like setting the encryption ciphers, connection ports, and other misc. settings it's not useful.
What we usually like to see when testing a VPN software is simplicity, but also advanced features "hidden" from the average user, yet available on demand. ExpressVPN's software provides simplicity only.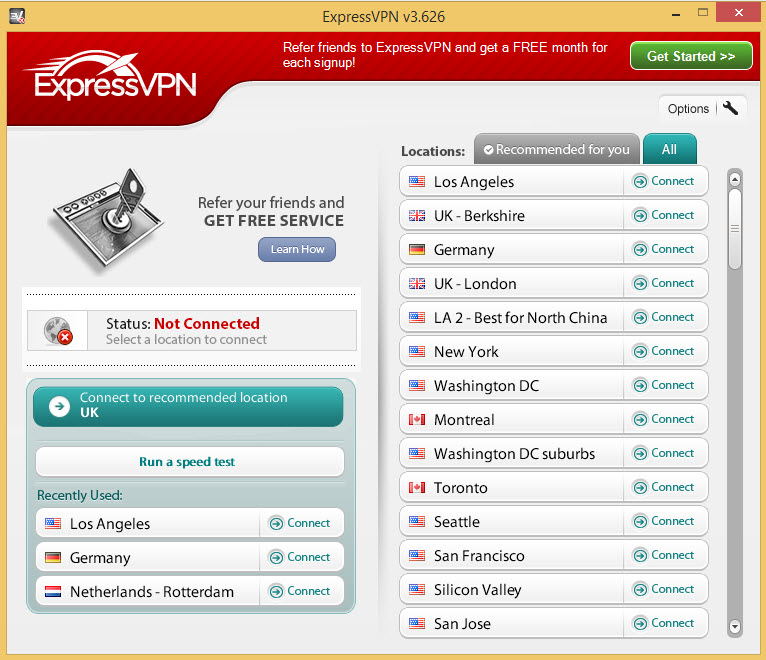 Pricing
ExpressVPN provides 3 billing plans: monthly plan costs $12.95, 6-months plan costs $59.94 and a full year costs $99.84. The yearly saving is 35%, or $8.32 / month.
Payment types include Paypal, Bitcoin, WebMoney, Paysafecard and more.
They include a 30 days refund period and that's a good thing as you have enough time to test the service. They do not ask for personal details when you sign-up, and that's a plus.

Logging and Privacy
According to their privacy policy, they log connection data but not activity data. They don't provide information regarding the period of connection log keeping. They will collect user data in case of legal requests:
In addition, we may collect the following pieces of data: times when connected to our service, choice of server location, and the total amount of data transferred per day. We store this to be able to deliver the best possible network experience to you. We analyze this information generically and keep the data secure.

We do not log or store private information about individual user activities on our network. However, we may be required to collect or disclose information about individual users in order to comply with a valid legal request from law enforcement officials provided to us in connection with a criminal proceeding or investigation.

Our software may send diagnostic data to a third party analytics provider for the purpose of identifying connection errors and possible bugs in our application. The information collected is generic in nature and does not contain personally identifying information.

We use third party cookies and website analytics tools to track sales promotions or advertisements and to understand which pages on the Site receive visitors.
Speed and Reliability
Speed was good in most of our tests, exceeding 80 Mbit/s in some locations. Speaking of reliability, we had problems connecting to some VPN end-points a few times.
Speedtest results: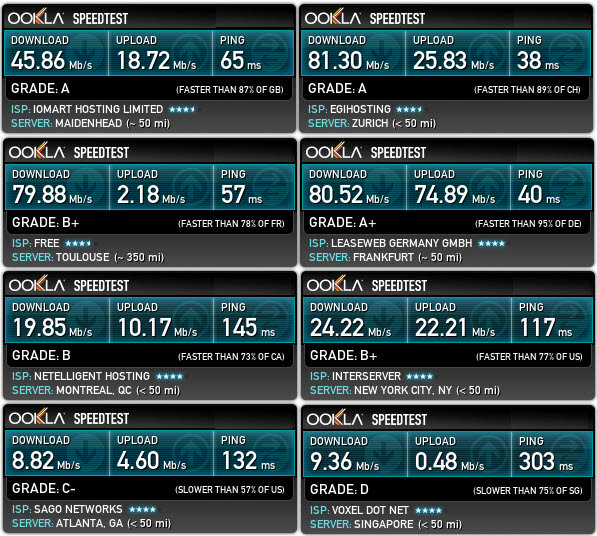 Support
ExpressVPN provides support via email ticketing and live chat. Their live chat operator wasn't able to answer some basic technical questions about their encryption strength, so we assume that the chat is used for sales and some basic troubleshooting and service features.
Conclusions
The good:
Large selection of VPN locations; almost 50 countries
Good software, very easy to use for the average user
Good speed
Bitcoin accepted
Torrent allowed
30 days money back guarantee
The bad:
weak encryption (OpenVPN)
too pricey compared to competitors
support not too knowledgeable
privacy policy is questionable
lots of tracking tools on their website
Final notes
ExpressVPN is a good choice for anyone looking for a very large number of country locations. Pricing is too high for what they offer in terms of security and privacy, as both require some serious improvements. Though it is a good choice if you are looking to unblock streaming sites in many countries and torrenting without worries, but if high security and privacy are your priorities, there are better services to suit your needs. This being said, we rate ExpressVPN at 6/10. We may reconsider the rating if they are willing to improve the service.