Summary
Features -

7/10

Speed & Reliability -

7/10

Security & Privacy -

5/10

Usability & Compatibility -

6/10

Support & Documentation -

5/10

Value for Money -

6/10
Summary
Proxy.sh offers a fully featured VPN service with some strong points such as many locations, payment plans, protocols and proprietary software. They do seem to be a bit too transparent, especially with the notice they promise to send out in case of server monitoring. The software also needs a bit of improvement, but apart from that we were very happy with their service.
Proxy.sh is an offshore VPN service that provides cheap, easy to use VPN. We searched for their incorporated address which we got via nic.sh whois and we found several offshore companies registered at the same address. So proxy.sh is probably one of the many companies incorporated via an online offshore company registration service.
Their website is uncluttered and well designed, and it presents their offers and services in a very friendly manner.
Features
This provider hosts more than 200 servers in 40 different countries, on 5 continents (America, Europe, Asia, Africa and Australia). All servers can be used with all major VPN protocols (L2TP/IPsec, PPTP and OpenVPN) on all major OS'es, both desktop and mobile. You get full support and configuration guides for devices running Microsoft Windows, Mac OS X, iOS, Android, Linux, BSD and several home appliances like Sony Playstation, XBox, DD-WRT Routers. They also provide a CGI Proxy that allows users to browse anonymously, embedding the websites in proxy.sh script page.
Encryption: OpenVPN is using 4096 bits RSA keys and 128 bits Blowfish cipher. The encryption keys are regenerating every hour (a method called forward secrecy). PPTP provides 128-bit MPPE encryption and L2TP/IPSec is using AES cipher with 256 bits keys.
They have a network status page where users can see the bandwidth usage on servers, as well as availability of VPN services (sample below):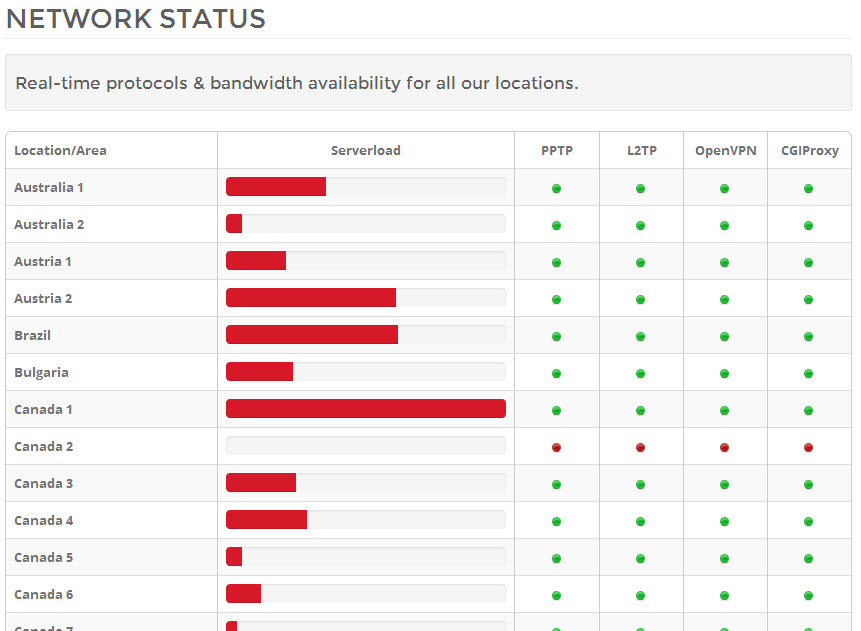 Some other features worth mentioning: non-logging chat services (XMPP and cryptocat), their own DNS servers, a SOCKS5 proxy, an anonymous Pastebin clone and a Tor exit node.
Software
proxy.sh users can download and install a custom application for connecting to the private network of choice. The app is called SafeJumper and can be installed on Windows, Mac OS X (10.5+), Android or Linux based systems. It provides the user with fairly basic options such as choice of location of VPN server, TCP/UDP port configuration for the OpenVPN connections and saving of configuration. Some basic statistics are available like the connection time and traffic volumes.
Of course, for those who want to use the classic OpenVPN software or options such as OpenVPN connect, proxy.sh has readily available configuration files for OpenVPN.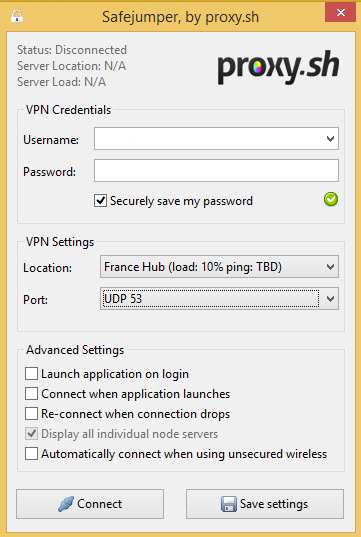 As you can see in the SafeJumper screenshot, the software has some basic yet useful options. It also displays VPN server information like the current load percentage. The software has System Tray shortcuts providing faster shortcuts to Connect/Disconnect, switch VPN servers, check logs and so on (see below).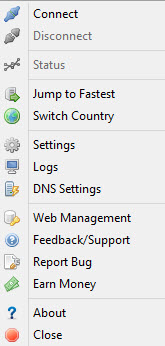 Pricing
Their payment plays are very flexible so you have the option of paying for just 3 days of access up to dedicated servers with full support.
You get a $2 / 72 hours deal, ideal for roaming scenarios, with access to 15 servers in 2 countries (Ukraine and U.S).
The Basic plan starts at $5 / month and allows you to connect on 50+ VPN locations in 5 countries: USA, Ukraine, Germany, Russia, France and Netherlands.
The Solid plan will set you back $10 / month (but will settle at a fair $7.50/mo if you buy a whole year's subscription) and gets you access via 200 servers in 30 countries with unlimited bandwidth usage.
The Dedicated plan is the most expensive one at $25 / month but thus nets you a 200 Mbit / second dedicated VPN server in a location near you (USA or Europe only), with a fixed amount of bandwidth. Please note that this plan does include all the benefits of the Solid Plan.
Options for custom-tailored solutions are available by directly contacting their support team.
The payment options cover pretty much all popular payment methods out there, ranging from support for all major Cards (Visa, Mastercard), PayPal, PaySafe, WebMoney to Bitcoin transfers and SMS and fixed-tax phone calls options.
Logging and Privacy
Their Logging Policy is very straight forward saying that they log NOTHING.
WE LOG NOTHING

All our tunnels are fully non-logging and will keep you anonymous 24/7.
They say that they bring their own kernel to each deployed server and that all server applications run from RAM, which are erased upon every power-on cycle. We found out that they are into some odd monitoring practices: Proxy.sh VPN Provider Sniffed Server Traffic to Catch Hacker
We advise you to visit the link above and read the full transcripts but, in short-resume, we understood that proxy.sh enabled a traffic monitoring & logging application, Wireshark, on one of their US-based servers, because one of harassing complaint.
Readers' opinions are segregated in this matter and while some of them believe that this is a good thing to do, as it represents a stand against cyber-bullying and can lead to the prevention of such crimes, others see this as a very disturbing invasion of someone's privacy.
As for our opinion on their practice, we believe that it rather sounds like a PR stunt. Should they be against an abusive activity and really want to find the bad guy, then it's quite obvious that telling everyone – including the bad guy – that they're trying to find him, is an ineffective practice. So by notifying everyone what they're up to will just force the abuser to lay low, hence the network monitoring will be useless and its own purpose will be to serve as a PR stunt, highlighting their "100% transparency".
We value your opinion on this so go ahead and discuss it in the comments sections.
proxy.sh has a transparency report where they give full info on DMCA and abuse requests of all kind. The reports are published after 12 hours since they've been received. We find this initiative to be of good interest for their customers and we admit that such transparency reports are a rare occurrence in the VPN industry. Browsing through some of their transparency reports we noticed that their technical measures to deal with copyright infringement complaints is questionable from a technical perspective, like for example:
Action that has been taken from Proxy.sh: Because the server is located in a jurisdiction with precise intellectual property laws, we have reset accounts who forwarded port 1890 (nothing may identify a single account) and we have blocked port 1890 via Firewall.
Blocking dynamic or forwarded ports, especially a few months after the copyright infringement occurred, is useless. But the action serves its purpose of actually "doing something" instead of ignoring the DMCA notice, so it's all good!
Speed and Reliability
Speed was quite decent in most of our tests. Nothing to write home about, but decent nonetheless. We reached 10-30 Mbps on average in most of our tests, peaking at 40 Mbps.
Some speed test samples: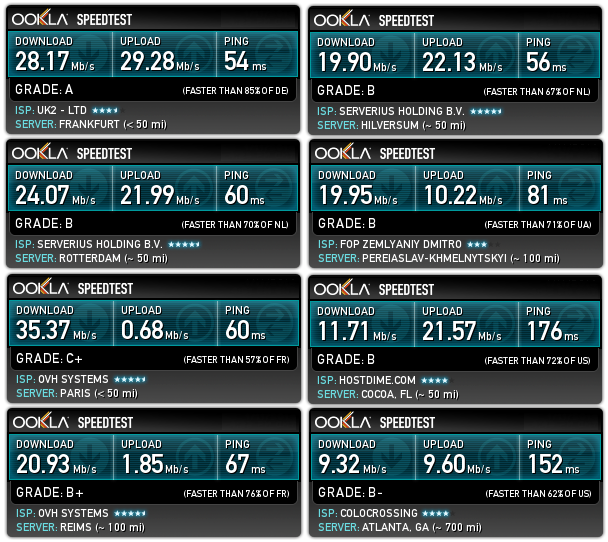 Torrent speed was better than speedtest.com, slowly getting to -and eventually topping-out at 4MBps: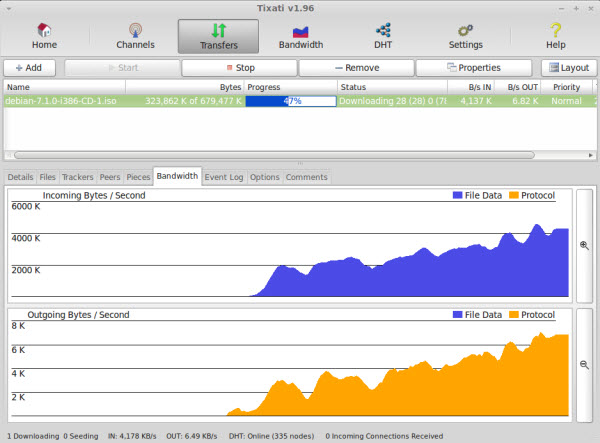 Reliability:
We experienced a few connection drops during our time with them and some servers were not reachable. Or we connected to some servers that were actually from different locations. Their software on Windows caused us some troubles: after changing some settings, it didn't start anymore and a startup error occurred. But we had no problem with the Linux version.
Support is provided 24/7 by means of a ticketing system with a 4-hours response time. We opened a few tickets and they replied after an hour, on average. No live chat options available.
Conclusions
The good
Many VPN locations across the globe. It's hard to find a country which doesn't have any VPN servers nearby.
They allow P2P in several locations and accept many payment options, including Bitcoin.
Many extra-features such as XMPP, Proxy, SOCKS.
Company incorporated in an off-shore.
VPN software available for all modern Operating Systems.
Decent pricing.
The bad
Notifying users of upcoming server monitoring is likely a PR stunt meant to highlight their full transparency.
Software is not that good (on Windows) but it gets the job done. We liked the Linux version.
Maybe too many pricing plans.
Overall, proxy.sh seems determined about getting in the top league and they seem to be on the right track: decent software for all platforms, many server locations, good pricing. But we believe some of their practices are made just to boost PR, which we obviously don't like. Perhaps we are wrong and time will tell. This being said, if you are only looking for an easy to use software, useful extra-features and tons of servers in many locations, then you should consider these guys. Our rating for proxy.sh is 6/10