Summary
Features -

5/10

Speed & Reliability -

6/10

Security & Privacy -

6/10

Usability & Compatibility -

5/10

Support & Documentation -

3/10

Value for Money -

5/10
Summary
BlackVPN needs a lot of improvement when it comes to customer support and the service itself. There aren't very many server locations or features available, and even though the performance was good, the service is simply incomplete.
BlackVPN is based in Hong Kong since 2012 due to lenient laws and a strong sentiment for freedom of speech and anti-big brother oppression. Ever since the Snowden incident, the owners understood that Hong Kong is a place where it can be a lot easier to avoid secret court orders to install backdoors and monitoring laws, as many others have.
The service claims to have no traffic logs, no connection logs and no DNS logs. The only information kept in the system is the e-mail address, held for support and payment purposes.
The sign-up process was indeed fast with a minimum of data required. Once the service was activated, we received our credentials via e-mail and we were never prompted for our e-mail address again when accessing the service, whether it was on Windows or our mobile devices.
They also offer a 14 day money-back guarantee regardless of the reason for the cancellation as long as their Terms of Service wasn't breached or there was no refund issued previously. There is no restriction on traffic amount and they allow 3 simultaneous connections. Speaking of simultaneous connections, we found it confusing that on the main page they claim to allow 3 simultaneous connections, yet in the ToS page they claim to allow a single one.
Privacy and Logging Policy
As previously stated, BlackVPN has a no-log policy, claiming that there is no personal information needed besides the e-mail address needed for sign-up.
There are some mentions and restriction regarding the usage of the service, so we strongly recommend reading the terms of service which should clarify any questions you may have. If that still doesn't clarify it, you can always contact the support team by opening a ticket and they will answer any and all questions.
It is worth noting that even though they claim to have a no-logging policy, they acknowledge in their ToS page that they may monitor traffic in order to identify users involved in copyright violations. We find this quite worrisome as there are other ways to deal with such problems without monitoring users' activity.

Software
There is no proprietary Windows software, BlackVPN has a configured OpenVPN installer that sets up your BlackVPN parameters automatically so you don't have to copy the configuration files manually. We appreciate the effort, and we had no issues whatsoever installing or using their service, although, we would have loved to see a stand-alone application with more configuration options. We strongly believe that software should be engineered and refined for independent use. This will ultimately provide the best custom experience and it will allow the customers to benefit from all available features, without running into restrictions or lack of features that the open-source clients have.
Features
BlackVPN offers 15 servers in 14 countries.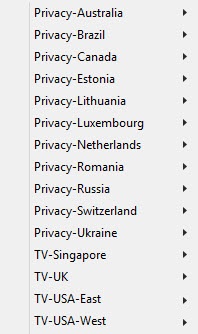 This may not seem like a lot, but the functionality is much more important than the number of server locations available. This of course doesn't mean that we wouldn't have loved to see a higher number of available server locations, it's all a matter of whether these locations server one's needs or not.
Netflix and Hulu are available on a couple of servers such as TV-UK, TV-USA East and TV-USA West. We did not test out all the servers, but out of the ones tested, these had access to the streaming services mentioned above. The speed was good, there was no lag or connection issues, and we really appreciate any service that still has Netflix available due to the extended measures they took in the last few months to ban VPN and Smart DNS services from accessing their content.
As far as the functionality goes, the features are restricted to those offered by the OpenVPN GUI, and you should keep that in mind when opting for BlackVPN's service.
BlackVPN recommends to use OpenVPN for best security, and it uses 4096 bit RSA keys (since 2014 when it was upgraded from 2048 bit) and AES-256 encryption. There are some other options explained which might interest you, in which case you should read this thread on their FAQ page.
They also support L2TP/IPsec and PPTP connections and they highlight the fact that those are less secure than OpenVPN.
All our connection tests were made with OpenVPN.
Speed
We ran several browsing speed tests, and here are the results that we came up with:
We were mostly satisfied with the results, of course, as always some servers provided better results than others, but the browsing experience was decent, even on the Austrlia server for example, which scored the lowest, we were able to browse without interruptions and even stream media fluently on sites such as YouTube.
As far as torrent download speed goes, we were not impressed by the results. They were pretty decent, we can give them that, and the connection was very stable.





We downloaded considerable chunks without interruptions, fluctuations in speed or IP leaks. We mention this aspect because OpenVPN GUI doesn't support the kill-switch, so that may be a problem in case of an unexpected connection drop.
Mobile Performance
We tried testing the BlackVPN mobile software on Android 4.4.2 and we were unable to get connected after entering the e-mail address. We spoke to the support team and apparently there was a problem with the application that we installed (even thought it was installed from the Google Play Store). They sent us another APK file, we installed it and it was now the correct version but the connection could not be established. The final verdict from the support team was that for some reason the application was not communicating with the Google Play Store and that there is nothing more that can be done by them. We will try their mobile app at a later date. However, setting up OpenVPN for Android app with their server configuration files was easy but the speed wasn't too good.

Pricing
BlackVPN offers three pretty standard pricing plans as far as subscription period goes:

We would normally want to see a shorter period of time available for testing purposes, or maybe a free trial that would allow customers to test out the features (or at least some feature) before committing to a subscription plan. In this case, BlackVPN offers a free trial only for the Android app, and a 14 day no questions asked money-back guarantee for its overall service. That's a pretty strong statement about the trust they have in their product. There are a lot of VPN providers that offer money-back guarantees but there are usually some pretty strict restrictions regarding usage, traffic limit or number of established connections. This policy sets BlackVPN apart from many similar services that cannot provide the same guarantee for some reason.
The prices are quite high in our opinion, considering the fact that they do not provide their own VPN client software, which means they are lacking some important features. Also, we would have liked to see a bit more variety as far as the duration goes, such as 1 week, 6 months etc. and a more extensive discount for longer term subscriptions.
Support
The technical support experience we had with BlackVPN was unfortunate to say the least. We had the issue mentioned above with the Android application not working on our Android 4.4.2 phone. The chat with the support team lasted for more than an hour, and the resolution was that we have to use the third-party open source app (popular client OpenVPN for Android) because "for some reason the phone is not communicating with the Google Play Store".
We strongly feel that the support team gave up to easily without investigating the issue thoroughly. The representative that assisted us was very intrusive, lacked professionalism and was snappy at times even though we were as close to the best and most knowledgeable customer you will ever get as a support representative.
We would strongly recommend trying out the Android application before committing to a subscription. It has a three day free trial period, so you should get a pretty good idea if the application is bugged in your case or if the service itself suits your needs.
The customer support experience left us with a poor impression on the interest in technical support given by BlackVPN. It's true that there are probably not that many cases where you will need their assistance, but it so happened that we needed them for a more serious issue and not only were they not able to rise up to the challenge, but they also lacked the professionalism to direct us into a different direction or have us wait for a resolution.
Conclusions
In short, we feel that BlackVPN offered a sturdy but incomplete VPN solution. The features that work, actually work well, but there are many features and aspects that lacked. There are some things that we liked and some that we didn't, so here is a quick breakdown:
Pros:
Easy sign-up with a minimum of personal information required for billing and support services.
Stable connections even though the speed was not amazing.
Transparent policies and a good description regarding the organization itself.
Netflix and Hulu are available on several servers at the time of the review (October 2016).
14 day money-back guarantee.
Many payment options available including Bitcoin.
P2P allowed in most of their locations.
Cons:
We would like to see more server locations available.
Speed test results were quite mediocre, nothing out of the ordinary, some locations even scored way below the low-point accepted.
The customer support experience was horrid, we fixed most of our issues by ourselves and got a very impatient representative to assist us which led to an unfortunate resolution.
There is no proprietary desktop VPN application, but we do have to mention that BlackVPN is not leaving the users on their own as far as configuration goes, providing a hybrid installation that includes the configuration files.
According to their Terms of Service, they may monitor users' activity to identify and suspend copyright infringing users.
All things considered, we give the service a rating of 5/10.