Summary
Features -

7/10

Speed & Reliability -

7/10

Security & Privacy -

6/10

Usability & Compatibility -

7/10

Support & Documentation -

8/10

Value for Money -

7/10
Summary
IPVanish is a very strong VPN service with just some minor issues that we don't consider very important. We're sure they will be fixed once the infrastructure is improved. Overall we were very satisfied with the service.
Update, August 2016: check out the updated review of IPVanish VPN
IP Vanish is a VPN provider with deep roots in network management, content delivery and IP services. With over 15 years of experience as web services providers, they boost about offering "the absolute best VPN service" (direct quote from their website). Let's see how they stack up against the competition.
Features
IP Vanish offers OpenVPN, L2TP and PPTP protocols on all major OSes, both mobile and desktop without any bandwidth or transfer caps. An interesting fact is that they offer up to 2 (two) concurrent connections, at any time, as long as one of the two devices is connected via OpenVPN.
IP Vanish has over 90 servers in 41 countries, world wide, including servers in the U.S, Canada, U.K, France, Belgium, Denmark, Germany, Australia, Switzerland, Japan and so on.
They offer some custom-build DD-WRT routers, preconfigured for their service, from the likes of CISCO, NetGear and Asus. The gear ships world-wide and can be purchased form flashrouters.com
They provide a proprietary VPN connection software that works on all major desktop OSes (Read: Windows XP Service Pack 3 or later, including Windows 8 and Mac OS X 10.5 or newer). The software is pretty straight-forward (a thing we are fond of) and allows you to choose both the server you wish to connect to and the protocol used.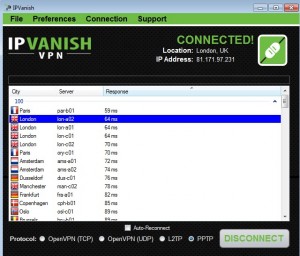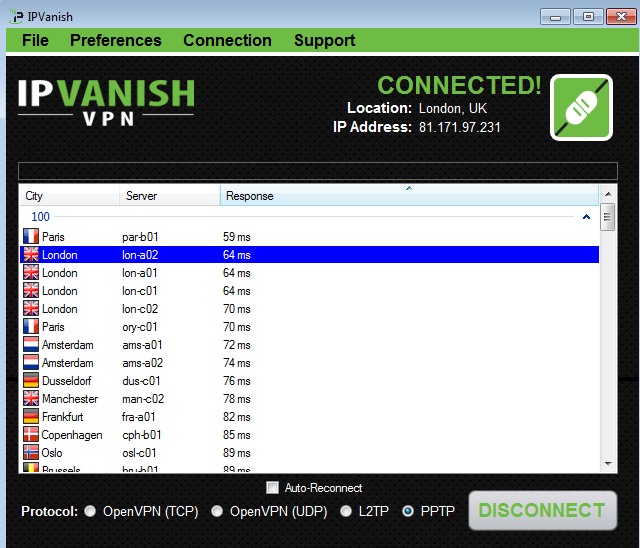 The Open VPN connector uses TUN virtual network driver, which is Layer 3 Tunneling. The preferences panel has check marks for starting the app at OS start-up and to remember user credentials.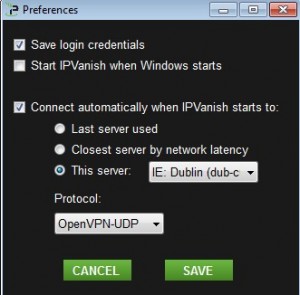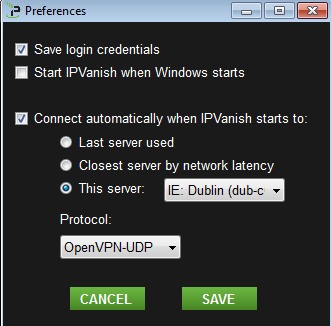 There's a Connection Log available in the user menu along for those who want to keep an eye on the usage of the service and potential connection problems. The "IP Address Checker" in the user menu is a nice addition as it allows you to check your IP each time you connect to a new server, in order to make sure the connection was successful. However, it is not 100% accurate as it displayed our real IP several times after we connected to the VPN, but when we checked online we were indeed between the VPN – 3rd party IP checking tools showing IPVanish VPN's IP address. We suggest you always check your IP online, no matter what VPN connection software you use.
In all fairness, the software could use some "polish" in the U.I and U.X. areas (uneven fonts, small input boxes, some options in the menus are not documented properly) as the functionality aspects are well implemented and the application works as-expected.
We didn't like the fact that it is very slow at start time. It took anywhere between 10 and even 20 seconds to start the application on a decent PC. That's more than a full reboot time. We investigated the startup process to find the reason why it is taking so long to start, so we started Wireshark (a packet analyzer tool) to see what happens, and we discovered that IPVanish software is sending many ICMP requests to all VPN servers in order to display their status and response time in the servers status.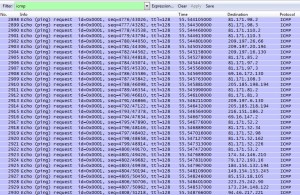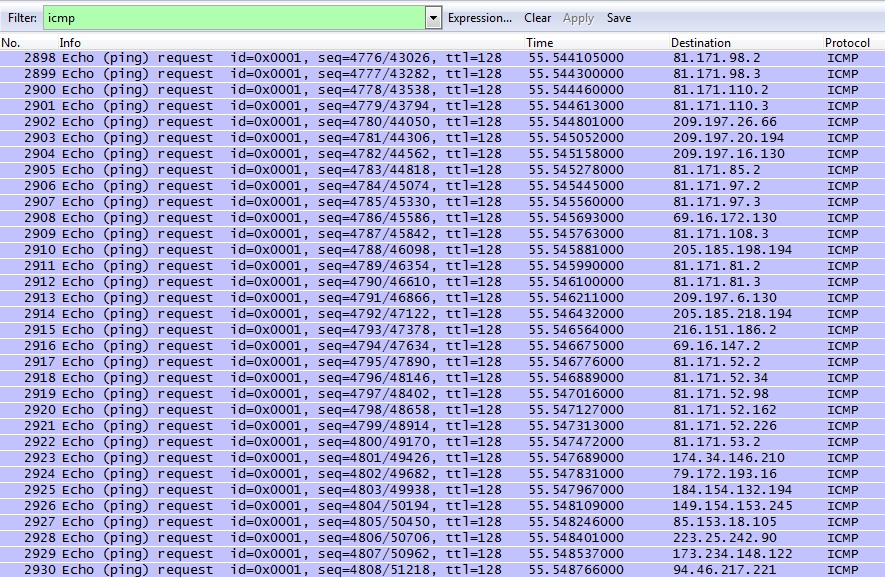 The feature of their VPN software of providing a VPN servers status based on ping is useful, so it is quite easy to select a VPN server that is closer to your location based on routing and network status. It's common knowledge that a server located at a smaller distance geographically is not necessarily the fastest in terms of speed, but rather a server with better routing / network transport. This is why a better ping response would usually suggest better a faster network routing.
Pricing
The pricing options start from $10 / month with offers on saving up to 46%, if you buy a year's subscription  currently quoted at $77.99
We like the fact that they offer a single plan, without any limitations for the user. Taking into account the number of servers and countries, pricing is not bad at all.
Logging Policy
The IP Vanish website clearly states that they only log connection times, IP addresses used for connection and the bytes transferred and that they DO NOT log any activity of users. The Privacy Policy has no mention on the duration for which these logs are kept.


Reliability and Speed
OpenVPN connections are quite stable and the speed is somewhere around average, comparing to a non-vpn direct connection speed maxing out at 100 mbps (over 10MB/s).
Here are some speed results of several tests on OpenVPN UDP and L2TP, at different times, in different days:
US VPN Servers: 600KB/sec, 1.6MB/sec, 1MB/sec, 1.5 MB/sec (the most common speed on US Servers was 1.5MB/sec). 4MB/sec was the best we got
Canada VPN Servers: 3-3.5 MB/sec
Germany VPN servers: 1.2 MB/sec, 3 MB/sec, 8 MB/sec, 6 MB/sec, 10MB /sec
France VPN Servers: 1.3MB/sec, 3 MB/sec, 3.5MB/sec, 4.6 MB/sec
Austria servers: 670 KB/sec, 1.3 MB/sec
Czech Republic VPN servers: 150-300 KB/sec, 400-500 KB/sec
UK VPN Servers: 3.5 MB/sec, 4 MB/sec, 3 MB/sec
Belgium VPN Servers: 6 MB/sec, 8 MB/sec
Denmark VPN Servers: 1MB/sec
Switzerland VPN Servers: 680KB/sec – 1MB/sec
Romania VPN Servers: 1.2 MB/sec, 2-3.3 MB/sec, 5 MB/sec
Italy VPN Servers: 3MB/sec
OpenVPN TCP was obviously slower in our tests, averaging between 600KB/sec and 1.5MB/sec regardless of VPN server location.
However, during our testing we found a major problem with their PPTP implementation. Some websites could not be accessed at all through PPTP and we are almost certain that the problem is caused by a misconfigured MTU parameter on their PPTP daemons.
Some of the websites we couldn't access are:
telegraph.co.uk, guardian.co.uk, abcnews.go.com, newportnewstimes.com, theverge.com, www.reuters.com/news, www.mercurynews.com/news and even facebook.com in some tests.
It depends what VPN server you are connected to. Some of the sites mentioned work on some VPN servers while connected on PPTP. London (lon-a02) is one of many VPN servers on which you can't access the sites listed and we are sure that there are a lot many other sites that can't be accessed because of the same problem.
In this regard, we believe that IPVanish's PPTP protocol is poorly implemented and they did not test it enough. We will report this problem to IPVanish and post an update as soon as they fix it. The fastest their fix goes in production environment, the better.
UPDATE (07/15/2013): IPVanish informed us that they fixed the PPTP problem. 
Conclusions
The good: Pricing is good, they have a lot of servers and IP addresses, and the speeds are very good. It's also good that they allow two VPN connections at the same time using the same account. The setup instructions on their website are also easy to follow and well written.
The bad:  The software requires some improvements and their PPTP implementation is not done properly but we expect them to fix it fast. We assume that they focused all their efforts on the OpenVPN implementation, which is by far the most used protocol, and they didn't test PPTP enough. In current state, we dare to say that PPTP is quite unusable and IPVanish should do something about it.
We give IPVanish a rating of 7/10 among paid VPN providers. We're going to update the review if they fix their PPTP service.