Summary
Features -

5/10

Speed & Reliability -

5/10

Security & Privacy -

2/10

Usability & Compatibility -

7/10

Support & Documentation -

5/10

Value for Money -

6/10
Summary
Astrill VPN is not very trustworthy due to some privacy policy issues that are explained in this review. Along with the price required for the extra features, it really makes you think twice when comparing it to other VPN services.
Astrill VPN was founded in 2009 and is registered in Seychelles, though we believe they are physically located in Asia, likely Hong Kong. Since their appearance on the market, they became quite popular especially in China, where it is arguably one of the most popular VPN services.
They do not require too much information at sign-up, just the payment options when you choose to go for one of their plans. They do accept bitcoin, so you can narrow down the information you provide to them and payment gateway operators even more.
Astrill VPN advertises 270 servers in 49 countries and they claim to be the leaders in the global Personal VPN market today, but that's such a common claim with many others, so let's see if they stand behind their claim.
Privacy and Logging Policy
Their privacy policy is just a standard one referring to cookies and personal information collected on website. It is a Google requirement to answer some specific questions like "What kind of personal data is collected", "Describe how this information will be used by the company" and so on. Their privacy policy doesn't include details about the actual VPN service, connections, information that might be collected and how it is used.
You can read more about their privacy policy here in case you need more specific information regarding this matter. We would also suggest contacting the support team with any and all questions regarding this topic, as it may or may not give you the privacy you need.
We think it's worth mentioning that there was some controversy regarding the way that Astrill actually respect their privacy policy. A former employee apparently blew the whistle on them and if true, these allegations are more than serious. You can find the reddit thread here.
Software
Astrill VPN provides proprietary connection client software for all major operating systems: Windows, MacOS, Linux, Android and iOS. They also have an applet for routers running DD-WRT firmware.
The Desktop application that we tested provides a good and minimal experience as far as a VPN software should offer. We enjoyed the fact that Astrill simplifies the connection steps and the whole connection process, but we feel that it might do so just a bit too much. Not having a cluttered client is always fine, but some connection parameters and a little more information available about the current connection would have been nice.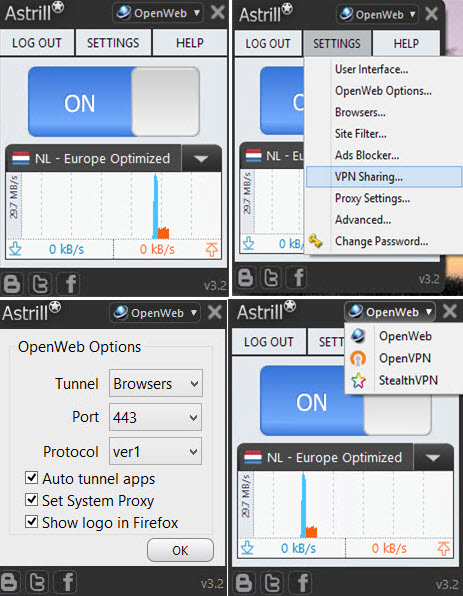 The functionality is the strong point of the software, there were no disconnects, interruptions, error messages or IP Leaks that we could find. The stability conferred is a plus, and it really gives the sense of using a quality product.
Features
Astrill VPN promotes and sells NAT Firewall separately, for a whopping 5 dollars/month. Now normally advertising an already included service would not come as a surprise to us, since we've seen it before, but this is the first time where we actually encountered a service that charges for NAT Firewall.
They are very restrictive with the number of simultaneous connections. They limit this to 2 connections, with the condition that one of the connections is via a mobile device. This means that if you want to connect two desktops/laptops at the same time, you will not be able to with a regular plan. They offer the possibility to upgrade to a family or business plan, but we don't really see how the extra cost is justified in this situation.
Services such as Netflix or Hulu are available at the time of this review (early October 2016), and we are very happy to say that the dedicated Netflix servers are up and running at a decent speed. Other media streaming services function well, we were able to stream BBC and other streaming services with no problems.
Proxy and port forwarding are supported, and the information can be obtained either via the support page which is very well put together, or by contacting the support team to get the information required directly from them. We recommend the ladder since the FAQ page might be a bit too descriptive for the every-day user.
They support multiple protocol types: OpenVPN, PPTP, IPsec (Cisco, IKEv2, L2TP), SSTP and two proprietary StealthVPN and OpenWeb.
Note that StealthVPN, as its name suggest, is an obfuscated protocol that works in countries with heavy censorship like China and UAE. It comes as an addon for extra $2/month or for free (included) with the 1-year plan.
For routers, they offer another proprietary connection type, RouterPro VPN which they claim to be much faster than standard OpenVPN connections and also has built-in obfuscation so that it works in China. This one also comes as an addon for $5/month but it also includes the StealthVPN.
Other addons they provide:
CryptoPlus, which includes extra encryption ciphers for $2 / month. In our opinion you shouldn't consider this one, as AES is secure enough for anything.
VIP, an addon which includes VPN servers with direct connections with the ISPs in China, for better speed and latency. This is quite expensive, at $10 / month, but it might come handy as low speed and massive network congestions are normal in China (learn more at VPNs & Internet in China: Everything you need to know).
Home Plan, for extending the number of simultaneous connections if you want to connect up to 5 devices at the same time with a single VPN account. This addon costs an extra $5 / month.
VPN Sharing, to share your VPN connection from your computer with other devices. This is a must-have if you want to get your PlayStation or Xbox connected to the VPN other than through a router. The price for the addon is $1/month.
Opting-in for some addons which bring features that otherwise come by default with some other competitors, it will increase the price quite a lot.
Speed
The speed test results were more than satisfactory in most cases with OpenWEB, which runs a lot faster than OpenVPN. Some locations such as Argentina and the Philippines offered slower connection speeds, but this was to be expected. We only tested out some of the more remote locations in order to see if a connection can actually be established. Here are the results that we obtained after running the browser speed tests on several locations: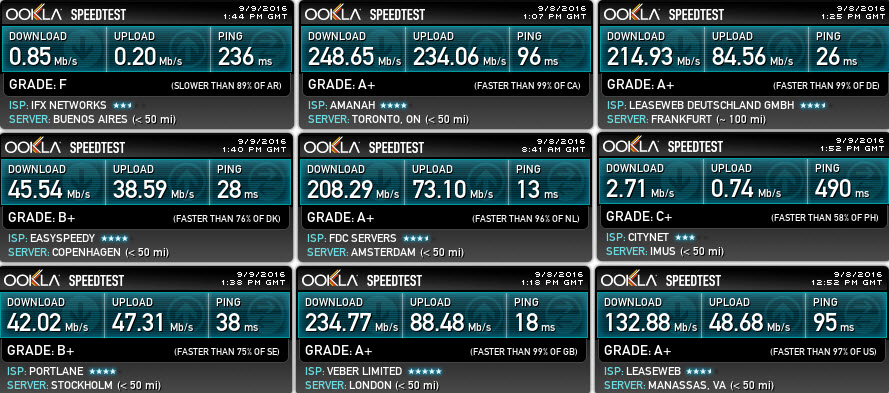 The browsing was good and there were no interruptions, even when using streaming services such as Netflix or BBC. Most of the content was loaded at very good speeds and the small delays on some popular web pages came from blocking ads (a feature that actually works with little exceptions).
The torrent download speeds also fluctuated, but overall provided a very good and stable experience. We were able to test out a few of the more popular servers and here are the results that we obtained for Canada, Germany, Netherlands and US-VA respectively:
Canada:

Germany:
Netherlands: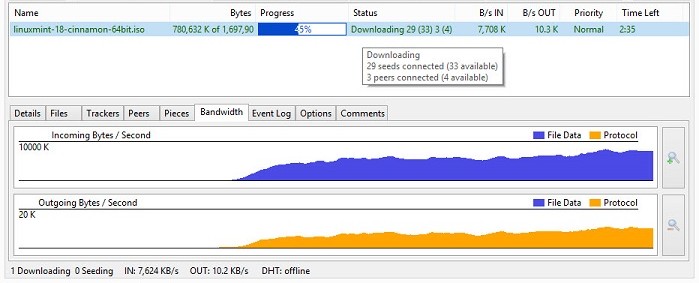 USA: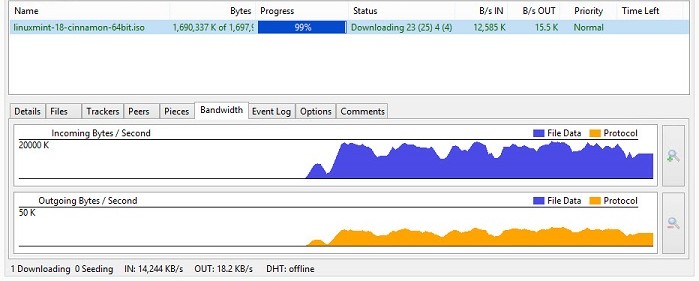 The response time was very good, there were no lost packets and there was no leaked traffic, which is definitely a strong point in our book.
Mobile Performance
The android application was very well made and offered quite the experience. We were able to browse securely at relatively good speeds even in remote location that usually have much lower speeds (such as Israel or Egypt). The application has a rating of 4/5 on the android store from roughly 3000 users, which is a decent number to get an idea about the quality of the product.
The client is very intuitive and offers the minimum amount of settings and customization: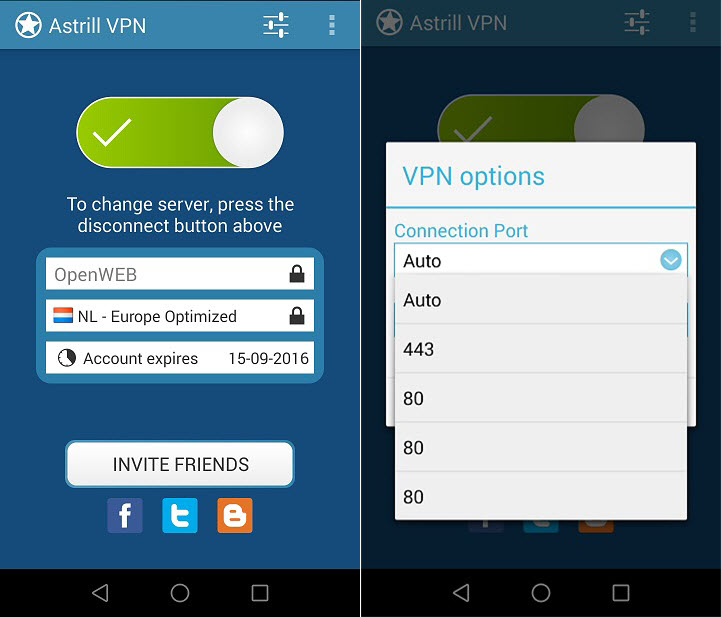 The browsing experience was smooth, there were no disconnects or interruptions, but it didn't seem like the speed was actually reflected correctly from our speed tests. Here are the results for Netherlands, Germany, US West and US East respectively:

we would have loved to see more features available and a better setup in the settings menu, but this is just a personal preference, as the software does its job just fine the way it is set up now.
There are no connection logs available and you can only choose between OpenWEB and StealthVPN at connection, the rest of the options being hidden in the settings menu. One good thing about the menu is that it actually saves your connection options, so once you found an ideal setup for the connection you desire, you don't have to input it every time you log in or open the application.
You also have the possibility to connect via OpenVPN, should you choose not to opt for their application. The instructions for connecting can be found here.
Pricing
The default prices for the service offered by Astrill are fair, but it is expensive if you choose some of the extra-addons. Overall, the prices are not the best in the business but they are justified. We didn't particularly like the fact that you cannot opt for a monthly plan, and that there is no free trial available unless you request it from customer support. Here are the pricing plans they have available:

They also have a refund policy but it only applies to people who have not use the 7-day free trial. Also, the phrasing in the terms of the policy is very ambiguous and lets us understand that Astrill reserves the right to refund money as they see fit, rather than having some defined criteria. You can find the full refund policy here.
The fact that they don't have a monthly plan could definitely be a deal breaker to some potential customers. Seeing the type of subscription and services they provide, it seems unfit to have a minimum of three months. Some customers may not need the service for that long, and others may want to test it out before they make a long-term commitment.
The discount is substantial, so it's worth checking it out if you find the service worthy of your hard earned dollar. Please keep in mind that the prices and plans described are current as of October 2016, and that they are subject to change. For a current list of prices, you can check out Astrill's page here.
They also support many payment options:

Support
The support team did a great job with helping us and answering our questions in a very good time frame. The chat experience was a good one, and the responses did not delay. The support team offered relevant and concise answers, and the topics were covered very professionally in a good clean English.
We had several questions, financial and functional and we used the support tools that Astrill provides very efficiently. We received an e-mail with the answer we were looking for and our live chat was addressed along-side without problems. Not sure if they improved their support service recently or we've been lucky, as there are lots of complaints about bad support.
Speaking of support, here's an example of bad attitude against their customers (an announcement they made during a VPN mass-blocking period in China):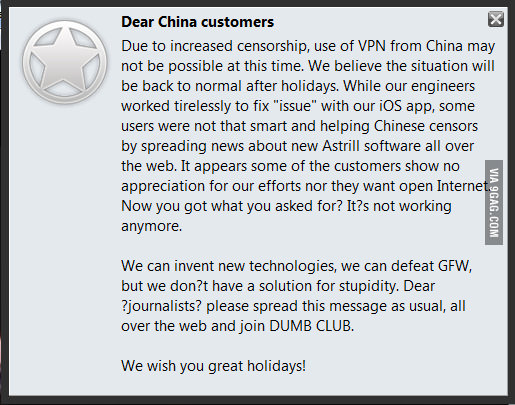 Not a smart move by any means and definitely not professional.
Conclusions
There are a few questions regarding the security and the ethical aspect of Astrill that still need to be answered before we can have a truly clear opinion about the service they provide. Strictly from a functional perspective, VPN service offered a good experience, so here is a break-down of what we liked and what we didn't:
Pros:
User-friendly interface with just enough features available.
Good amount of payment options available, including bitcoin.
Well structured FAQ page and manual.
Good mobile application and a good number of features.
Good browsing and torrent download speeds, OpenWeb technology is very fast.
Several methods to connect in China.
P2P allowed.
Cons:
Selling a "NAT Firewall", advertising "military grade encryption". We're really sick of seeing these things.
Privacy policy is just the usual template required by Google, no mention of actual VPN privacy.
Only 2 simultaneous connections with the condition that one is made from a mobile device. More simultaneous connections require a family or business plan which is charged extra.
Not a very transparent approach when it comes to the usage of personal information. We attempted to speak to the support team about this but they were very evasive.
To get a decent number of features, paying extra for addons makes the service quite expensive.
No security details about the proprietary VPN protocols.
Known for having a bad attitude toward customers, calling them dumb in an official announcement.
To sum it up, we think that there are better VPNs out there for privacy and security. But when it comes to unlocking censored sites and online resources in countries like China, Astrill VPN seem rather committed to keep the service operational. For this specific reason, we believe it is worth giving it a try in China and other censoring countries but be warned that they most likely don't offer any refund for customers in China.
Our rating is 5/10 and it would have been higher if not for the bad privacy policy, potential employee blowing the whistle, the expensive addons and non-documented proprietary technologies.