This article has been updated on May, 2020 to include some up-to-date info.
It's a very well known fact that the Great Firewall of China is giving a hard time to the average Chinese users or foreign visitors to China. Not only is the bandwidth congested due to huge number of connected devices and domestic broadband overselling, but there are also a lot of practices in place that censor or restrict the access to some services such as Facebook, Gmail, YouTube, Twitter, western news outlets and the list goes on. For more information about the restrictions and censorship situation in China, we recommend reading our detailed article which will help clear up any questions you may have.
One of the solutions for getting past these restrictions is using a VPN service that works in China. This however, is not as simple as it seems as not all VPN services offer the features needed to have a stable connection from China and most of them are blocked. Here are some of the must-have features:
Means for traffic obfuscation – basically a method to disguise traffic in order to avoid being blocked by the Great Firewall of China, which is using signatures and algorithms to identify and block well-known VPN connection types.
Good peering with Chinese ISPs – meaning increased bandwidth which will ultimately increase the quality of the service.
A good number of server locations in the neighboring countries such as Hong Kong, Japan, South Korea, Singapore etc. (in many cases, smaller geographical distance means also lower latency but it's not a general rule for China).
VPN service websites  and technical support must be reachable from China. It's no use having technical support if you can't reach it due to the restrictions that are in place or if you can't sign-up for the service, read tutorials and so on.
Support for China based payment methods such as AliPay and UnionPay which are very popular in China.
These are some of the most important features to look for in a VPN service when you are in China. There are other features as well, and we will discuss particularities for each service as we cover them.
In this review, we will be talking about those few VPN companies that offer a strong quality service and are a viable option for both for  Chinese users, as well as travelers and expats in China.
Before showing you some of the speed test results and draw our conclusions on how these VPNs perform in China, we'd like to point out that these tests are genuinely made from China, unlike many who publish a list of features without testing anything from China, bringing no value to the readers. Below, some speed test results on our desktop in China, connected directly to the Internet via China Telecom. These results are relevant in order to compare the actual results with a VPN connection: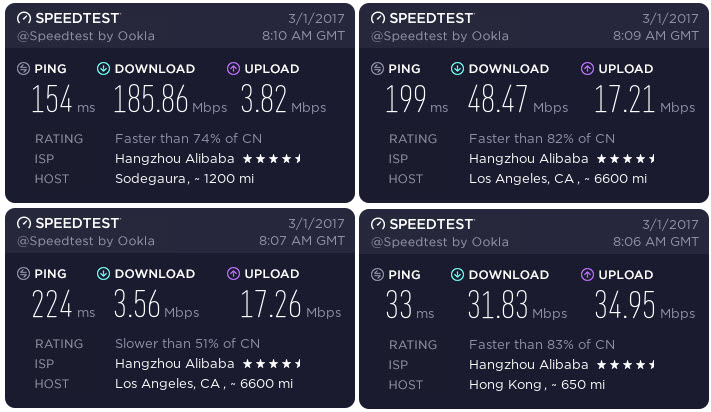 Express VPN
Highly praised an very well known for its services within the Chinese and expats community, ExpressVPN offers a fully-featured, widely compatible and all-together sturdy VPN service. It has been around for a while and somehow it managed to get past the restrictions that China has in place for internet content. Surprisingly, as big as this service is, their website isn't blocked in China.
We are just going to present a few of the key features relevant to the Chinese VPN market, however if you are interested in reading the full review containing the detailed information, you can find it here. The review also includes an in-depth explanation of how Deep Packet Inspection is used in order to block certain content and other valuable information that will help you better understand the situation.
Features
Servers available in over 130 locations with up to three simultaneous connections available.
They support multiple protocols such as OpenVPN, L2TP/IPsec, SSTP and PPTP.
Apps available for all modern operating systems (Windows, macOS, Linux, iOS, Android).
Good number of payment methods available with a 30 day money-back guarantee.
Very stable and well-performing service all around.
Speed
We would also like to talk about the speed tests rand through Express VPN. They may be different than what you would expect from a VPN service, however we have to consider the bandwidth congestion that is a detrimental factor.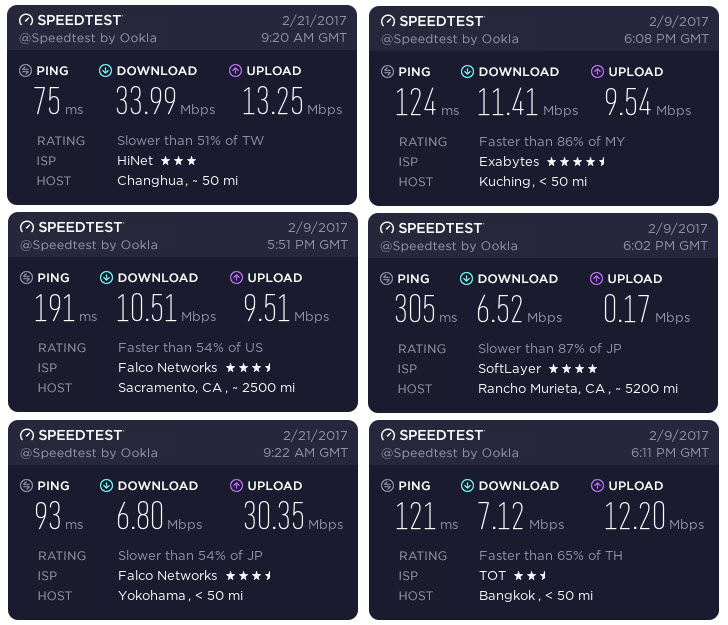 It doesn't seem like a lot, but taking into consideration the poor quality of the internet connection offered by most regular ISPs we have to say the test results were quite decent. The connection was very sturdy and never got disconnected.
Pros
Sturdy service.
A good number of locations available, quite a few in China neighbor countries.
Multiple protocol support.
VPN client app is extremely simple to setup and use. We really like it.
VPN app has latency and download test feature, very useful to get an idea what are the best locations to connect.
Decent speed test results considering it's been tested in China.
30 day money back guarantee.
Good support.
Cons
Bandwidth congestions are common, either due to the high number of customers or not so good peering.
A bit pricey, though the 30 days refund policy doesn't have hidden/small print conditions.
VPN.ac
The Romanian based VPN service is operated by Netsec Interactive Solutions, a security company managed by a dedicated staff with more than 15 years of experience in the internet security field. The company has been growing gradually and improving their service all the time with feature updates and innovations.
If you would like to read a more in-depth review about VPN.ac, you can find it here. The review explains how the lack of congestion and strong infrastructure make it a valuable player on censored markets such as the Chinese one. There are a lot of innovative features that VPN.ac brought to the table so here are some of them.
Features
Be aware that their main site vpn.ac is censored in China via DNS hijacking, so if you are already in China connecting directly to the Internet, you can reach them by visiting the mirror site (vpnac.org)
VPN.ac offers several ways to obfuscate the traffic with OpenVPN and their browser addon (SecureProxy) which provides a fully encrypted TLS tunnel for browsers, quite effective in by-passing the Great Firewall of China filters and blocking techniques.
Another very important aspect of the service offered by VPN.ac is quality of the infrastructure reflected in the speed test results. They have multiple servers with excellent peering, direct with China Telecom and China Telecom CN2, China Unicom and China Mobile. The speed results are as follows:
Speed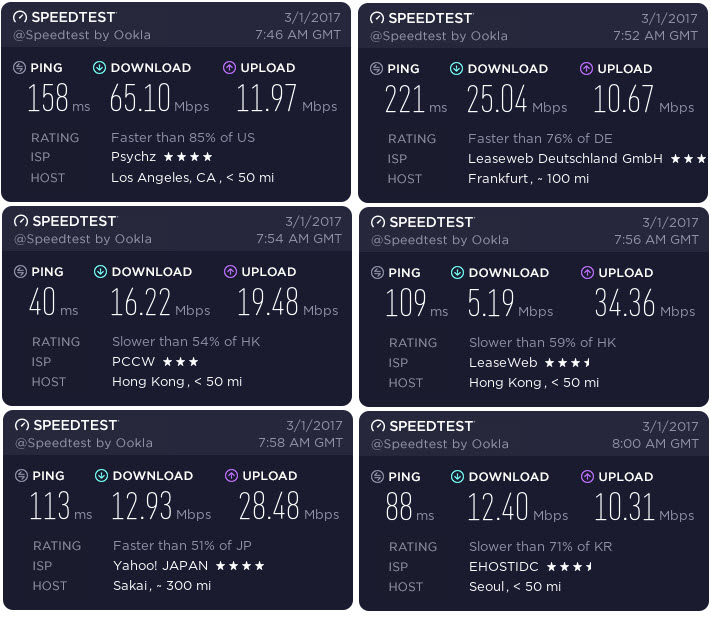 As you can see in the speed tests results attached, in some of them it is very similar to what one would experience in a non-censoring country, where network congestions are not something to deal with on a daily basis. However, it's safe to be aware that when it comes to Internet connections in China, as described into detail in the article we linked in the beginning of this article, there is no general rule and the quality of local connections depend from one user to another. While one can have a good connection overseas, others may feel they are back in the dial-up ages.
The best performing connections with VPN.ac from China are with the SecureProxy browser addon, OpenVPN XOR (obfuscation support) and the new WireGuard VPN protocol which they implemented in the beginning of 2019. IPsec connections are also quite good, specifically with their locations on the US West Coast, Japan and Taiwan.
Pros
Very fast connections in China, they have lots of servers with optimized peering for China ISPs.
Many OpenVPN connection types available along with obfuscation methods which are ideal when dealing with the Great Firewall of China.
Supports WireGuard VPN protocol
The first in the industry to encrypt DNS queries, one of the very few to support Elliptic Curve Cryptography.
SecureProxy extension for Chrome, Firefox and Opera is included into the price and is working very well in China.
Great customer support.
Not expensive at all, 7 days refund policy without hidden conditions.
Supports AliPay, UnionPay.
VPN client app available for major platforms (Windows, macOS, iOS, Android, Linux)
Cons
Software could be a bit confusing for the complete non-technical users but it does the job.
In conclusion, whether you choose to opt for a bit VPN service such as ExpressVPN or a smaller but highly competent service such as VPN.ac, you will find that there are always areas where services will excel and areas where there is some improvement needed. We hope that we helped bring some light on the censorship situation in China and that once you decide which features are more important to your particular situation, you will find sufficient information to make a decision.