Summary
Features -

8/10

Speed & Reliability -

9/10

Security & Privacy -

6/10

Usability & Compatibility -

8/10

Support & Documentation -

9/10

Value for Money -

8/10
Summary
Private Internet Access is definitely in the top major players in the VPN market. They offer a fully-featured sturdy VPN service. The only complaint we have is that they are based in the US, but some sources mentioned a shift overseas as being planned in the future so we are looking forward to that.
Updated (2020): This review is out of date. For the latest review made in May 2020, visit PIA Review 2020
Here is our review of Private Internet Access (or PIA), a major VPN Provider in the industry, operated by London Trust Media, Inc. 
Our first Private Internet Access Review was posted in April 2013. Throughout the last two years, PIA has grown tremendously, becoming one of the most well-known services in the VPN industry. The reason for their growth is simple: combine a great service with a great price, add last year's Snowden revelation on mass-surveillance determining a huge interest in online privacy, and you have the perfect ingredients.
Speaking of growth, over the last 24 months (since when we completed our first PIA review), they added hundreds of new VPN servers, having over 3400 currently, from 260 in April, 2013. They also added  new VPN locations:
– Hong Kong in the first half of 2014, to provide better speed for users in Asia, especially China where people use VPNs to bypass Internet censorship.
– Israel, in the 2nd half of the year, a good VPN location for users in middle-east.
– Australia, in November 2014.
– Russia, Brasil, Turkey and Mexico in 2015.
Snowden revelations suggested that the NSA and other governmental agencies have capabilities to crack encryption that was widely considered secure. Many VPN providers have increased their encryption strength in the past months, and Private Internet Access is one of them.
Their encryption options provide the following:
Data Encryption Ciphers:
AES 128-bit, AES 256-bit, BF 128-bit
Handshake Encryption:
RSA-2048, RSA-3072, RSA-4096 and Elliptic Curves, the later not being common with
other VPN providers.
Elliptic Curves used: ECC-256k1, ECC-256r1 and ECC-521
Data authentication:
SHA1 (160-bit) and SHA256 (256-bit).
The new encryption methods have been added in the VPN software and the user can combine them in various scenarios. In our latest tests, we used combos of AES-128 or AES-256 ciphers with RSA-4096 or ECC handshake, always with SHA256 HMAC.
A sample using their new encryption handshake:

Other notable features that they added since a year ago consist of accepting hundreds of gift cards as alternative payment methods, allowing customers to pay anonymously.
Features
Private Internet Access provides over 1800 VPN servers in 11 countries: US, UK, Canada, Switzerland, Netherlands, Sweden, France, Germany, Hong Kong, Romania, Israel and Australia. All their servers feature Gigabit connections. Not only that the servers list is huge, but the hosting companies providing those servers are some of the best in the industry. We can only imagine that the monthly billing statement for those servers is well over $70k – $100k, taking into account large discounts for having several servers from same providers.
They allow 5 simultaneous connections with the same VPN account, in case you want to share it with your family or friends. A proxy service is also included in their subscription.
We signed up for PIA's VPN service using PayPal, and we were pleased that the signup process took only 20 seconds, and we weren't asked for any personal details. The VPN login details were sent to the email used with PayPal. The VPN account was activated instantly after the payment confirmation.
VPN Software
PIA provides their own OpenVPN client, which comes preconfigured with your username/password in the VPN activation email. In the VPN software you can choose the region/country you want to connect the VPN, as well as protocol and ports. They provide both TCP and UDP VPNs, on ports: tcp 80, 110, 443 and UDP 53, 1194, 8080 and 9201. Protocols and ports can be selected from the Advanced options. Another useful thing you can set is Port Forwarding (used by P2P clients or other software that requires direct access to your PC from the Internet). If you enable the option, a tooltip will show you the forwarded port when you connect. Port Forwarding is available on servers located in Netherlands, Switzerland, Canada and Romania.
Other useful features of their VPN software: 
VPN Kill Switch deletes your ISP Internet gateway if the VPN disconnects to avoid IP leakage.
DNS Leak Protection removes your default DNS servers so you can use only the DNS servers assigned by the VPN.
IPv6 Leak Protection disables your IPv6 network address to protect against leakage via IPv6.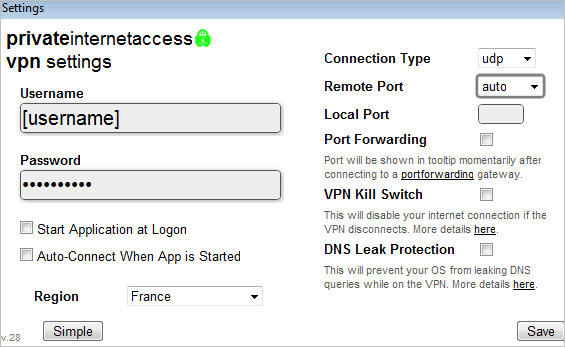 Pricing
Their monthly plan is $6.95, while the yearly plan is $39.95 (or $3.33 / month). That's a really good price to pay for VPN access to over 900 premium gateways in 10 locations. They accept PayPal, Google Wallet, Amazon Payments, Liberty Reserve, CashU, OKPay, BitCoin  and hundreds of gift cards – if you want to purchase the service anonymously. Their refund policy covers a 7-day money back guarantee.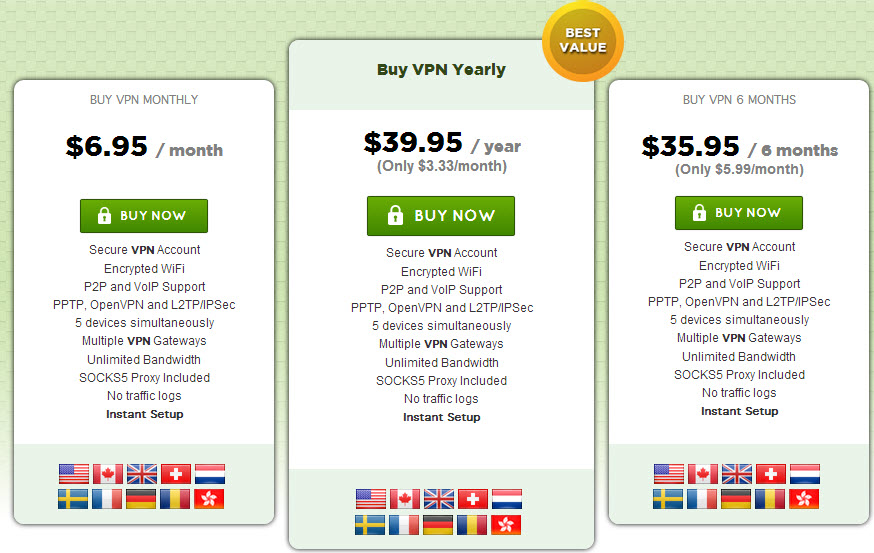 Speed
We ran several speed tests, in different days, at different times, using all protocols (PPTP, L2TP and OpenVPN). Here's the conclusion of our speed tests:
PPTP speed was quite bad, averaging between 100KB/sec and 400KB/sec regardless of server location.
OpenVPN speed was very good. We got between 2 and 10MB/sec depending on distance to VPN server. The fastest ones were obviously those closer to our location.
Speedtest samples: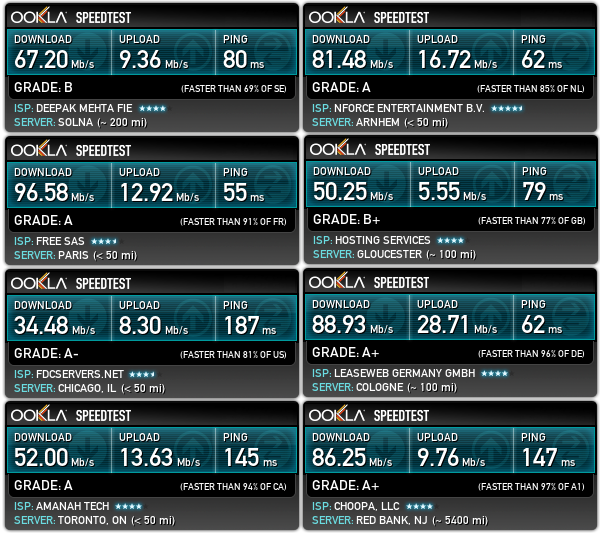 Multi-threaded download test on Linux:
Torrent speed sample: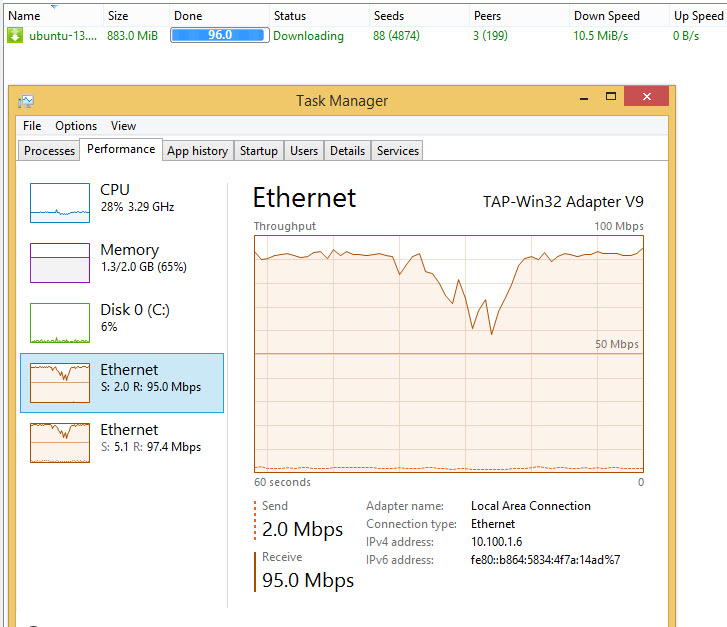 L2TP and OpenVPN on UDP provided the best speed in our testing, and we maxed out our connection of 100Mbit/sec in most tests. It's certainly nice to see VPN throughput of 10 MB/sec. Speed was constant during some large file downloads, not only peaks.
Since PIA's connection software provides only OpenVPN support, if you are looking to use L2TP/IPSec, you must use the traditional way of connecting through L2TP. They provide connection howtos on their website, and it should take only a few moments to setup the L2TP VPN connection. However, the difference between OpenVPN (UDP) and L2TP speeds is small, and we recommend to use OpenVPN because of its higher security.
Logging policy and privacy
According to their Privacy Policy, they gather customers email addresses, required in the payment process. No other information are required and that's what we noticed during the sign-up process. They also gather website statistics, some of them being collected by Google Analytics. PIA clearly state that they do not collect traffic data of customers. However, they may release customer data to comply with legal obligations (under subpoena) – but that's what any VPN business would do. PIA was also featured on TorrentFreak's article: "Which VPN Service Providers Really Take Anonymity Seriously?". Here's their response to questions regarding VPN logging:
"We absolutely do not maintain any VPN logs of any kind. We utilize shared IP addresses rather than dynamic or static IPs, so it is not possible to match a user to an external IP. These are some of the many solutions we have implemented to enable the strongest levels of anonymity amongst VPN services. Further, we would like to encourage our users to use an anonymous e-mail and pay with Bitcoins to ensure even higher levels of anonymity should it be required. Our core verticals are privacy, quality of service, and prompt customer support."

"Our company currently operates out of the United States with gigabit gateways in the US, Canada, UK, Switzerland, and the Netherlands. We chose the US, since it is one of the only countries without a mandatory data retention law. We will not share any information with third parties without a valid court order. With that said, it is impossible to match a user to any activity on our system since we utilize shared IPs and maintain absolutely no logs."
Conclusions
Good:
Excellent speed and reliability.
Hundreds of VPN gateways in many locations.
Privacy-focused provider, allowing anonymous payment methods like BitCoin and gift cards.
Multiple, strong encryption methods to choose from.
Torrent allowed on all VPN gateways.
No logs.
Bad:
They are incorporated in USA, and have grown so big that we fear they may become a target for NSA and US agencies. We stumbled upon some articles in which they claim that they would move their business overseas in the event of becoming a target.
We've been positively impressed with PIA's VPN service. Pricing is very good and beats many of their competitors. Their infrastructure is very big and all servers are hosted with some of the best hosting companies in the world. PPTP speeds could have been better, though, but it's ok. It compensates with great pricing, servers stability and OpenVPN/L2TP speeds. If you want to get the best speed of out PIA, use L2TP/IPSec VPN instead of PPTP on devices that do not support OpenVPN. We also liked the fact that they really seem to care about users privacy and do not ask for your personal data when you signup.
We give Private Internet Access a rating of 8/10 in the paid VPN category and highly recommend it.